The question remains, who is Tiger Woods?
We are a nation of conspiracy theorists, eager to believe in falsified lunar landings and grassy knolls and the sinister urges of NFL coaches and that UPC bar codes are a tool of anarchic satanist lizard-people who rule the earth from an underground bunker in the lost city of Atlantis.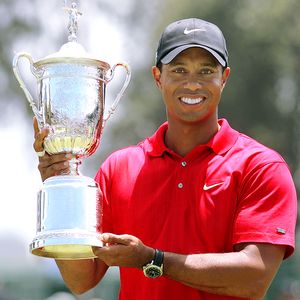 Ross Kinnaird/Getty Images
A number of people did speculate that Tiger might be faking his injury during the U.S. Open.
So I suppose it shouldn't have surprised me that even as Tiger Woods was in the process of winning the U.S. Open on a bum knee, a certain minority of people seemed eager to believe that Tiger might somehow be faking the whole thing.
Of course, we now know this to be an absurd notion. Tiger is going to miss the remainder of the 2008 season because of his injuries, a broken leg and a torn knee ligament, and all those people -- including, apparently, fellow PGA Tour player Retief Goosen -- who believed Tiger was engaged in some elaborately choreographed play of grimaces and fist pumps are especially disappointed.
And yet I have to admit I felt a little hollow, as well. Because if Tiger Woods had somehow faked his injury, it would have been the most interesting thing he's ever done that isn't directly related to the swing of a golf club. I watched the final couple rounds of the U.S. Open for the same reason most people did: Because I find Tiger to be the most fascinating athletic competitor of the modern era. In that time, I learned several interesting facts about a genial man named Rocco Mediate, including that he has an affinity for hippie-ish belt buckles. He seemed ridiculously likable and outgoing, and watching him play next to the most famous practitioner of any sport on the planet -- a man who has somehow rendered an uninteresting sport into a must-watch -- reinforced something that both confounds and depresses me: I don't know anything about Tiger Woods.
Perhaps this is not exactly a revelation. It's been true for more than a decade now. To be precise, it's been true since April 1997, when Charles Pierce wrote a seminal cover story for GQ in which Woods, then 21 years old, was quoted telling racy jokes in the backseat of a limousine. It was a brilliant deconstruction of the premature mythology of Tiger, and even as he was writing it, Pierce realized that his story would have an impact on the way Tiger presented himself to the world. Just like Michael Jordan before him, Tiger was beginning to realize that his true value to the outside world was as a commodity. Just like Jordan before him, Tiger was realizing the best way to manipulate your own personal image is to portray yourself as having absolutely no unique personal traits at all. It is the way of the modern athlete: Why be interesting when you don't have any reason to be interesting?
And so it went. When I covered golf for a newspaper back before the turn of the century, I used to listen to Woods entertain a room full of media members for a good 45 minutes without revealing anything interesting at all, unless your notion of interesting is a long digression on the virtue of hitting a short iron to the 17th green at Firestone Country Club. I'm not sure how he did it, but he managed to be both charming and boring at the same time, and as long as he kept winning, no one seemed to care.
Of course, with the advent of the Internet, Tiger doesn't need to speak to us at all anymore. He is in complete control. He released the news of his injury exclusively on his Web site, which is the most elaborate compilation of banalities this side of Larry King's newspaper column. Did you know that Tiger's perfect day is to surf, ski, play golf and go spearfishing in the same day? Did you know that Tiger's favorite movie is "Caddyshack"? Did you know that Tiger's biggest challenge is to become a better person tomorrow? "I have so much to be thankful for in 2007," he wrote in his blog, which appears to have been authored by a room full of publicists bingeing on Ambien.
And because of this propaganda, even the very brief glimpses we do get of Tiger's unvarnished humanity -- like that moment immediately following the U.S. Open playoff, when his daughter refused to let go of him -- somehow seem engineered, the televisual equivalent of the stock family photos that come included with a new picture frame.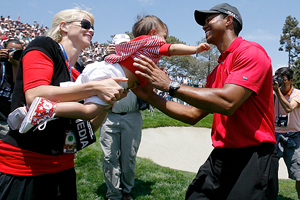 Jeff Gross/Getty Images
As heartwarming as this scene was, didn't part of you wonder if it was contrived?
So maybe Tiger is hiding from us on purpose. We know he is intelligent (Stanford!), and we know he is pathologically competitive, and we know he can tell racy jokes, and I hope this dullness is an act, because the other possibility is that Tiger Woods has been forced to portray himself as boring for so long that he has really become an unbelievably boring individual.
"Great athletes usually turn out to be stunningly inarticulate about just those qualities and experiences that constitute their fascination," the author and essayist David Foster Wallace once wrote. The reason they are this way, Foster Wallace believes, is because they have to be this way, because they are forced to perform under incredible scrutiny and pressure, and the only way they can succeed is to block out any thoughts at all.
Foster Wallace wrote those words about tennis star Tracy Austin, who came of age in the late 1970s and early 1980s. His theory does not hold true for every athlete since then (see: Gilbert Arenas, Terrell Owens, Curt Schilling), but it does characterize an ever-growing majority. And I would argue that, in the ensuing decades, Tiger has elevated the Foster Wallace theory to another level. Not only does he have to block out his thoughts on the golf course, he often has to block them out off the golf course as well, amid a level of scrutiny even Jordan did not labor under (and if nothing else, Jordan had teammates who were willing to share anecdotes about him).
Tiger is constantly censoring himself for his own protection. At some point, I wonder if he forgot who he ever was in the first place.
It will be interesting, then, to witness how Tiger's hiatus from golf plays out. Will it humanize him in some previously unseen way? Will it force him to publicly discuss his fears? Or will he simply retreat further into his glossy, Nike-fied persona, for his own protection? And do we even care which way he goes anymore, as long as he continues to play golf as he did before?
I do not know the answers to these questions. But part of me still hopes that Tiger is faking this whole thing, and that he spends the next seven months studying Ayurvedic medicine in the mountains of Nepal with Ricky Williams. Maybe this would not make him a better person tomorrow, but it would be one hell of an interesting story.
Michael Weinreb's book "Game of Kings: A Year Among the Oddballs and Geniuses Who Make Up America's Top High School Chess Team" has been released in paperback by Gotham Books. He is currently working on a book about sports in the 1980s. He can be reached at michaelweinreb.com.
108th U.S. OPEN CHAMPIONSHIP
18-hole playoff
•
Tiger wins 3rd Open in playoff
|
Watch
|
Scores
•
Forde: Tiger's win was greatest Open ever
•
Harig: Haney puts Open No. 1 on Tiger's win list
•
Wojciechowski: Tiger, Rocco save sports
•
Watch:
North's analysis
|
Reilly's take on Mediate
•
Watch:
On The Tee: Woods had to grind for win
•
Watch:
Woods, Mediate discuss epic playoff
•
Watch:
PTI's Wilbon, Kornheiser talk Tiger
•
Photos:
The playoff
|
Tiger's 14 major wins
•
Sobel, Harig recap Tiger's victory

•
Sobel's U.S. Open blog
|
Harig chat wrap

•
Vote:
Can Tiger overtake Nicklaus?
•
Top performances of athletes play in pain
|
Rank
Fourth round
•
Tiger forces Open playoff
|
Watch
|
Photos
•
Forde: Tiger's mind vs. his knee to decide Open
•
Harig: Mediate finally 'back' on track
•
Westwood odd man out of U.S. Open playoff
•
Watch highlights:
Tiger
|
Mediate
|
Westwood
•
Jason Sobel's round 4 U.S. Open blog
Third round
•
Woods surges into U.S. Open lead
|
Photo gallery
•
Forde: As others faltered, Woods held it together
•
Harig: Uphill battle for Westwood, Mediate
•
Sobel:
A plan for contenders
|
U.S. Open blog
•
Watch:
Rd. 3 analysis
...
Highlights
|
Tiger
•
Watch:
Reilly's take
|
Sunday predictions
•
Watch:
Westwood
|
Mediate
|
Ogilvy
|
Lefty
•
Chip Shots: Floundering Phil cards a quad
•
Bell: Strong mind helps Woods overcome pain
Second round
•
Harig: In a blink, Woods changed everything
•
Appleby up 1
|
Watch: Tiger, Phil highlights
•
Harig: Love has 'major' plans
|
Watch
•
Forde: No. 18 presents risks, rewards
• Watch:
Highlights
|
Best of Rd. 2
|
Rd. 3 preview
•
Watch: Reilly's ode to the Open
|
Photo gallery
• Watch:
On The Tee's second round recap
• Watch interviews:
Phil Mickelson
|
D.J. Trahan
•
3 Up, 3 Down: First-round leaders fade fast
•
Chip Shots: Cabrera makes early exit
•
Sobel: Blog jinx working OT in round 2
• On The Tee:
Is U.S. Open Tiger's to lose?

First round
•
Forde: Circus came to town for opening round
•
Watch: North, Ravech look ahead to 2nd round
•
Watch: Forde, Sobel, Harig on round 1 leaders
•
Watch: Reilly on who's cooler ... Tiger or Phil?
•
Harig: Hicks (68) wants to extend his 15 minutes
•
Opening-round recap
|
Highlights
|
Photos
•
Harig: Red numbers not endangered Thursday
•
Chip Shots: Who needs a driver, right Lefty?
•
3UP, 3DN:
Cabrera on wrong side of the list
•
Jason Sobel's blog: Who got Romo'd?
•
Sobel/Harig discuss unlikely Open leaders

Latest News
•
Heckler tangles with Scott's caddie at No. 9
•
Fans outside ropes to face first smoke-free Open
•
Woods says knee is sore, but he's 'good to go'
•
Woods plays nine, shows no limp
•
Report: Scott nurses broken finger, will play
•
Tiger, Phil paired in star-studded groupings
•
Tiger plays first round since Masters
•
As Open nears, rehabbing Tiger hasn't gone 18
•
Four players win playoffs to make U.S. Open field
•
Round 1, Round 2 tee times
Podcasts
•
On The Tee: Sobel talks to Imada

•
On The Tee: Sobel talks to Okla.. St.'s Fowler

Golf Digest
•
'Philip' Mickelson knows Torrey Pines well
•
6 things to know about Torrey Pines
•
Torrey Pines course map
|
More coverage
USOpen.com
•
Spectator info
|
U.S. Open championship history
•
Player bios
|
USOpen.com
|
Golf blogs
ESPN Top Headlines