The ultimate fantasy team may not be a good thing
It would appear as if we have reached an optimal moment in our nation's history for populist thinkers with strong ties to the South Side of Chicago. So in that spirit, please allow me to conjure the theories of one Bill Veeck, the most consistently interesting owner in the history of sports. You may remember Veeck -- the former owner of the White Sox and several other baseball clubs -- as the man who once sent a 3-foot-7 hitter to the plate, and while this is true, it is sort of like memorializing Alec Guinness for playing Obi-Wan Kenobi.
In truth, Veeck was a savant, an unapologetic man of the people who read five books a week and sat in the stands with the fans, and whose numerous innovations -- exploding scoreboards, curtain calls, Harry Caray singing "Take Me Out to the Ballgame" -- were both subversive and prescient. In some way, Veeck pretty much foresaw every major development in modern sports several decades before these things actually occurred. In fact, it's still happening, even now.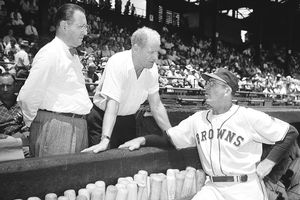 AP Photo
Little did Zack Taylor (right) know that Bill Veeck (middle) would replace him as Browns manager for a day.
Let us go back to August 1951, just five days after Veeck -- then owner of "a collection of old rags and tags" known as the St. Louis Browns -- sent a little person named Eddie Gaedel to the plate in St. Louis (he walked on four pitches). It was then that Veeck, saddled with an otherwise horrendous squad and desperate to boost attendance, conjured an elaborate stunt known as Grandstand Manager's Day. Thousands of fans sitting in a special section and responding to cues from the team's publicity director -- bunt? steal? change pitchers? -- held up placards with "YES" on one side and "NO" on the other. The opposing manager protested, declaring this a travesty of the game; the Browns' manager sat in the dugout and puffed on a pipe and watched as his team won the game 5-3. "I retired all my managers with honors, went back to my professional," Veeck wrote in his autobiography, "Veeck: As In Wreck," the best baseball book you have probably never read, "and lost five of the next six games."
Fifty-seven years later, I give you the latest example of Veeck's prescience: a small soccer club in England called Ebbsfleet United. In 2007, a 37-year-old former advertising copywriter named Will Brooks set up a Web site called MyFootballClub.co.uk, in which fans were asked to pay a membership fee of 35 pounds in the hope of purchasing a soccer club. Eventually, 31,000 members pooled their resources and bought Ebbsfleet, and while there is a board of directors, each member is given a vote on all the decisions the club makes, from personnel to uniform design. It is, in some sense, a real-life fantasy team, and it seems be working quite well so far; last May, Ebbsfleet won the F.A. Trophy at Wembley Stadium, which I am told is a big deal for a team at Ebbsfleet's level. "At the bigger clubs, you're just one of the crowd," a 73-year-old Ebbsfleet fan recently told The New York Times. "Here, it's more like family."
At some level, this seems like a pretty cool idea. I'm sure Veeck would have appreciated the spirit of it, and it seems a fitting extension of Internet populism. Of course, given the staid nature of professional sports ownership in America, it also seems unlikely ever to happen in this country. (Though I'm sure, in the year 2153, someone reading this via a CyberBrainScan" delivery device will take issue with this sentence. Hopefully, you still have potable water, my friend.)
And yet there is something about this whole idea that gives me pause, and I think I know what it is. I think it gives me pause because I worry that it will eliminate an element of the same subversiveness that Veeck himself seemed to revel in.
What I mean is this: Much of the joy in sports, especially today, comes from mocking and second-guessing those who hold power. It is our privilege -- nay, our charge -- as fans to tweak authority, to question every decision, and to wear paper bags over our heads, if it comes to that. Veeck did it to Yankees general manager George Weiss, whom he called "my unfavorite person for 20 years," and we do it now to our own adversaries, and to hapless souls like Matt Millen and Donald Sterling and Jerry Jones, whose ineptitude and/or egotism give their fans a direction for their mockery. This is the refuge of sports fandom: It is a dictatorship, but it is a dictatorship that affords us the freedom to stage protests inside the royal palace.
But what happens if the blame falls on us? How do we second-guess ourselves? Does sports become entirely like the worst elements of politics? Do we have to separate fans into red and blue seats? Do message boards become rife with paid lobbyists, urging us to vote "Yes" on Pacman? And what if there is a quarterback controversy? Will we then be subjected to town-hall meetings with Tarvaris Jackson and Gus Frerotte?*
Even Veeck admitted in his book that Grandstand Manager's Day was more a "gag" than anything else. He was a populist, but he was also an owner himself, and at some level, I think he saw the need for a central leadership, if only for the accountability (and amusement) such a system of governance provides. And I'd like to think my favorite Veeck quote of all time hints at such a philosophy.
"There's nothing to giving everyone in a ballpark an Eskimo Pie," he once said. "But to give one person 30,000 Eskimo Pies … now that causes some thought. What are they going to do with them? What happens when they start to melt? How fast are they going to pass them around? Are they going to eat them all themselves?"
In Matt Millen's case, I suppose we could expect the latter.
* On second thought, this could be awesome. It would certainly make me watch a lot more ESPNEWS.
Michael Weinreb's book "Game of Kings: A Year Among the Oddballs and Geniuses Who Make Up America's Top High School Chess Team" has been released in paperback by Gotham Books. He is working on a book about sports in the 1980s. He can be reached at michaelweinreb.com.