Amateur MMA Night at the Lumber Yard II
Editor's note: The following is excerpted from "Blood in the Cage" by L. Jon Wertheim, copyright 2009. Reprinted by permission of Houghton Mifflin Harcourt Publishing Company. All rights reserved.
On a lone and lonesome highway east of Omaha, cars are three deep in the parking lot of the Lumber Yard II. Nestled in the guts of the Iowa prairie, near the World's Largest Truck Stop, the University of Iowa campus, endless fields of corn stubble, and the rancid-smelling Ralston Purina plant -- the Lumber Yard is a Cedar Rapids strip club the size of a high school gym. But on this unseasonably warm night in mid-March, spring about to tap out winter, the crowd has gathered not to look voyeuristically at scantily clad women, but scantily clad men. It's Tuesday, and that means it's "Amateur MMA Night" at the Lumber Yard II.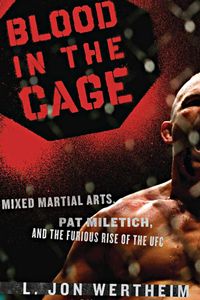 It's a running joke in Iowa: the social options are limited to "[fornicating] and fighting." You might say that at this event, they are combined. In between traditional pole dances, two men strip down to everything but a pair of shorts and compete in unsanctioned, unregulated MMA fights inside a boxing ring that has been installed on the main stage. Eliciting much the same stares, whoops and wolf whistles reserved for "Amber" and "Desiree" and the other Pole-lympians when they lock their feet behind their heads, a card full of "Kyles" and "Clints" and "Kevins" beat the crap out of each other.
With the exception of the waived $15 cover charge, the fighters have no financial incentive to get in the battlebox. Both the ringside EMT and the plain-speak liability waivers the fighters are required to sign -- "I am an adult. I take responsibility for my actions. I know there is risk when I enter the ring." -- suggest a significant degree of danger. Losing triggers significant embarrassment, and the loss of honor can be accompanied by a shower of beer and a chorus of boos on the way out of the ring. Still, the contestants trip over each other to enter. Organizers claim that they have to limit the cards to ten or 12 fights, first-come, first-served. Otherwise they'd be there till sunrise.
On this night, the parking lot at the Lumber Yard II was overflowing, trucks outnumbering cars four to one. On an ordinary weeknight the place might draw a hundred patrons. On fight night, the crowds can number five hundred. Approaching midnight, the place was packed, mostly with young, white males including members of Lamb of God, a popular metal band that had played a show at the local Hawkeye Downs amphitheater earlier in the evening.
At the entrance, a kid applying a pack of ice to a bloody ear -- but wearing a smile that suggested he'd won a tough fight -- chatted up an off-duty stripper. A curtain of cigarette smoke shrouded the place. The prevailing fashion statement was a tight-fitting "Miletich Fighting Systems" T-shirt tucked into tight jeans. Knots of kids toggled between the poles and the ring, gnawing on meat skewers selling for $2 at the concession stand. Others sat on benches, mainlining cans of beer nesting in tubs of ice. (Like all strip clubs in Iowa, The Lumber Yard is strictly B.Y.O.B. The state legislature is, apparently, fine with naked contortionists and underground MMA fights, but firmly draws the line at these establishments selling bottles of Bud Light.)
An early fight on this night paired a lanky, curly-haired kid with the body of a swimmer against a typical Iowa wrestler in the mold of Matt Hughes -- pear-shaped, neck-deprived, short-armed, short blond hair. As, appropriately enough, Lynyrd Skynyrd's "Simple Kind of Man" played in the background (Boy, don't you worry/you'll find yourself/Follow you heart and nothing else) the two fighters ducked under the ropes and entered the ring. No sooner had the bell angrily clanged than Swimmer threw a wild roundhouse kick that sliced through the smoky air. Stocky Boy caught Swimmer's right leg, gripped tight and then drove him to the ground. When the canvas smacked and the turnbuckles wobbled from the impact, the crowd cheered. In less time than it will take you to read this sentence, Stocky flipped Swimmer and executed a perfect arm bar. Swimmer knew it immediately and tapped out. Fight over. They shook hands, smiled and nodded respectfully at each other, left the ring as if they had done nothing remarkable, and went back to their respective entourages.
Tableaus like the one at Lumber Yard II trigger extreme ambivalence over at the UFC's Las Vegas headquarters. It's obviously testament to the appeal of mixed martial arts that amateurs will gather at an Iowa strip club on a Tuesday to try out their heel hooks and guillotine chokes. Popular as professional wrestling might be among kids, how many of them think of it as a participation sport? By contrast, kids are not just watching mixed martial arts, but doing it too. As a matter of economic survival, most every McDojo in the country now advertises mixed martial arts training. All of which bodes favorably for the future.
But these unregulated shows have the potential for disaster. Because the sport is growing so quickly, the number of aspiring fighters is vastly outstripping the number of competent refs who, like John McCarthy, recognize when a fighter is in trouble or know instinctively when to stop a fight. There is a very real fear that some kid with an outsized ego and undersized skills will suffer a lapse in judgment and fight on an amateur MMA card in some backwater town. Unaccustomed to getting hit, he'll get thumped on the head and he will die in the ring. And in the aftermath, no one will draw a distinction between the supremely trained and conditioned athletes in the UFC and some poor yutz trying to impress his girl on amateur night. Apart from being tragic in its own right, the death will create a media and political firestorm, all of mixed martial arts will be indicted and the entire enterprise will collapse.
Though not discussed, one also wonders about the possible risk at these cards of transmitting disease through bodily fluids. For fights sanctioned by state athletic commissions, competitors are usually administered blood tests, which can screen for everything from HIV to mad cow disease. That obviously doesn't apply when you decide to fight a few minutes before entering the ring. What happens when an HIV-positive fighter bleeds profusely on a (near-naked) opponent who himself may have an open wound?
Fortunately, on this night at the strip club, the fighters were remarkably skilled. They looked like athletes, all abs of steel, muscles of granite and ears of cauliflower. They had removed their shirts, their shoes and the fishing tackle pierced in their faces before getting into the ring. And once the bell clanged, they showed both a high level of technique and some strategic competence. Most looked to be former high school wrestlers now in their early and mid 20s, falling precisely within the UFC core demographic. These were kids weaned on Pat Miletich, not Stone Cold Steve Austin or Mike Tyson. And it showed in the ring. Apart from the wrestling moves that were clearly ingrained in their muscle memory, they knew how to throw punches and apply submission holds once the action went to the mat.
Earlier in the week, the University of Iowa wrestling team -- once the benchmark against which all other college programs were measured -- lost badly to the University of Minnesota. This didn't sit well with the team's iconic former coach, Dan Gable, now a sort of honorary assistant. "Three takedowns!" he growled to Sports Illustrated, referring to the team's pathetic output. "I can get three takedowns before I get out of bed." He then lamented that the best college wrestlers in the country no longer came from the Hawkeye State. He suggested that, as the family farms and the Iowa manufacturing jobs -- both incubators for toughness and tenacity -- were disappearing, the state's citizenry was getting softer.
But the scene at the Lumber Yard II suggested a different explanation. Iowa was still clearly flush with tough and tenacious kids with bulbous muscles, fighting instincts and an undeniable work ethic. It's just that they were gravitating not to wrestling but to a new sport. One that offered more ways to win, incorporated more fighting disciplines and elevated the risk of both dispensing and absorbing pain. One that, unlike wrestling, offered a chance to earn some money if you got good enough.