By Jason Whitlock
Page 2 columnist
Maybe UAB head coach Mike Anderson can do for Nolan Richardson what Richardson did for Anderson. Maybe Anderson and his surprising Blazers, Sweet 16 participants, can make Nolan Richardson palatable and hirable again.
Richardson, dismissed two years ago at Arkansas in a blaze of racial controversy, belongs on some major college's sideline. Anderson's Blazers, practitioners of Richardson's "40 Minutes of Hell" style of basketball, are proving that Nolan's time hasn't passed.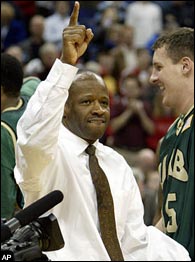 Mike Anderson's success points to Nolan Richardson's style of play.
UAB shocked NCAA Tournament No. 1 seed Kentucky last weekend, advanced to the St. Louis Regional's semifinals and will face Kansas this Friday night in what should be an awesome matchup. Nolan will be in the house. He recruited Anderson to Tulsa to play point guard, then Richardson hired Anderson as a Tulsa assistant and Anderson followed Richardson to Arkansas. Nolan calls UAB "40 Minutes of Hell Part II." Anderson calls the Blazers style "The Fastest 40 Minutes in Basketball."
No matter what you call it, UAB's 94 feet of pressure creates the same sort of chaos that carried Richardson's Razorbacks to three Final Fours, two NCAA title games and one national championship during 17 years at Arkansas.
"It's a controlled chaos,'' Anderson told me this week. "They can call it what they want to. All I know is that it enabled us to have a chance to beat Kentucky. And we did."
The Blazers, 22-9, had no business beating the Wildcats. UAB just doesn't have the talent. Nolan's system creates a natural chemistry.
"If you look at Mike's team and you say, 'Which one of those guys is going to go in the first round?' And you say, 'None','' Richardson explained to me this week. "But you take a group of kids and you make them play together in the style that we play in and it creates harmony in the team, especially if you're winning. You're going to play 10, 11 kids, and they all know at one point, 'I've got to go. I've got to be part of this controlled riot.'
"It's controlled, but it's a riot,'' Richardson continued. "When you go to practice, you have excitement. You're working with every one of them. You don't have six on one side and say, 'That's my team', or six on another and 'that's your team.' That's totally out of the question. If you go to a practice, you don't know who the starting five is, any of them, because they're all mixed and matched all the time. That to me is what Mike has done, and when I look at his team, that's what I see. One for all and all for one."
That's not what Richardson saw off the court at Arkansas, especially in his last days. Richardson got bounced at Arkansas toward the end of a disappointing 2001-02 season. His Razorbacks weren't going to make the NCAA Tournament or even the NIT. And Nolan's critics, in his mind, were out in full force celebrating his troubles. Richardson lashed out and said some things that some people took as offensive and damaging. Others heard the truth.
"See, my great-great-grandfather came over on the ship, I didn't," Richardson said at the time. "And I don't think you understand what I'm saying. My great-great-grandfather came over on the ship. Not Nolan Richardson. I did not come over on that ship, so I expect to be treated a little bit different. Because I know for a fact that I do not play on the same level as the other coaches around this school play on. I know that. You know it. And people of my color know that. And that angers me."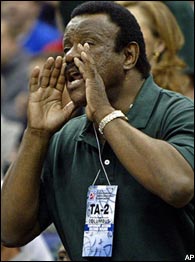 Nolan Richardson roots on UAB against longtime rival Kentucky.
Richardson also said that social life "is not that good for a black athlete" at Arkansas. And Richardson also pointed out the lack of diversity among the sports media corps that covered and evaluated the Razorbacks.
"When I look at all of you people in this room, I see no one look like me, talk like me or act like me," he said. "Now, why don't you recruit? Why don't the editors recruit like I'm recruiting?"
All of it cost Richardson his job. At a cost of $3 million, Arkansas bought out the last six years of Richardson's seven-year contract. Richardson's been fighting the university ever since. He's suing for damages. Does he have any regrets?
"No, not at all,'' he said. "I'm who I am and I must live with Nolan Richardson every night. And that's who I am. I would not change anything."
Richardson deserves another coaching opportunity. His system works. It would probably be even more effective in this era, when so many of the great, great talents head straight for the NBA. You don't need great talent to run "40 Minutes of Hell." All you need is great commitment. Nolan knows how to inspire commitment and sacrifice.
So does Nolan want to coach again?
"The right spots, the right situation,'' he said. "I call Mike Anderson's team Part II. When you look at his teams, I didn't get a chance to get Part II. It's like a movie. To watch him and his ballclub go and do the things that I thought would give me a chance to be successful. I'm saying that over my 25 year s&''
Richardson drifted off into a story about the "little Mexican'' high school kids who were the first to employ Richardson's "40 Minutes of Hell."
Again, does Nolan want to coach again? I mention that Houston just hired Tom Penders.
"It's amazing, they can get those jobs, huh? I can't get one though,'' Richardson said.
Actually it is. Richardson has won more than 500 games. He won big at Tulsa and Arkansas. Anderson, who should've replaced Richardson at Arkansas, is now winning big at UAB. Nolan Richardson made some mistakes, errors in judgment less serious than ones made Knightly by other coaches. It's time to move on and give Richardson his second chance.
Jason Whitlock is a columnist for the Kansas City Star (kcstar.com) and a regular contributor on ESPN The Magazine's Sunday morning edition of "The Sports Reporters." He also hosts an afternoon radio show, "The Doghouse," on Kansas City's 61 Sports KCSP. He can be reached at ballstate68@aol.com.