By Jason Whitlock
Special to Page 2
KANSAS CITY -- This week, Kansas City Chiefs president and general manager Carl Peterson took responsibility for my team's embarrassing winless start.
"Blame me. The buck stops here," Peterson told a Kansas City Star reporter.
Peterson certainly deserves the blame. He oversaw the Chiefs' misguided offseason plan that called for the team to retain its free-agent players -- including five members of the defensive unit that couldn't force Indianapolis to punt one time in a playoff game -- and stay out of the Terrell Owens, Warren Sapp, Jevon Kearse, Antoine Winfield free-agent sweepstakes.
So, yes, Peterson miscalculated. But don't be fooled. Chiefs coach Dick Vermeil helped Peterson with the math. The belief that coordinator Gunther Cunningham could magically fix Kansas City's broken defense was fueled primarily by the inappropriate belief that Vermeil and sidekick/offensive coordinator Al Saunders magically duplicated The Greatest Show on Earth.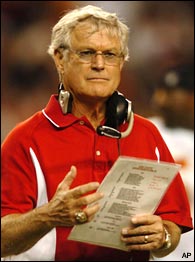 Dick Vermeil's got to pay attention to both sides of the ball.
Anything Mike Martz can do, Vermeil and Saunders think they can do better.
Vermeil and Saunders left Martz in St. Louis and believe they moved the Rams' Greatest Show on Turf to Arrowhead Stadium's green grass. The Chiefs fielded the NFL's highest-scoring offense in 2002 and 2003. Saunders doesn't think the points were produced by the personnel. It's the system. He has told reporters that any running back could rush for 1,300 yards in his system.
That kind of arrogance made the Chiefs think Cunningham could turn one of the league's worst defenses into a mediocre unit without any change in personnel. And that kind of arrogance made the Chiefs think a mediocre defense is all it takes to support Saunders' offense on a Super Bowl run.
Vermeil, Saunders and Cunningham are three of the best human beings working in professional football. Seriously. They're truly good people. But when it comes to football Xs and Os and motivation, they're disgustingly full of themselves.
The Chiefs led the league in scoring for two years because they consistently played from behind in 2002 (which means they needed hurry-up points), faced a soft schedule in 2003, constantly benefited from excellent field position (thanks to return man Dante Hall) and are blessed with top-flight offensive personnel.
Seven of Kansas City's offensive players -- Hall, tight end Tony Gonzalez, quarterback Trent Green, fullback Tony Richardson, tailback Priest Holmes and linemen Will Shield and Willie Roaf -- made the Pro Bowl last season. And you could've placed any of KC's three other linemen on the Pro Bowl team last year without objections from anyone.
The receiving corps is suspect, but given KC's weak 2003 schedule (the Chiefs met only three playoff teams -- Baltimore, Green Bay and Denver twice), only an idiot could've stopped them from scoring last season.
You could argue that only a group of idiots would watch the Colts score at will on the Chiefs' defense and conclude that coordinator Greg Robinson was the problem. Arrogance wasn't the only thing fueling Kansas City's foolish offseason philosophy.
Vermeil spent the offseason determined to figure out a way to add a legit No. 1 receiver to his offense. That was his focus. You must remember: Anything Martz can do, Vermeil and Saunders think they can do better. Vermeil is an offensive-minded head coach. He's out to prove that offense wins championships. Screw all the evidence to the contrary.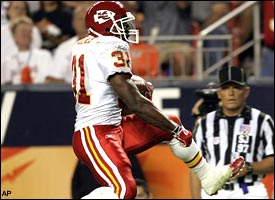 Everyone knows about Priest Holmes and KC's high-flying offense -- but that can't carry them.
Vermeil's offensive fetish hurts Kansas City's ability to evaluate defensive talent. The Chiefs moved up in the 2002 draft to select North Carolina defensive tackle Ryan Sims with the sixth pick. Sims, KC's highest-paid defender, has been a bust. His work ethic is spotty at best and his game-day effort is inconsistent. In that area, he isn't much different than he was in college. But Sims was recommended by North Carolina head coach John Bunting, Vermeil's former player at Philadelphia and a former NFL assistant coach.
In a newspaper column, I criticized Sims' play in a preseason game this summer, in which New York Giants' rookie guard Chris Snee dominated him. Vermeil disagreed with my criticism and had a tape of Sims' play in the game mailed to me at my radio show office. The tape confirmed Sims' horrendous effort. Bill Maas, my radio partner, and I watched the tape repeatedly and laughed. Maas is a former Pro Bowl defensive tackle. A member of the Chiefs' scouting department, unaware of Vermeil's dispute with me, commented to one of my newspaper colleagues about how poorly Sims had played against Snee.
Vermeil knows very little about defense.
The Chiefs signed three defensive free agents before last season -- linebacker Shawn Barber, cornerback Dexter McCleon and end Vonnie Holliday. McCleon played well last year. Barber and Holliday did little to justify their signings. This season, McCleon and Holliday are in jeopardy of losing their starting assignments. Barber would be if the Chiefs had any real depth at linebacker.
The money wasted on McCleon, Holliday and Barber, along with bonuses paid to Holmes, Green and a few other veterans and the re-signing of safeties Greg Wesley and Jerome Woods, compromised the ability of Peterson and Vermeil to sweet-talk frugal owner Lamar Hunt into forking over the cash to grab an impact free agent or two.
Last year, Peterson and Vermeil told Hunt the Chiefs' personnel was good enough to win the Super Bowl. A 9-0 start and a 13-3 record made Hunt believe they were right. Hunt can be forgiven for holding Peterson and Vermeil to their word. They should never have formulated a Super Bowl plan built on a mediocre defense and an offense with no outside playmakers.
Jason Whitlock is a columnist for the Kansas City Star and a regular contributor on ESPN The Magazine's Sunday morning edition of "The Sports Reporters." He also hosts an afternoon radio show, "The Doghouse," on Kansas City's 61 Sports KCSP. He can be reached at ballstate68@aol.com.