By Jason Whitlock
Special to Page 2
There's no way Philadelphia Eagles owner Jeff Lurie should allow Terrell Owens to attempt his next publicity stunt -- playing in Super Bowl XXXIX on a bum ankle.
No way. The Eagles can't get swept up in the T.O. hype machine. He wants to be Willis Reed and Jack Youngblood rolled into one. I don't blame Owens. He's a competitor. I imagine there's a small part of T.O. that really wants to play in the Super Bowl because he believes he can help the Eagles win. There's a very small part of T.O. that wants to make the same sacrifice as Youngblood, who played in a Super Bowl with a broken bone in his leg.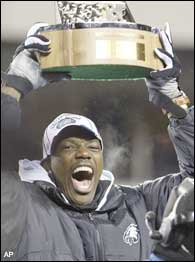 Hey, T.O. ... start waving a towel and stay on the sideline.
But that small part of T.O. isn't what's driving all the will-he-or-won't-he discussion surrounding his availability. T.O.'s need for attention is driving all the SportsCenter updates and Sal Paolantonio reports. T.O. wants a piece of sports' biggest stage and he'll stop at nothing to get it -- even jeopardizing the rest of his career.
Lurie has to be wiser than T.O. You don't jog on a treadmill one week and stroll across the middle or down the sideline of Rodney Harrison's neighborhood the next week. It's foolish. Harrison shows no mercy. He'd take great pleasure in going medieval on T.O.'s foot.
The Eagles gave Owens a $10 million signing bonus last offseason. This one game isn't worth $10 million, especially when you consider that T.O. at 75 percent won't decide the outcome. He would do little more than provide the Eagles additional inspiration. He can do that in street clothes while standing on the sideline.
I am not bashing T.O. It's cool that in the same playoffs that saw New York Jets defensive end John Abraham not suit up in order to protect his free-agent leverage, Owens is seemingly willing to risk everything. But do you really think he'd risk everything if he was in the last year of his contract and headed for free agency?
Nope. Owens, 31, inked his lifetime achievement contract over the offseason, and he's spent much of this season turning himself into a bigger-than-the-game, endorsement star. Limping on the field and scoring a touchdown in Jacksonville is T.O.'s final self-promotional trick. It would be more talked about than Janet Jackson's lovely exposed breast and Nicollette Sheridan's towel- (and jaw-) dropping "Monday Night Football" performance.
Besides being risky and self-serving, here's what I don't like about T.O.'s stunt.
He's once again overshadowing the game and the real story. We're spending so much time discussing T.O.'s health status that we're not focusing on other, more important story lines. Let me use my favorite Super Bowl XXXIX story line as an example: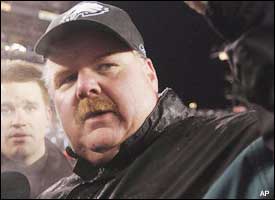 You don't get drenched in Gatorade if you're a dummy.
Philly coach Andy Reid isn't getting his proper respect as a football "genius" because he's overweight.
Seriously. Reid's football intellect might be on par with New England's Bill Belichick but no one talks about it because Reid is three bills. Fat coaches never get their due. Ask John Madden or Bill Parcells. Fat coaches are known for their personalities and motivational tactics. You would think Madden, Parcells or Reid never drew a play. Their expertise is in pregame speeches, shouting at players, developing relationships with their "guys," and cracking jokes with the media.
This is a serious issue to me for obvious reasons. I have the double plague of being large and extremely good-looking. No one ever notices the brilliance of my ideas because of my size and looks. When I first started appearing on the "Sports Reporters" six years ago, Bill Conlin of the Philadelphia Daily News told me that I'd never get credit for the things I said on the show because of my appearance.
"You're nothing more than a sex symbol, hired to attract female viewers," I remember Conlin telling me. "Your words will carry the show, but Lupica, Ryan and Albom will garner the accolades and praise. Rudy Martzke will ignore you."
Conlin was so prophetic. Even here, on Page 2, I asked the editors not to run my picture. I wanted to be judged solely on my words. But corporate bigwigs pressured my editors to at least run my mug shot. (My lawyers shot down an idea to run a picture of me shirtless.)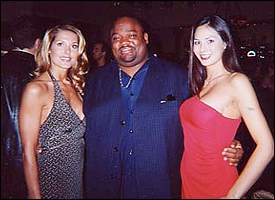 Jason spends commercial breaks on "The Sports Reporters" chatting with his female fans.
But I digress. This isn't about my struggle to be taken seriously and be known as more than a BBW (big beautiful writer). This is about Andy Reid and other large football coaches. This is about Reid getting what he deserves.
Reid isn't given nearly enough credit for overseeing the development of Donovan McNabb into a legitimate quarterback. Six years ago McNabb was Michael Vick, a tremendous athlete who took the snap from center. McNabb completed 49 percent of his passes his rookie season. Until this year, his career quarterback rating hovered around 79. This year McNabb threw 31 touchdowns and just eight interceptions, and his QB rating skyrocketed to 104.7. T.O. obviously helped. But McNabb and Reid have navigated through the playoffs without T.O.
Reid, like Belichick, is one of the few NFL coaches who has demonstrated the ability to handle coaching responsibilities, personnel responsibilities and salary-cap responsibilities. Reid is unafraid to let expensive veterans move on. ESPN reported a stat on Wednesday that said a lot about Reid's ability to strategize: He's 9-0 when given two weeks to prepare.
Reid is the total package. No one notices because he's so big and because T.O.'s mouth is even bigger.
Jason Whitlock is a regular columnist for the Kansas City Star. His newspaper is celebrating his 10 years as a columnist with the publishing of Jason's first book, "Love Him, Hate Him: 10 Years of Sports, Passion and Kansas City." It's a collection of Jason's most memorable, thought-provoking and funny columns over the past decade. You can purchase the book at TheKansasCityStore.com. Jason can be reached by e-mail at ballstate68@aol.com.