Webber's upbringing was all about substance. His mother made him read books and take quiet time just to reflect. If you spend any time at all around Webber away from the basketball court, you'll discover a man knowledgeable and passionate about a wide variety of issues. You'll also discover a man completely conflicted.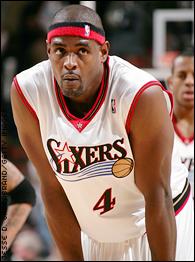 Don't expect things to go much better for Webber in Philly.
That's one of the reasons Webber was busted carrying marijuana. That's one of the reasons he was involved in a rape allegation. That's one of the reasons he was the front man for DaDa sportswear. That's one of the reasons he tried to become a rapper.
And that's one of the reasons he won't leave much of an NBA legacy.
We will forget about Chris Webber shortly. Injuries have eroded his ability to explode to the basket. He never developed a low-post game, so he's an inconsistent scoring threat in the clutch. He's a bunch of numbers and a great quote.
He isn't going to help the Sixers win it all this year, even though Philadelphia has paired him with Allen Iverson. Iverson will lead C-Webb straight to hell, and C-Webb will be more than happy to follow.
We all know people just like Chris Webber -- people uncomfortable with who they are, people who follow rather than lead, people who look for material things to define them, people who find momentary confidence in their association with others.
We're just shocked when we find those insecurities in people we view as possessing every gift that God has to offer.
Jason Whitlock is a regular columnist for the Kansas City Star. His newspaper is celebrating his 10 years as a columnist with the publishing of Jason's first book, "Love Him, Hate Him: 10 Years of Sports, Passion and Kansas City." It's a collection of Jason's most memorable, thought-provoking and funny columns over the past decade. You can purchase the book at TheKansasCityStore.com. Jason can be reached by e-mail at ballstate68@aol.com.