I don't care how many jerseys LeBron James sells. I don't care how many endorsement deals King James has. He is not as big a star (or as much of an asset to the league) as Magic Johnson was his first two years in the NBA. Magic and the league benefited from the star power Johnson generated while winning a national championship at Michigan State.
So, yes, David Stern and NBA owners have a vested interest in the success of college basketball. There's nothing wrong with that. There's nothing racist about NBA owners' wanting their potential employees spending a few years in college becoming more valuable. It's good business.
It's good business for the players, too.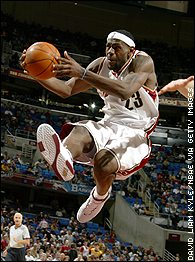 LeBron may turn out to be better, but Magic Johnson made a bigger impact.
It's not uncommon for the prep-turned-pro to sit on the bench for three years maturing mentally and physically. He can't help. He's stealing the roster spot and paycheck of a veteran who might be able to help a team win. Given the makeup of the NBA, that veteran player is more than likely going to be the same color as Jermaine O'Neal.
"I always thought that it was the purpose of the union to protect its members, not potential members," Grant Hill was quoted as saying in the New York Times. "I think if anyone gets left out, it's the older players, guys who put equity into this league, card-carrying members paying their dues to the union. I would hope they would be protected."
Now, is O'Neal right that it's hypocritical for the public to be outraged by high school basketball players' turning pro when baseball players have done it for years?
Yes, O'Neal is right. The public outcry is hypocritical, and perhaps driven by a bigoted double-standard. But that is not what is driving Stern and the union to do the right thing. Improving the product and enhancing the marketability of the product is the best protection NBA players have against a fan base that is prone toward hypocrisy and developing nagging double standards.
And that's the bottom line.
Jason Whitlock is a regular columnist for the Kansas City Star. His newspaper is celebrating his 10 years as a columnist with the publishing of Jason's first book, "Love Him, Hate Him: 10 Years of Sports, Passion and Kansas City." It's a collection of Jason's most memorable, thought-provoking and funny columns over the past decade. You can purchase the book at TheKansasCityStore.com. Jason can be reached by e-mail at ballstate68@aol.com.
Jason
Whitlock
BIG BUSINESS