By Jason Whitlock
Special to Page 2
Friday's Game 6 should decide Flip Saunders' fate.
If the Pistons lose in Miami and are eliminated from the playoffs in six games, Saunders should lose his job. If the Pistons force a seventh game in the Eastern Conference finals, then Saunders should stay on as coach of the Pistons regardless of what happens the rest of the playoffs.
Wilfredo Lee/AP Photo
Flip Saunders has to be feeling some pressure to extend this series.
As a devout Larry Brown fan, I'm rooting for exactly what I've been rooting for all season. A Detroit collapse. I've been wanting to say I told you so to all the Larry Brown haters for an entire year, and after the Pistons' spectacular regular season and promising playoff start, I thought I'd never get the opportunity.
In fact, several times this year I contemplated writing an apology and admitting in print that owner Bill Davidson, Palace president Tom Wilson and Pistons president Joe Dumars were right for using their media puppets to sabotage and undermine Brown a year ago.
The Pistons appeared to be better under Flip than Larry. Well, now we know that's not the case. What remains to be determined is whether the Pistons truly have regressed with Flip on the sidelines.
There would be no shame in losing to the Heat in seven games. The Pistons almost did that last year under Brown's direction, and you could make a strong argument they would have lost to Miami had Dwyane Wade remained completely healthy.
But series elimination in six would be another story, especially after getting extended to seven games by the Cleveland LeBrons in the semifinals, especially after damn near the entire roster flipped Flip under the bus during these playoffs.
If you remember, a year ago, sources close to the Pistons (Davidson, Wilson, Dumars and media flack Matt Dobek) were leaking "anonymous" stories about how unhappy and distracted Ben Wallace, Chauncey Billups and Rasheed Wallace were that Brown started shopping his services to Cleveland once he figured out Wilson had convinced Davidson to hate Brown.
You couldn't pick up a Sports Illustrated or a Detroit Free Press without reading about what an awful, disgusting, disloyal human being Brown was and how unnamed sources close to the Pistons (Davidson, Wilson, Dumars and Dobek) were sure Wallace, Billups and Wallace couldn't stand Brown.
The players always backed Brown publicly. That's not quite the case with Flip. You don't hear about unnamed sources close to the Pistons ripping Saunders. You hear about disgruntled, named players ripping Saunders.
Ben Wallace has criticized Saunders' defensive coaching. Rasheed Wallace doesn't like Saunders' use of the Hack-a-Shaq. Tayshaun Prince has been dissatisfied with Saunders' offensive strategy.
Is the public criticism unfair? Probably. But nowhere near as unfair as what happened to Brown a year ago. At least the players are willing to put a name behind their opinions. At least the players aren't hiding behind any media puppets.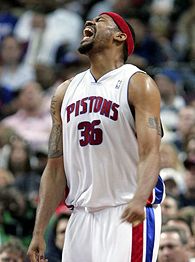 Paul Sancya/AP Photo
Rasheed Wallace, as well as a couple other Pistons, aren't exactly the easiest players to coach.
Larry Brown is a better coach than Flip Saunders. No one can deny that. I can't guarantee the Pistons would be beating the Heat if Brown was still the head coach in Detroit. But I can guarantee the Cavaliers wouldn't have taken the Pistons to a Game 7. You know damn well Larry burned up the phone lines instructing his good friend Mike Brown on how to defend Billups and Rasheed Wallace.
And I can also guarantee that Wade would not be able to shoot 70 percent from the field against a Larry Brown-coached team in a playoff series. No way. Larry would quit before he'd allow that to happen. Larry would have the good common sense to put Prince on Wade for 15 minutes a game.
Flip can still save his job. The Pistons can win Friday night in Miami. Bone (Gary Payton), Thug (Jason Williams) and Disharmony (Antoine Walker) -- Pat Riley's offseason acquisitions -- are still highly capable of destroying the Heat. The Pistons can still win this series.
This series could be the series that turns Flip into a solid postseason coach. He can earn the trust of his players by getting them through this series. There's no more difficult job in sports than taking over a veteran, successful team. The Pistons' players have enjoyed far more success than their head coach. And coaching B. Wallace, Billups and R. Wallace would be difficult for any coach. Brown struggled with it.
Of course, I'm hoping Flip and the Pistons get embarrassed on Friday night. The greatest joy in sports is saying I told you so. That might sound childish, but it's the truth. Would sports be half as fun if you didn't have a buddy to call and say, "Boy, I told you the Pacers were going to whip dat
a--"?
I told you the Pistons were going to regret dumping Brown for Flip.
Davidson, Wilson and Dumars believed they didn't need Brown, they didn't need the best coach in basketball to coach the best team in basketball. They tired of placating Larry's ego. They tired of Larry getting all the credit and attention.
Let me be the first to suggest this: If the Pistons lose on Friday, they should rehire Brown to coach the team once he's cut loose by Isiah Thomas and the Knicks. I'm serious. The players and the organization should now have a better understanding of what Brown brings to the table.
Jason Whitlock is a regular columnist for The Kansas City Star. He can be reached by e-mail at ballstate68@aol.com. Sound off to Page 2 here.