By Ralph Wiley
Page 2
Watching the incredible end to the Lakers-Spurs Game 5, when two prayers were answered in the final four-tenths of a second, it occurred to me that Gary Payton was worth it to the Lakers for throwing a perfect pass to Derek Fisher, who could then catch it in the act of shooting, the only way he could've gotten it off in time. That pass had to be delivered exactly where it was. It's the kind of subtle thing upon which championships are made.
Was Gary Payton aware he'd done this at the time?
I presumed so.
And that was about all the thought I gave to Gary Payton and Derek Fisher, because, actually, I'd take the so-called "foreigners," Tony Parker and Manu Ginoboli, over both of them, at this point in their careers.
Then I thought about the one guy in the history of the league who could bail out the Spurs under these circumstances. Or, bail out the T'Wolves. Maybe even the Kings. Definitely the Nets. And the Heat, the Pacers, or, for that matter, the Lakers. He'd be more help to the Lakers than Mailman for sure.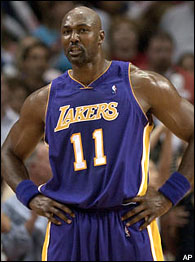 If the Lakers win it all, it won't be because of Karl Malone.
One guy I knew of could tilt these NBA conference semifinal wars in either one of eight different directions. No, he wasn't some All-World Hall of Famer scorer. I struggle to think of one of those who, placed on any of the remaining teams, would not undermine the shot attempts and therefore the fragile egos and temperaments of the current "stars" of those teams. Imagine what, say, Doctor J would do to Kobe, or what Rick Barry would do to Peja and Webber, what Frazier or Monroe would do to Sam I Am. Stars have always been the same demanding diva, haven't they? It's genetic.
But there's this one guy ...
Put this guy on the Lakers. Suddenly you can get Karl Malone out of there and the NBA title is basically a lock. Do not think for one minute that the Spurs will go away quietly now, not as long as they can send Tim Duncan through Malone, and Malone can display all the shooting touch of Shrek.
Never seen a player lose it so fast. Not just ability, but just become a total mental train wreck at crunch time. Somewhere, Karl Malone is throwing a ball away, even as we speak. I for one didn't need Ahmad Rashad to tell me these were the last days in time for the former Mailman. The NBA scoring record is totally safe. Malone could go out there by himself and not score enough points to catch KAJ now. But stick My Guy in there, and ...
Put My Guy on the Spurs, and he alleviates some load off the back of Tim B. Dunkin. The Spurs are asking too much of the guy. He misses David Robinson the way a Flying Wallenda misses a Catching Wallenda.
In Game 5, Pop gave up on Nestromo, went with Big Shot Rob, who left his touch in L.A., but still plays aware of specific situations and horses the board and tips away high caroms and takes the smart foul and that's plenty reason enough to have him in at 4. Evaluations inside a game of hoop are constantly changing, ever-shifting. The good ones have a good mind for the game.
The best ones have a genius.
Everyone oohed when Mailman pulled the chair once on a callow Yao Ming earlier in the playoffs. But My Guy would be pulling the chair out from under Shaq two or three times a game, making Shaq feel for him. My Guy would be rebounding, freeing up Dunc to go out high, score and freeboot.
Let's go on to the other series. Put My Guy on the T'wolves and school's out, basically. He's in Webber's head and knocks him off his spots before you can say Ann Arbor. Put My Guy on the T'wolves and Garnett becomes the All-Court Wolf Man, free to roam from 1, 2, 3 and 5, if it strikes him, and then no one could refuse them. And when, not if, some goon tries some rough stuff, well, My Guy ain't no band leader. Yeah. I heard that story.
Let's go to the other conference. Put My Guy on the Miami Heat, and he'd give Miami what it doesn't have now -- a matchup for Jermaine O'Neal.
Jermaine O'Neal is an interesting case. Give him a two-inch height edge over his opponent and he's hell-on-wheels. Put somebody on him who's the same size and he becomes an ordinary kid with pipestem legs and a head as big as a Zeppelin, yet inside it is all the awareness of a baby in the game, a Carnival freak who hasn't grown into his body yet. Now I suppose as a person he's a sweetheart and all that, but he's a frontrunning sweetheart.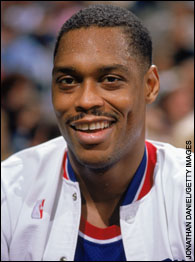 There was usually a meaning behind one of Mahorn's smiles.
And yet, put My Guy alongside O'Neal, and he'd blossom. Just in the same way Laimbeer and Rodman blossomed alongside Rick Mahorn.
Rick Mahorn?
Rick Mahorn is the one player from history who would vastly improve each remaining playoff team without disturbing the fragile ecological locker room and on-court and mental balance. He'd actually improve each team in all three ways. Now that's a rare breed of player. Mahorn may have been one of the smartest big man ever to play. Even today, Rick Mahorn is one of the best guys around to talk to about the intricacies of the playoff wars. Before we get back to Nets vs. Pistons -- the series that's going to determine one-half of the matchup of the NBA Finals, if not reveal the ultimate 2004 champion, itself -- let's get it on with Rick Mahorn.
* * * * *

They used to call him McNasty. Or McFilthy. I could never tell which was which. They also used to call him "Swine!" "They" being the followers of Johnny Most, gnome-like former Celtics' radio play-by-play guy, the anti-Chick Hearn, Marv Albert, from the mind of Clive Barker. Most was most definitely the inspiration for "Leprechaun," the B horror movie, not that fey bugger on the box of Lucky Charms, or the clown from the Austin Powers movie. If Johnny Most hated you most unreasonably, with such passion, you knew there was one reason why, and it made you smile. You'd damaged the Celtics, cost them basketball games, had beaten them before. So that was pain and fear in Johnny Most's voice, disguised as hatred and disdain.
Back then McNasty Mahorn played for the Washington Bullets and, not coincidentally, this was around the last time the Bullets were in any way relevant, before they became the Wizards.
Mahorn teamed with another big lout of comparatively limited talents and somehow deceptively high basketball intellect. He was named Jeff Ruland. Later on he became a college coach. Together they gave hell to the Dobber Parish, Karloff McHale and the Bird Man, who some call the greatest frontline ever. Some said that, and gave way. Some said it and played harder.
Mahorn and Ruland played harder.
| | |
| --- | --- |
| | If the New Jersey Nets had old McNasty, Rick Mahorn, in his prime, they'd be a lock to go for a third consecutive year, and then to finally win it. I thought they could last year until I saw how Jeff and K-Mart fell apart, mentally, at crunch time. |
The Bullets took games off the Celtics in Boston Garden in the '80s, when that was hard to do. They muscled up, blocked out, pulled chairs and grinded up bones on the O board to make their bread. Mahorn smiled that picket fence smile of his, that sardonic smile, ironically, the same smile Russell used on everybody else to make the Celtics the ultimate winning machine. The smile that made opponents think, "What's that #%@!& smiling about?" instead of "how is this guy managing to beat me?" But I didn't get to know the real Mahorn behind that smile until he moved on to Detroit.
Mahorn won a ring in '89 and the Pistons won again the next year, two titles during the era of Magic Johnson, Larry Bird and Michael Jordan.
Back then I talked to Mahorn at length and thought, "Wow, this guy is really smart, there's way more to him than just pulling chairs and setting picks and muscling guys; this guy understands the game, the whole game."
I also knew this wasn't the Bad Boy the Eds at the Illy wanted to hear about, necessarily, in a short column. I filed that part of Mahorn away and then did the usual trick of writing what was true in the context of what the Illy Eds wanted to hear. Difficult work, at best. But good training for a writer.
Mahorn broke down the games of not only his opponents for me but his teammates, like Rodman, and Isiah, and Joe Dumars, who he said were the keys, though he also said they'd need everybody to beat not only his old antagonists the Celtics but the kid Jordan and the Magic Lakers. "Vinnie, Billy (Laimbeer -- he and Mahorn had a great relationship, always laughing and ribbing each other, and it occurred to me, Mahorn made that adjustment with Ruland too, they were the same way together -- it was Mahorn making this happen), me, we all have a part to play." Then, he broke down not only the games but the mentality behind those games of their toughest opponents, like Jordan, Magic, Bird, or even, say, Dominique, or Doc Rivers, or Moses, or Detlef, or Ro Blackman ...
The Pistons released Mahorn after the first of their two championships, and that hurt him way more than anything Johnny Most ever said about him. I've often wondered if he was released in part because he was too aware. So aware he became a threat, as in, "Geez, this guy has a better feel for this than I do." He was ready to coach then, let alone now. He was ready to be trained how to run a club. I look at McHale now, and Ainge, and Billy King, and Geoff Petrie, and Mitch Kupchak, and Isiah, and I think about the good mind of Rick Mahorn. They tried to make him Luca Brasi. But that was just the role he played on television. He could've run his own family.
* * * * *

So now we come down to it -- the Nets versus the Pistons.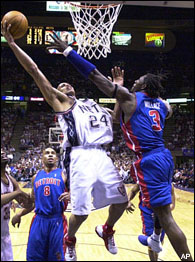 Jefferson better not expect Ben Wallace and the Pistons to leave the lane open very often.
There's one team that's been to the NBA Finals the last two years and it isn't the Lakers or the Spurs. It's the New Jersey Nets. And if the New Jersey Nets had old McNasty, Rick Mahorn, in his prime, they'd be a lock to go for a third consecutive year, and then to finally win it. I thought they could last year until I saw how Jeff and K-Mart fell apart, mentally, at crunch time. Ask Byron Scott about Jeff. It's still there, between them. You can see it. What in the hell happens to you at crunch time Jeff?
Jefferson is the best unaware player I've ever seen. It's not that he's not a smart kid -- he is; and he has winning ways off the court. But this on-court awareness winning way I'm talking about, I still don't know if it's something you develop, or you become accustomed to the stage in time, or whether you either have it or you don't. I'm inclined toward the latter. I've seen Jeff make too many BDs or NDs (Bad Decisions, or No Decisions, in Mahornese) in the open court or the half-set, where I muttered, "No ... no," to myself. Lately he's taken to just taking off and going to the hole and dunking it, or trying to, which is much better than just being indecisive, or unaware. But sooner or later the Pistons will take that away.
K-Mart on the other hand, is quite a case. He's unaware in a different way.
Put Mahorn's mentality between the two, instead of the just-glad-to-be-here borderline clankishness of Jason Collins, or silent Red Williams. Think Rod Thorn (or, for that matter, Rick Mahorn) doesn't know something's missing between the two? Why'd they take that chance on Alonzo Mourning, then? Everybody knew that even if Zo managed to come back from his kidney disease and survive the season and the playoffs, he certainly wouldn't be the old Zo. He'd be more like the old Rick Mahorn. But that would've been plenty, between the supreme physical talents of K-Mart and Jeff.
It didn't happen. Zo relapsed. And how did the Nets react? They dumb-jocked him. Remember when Zo went off after K-Mart and Jeff ragged on his about his kidney? Remember when they were laughing at a sick guy? Remember when Zo said he'd put K-Mart on his back? Sometimes it's good to know you can be put on your back. It humbles you. It makes you think about what you're doing, and makes you not so oblivious.
I went to a couple of Nets' games this year. The second time, during the first round, when they tucked away the Knicks (right now in my head I can hear Steve Berthuime saying "The Knicks -- huhuhuhuh" in the humiliating and dismissive way he has of doing it, and I see red because deep down I know he's still right; I've laughed when he's done that to teams whose operations I don't care for). K-Mart was speaking to people sitting near me and Dogman and Spike Lee, saying "Whassup, dog?" and the like. "No," I muttered to Dogman and Spike. They both said, "But that's his son." "I don't care," I said to them. "That makes the opponent concentrate more, when he sees you don't even have to act like you're thinking about this. And it distracts you."
They didn't agree -- too busy hurting for the Knicks.
But Rick Mahorn did, when I talked to him about it later. Then he put his finger to his lips and said, "Sssh." I think he's torn somewhat. He feels he understands K-Mart, sees him for the absolute beast he could be out there. Mahorn's an East Coast guy, partially played out the string with the Nets, but he got his ring with the Pistons and broadcasts their games now. Later, Mahorn told Mike Wise or Chris Broussard that K-Mart's walkabouts were legit and came out of a hypercompetitiveness that was at times misdirected. But he said he was authentic, more authentic and more talented that Rodman, implying that Rodman became calculated, more scripted, and was dancing to someone else's tune instead of his own.
Even today, Rick Mahorn's thoughts, his great mind for the game, have me now thinking that the Detroit Pistons will somehow overcome the superior athletic ability and speed of the Nets. That the seven-foot length across the front of Wallace, Wallace, Memet Okur and Tayshaun Prince, who has the wingspan of a seven-footer, will form a wall that K-Mart and Jeff can't just fly over without having a plan or being aware. If Ben Wallace were as aware as Mahorn -- which Rasheed Wallace appears to be -- a Pistons victory would be virtually guaranteed, even though New Jersey may have the three best players. If Mahorn had the ear of either team, they'd be the favorite.
Maybe that's part of what Larry Brown was saying about Larry Frank.
A good mind for the game is a terrible thing waste.
Somebody wake up the Wizards and tell them.
Ralph Wiley has written articles for Sports Illustrated, Premiere, GQ, and National Geographic, and many national newspapers. He was one of the original NFL Insiders on NBC. His many books include "Serenity, A Boxing Memoir," "Why Black People Tend To Shout," "By Any Means Necessary: The Trials and Tribulations of the Making of Malcolm X" with Spike Lee, "Dark Witness," "Best Seat in the House" with Spike Lee, "Born to Play" with Eric Davis, and "Growing Up King" with Dexter Scott King and the children of Martin Luther King Jr. He contributes to many ESPN productions, and bats cleanup on a weekly basis for Page 2.