By Donald J. Barr
Below are two Sports Illustrated publisher's memos regarding Ralph Wiley, from Feb. 2, 1987 and June 5, 1989. They're reprinted here courtesy of Sports Illustrated. Copyright (1987, 1989), Time Inc. All Rights reserved.
The traits that I admire most in great athletes," says Sports Illustrated staff writer Ralph Wiley, "are versatility, flexibility and relentlessness."
Over the past five years, Wiley has demonstrated his own mastery of those virtues in stories for SI on subjects ranging from Patrick Ewing to John Elway to the fight between Ray Mancini and Duk Koo Kim that ended in tragedy. In this week's issue Wiley writes about Alabama's basketball team and paints a sensitive portrait of struggling NBA rookie Chris Washburn, who has yet to understand the qualities that could someday make him great. "Chris has transcendent ability," says Wiley, "but he knows nothing of relentlessness."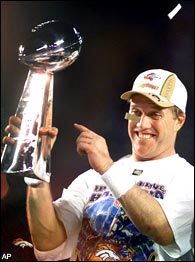 Ralph Wiley believed in John Elway before many others did.
Wiley, 34, comes by his feel for sports as participant as well as observer. He was a wide receiver for Knoxville (Tenn.) College in the early '70s and at the same time was the sports columnist for the now defunct weekly The Knoxville Spectrum. As a result, says Wiley, "I have eyes for all seasons, but I have a third eye for football."
Case in point: After Denver defeated the Los Angeles Raiders 21-10 in the ninth week of the season, Wiley wrote that the Broncos quarterback had reached "the pinnacle of his profession ... It's Elway's turn now ... " Wiley's words were not echoed by such notables as Don Shula and Terry Bradshaw, who expressed doubts on national television about the 26-year-old Elway's maturity. Then Elway led that spectacular 98-yard drive against Cleveland in the AFC championship game, looking mature indeed. "I had asked some All-Pros what they thought of John, and they just shook their heads in awe," Wiley says of his November judgment. "I wasn't going out on a limb."
Wiley has, however, spent some time out on limbs. In 1980, as a columnist for the Oakland Tribune, he picked the Raiders in preseason to reach the Super Bowl, and a year later he chose the 49ers. After his long shots advanced as predicted, Wiley proceeded to nail the winning team and the margins in both games.
Wiley also covered 12 world championship fights while in Oakland. And it is to him we owe the term Billy Ball. He coined it while covering the Billy Martin-managed Oakland A's, to the subsequent delight of the team's advertising agency.
These days Wiley divides his time between his house near Washington, D.C., and his apartment -- and SI's offices -- in Manhattan. He recently completed a nonfiction manuscript called "Serenity: A Boxing Memoir," and is currently working on a screen adaptation of the work for filmmaker Spike Lee. Wiley is also about to embark on his first novel, about pro football. "I'm still 98 yards from my goal," he says, "but if I work hard, good things will happen. I learned that from John Elway."
---
"If you hang around a subject long enough," says Sports Illustrated senior writer Ralph Wiley, "you'll get something that makes your story work."
Wiley's profile of Thomas Hearns in this week's issue is eloquent testimony to the truth of that statement. Wiley has been hanging around Hearns -- off and on -- for close to a decade. The two first met in 1980, when Wiley was a columnist for the Oakland Tribune and Hearns was a 21-year-old welterweight from Detroit still looking for his first title shot. In the years since, Wiley moved on to SI -- joining us in 1982 -- and Hearns collected five championship belts.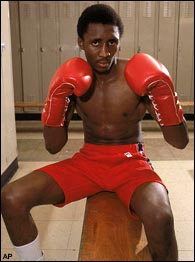 One of Ralph Wiley's favorite subjects was Thomas Hearns.
But Wiley continues to find new facets to the fighter. "He's intriguing," says Wiley, who last wrote about Hearns in the November 9, 1987, issue. "Nothing captures the imagination like a guy with a big punch."
When Hearns began preparing for his long-awaited rematch with Ray Leonard, it seemed a good time for Wiley to start hanging around again. "I was in Detroit, talking to Tommy's mother, Lois," Wiley says, "when she happened to mention something about Tommy's 106-year-old grandfather, and suddenly bells went off in my head." The resulting interviews with Henry Tallie gave Wiley the personal history with which to frame his account of a champion facing what may be his last big battle.
While Wiley has done stories for SI on a variety of sports, clearly it is boxing that interests him most. His first book, "Serenity: A Boxing Memoir," published by Henry Holt, will be out in July. It features such prominent ring figures as Mike Tyson, Leonard and, of course, Hearns, as well as a number of lesser-known warriors, including Wiley's own Uncle Charles, who fought as Charlie Boy Taylor and had a 3-2 record as a professional middleweight. "Charles was my favorite uncle," says Wiley. "He was the slowest to anger and the quickest to laugh. And he had ability. It gave him what I call serenity, and that's where the title comes from."
Wiley has several nonboxing projects in the works too, including a book of essays, "Why Black People Tend to Shout;" a novel, "Fairy Tale;" and a play entitled "Cardinals," which, despite Wiley's sports background, has nothing to do with St. Louis baseball or Phoenix football -- the title refers to cardinal sins.
Yet even with his divergent interests, Wiley is unlikely to stop hanging around boxers. "When I finished "Serenity," I thought: That's it, I'm purged," he says. "But that's ridiculous. You can't purge the fascination of boxing. I'm sure I'll keep on writing about it.
Donald
J.
Barr
WILEY'S THIRD EYE