Cinema's All-American team
Tom Cruise, Denzel Washington, Warren Beatty and Burt Lancaster are part of a long list of Hollywood's leading actors participating in pigskin stories, but ever since the old Galloping Ghost, Red Grange, ran across the silver screen in such silent pictures as "One Minute to Play" and "A Racing Romeo," footballers have also been players in Hollywood creating an interesting crossover.
PAGE 2 ON "LEATHERHEADS"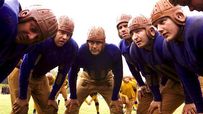 •
History of football films
•
Top 11 football movie scenes
•
Players who also acted
•
Q&A with George Clooney
"Actors want to be athletes and athletes want to be actors," says Hugh Dodson, a respected Hollywood talent agency executive whose new management firm, Paragon, represents over two dozen NFL players.
With partner Steve Feldman, Dodson has plans to include actors, writers, producers and directors among his jock clientele. Aiming to prosper from that ongoing crossover of two-way players, he recognizes footballers as a whole have made the transition to Hollywood better than other athletes. "Football has produced more successful actors than any other sport -- by far," he says.
Based on the criteria of performers who played at least at the collegiate level with multiple credits portraying a character other than a version of themselves, we now present: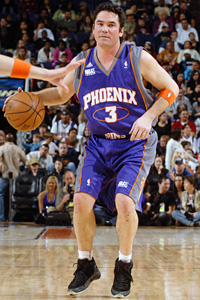 Barry Gossage/NBAE via Getty Images
Steve Nash can relax, Dean (aka Superman) won't be taking his job.
Hollywood's Starting 11 (aka Everybody's All-Americans):
11. Dean Cain, Princeton
"Clubhouse," "Lois & Clark: The New Adventures of Superman," "Las Vegas"
At one point Cain held the NCAA interception record playing with the Tigers, but after being drafted by the Buffalo Bills, a knee injury forced him out of the sport. Primarily finding success in television, Cain has three movies coming out in 2008.
10. Woody Strode, UCLA
"Spartacus," "The Professionals," "Sergeant Rutledge"
A brilliant decathlete while also starring at UCLA in football, like "The Duke," John Wayne, Strode broke through in Hollywood via a friendship with the great director, John Ford. Strode played semi-pro football before helping break the color barrier when he signed with the Rams when they moved to Los Angeles from Cleveland in 1946. Later on he played in the CFL with the Calgary Stampeders and also wrestled, even taking on the legendary Gorgeous George. Perhaps most famous for his duel with Kirk Douglas in "Spartacus," Strode also starred with Joe Namath in the Civil War drama, "The Last Rebel."
9. Carl Weathers, San Diego State
"Action Jackson," "Predator," "Street Justice"
The theater arts major who played under the great Don Coryell at San Diego State will likely be most remembered as boxing champ Apollo Creed in the Rocky film series. Weathers has also done a lot of television movies including "Assault on Devil's Island" and "Alien Siege."
8. Dwayne Johnson, Miami
"The Scorpion King," "Walking Tall," "The Game Plan"
Achieving fame and fortune in the wrestling world, The Rock is on the rise in Hollywood. Johnson has five films coming out in the next two years, including a leading role as Agent 23 in a film version of the TV classic, "Get Smart," which features Steve Carell as Maxwell Smart.
7. Ward Bond, USC
"The Quiet Man," "Gentleman Jim," "The Maltese Falcon"
The gruff, burly son of a lumberyard worker got his break in showbiz via his USC football teammate and close friend, John Wayne. He enjoyed a 30-year career in both major and minor roles and died of a heart attack during a break from his starring role in the TV series, "Wagon Train" while traveling to Dallas for a football game.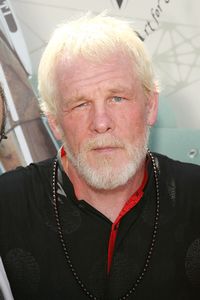 Jesse Grant/WireImage
Nick Nolte's off-field antics had all the makings of a professional athlete.
6. Jim Brown, Syracuse
"The Dirty Dozen," "100 Rifles," "The Running Man"
The NFL, CFB and Lacrosse Hall of Famer first appeared in the western "Rio Conchos" and went on to star in the so-called "blaxploitation" pictures of the early '70s like "Black Gunn," "Slaughter," and "Three the Hard Way." He would later parody them as Slammer in Keenan Ivory Wayans' "I'm Gonna Git You Sucka."
5. Nick Nolte, Arizona State
"Rich Man, Poor Man," "Affliction," "48 Hours"
Beginning as a Sun Devils freshman then bouncing around junior colleges, Nolte, whose father Frank played at Iowa State, caught the acting bug at the Pasadena Playhouse.
4. Tommy Lee Jones, Harvard
"The Fugitive," "No Country for Old Men," "In the Valley of Elah"
A left guard for the Crimson in the late '60s, the Texas native without formal theatrical training has done quite well for himself in show business. Jones was terrific as the reclusive billionaire in the TV picture, "The Amazing Howard Hughes" as well as the cantankerous baseball great in "Cobb."
3. James Caan, Michigan State
"The Godfather," "Thief," "Misery"
Caan's real athletic passion was the rodeo, where he earned the nickname "The Jewish Cowboy." Among his early film credits was the western "El Dorado," which starred John Wayne and Robert Mitchum. Like many actors, he began in off-Broadway productions.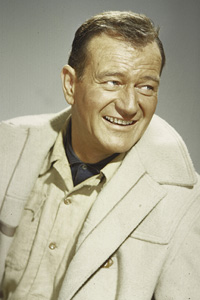 Loomis Dean/Time Life Pictures/Getty Images
No one ... no one messes with The Duke.
2. Burt Reynolds, Florida State
"Deliverance," "Boogie Nights," "Evening Shade"
After a knee injury and car accident ended Reynolds' budding football career as a Seminoles running back, he went from bit roles in TV series like "Gunsmoke" and guest hosting "The Tonight Show" to bearing it all for Cosmopolitan and scoring big bank with "Smokey and the Bandit," "The Cannonball Run" and their sequels.
1. John Wayne USC
"True Grit," "Sands of Iwo Jima," "Stagecoach"
Playing under his real name of Marion Morrison as a lineman while attending USC, The Duke got a summer job working in films with props in 1926. On one set he became friends with director John Ford, who began casting him in bit parts which led to an amazing run of over 140 lead roles in a career that spanned six decades.
Honorable Mention: Lyle Alzado, Stone Cold Steve Austin, Terry Bradshaw, Brian Bosworth, Johnny Mack Brown, Dick Butkus, Bernie Casey, Terry Crews, Ben Davidson, Fred Dryer, Roman Gabriel, Don Gibb, Bill Goldberg, Rosey Grier, Mark Harmon, Deacon Jones, Joe Kapp, Alex Karras, Howie Long, Ed Marinaro, John Matuszak, Frank McRae, Don Meredith, Joe Namath, Merlin Olsen, Ronald Reagan, Paul Robeson, Bill Romanowski, Tim Rossovich, Bob Sapp, OJ Simpson, Tony Siragusa, Bubba Smith, Lynn Swann, Kenny Washington, Fred Williamson.
Randy Williams is the author of "Sports Cinema: 100 Movies -- The Best of Hollywood's Athletic Heroes, Losers, Myths, and Misfits"