What do Emile Hirsch, Tom Cruise, Sylvester Stallone and Elvis have in common? Auto racing. Yes, even the gyrating one steered onto the silver screen portraying an auto racer. Of all the stars who have put the pedal to the metal, who are the most convincing performers?
Whether their characters won or lost … crashed and burned … or just outran the law, which actors looked like they had the potential to actually handle a fast car under pressure? Buckle in and get revved up as we go for a ride down Hollywood's brickyard of dreams. Just like the sport, we'll examine the best by classification. Here's a look beginning from the back of the starting grid. Cops & robbers and assorted hot rodders
Just because the focus here is about competitive auto racing doesn't mean these actors can't drive. There are some performances by actors that are so good, in nonracing films, that to
not
include them would be wrong. Let's face it: For many of these movies, the pursuit scenes are often the most vivid ones of the picture. From the pure horsepower pulling Charlton Heston's chariot in "Ben Hur," "The Italian Job" (original version), "Duel" to "The Seven-Ups," just about any James Bond film, "Smokey and the Bandit," "The Blues Brothers" and "Ronin," Hollywood movies are filled with memorable chases and races before the days of computer-generated imagery. The following thespians proved they should be in a true auto racing movie based on their skill at handling a car.
Frank Martin (Jason Statham), "The Transporter" (2002)
Ex-special forces operator Martin (Statham) lives what seems to be a quiet life along the French Mediterranean, hiring himself out as a mercenary "transporter" moving material (including people) from one place to another in his tricked-out BMW 750i E38 with its rare six-speed gearbox. In any gear, Martin shows real poise behind the wheel despite the perilous stakes involved. Whether he is maneuvering his vehicle down pedestrian steps, squeezing through narrow lanes or speeding backward on highways, for Martin, "the deal never changes."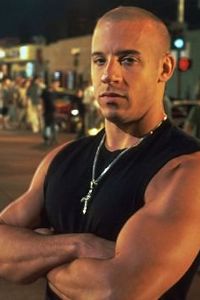 Universal
As an L.A. street racer, you believe Vin Diesel can handle a hot rod.
Dominic Toretto (Vin Diesel), "The Fast and the Furious" (2001)
Though he has a name that sounds more like a long-haul trucker from Brooklyn, Diesel is believable as a leading Los Angeles street racer, a man who "lives a quarter mile at a time."
Kowalski (Barry Newman), "Vanishing Point" (1971)
"The Last American Hero to whom speed means freedom of the soul," says radio DJ Super Soul (Cleavon Little) about Kowalski (Newman), a driver for a car delivery service, who, in attempting to meet a deadline by dropping off a car in San Francisco from Colorado, finds himself in circumstances that turn the assignment into a life-ending adventure.
John Milner (Paul Le Mat), "American Graffiti" (1973)
If it came down in a head-to-head race for winning yet not going over a seaside cliff, I'd take Le Mat's John Milner over James Dean's Jim Stark from "Rebel Without a Cause." Milner: "You're gonna hafta do one hell of a lot more than that to scare me!"
The Driver (Ryan O'Neal), "The Driver" (1978)
His line of work is hard to come by, but please don't play chicken with O'Neal, who stars as the driver, a getaway man for bank robbers. Cocky police detective Bruce Dern takes some legal risks in "trying to catch the cowboy that's never been caught." Dern fails.
Jason Bourne (Matt Damon), "The Bourne Supremacy" (2004)
Trained assassin Bourne puts a Russian-made Volga 3110 taxi to the test running through the streets of Moscow with a Mercedes SUV and cop cars in on the ride. Doing it without any flashy pomp, Bourne, despite a lot of innocent bystander carnage and a few continuity issues, takes a lot of lickin' but keeps on tickin'.
Mad Max Rockatansky (Mel Gibson), "Mad Max" (1979)
Beginning from the opening chase scene in the first of the movie trilogy, Mad Max shows some fast thinking behind the wheel while becoming a cynical drifter after getting revenge for the killing of his family. In the post-apocalypse world he finds himself in, Max wanders the Australian wastelands with nothing but his dog, an old, juiced-up police interceptor and a shotgun. Max performs some pretty instinctual maneuvers with his "vehicle" that saves him time and again. Off the wall
Here's to one actor who made his film memorable.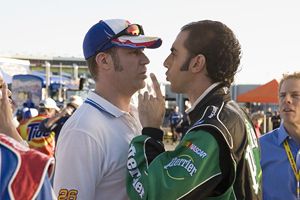 Sony Pictures
Maybe the bigger question: How would Borat do behind the wheel of a 200-mph race car?
Jean Girard (Sacha Baron Cohen), "Talladega Nights: The Ballad of Ricky Bobby" (2006)
"My name is Jean Girard and I am a racing-car driver just like you except I am from Formula Un. I am the greatest one in the whole world." With his character's comedic elegance and certain savoir faire communicating to a good ol' boy world through an outrageous French accent, Cohen leaves a few skid marks on that win-at-all costs hick driver Ricky Bobby (Will Ferrell). On the Road Again
Perhaps no other classification lends itself more easily to the Average Joe dreaming of participating. Who hasn't wanted to take off on a cross-country jaunt and the freedom of the open road (at least before gas prices hit $4 a gallon)?
Steve Smith (Tim McIntire), "The Gumball Rally" (1976)
"Fifty-five is fast enough to kill you, but slow enough to make you think you're safe."
– eventual winner Michael Sarrazin as Michael Bannon Better than the high-profile version that came out nearly six years later featuring Burt Reynolds in a well-worn role with some glamorous yet fading co-stars ("The Cannonball Run"), "The Gumball Rally" is simply a few magic hours against the red line in a cross-country race with no rules and no glory, in which the first from Manhattan to the parking lot of the Queen Mary in California is the winner. Though he didn't win (barely losing to Sarrazin's Shelby Cobra), Smith showed the most talent in this diverse field. Handling his Ferrari with ease and a thinking man's racer, Smith epitomized a driver's pure love of the competition. Here's to "internal combustion and wind in the face."
TALKING MOTOR SPORTS CINEMA
"I saw 'Grand Prix' when I was 13. Very impressionable. It made me want to be a race car driver. I told Jim (Garner) how it impacted my career and he couldn't believe it. It is by far the best."
– Bobby Rahal, winner of the Indy 500 as both a racer and owner

"Steve McQueen was the master of them all."
– Robert Eisele, screenwriter of "3: The Dale Earnhardt Story"

"Paul Newman started late but he was very successful considering his age and a lot of drivers hold him in high regard."
– Angelo Pizzo screenwriter of "Hoosiers" and an upcoming film on the first Indy 500, regarding the actor's performance in "Winning" and subsequent real racing efforts

"(I have) a profound respect for their athleticism and what it takes to be a competitive driver. I could barely get out of the car after the third day. I got up to 170 mph racing with a group of cars but I wasn't anywhere near what regular racers do in a normal race and I was soaked in sweat. In a holistic sense, mentally, spiritually and physically it is draining. You have to be in love with the sport as it demands every ounce of your being."
– actor Barry Pepper on portraying Dale Earnhardt

"I almost got killed once. We had traffic control for five miles both ways. I was speeding along the highway with limited vision with a camera on my hood, but with the understanding that I was the only vehicle in the scene. Before I knew it, I see a car coming right at me, not in the script. As a reflex action I pull up to the banking on the right and almost crashed and burned on that Utah highway."
– actor Barry Newman on the cult chase classic "Vanishing Point"

"It was quite a compliment to me, especially that I am still living and breathing. I am very thankful. I wish they'd do it again because the real story happened afterwards. I survived a lot. I continued to race (until 2003) despite a horrific upside down ride in '84."
– 67-year-old Shirley Muldowney on "Heart Like a Wheel," a film based on her early life

--Randy Williams
Jim Douglas (Dean Jones), "The Love Bug" (1968)
"Well, there's nothing essentially wrong with the car. It's just that it wants to go one way and I'd like to go the other. … If I'd wanted a trick car, I would have bought one at a joke shop."
– Jones as Douglas
A driver of a talking VW as part of this elite group? That's right. Not only did Jones possess a certain flair and understanding of the nuances of his special little car, most other movies included here would love to have had the lucrative long-running sequel history of this franchise.
Frankstein (David Carradine), "Death Race 2000" (1975)
"Frankenstein! Frankenstein the legend, Frankenstein the indestructible! Sole survivor of the titanic pile-up of '95, only two-time winner of the Transcontinental Road Race … Frankenstein! Ripped up, wiped out, battered, shattered, creamed, and reamed … a dancer on the brink of death. … Frankenstein, who lost a leg in '98, an arm in '99! With half a face and half a chest, and all the guts in the world, he's back!
– broadcaster Don Steele as Junior Bruce This article wouldn't be complete without a wink and a nod to this twist on the genre in which the annual Death Race sends five cars coast-to-coast across America in search of a victory that includes points won for pedestrians killed, higher scores for those of least use to the State. David Carradine plays it just right as the half-man/half-machine who has been built to be the best racer on Earth and can outrun and outkill anyone on the circuit. The Glamour Group
No form of motor racing has a larger following around the globe than grand prix racing. The worlds of Indy, CART and Formula One have long been an attractive component of the sport as much for its high-tech sophistication as its culturally diverse array of personalities.
Scott Stoddard (Brian Bedford), "Grand Prix" (1966)
"You know one of the most beautiful things about a car? If it isn't working properly you can strip the skin off, expose the insides, find out exactly where the trouble is, take out the faulty part and replace it with a new one. If only we could do that with people."
– Bedford as Stoddard Racing against the legend of his dead brother's successes, Bedford's characterization as British champion Scott Stoddard is engaging as the lad maintains a sense of humor while losing his wife to another driver and recovering from a near-fatal crash to get back into the driver's seat.
Jean-Pierre Sarti (Yves Montand), "Grand Prix" (1966)
"I've begun to see the absurdity of it, all of it. Proving what? That we can go faster and perhaps remain alive. … Who cares?!"
– Montand as Sarti Possessing a European charm that sweeps an American journalist (Eva Marie Saint) off her feet, Montand succeeds in imbuing his character with a seasoned yet increasingly pessimistic view of his chosen profession, a very successful one that ends in tragedy.
Beau Brandenburg (Til Schweiger), "Driven" (2001)
"I don't understand this brotherhood of speed crap."
– Gina Gershon as racing wife Cathy Heguy
,/p> Though the picture was not successful, the German actor Schweiger, more recently in the news for his celebrity soccer play, shows some steady nerves and fine reflexes pretending to handle a 250-mph CART car.
Note to future filmmakers: Please, the only humming should come from the engines, not the racers. Good Ol' Boy Circuit
Stock car racing's origins came from the South, where moonshine runners attempted to outrace the authorities in delivering untaxed liquor from local stills. Friends and neighbors would argue that their pal's car outran the enforcers by a greater distance than other bootleggers' cars, so to settle matters, they'd all go out to the nearby fairgrounds and wager as the runners raced head-to-head. The better pictures that captured this world are "Thunder Road" (1958) starring Robert Mitchum, and "White Lightning" (1973) starring Burt Reynolds and "Greased Lightning" (1977), with Richard Pryor portraying Wendell Scott, a black moonshine runner who breaks the color barrier of the professional racing circuit.
Rowdy Burns (Michael Rooker), "Days of Thunder" (1990)
"He didn't slam you, he didn't bump you, he didn't nudge you … he "rubbed" you. And rubbin, son, is racin'.
– Robert Duvall as veteran crew chief Harry Hogge A two-sport player from "Eight Men Out," Rooker shows he can perform in another athletic endeavor as he drops the hammer against Tom Cruise. Even after their fierce circuit rivalry has sent them dazed and confused to the hospital, Rowdy and Cole Trickle (Cruise) continue to race each other down hospital corridors in wheelchairs and later, in rented cars. Ultimately an alliance is formed.
Dale Earnhardt (Barry Pepper), "3: The Dale Earnhardt Story" (2004)
"You know why I ride you son? You don't try hard enough. … It ain't the one with the fastest car, it's the one who refuses to lose."
– J.K. Simmons as racer Ralph Earnhardt to his son Dale All the more impressive given a comparatively tiny budget, this multigenerational look at the racing Earnhardt family is one of the better stories of life on and off the track. Pepper ("61*") went to racing school and it shows. Portraying the hard-nosed and driven Dale Earnhardt (aka "The Intimidator"), Pepper exudes a quiet determination inspired by his racing father, repeating expressions he passed on such as "Son, they can't put it in you and they can't take it out."
Junior Jackson (Jeff Bridges), "The Last American Hero" (1973)
"What's foolishness to one person is the breath of life to another."
– Art Lund as Elroy to his son (Bridges) Shot in the days before computerized explosions and high-tech gore, from the opening scenes with the panoramic view of Junior Jackson's fast-moving moonshine transport swirling up the autumn leaves of the wooded hills to Jim Croce's appropriate tune of "I've Got a Name," this film has a real natural and American feel. Bridges, in portraying the early years of stock car racer Jackson (essentially the real-life Junior Johnson), shows a genuine feel for the wheel. Combining a redneck roughness with an easy charm, Jackson presents those winning traits of guts, competitiveness and individuality that embody the American spirit. Drag Queen
Shirley Muldowney (Bonnie Bedelia), "Heart Like a Wheel" (1983)
"Shirley, you got more damn raw talent than I have ever seen. All you need to go major league is to just want to."
– Beau Bridges as Connie Kalitta, a fair racer himself
In this engaging biography of former three-time national drag racing champion Shirley "ChaCha" Muldowney, Bedelia delivers with a compelling mix of vulnerability yet unflagging determination in settling into the driver's seat of those power machines while facing the sexual discrimination hurdles she had to overcome.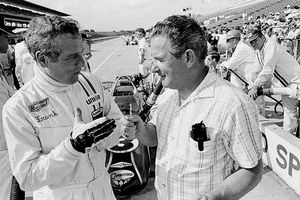 AP Photo
Paul Newman, pictured gaining tips from Roger Ward, was so determined to do most of his own driving in "Winning" that the studio had a $3 million insurance policy on the actor.
Podium Performances
Of the scores of performers who put on a display of speed, only a very few were smooth enough to handle the split-second timing and sheer intensity required to compete at the elite level.
Frank Capua (Paul Newman)
, "Winning" (1969)
"I'm drivin' good but my life is crap."
– Newman as Capua While the story is just OK, with the standard rivalry and romance elements, what stands out is that Capua gives an impression that he can handle a wide range of racing vehicles. Newman would get hooked on the sport after his turn here and compete professionally.
Pete Aron (James Garner), "Grand Prix" (1966)
"(Racing) is doing something that brings you so close to the possibility of death, and to survive it is to feel alive and living so much more intensely."
– Garner as Aron
The close-up of his footwork, shifting gears, eye movements and steering into the chicanes, you know Garner knew what he was doing. After all, racing officials aren't going to allow any actor hack to film only moments before the start of a real Grand Prix race. Ol' Rockford is impressive speeding through the streets of Monte Carlo.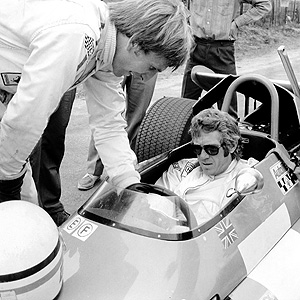 Staff/AFP/Getty Images
Admit it: You wish you were Steve McQueen.
Victory Lane

Michael Delaney (Steve McQueen), "LeMans" (1971)
"Lots of people go through life doing things badly. Racing is important to men who do it well. Racing is life. Anything that happens before or after is just waiting."
– McQueen as Delaney
This story, set against the annual 24 Hours of Le Mans event, might lack the deep emotional pull of multi-layered characters, but there is no denying it captures the intense focus endurance racing demands.
McQueen, talented enough to do a lot of his own driving here, adds another example of why he remains the leader of the pack of actors performing as racers. It is simply because he had the most talent at the throttle. From "Bullitt" to "On Any Sunday" and "The Great Escape," to use a baseball film title, McQueen was the Natural.
Randy Williams is the author of "Sports Cinema: 100 Movies -- The Best of Hollywood's Athletic Heroes, Losers, Myths, and Misfits"
TOP 25 DRIVERS OF ALL TIME
ESPN Top Headlines