Commentary
Don't forget the hat and belt, buddy!
Bobby Bowden has called a lot of people "buddy," and I'm one of them. What better way to avoid remembering names, especially the name of the guy who washed your underwear.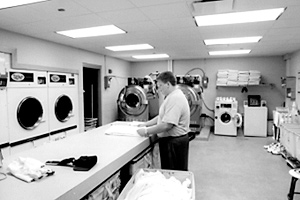 Courtesy of FSU AthleticsOur correspondent formerly spent his time going through Bobby Bowden's dirty laundry. No, really.
As a student at Florida State, I worked as an equipment manager for the football team, and among the many, ahem, glorious duties I had was laundry detail. Jockstraps, game uniforms, whatever. You name it, I washed it.
Now, getting to handle the Big Man's gear was not an assignment handed to you on your first day. In fact, I didn't get to that level until I was a junior. Like a rite of passage, I was finally taught The Lesson of Bowden's Laundry from my superiors.
Bowden liked one specific type of underwear, and when we checked his laundry, we washed it as soon as possible. No matter how much or how little there was in his bin.
I guess one of the perks that comes with almost unparalleled success is prompt (and impeccable) laundry service -- and the right to be a little particular.
But it wasn't just his underwear. There were, of course, the hat and the belt, which required the most attention when the equipment staff made its game-day preparations.
The belt was cause for double- and triple-checking the luggage before away games. Bowden always wore this crazy garnet belt that featured his initials and an assortment of arrowheads and feathers. It looked like something that could be made at a state fair but seemingly was an essential part of his wardrobe.
Thankfully, sometime in his 30-plus years at Florida State, someone was smart enough to create a duplicate, since the original was left behind during a late-season trip. I'm not sure whether I was more afraid of upsetting Bowden or receiving some horrible punishment like cleaning an industrial lint trap that made me have to consciously find, pack and check that belt off the list.
The hat was a different story. The equipment staff always traveled with a cache of hats in Bowden's size, and his was always a different color than the other coaches'. But when Bowden adopted the "Indiana Jones" hat … . That threw a wrench into the works for an equipment staff that needed everything (and its backup) in its place.
I'm not sure whether many people know this, but Bowden would always autograph his hat and toss it into the crowd after every game. Seeing that the equipment staff had only one fedora, this would be a problem. And when Nike (Florida State's uniform sponsor) sent some jazzed-up versions of the hat our way, it became a must-have item after games, much like catching a drum stick at a concert.
Other people could tell better stories about working with or being coached by him, but my time at Florida State and my Bowden memories all seem to involve clothing.
I returned to Florida State for an ESPN assignment in 2006, two years after I graduated. I went to Coach Bowden's office to escort him to our interview. He didn't ask me anything about his laundry, but he did call me "buddy."
Jeremy Willis is an editor for ESPN.com
ESPN.com