Commentary
Jason Terry's arm ink can heal the world
Updated:
June 22, 2011, 11:15 PM ET
By
Dave Wilson
| Page 2
Jason Terry is an NBA champion and a shooting guard with a sweet touch and a soothsaying right arm.
Terry got a much-ballyhooed tattoo of the NBA's Larry O'Brien Championship Trophy on his right arm before the season began, a bold move for a player from a franchise that had never won an NBA title.
[+] Enlarge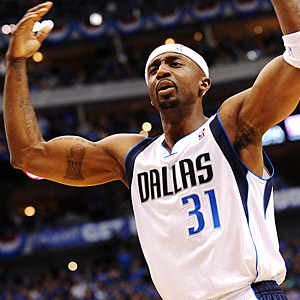 Noah Graham/NBAE/Getty ImagesJason Terry got a tattoo of the NBA Finals trophy on his right biceps prior to the start of the season.
But Terry's vision was fulfilled, and the tattoo will stay. He spoke to Page 2 on a visit to ESPN on Wednesday, discussing his superstitions, the tattoo and his coaching style and aspirations.
You still wear the opposing team's shorts to bed before each game. What are the worst ones you've ever worn?
The Utah Jazz. John Stockton's. Stockton didn't give them to me, but I got them from the actual ball kid in the arena. When I looked at them, I knew they were his, because they were the shortest thing out there, and then they had his No. 12 on the inside.
It has to be actual, real shorts?
Gotta be the real thing. Now, San Antonio tricked me about three years ago when they gave me some practice shorts, and I tried them. And they ended up beating us. So that doesn't work.
I understand your wife's not a big fan of this practice.
Nah, she doesn't like it. But hey, it works for me. Got a lot of wins.
It's obvious your tattoo was the key to the Mavericks winning the title. Has Jerry Jones asked you to get a Lombardi Trophy tattooed on there?
Nah, he hasn't asked me. I was thinking about it actually, because Emmitt [Smith], Troy [Aikman] and [Michael] Irvin are my best friends. I was thinking about getting the star on my neck. They're huge Mavericks supporters. They were at all the games throughout the playoffs. When we come out of the tunnel, Emmitt's right there shaking our hands before we go out. Dallas is a close-knit sports group.
What else can we solve with that Nostradamus arm? Can you maybe get something to solve the financial crisis?
I thought about that. I thought about getting a dollar sign on there. DeShawn Stevenson has Abraham Lincoln. Five dollars.
Maybe we can get a world peace tattoo on there, so we can make that happen?
That would be hot. Anything. Maybe Obama -- we're going to see him in October. Maybe he'll get one.
You coach your [seventh-grade] daughter's AAU team, and they're in the national tournament in July. Through the years, you've obviously worked with a lot of coaches. What kind of motivational coaching tricks have you learned?
I'm from the Avery Johnson school of coaching, so I use a lot of tricks to motivate them. Sometimes I may go out and get at the refs. Or sometimes I may give them the old silent treatment, where I call a timeout and just sit there and don't say a word. I think that one usually works the best.
They know when you're silent, you're serious, because you love to talk.
I love to talk. So they know when I'm silent something is going on. They're like 'Aww, coach ain't happy with us.' So they pick it up.
Did she ask if she can get any kind of championship tattoo for good mojo?
I have four daughters, and my middle child, I already see it coming. They've been on me, so they run around with fake tattoos. But I'm not worried about it. I strongly advise against it, is what I do.
You can just point out DeShawn and say you don't want to end up like that.
That's what happens. Once you get one, you're gonna get another one. For sure.
So you're serious about this coaching thing after you finish playing.
I would love to go back to my alma mater, Arizona, and coach. That would be my first stop. I don't want to be the assistant, I don't want to be a grad assistant or anything. I want to be right there, be the head man and do great things.
So this AAU thing is good practice, then. But it's a crazy world.
It's great practice, but I formed my organization to make change. To go in at the grassroots level, and show them that you don't need to take money or do anything like that. Just work hard, every day, and things will happen for you.
Obviously you had a situation at Arizona where you dealt with [agents]. Do you use that to say, look, you have to be careful?
No question. The kids really don't know until they get in that situation. It's starting to happen earlier and earlier. And that's why I said I want to come in at the grassroots level to eliminate that. I've seen kids as early as sixth, seventh grade, especially being in Texas, where it's so competitive. You've got agents at sixth, seventh-grade AAU games. I mean, it's unreal. So I wanted to come in and be a part of that change, and I think for the most part I've been able to do my part.
Terry is auctioning off the autographed Reebok Zig Slash sneakers he wore for most of the NBA Finals to benefit the Jason Terry Foundation. Bidding was up to $3,600 for the pair as of Wednesday.
Dave Wilson is an editor for Page 2.