FATHERS AND SONS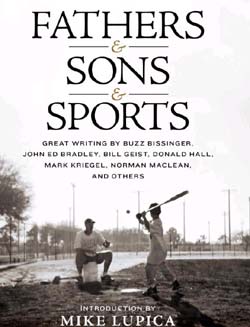 Purchase "Fathers & Sons & Sports"
Excerpts
•
Tom Friend: Worlds apart
•
Jeremy Schaap: A father's gift
•
Wright Thompson: Holy ground
•
Steve Wulf: Bo knows
From ESPN.com
•
Eric Neel: Practice swings
•
Ivan Maisel: Coach and QB
•
Mary Buckheit: Don't give up on golf
•
Kieran Darcy: Remembering life on 9/11
The first game our oldest son played was for the Greenwich Village Little League T-ball division. I offered to coach Bo, then 5, and we were assigned to a team called the Aphrodisia Royals. (Aphrodisia was the name of a spice shop in the Village; the Royals was the name of a team in decline in the AL Central.) Even at that early age, Bo was a fanatic. He used to run around his tiny bedroom, playing imaginary baseball games while providing some unique color commentary: "Now batting, Jim Rice. Jim likes to drink water."
Now it was time for his first real game. We played on the asphalt playground off Carmine Street. I placed Bo in the spot occupied by the pitcher, and because this was T-ball, he didn't actually pitch. The first batter grounded the ball back to Bo, who -- not trusting the first baseman -- ran to first to get the force. Then Bo proceeded to run around the bases with a slight limp, pumping his right fist, just as Kirk Gibson had done after homering off Dennis Eckersley in Game 1 of the 1988 World Series, 2½ years before.
When Bo finished his trip around the bases, I gently explained that he couldn't do that for every out, and that he might want to wait for a more appropriate time to be so demonstrative. He seemed disappointed, but he understood. He even made a few more plays without imitating his heroes.
Eventually, we moved from New York City to the suburbs. Bo grew up to be quite a good ballplayer -- a pitcher and an infielder with power. Even better, he never showboated again. Coaches liked him because he understood the code of the game; if a pitcher hit one of his teammates, he would buzz the pitcher the next time he came up. Umpires liked him because he didn't argue over balls and strikes. Every once in a while, he would ask me to tell him the story of how he imitated Kirk Gibson in T-ball.
Toward the end of his senior season in high school, he was co-captain of the team, and an ace, and he was facing his archrivals in the opening round of the postseason playoffs. He didn't have great stuff, but he battled, and the game went into extra innings.
He led off in the bottom of the first extra frame. A right-handed hitter, he waited on an off-speed pitch, swung, and sent a towering drive over the head of the right fielder. Never the fastest runner, he plowed the basepaths between first and second, second and third, He slid into third -- safe.
As he got up and brushed himself off, he glanced over at me in the stands. Then, ever so slightly, he pumped his right fist and smiled.
He scored the winning run when the next batter singled.
Steve Wulf is the co-author (with Daniel Okrent) of the best-seller "Baseball Anecdotes," and of "I Was Right On Time," the autobiography of Negro Leagues legend Buck O'Neil. A founding editor of ESPN The Magazine and father of four, he spends an inordinate amount of time watching his kids on various diamonds, rinks, gridirons, courts, and fields. He has been thrown out of only one game.