Dice-K, Ichiro abdicate to King Felix
Hernandez Steals Dice-K's Spotlight
The classic 1950 movie "Rashomon" chronicles the story of one seminal event, told from several different points of view. The 88-minute masterpiece was written and directed by Akira Kurosawa, the best Japanese filmmaker of all time and maybe the best filmmaker ever, period. With Daisuke Matsuzaka taking the mound for his first start at Fenway Park last night, and all of Japan waiting eagerly for the first matchup between Matsuzaka and fellow Japanese superstar Ichiro Suzuki, we paid tribute to the event, Rashomon style. Reporting from Seattle is die-hard Mariners fan Derek Zumsteg. Reporting from Section 29 in Fenway Park is Page 2 contributor Jonah Keri.
• Jonah Keri: Live! From Fenway Park
Live! From Seattle
By Derek Zumsteg
How is this season going to get any better for Mariners fans? A matchup between two legitimate aces with jaw-dropping talent who throw pitches that do loop-de-loops on the way to the plate.
Felix Hernandez's first full season last year provided both inspiration and frustration. At times he struggled with pitch selection and control, and certainly wasn't the dominant force that Mariners fans had hoped. But expecting a 20-year-old to come in and compete for the Cy Young does seem, in retrospect, a little bit unrealistic.
But he just turned 21. So it's cool now.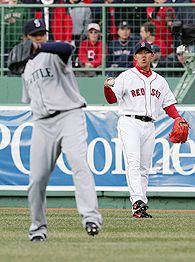 Getty Images
The focus was on Dice-K, but King Felix stole the show.
The hype around Daisuke Matsuzaka reminds me of Ichiro's arrival in Seattle. The Mariners paid $13 million for Ichiro's posting fee and signed him to a three-year, $12 million deal. He was the first huge Japanese star position player to come over to compete in the major leagues, the first huge name to go through posting, and no one knew for certain what would happen. The level of competition in Japanese baseball wasn't certain, and there was speculation that the peculiarities of Japanese parks and the style of play would make Ichiro's transition difficult. Now, as others followed his lead, we know that they can, and the investment in Matsuzaka is proof: A star pitcher in Japan is paid as if he'd built his career on this side of the Pacific.
First inning, the much-awaited Ichiro versus Matsuzaka confrontation. A hitter who can put a bat on anything and -- wow. I watched Matsuzaka before on MLB.TV ("Bringing the quality of cellular phone videos to baseball broadcasting") and it didn't do justice to the kind of drop he gets on his breaking stuff. Ichiro grounds out.
It's clear from the first couple of batters that Good Felix is here. His fourth pitch to Julio Lugo is a curve that seems to break from Lugo's head to his knees on the way to the plate for a ball. How can any hitter be expected to hit against someone who runs his fastball up in the 90s with a deceptive change and two sick breaking pitches?
Matsuzaka makes a clear mistake pitch when he leaves a fastball on the inside half of the plate just under Jose Guillen's belt. Guillen cranks it off the Monster. Weirdly, though, Jason Varitek was set up right in the middle of the plate, which seems even less wise. I don't understand what happened there, but it seems like attacking Guillen with fastballs over the plate wouldn't be an effective strategy. Guillen scores for the first run of the game.
As the game rolls on, it becomes clear that while Matsuzaka is good, Felix is ridiculous. He's throwing breaking pitches on 0-2 counts so good the Red Sox hitters turn for the dugout almost as the pitch gets to the catcher's mitt. His control is right and his stuff is sick. When Red Sox hitters are making contact, they're hitting ground balls that the infield's devouring. This is his night. This is the potential realized.
I blame Dave Sims, the Mariners' play-by-play guy, for frequently mentioning the no-hitter starting in the top of the fifth inning and then seemingly at every opportunity afterward. I don't care if it's bunk or superstition or silly. It's baseball tradition, and if you're going to call baseball games, respect that. Hint at it, if you have to. If your audience hurls things at the television and screams, "Shut up, shut up, shut up!" maybe you should shut up.
It's weirdly appropriate that J.D. Drew, who over the years has caused so much frustration for fans of his teams, would break up Felix's no-hitter.
Still, Felix Hernandez threw a beautiful one-hit, one-walk complete-game shutout. He was stingy with his pitches, got ground balls when he didn't get strikeouts. And as much as Matsuzaka basks in the reflected love of Red Sox fans, to see Felix so dominant is far more precious to Mariners fans, because there is so little to treasure on our team. He's a reason to watch Mariners games, to go out to the ballpark. At least once a week, you can look forward to seeing the team take the field.
The Mariners aren't good. These teams lose and lose in depressing fashion: they cost huge amounts of money and prove that the people running the organization don't know what they're doing and aren't learning from their mistakes. When the M's went into this drain-spiral, hearing the whispers about Felix in the minors meant there was hope.
The kid we heard so much about has arrived, and the team is still bad and still incompetently run. Picking up the contract for Jose "Turbo" Vidro cost the team two prospects and a huge chunk of payroll, and as you saw when he grounded into that double play, he may be the slowest player employed by any team. Of course, Hargrove bats him third where his lack of speed and horrible hitting can most hurt the team.
Ichiro's likely to leave the team through free agency, seeking a chance at the playoffs, and it's possible that they'll trade him before then. Soon, Felix may be the only star left, the only one so exciting he's worth coming out to the the park to see. He's good enough, and young enough, that a competent front office could still build a contending team around him after clearing the wreckage of this administration. He's hope, and seeing him pitch so well is a welcome relief and renewal to love baseball in Seattle.
I know it might be best to stop after a performance like that. They can't get better than this. But they could, now that I consider it -- he only struck out six, and that's low for him. And Boston's a good offensive team, what happens when he chews on a weaker lineup? So you'll have to excuse me, King Felix pitches at home in five games. I need to go see about picking up some tickets.
Jonah Keri is a regular contributor to Page 2 and the editor and co-author of "Baseball Between the Numbers." You can reach him at jonahkeri@gmail.com.


Derek Zumsteg is the author of The Cheater's Guide to Baseball, which is available on Amazon.com.