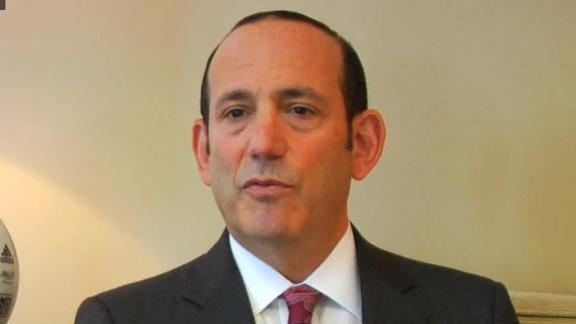 Earlier this week, Major League Soccer
announced plans
for its 20th expansion team, a New York City football club with an imaginative name: New York City Football Club.
It will be the city's first team not based on an energy drink, and it will be owned by the New York Yankees and the Premier League's Manchester City, presumably because Big Tobacco and the Sith Lords weren't interested.
NYCFC will not begin play until 2015, but already folks are jawing about what the team will mean for the future of soccer in America. In a post-Beckham landscape, can it help sustain the sport's growth and make converts of skeptical American fans?
It's got a better chance than other expansion teams of the past. This is an optimistic time for U.S. soccer, with MLS growing at a healthy clip and television networks ponying up for broadcasting rights to international matches. But popularity-wise, soccer is still light years behind the other major U.S. sports.
Maybe that's because, for many Americans, the idea of professional soccer is still inaccessibly foreign. We think of the British accents, and the storied rivalries between whimsical athletic houses, and the fans in bright scarves shouting strange mantras at their heroes chasing the ball below -- it's all very Harry Potter-ish, if you think about it. And it's hard to imagine many red-blooded, oil-guzzlin' Americans getting jazzed on prepubescent wizards.
We're also not very receptive to outside ideas (if that wasn't clear from the electrified barbwire along the border). Pretty much the only way to sell Americans on soccer will be to make it feel like it's American, sort of like how we bastardized Mesoamerican cuisine to create the Doritos Locos taco.
Up-and-coming rapper
Jake Miller
is in Syracuse, N.Y., tonight on his national tour promoting his "The Road Less Traveled" EP.
It wasn't that long ago that the 20-year-old from Weston, Fla., would buy tickets to a Miami Heat game and take stacks of his mixtapes down to the front row and pass them out to famous musicians.
"Making music in my room wasn't enough. I was feeling down. I had to get it in the hands of people who were in the business," said Miller, who taught himself to play guitar. "I printed up about 10 mixtapes, and at halftime or at breaks, I would run down amid the chaos and hand out my music."
Miller said he would give his CDs to Lil Wayne, Birdman, DJ Khaled, T-Pain and Chris Brown, among others.
"It cost a lot of money to buy tickets to get in, and I wouldn't even care at all about watching the game -- even though I'm a huge sports fan," he said. "My main focus was to get my music to them."
It worked, as he became a YouTube sensation with millions of views for his songs "A Million Lives" and "Like Me." In 2011, he opened for Snoop Dogg. Then Mac Miller. Then Flo Rida. Then Ne-Yo. He even played at halftime of the Heat playoff game last year.
Now he's on a national tour and he's working on his full-length album to be released at the end of the year.
Playbook had a few minutes to talk with Miller.
Pretty brave to run down to hand your stuff to big-time musicians.
"Growing up, I started making music, but I didn't think I had a future. It was just a hobby. I was going to go to college at FSU, but then I started to get a little buzz around my school about my music, and it turned into something bigger than I ever thought it would be. I decided not to go to college and take a year off. Well, that was two years ago."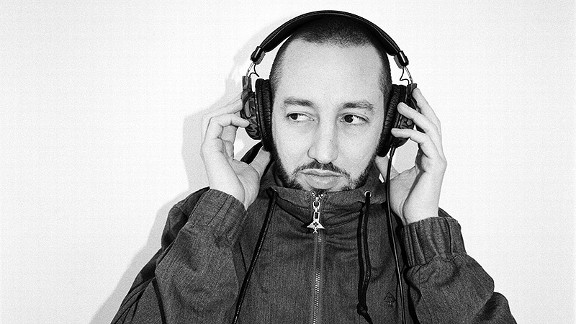 Mike Schreiber
J. Period is not playing just your jock-jam favorites at Brooklyn Nets games.
Music has been part of the sports experience for more than 100 years, with marching bands and ballpark organists and blaring rock filling the air during breaks in the action. But the latest incarnation blends the human element and the latest in tech in a new way as DJs take their skills from the clubs to the stadiums.
One of the leaders of this new movement is Brooklyn Nets music supervisor J. Period, a mixtape DJ who has worked with The Roots and Common. The team hired him for more than your standard playlist of jock-jam favorites; they wanted him to create a soundtrack for games at the Barclays Center.
For his first season,
J. Period
created more than 150 remixes and edits of classic and new hits, each tailored to very specific game situations. A remix of Phil Collins' "In the Air Tonight" captures the feeling of anticipation before the players take the floor. A fresh combination of
Carmina Burana
with Nas' "Hate Me Now" stirs up feelings of battle, so it's well suited to bring the crowd back into the game after halftime. And an edit of Jay-Z's "U Don't Know" in the fourth quarter of a close game never fails to rouse the Brooklyn fans.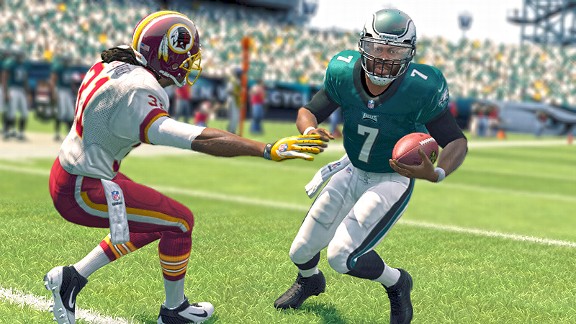 Courtesy of EA Sports
Eagles QB Mike Vick, shown here in a "Madden 25" screenshot, is a dominant video game character.
Mike Vick is the single most dominant video game character of the past decade, and to millions of gamers growing up Xbox, the Eagles quarterback is like playing with a cheat code behind center.
These days, though, Vick is dominating a different genre; his new mobile franchise, "Mike Vick: GameTime," is one of the top-selling sports titles for iOS.
Here's what the greatest video game athlete since Bo Jackson had to say about his polygonal legacy, jumping into the mobile market and his recent footrace against teammate LeSean McCoy.
ESPN Playbook: Do you realize how devastating your "Madden" character has been throughout the years? You might just be the best video game athlete ever created.
Michael Vick:
I realize that and acknowledge that, and I really appreciate it because it comes from the fans. It's also a credit to everything that goes into the "Madden" game because they make it realistic. When you don't play so good, they drop your ratings, but for the most part with me, it's been pretty consistent with the way I've played and the way I've been in the NFL.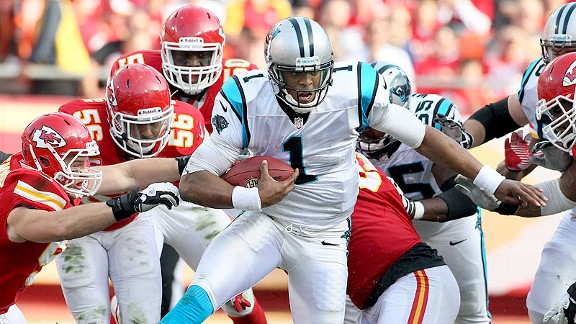 AP Photo/Colin E. Braley
Cam Newton has some obstacles to overcome if he wants to be a top-tier NFL pitchman.
It's not too late for Cam Newton to become a big marketing star, but he'll need a little help from his friends -- or, in this case, his teammates.
"The main thing for Cam Newton when it comes to his marketability is, first and foremost, winning," said Doug Shabelman, president of Burns Entertainment & Sports Marketing. "If they win and he does well, it's going to come, and he will be back as one of the most-discussed and sought-after players in the league because his game is exciting, he has a winning smile and he has a good personality."
In fact, Shabelman says Newton doesn't have to necessarily post stellar numbers as long as the team is winning.
"Winning and being in the playoffs matters more than anything else," Shabelman said. "He could be doing average, and if his team is in the playoffs, people will still be talking about him because he's the quarterback."