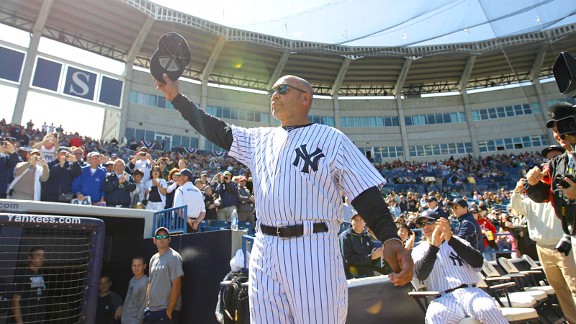 AP Photo/Matt Slocum
Reggie Jackson and a host of other baseball legends are playing a game in Rochester, N.Y., Saturday.
Reggie Jackson, Rickey Henderson, Frank Thomas, Fred McGriff and Ozzie Smith -- all past greats of the game -- will highlight the 2013
Pepsi MAX MLB Field of Dreams Game
in Rochester, N.Y., on Saturday.
It's fairly obvious that they are African-Americans, and right now, Major League Baseball is having a problem attracting blacks to play the sport. Only 8.5 percent of the players on the Opening Day rosters this season are black. In fact,
MLB announced last month that it was forming a task force
to address the issue.
"All these players you'll see Saturday from Rickey to Frank to Ozzie are great players, not just African-American players," Jackson said. "I think these days it's tougher for minorities to play baseball because they are more worried about helping the family with food and shelter."
Jackson, a Hall of Famer who played 21 years in the majors, said that it is important to see the percentage of participation increase.
"You look at the heritage of this game: Jackie Robinson, Henry Aaron and Bob Gibson. And then you realize that it's not just in Little League that you see the numbers down. It's everywhere," Jackson said. "In African-American and Latin American families these days, they are there to help their mom put food on the table. So they don't have the time or money to participate in club leagues. Of course, I'd like to see more in the game."
Playbook had a few minutes to talk with Jackson about baseball and his projects.
You not only want more minorities in baseball, but your Mr. October Foundation for Kids is hoping to boost the numbers of minorities in education.
"It's called STEM -- Science, Technology, Engineering and Math-related jobs. We have to make minorities aware that if you want to be involved in the workforce, technology is important. Minorities make up more than half the people in the United States but we're not focusing enough on education. You need that for any kind of business you're hoping to get into. We're very behind. We need them to understand if they want to participate in our economy."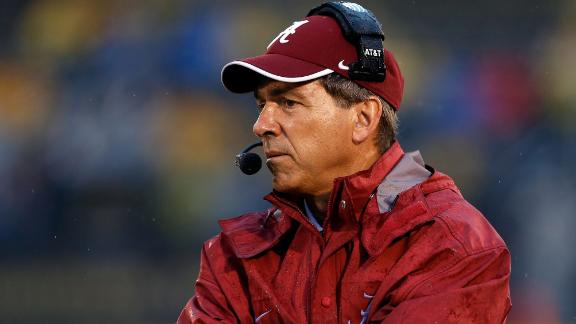 Nick Saban is "the devil himself."
Those are the words of Tim Davis, Florida's offensive line coach, at a
Gators booster club meeting
Tuesday night.
Davis is not alone in believing the Alabama head coach is the Prince of Darkness. Vanderbilt head coach James Franklin
called Saban "Nicky Satan"
just four months ago.
It might be easy to ignore these statements as the rantings of the insane, but Davis and Franklin are well-known, highly-respected men in their states. Like our nation's congressmen, it's unlikely these men would just start spouting nonsense about someone they don't like.
The possible Satan-Saban connection at the very least deserves further investigation. Why do opposing coaches keep discerning similarities between the source of all that is evil in the world and the most successful active college football coach? Take a look.
• SATAN and SABAN are exactly the same word except for one letter. What is the one letter that changes SATAN to SABAN? The letter "B." Another name for Satan, "Beelzebub," starts with B. As does "blood." Same with "Bieber." Suspicious? It definitely is if you're a Florida fan.
• Satan is said to reside in the hottest fires of hell. Nick Saban resides in Tuscaloosa, Ala., which has an average daily high temperature in July of 91 degrees. And when you factor in the humidity? Hellish.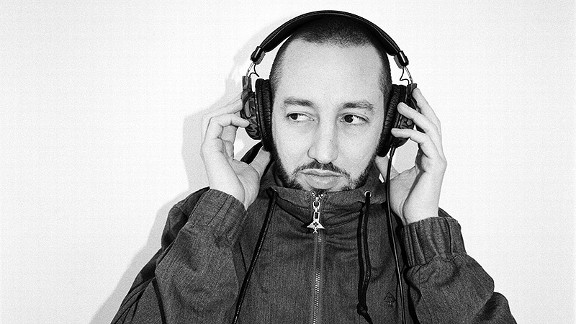 Mike Schreiber
J. Period is not playing just your jock-jam favorites at Brooklyn Nets games.
Music has been part of the sports experience for more than 100 years, with marching bands and ballpark organists and blaring rock filling the air during breaks in the action. But the latest incarnation blends the human element and the latest in tech in a new way as DJs take their skills from the clubs to the stadiums.
One of the leaders of this new movement is Brooklyn Nets music supervisor J. Period, a mixtape DJ who has worked with The Roots and Common. The team hired him for more than your standard playlist of jock-jam favorites; they wanted him to create a soundtrack for games at the Barclays Center.
For his first season,
J. Period
created more than 150 remixes and edits of classic and new hits, each tailored to very specific game situations. A remix of Phil Collins' "In the Air Tonight" captures the feeling of anticipation before the players take the floor. A fresh combination of
Carmina Burana
with Nas' "Hate Me Now" stirs up feelings of battle, so it's well suited to bring the crowd back into the game after halftime. And an edit of Jay-Z's "U Don't Know" in the fourth quarter of a close game never fails to rouse the Brooklyn fans.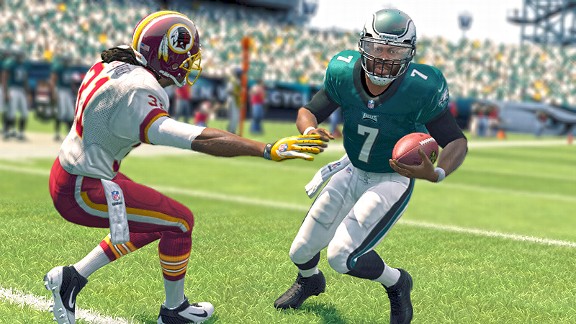 Courtesy of EA Sports
Eagles QB Mike Vick, shown here in a "Madden 25" screenshot, is a dominant video game character.
Mike Vick is the single most dominant video game character of the past decade, and to millions of gamers growing up Xbox, the Eagles quarterback is like playing with a cheat code behind center.
These days, though, Vick is dominating a different genre; his new mobile franchise, "Mike Vick: GameTime," is one of the top-selling sports titles for iOS.
Here's what the greatest video game athlete since Bo Jackson had to say about his polygonal legacy, jumping into the mobile market and his recent footrace against teammate LeSean McCoy.
ESPN Playbook: Do you realize how devastating your "Madden" character has been throughout the years? You might just be the best video game athlete ever created.
Michael Vick:
I realize that and acknowledge that, and I really appreciate it because it comes from the fans. It's also a credit to everything that goes into the "Madden" game because they make it realistic. When you don't play so good, they drop your ratings, but for the most part with me, it's been pretty consistent with the way I've played and the way I've been in the NFL.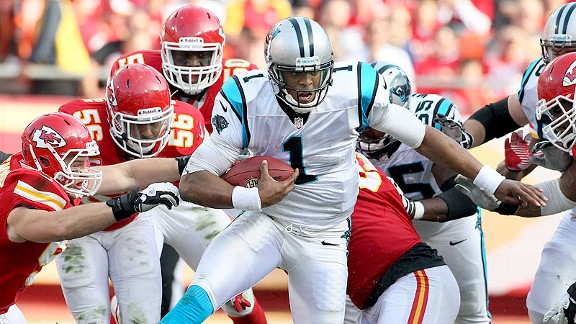 AP Photo/Colin E. Braley
Cam Newton has some obstacles to overcome if he wants to be a top-tier NFL pitchman.
It's not too late for Cam Newton to become a big marketing star, but he'll need a little help from his friends -- or, in this case, his teammates.
"The main thing for Cam Newton when it comes to his marketability is, first and foremost, winning," said Doug Shabelman, president of Burns Entertainment & Sports Marketing. "If they win and he does well, it's going to come, and he will be back as one of the most-discussed and sought-after players in the league because his game is exciting, he has a winning smile and he has a good personality."
In fact, Shabelman says Newton doesn't have to necessarily post stellar numbers as long as the team is winning.
"Winning and being in the playoffs matters more than anything else," Shabelman said. "He could be doing average, and if his team is in the playoffs, people will still be talking about him because he's the quarterback."