Green Bay 24, San Francisco 14
Packers drop 49ers in possible NFC championship preview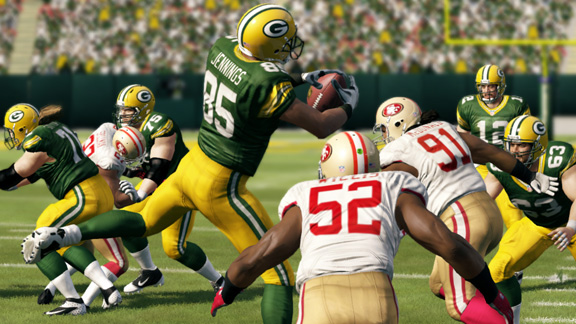 EA Sports
Player of the Game: Greg Jennings
Are we witnessing a preview of the NFC title game in Week 1? Could be, as these two juggernauts butt helmets to open the season. In the end, only one team looked like a real contender, and it wasn't the team with Alex Smith at quarterback.
Just when the 49ers' faithful started to believe in Smith again after his amazing performance against the Saints in last season's playoffs, the quarterback reverts back to ugly mode, completing only 10 passes and throwing an interception in San Francisco's 24-14 loss to Green Bay.
Aaron Rodgers looked sharp, throwing for 252 yards and two touchdowns, including a beautiful first-quarter bomb to Greg Jennings that went for 68 yards and opened up what proved to be an insurmountable 14-point lead.