Commentary
Uni Watch Power Rankings (101-122)
Originally Published:
August 20, 2012
By
Paul Lukas
| ESPN Playbook
Sports fans love lists, and that definitely includes uniform fans. The 10 best this, the 50 worst that -- the possibilities are limitless.
Sometimes, though, the best approach is the simplest one.
For example: How about if we ranked all 122 MLB, NFL, NBA and NHL teams based on their uniforms? No specialized niche categories, no eccentric criteria -- just a straightforward uni-based appraisal of every professional team from the Big Four leagues.
With that random "What if ..." idea, the Uni Watch Power Rankings were born. Our intent is simple: to present the last word on uniform assessments.
If that sounds like an audacious project, well, it is. You say it's nonsensical, maybe even crazy, to compare a hockey uniform to a basketball uniform? You're right! But we're doing it anyway, because lists are fun. Admit it, you're already wondering where your favorite teams are going to rank.
We'll be rolling out the Power Rankings in five installments over the course of this week -- one segment per day, from worst to first. So today we'll start with the bottom of the chart, spots 101 through 122, and then we'll continue on Tuesday (76-100), Wednesday (51-75), Thursday (26-50), and Friday (1-25).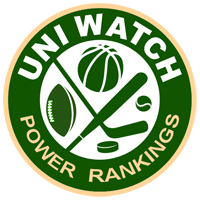 Before we get to the rankings, though, here are the ground rules:
• All judging has been done by the Uni Watch Power Rankings Executive Committee, which has a membership of one and freely admits its biases. The committee is rather fond of green but gets a rash at the mere thought of purple, for example. Similarly, the committee tends to like old-school designs and is skeptical of design "innovations" that just feel like gimmicks. Despite these predispositions, however, some teams' rankings may surprise you. (Just to provide some diversity of opinion, we've also invited ESPN.com writers in the four major sports to chime in on what they like and don't like in a uniform design. Their essays will be showcased throughout the week, although they weren't part of the judging committee.)
• Each team has been ranked primarily on the basis of its current home and road uniforms, with alternate uniforms taken into account if they're part of the team's regular uni rotation. One-off designs, special promotions, throwbacks, and so on have not been considered.
• In a few cases, ranking a team's "current" uniform set has been tricky. Some franchises, such as the Bobcats and Seahawks, recently unveiled new designs. These have been evaluated as best as possible, but it would be fair to say that their assessments are incomplete and that their rankings should be viewed as though they had an asterisk. Meanwhile, the Brooklyn Nets are due to unveil their uniforms in September, but there's no way to rank that design until we see it, so the team's ranking is based on last season's set. Unfortunate, but them's the breaks.
• Several NHL teams, such as the Sabres and Panthers, have announced that they're retiring their alternate uniforms for the upcoming season, so those designs were not considered when evaluating those teams.
• Almost every NFL team has some little design tweak this season, thanks to Nike's new deal as the league's uniform outfitter. Many of these changes are fairly subtle, but they've been factored into the rankings to whatever extent possible based on preseason action and Nike's unveiling event in April. NFL throwbacks and alternates were not included in the evaluations, except for teams that have always worn their alternates each season.
• If the NBA follows through on its plan to sell advertising space on its jerseys (a final vote is expected in September), all 30 of its teams will be put at the bottom of the rankings next time around.
• Speaking of which, we plan to update the Uni Watch Power Rankings on a semi-regular basis. So if a team updates its design, it can move up or down in the rankings.
OK, enough preliminaries -- let's get to the rankings. This is Day One, and we're starting at the bottom of the chart, the absolute worst of the worst. Competition at this end of the chart was every bit as fierce as at the top. Take a look (you can click on each team's name to see its current uniform set), and feel free to post your feedback in the comments or on Twitter -- use the hashtag #UniRank. Then meet us back here for another installment each day this week until we reach the top 25 on Friday.
---
Uni Watch Power Rankings 2012:
Nos. 101-122 | Nos. 76-100 | Nos. 51-75 | Nos. 26-50 | Nos. 1-25
Rankings by sport: MLB | NBA | NHL | NFL
Create your own rankings: MLB | NBA | NHL | NFL | Best in all of pro sports
What makes a great uniform? MLB | NBA | NHL | NFL | Lukas chat wrap
UNI WATCH POWER RANKINGS -- Click team names to view uniform sets
| Rank | Team | Logo | League | Comment |
| --- | --- | --- | --- | --- |
| 101 | Cleveland Cavaliers | | NBA | When LeBron James played in Cleveland, the Cavs had one of the best uniforms in the league. As soon as he left, they suddenly started dressing like the local semipro team that plays at the high school gym and uses the janitor's closet as a locker room. Started playing like a semipro team, too. Coincidence? |
| 102 | Atlanta Falcons | | NFL | Never expected to be saying this, but it's true: The reverse-tapered pants striping has established itself as a legitimate design element. But man, those jerseys -- what's with the sleeve stripes and the side panels? Looks way too CFL. |
| 103 | San Diego Padres | | MLB | Over the past several years, the Padres have constantly tinkered with a look that was never too strong to begin with, and as a result they've completely lost their way. They're never going to be perceived as a bastion of old-school classicism, so they should embrace their wacky roots. Bring on the brown and the weird design gewgaws, take a few risks, dare to experiment -- that's your team's heritage! And please, enough already with the camouflage. |
| 104 | Edmonton Oilers | | NHL | Some logos look timeless and age nicely; others feel visually tied to a particular era and end up looking dated. Guess which category the Oilers' primary logo falls into? If there was a TV program called "That '70s Team," this would be its logo. Come on, guys -- you've have the exact same logo for 40 years now, and it's clearly outlived its expiration date. Surely you can update it at least a little bit. |
| 105 | Dallas Mavericks | | NBA | Dear Mark Cuban: We all know you're very eager to put advertisements on your team's uniforms. So while you're at it, how about making a few other changes? For example, navy lettering on a royal background doesn't look so good, and there's no good reason for your front uni numbers to be off-center. Someone probably told you that the weird panel on the back of the shorts looked cool, but that someone was lying. And now that you've worn the P-Diddy alternate design in three colors, don't you think maybe it's time to retire it already? Sincerely, Uni Watch. |
| 106 | Los Angeles Clippers | | NBA | If ever a team needed a uniform overhaul, this is it. From the logo (which looks too much like the logo of that other NBA team in Los Angeles) to the characterless home and road scripts (look up "generic" in the dictionary and this is what you'll see), everything here feels like it was picked up on the cheap at the discount store. Also, the odd collar design has the effect of making the little chest logo look like it's sitting too low. |
| 107 | Washington Capitals | | NHL | Yeesh, all those apron-string stripes and sleeve panels -- way too busy. And the shoulder logo has always looked like an eagle being impaled on an oil can. The throwback alternate helps, but it's too little, too late. |
| 108 | Detroit Lions | | NFL | Matt Millen may be gone from Detroit, but his ghost lives on in the form of all the black trim on the Lions' uniforms. Every stripe, every numeral, every letter, the color break in the socks, the helmet logo, the facemask -- all accented in black. Look, gang, here's how it works: You've got that Honolulu blue thing going. You should own that color. Don't tart it up with black. |
| 109 | Charlotte Bobcats | | NBA | The Bobcats haven't even existed for a decade yet, but they're already on their third uniform template, and it's been a steady downward trajectory. Their inaugural set featured snappy graphics and a bold color scheme, but then they scrapped that in favor of a much more boring design, and now it feels like they've stopped trying. True, their 2012-13 set was unveiled in June, so maybe it isn't fair to judge it so harshly since we haven't yet seen it on the court -- or have we? |
| 110 | Seattle Seahawks | | NFL | Nike's signature design for the 2012 NFL season is great if you think sports is about superheroes wearing costumes, but not so great if you're into athletes wearing uniforms. Truth to tell, the white jersey and pants aren't so awful, but the blue set has way too much of that Day-Glo green tone (here at Uni Watch HQ, we call it neon snot). Meanwhile, the only real difference between the gray alternate and the white-on-white uni is that the gray one looks like it needs laundering. |
| 111 | Orlando Magic | | NBA | Man, remember when this team had a unique logo and a distinct look? All that's left now are the pinstripes (always the weakest part of the package, since NBA players don't really need to accentuate the vertical). Seriously, has anything ever looked more un-magical than that chest insignia? No wonder Dwight Howard wanted out. |
| 112 | Los Angeles Kings | | NHL | The reigning Stanley Cup champs deserve better. The crest is too cartoonish, the stripes down the shoulders and sleeves don't work, and let's not even get started on that alternate uni. The whole set feels like what a minor league affiliate should be wearing. |
| 113 | Jacksonville Jaguars | | NFL | The Jags' original design was one of the best expansion uniforms ever. As a certain uniform columnist repeatedly opined, "It has the makings of a modern classic -- if they're smart enough to leave it alone." Well, we all know how that turned out. Bye-bye, gold trim; hello, idiotic wraparound stripes. The pants stripes look worse this season, because they now wrap toward the front of the leg, which makes them look really bad from the side. The helmet is still a keeper, but the rest of this uni is verging on arena league territory. And now a black alternate too, oh boy! Embarrassing. |
| 114 | Arizona Cardinals | | NFL | What a mess. The old-school helmet doesn't match the newfangled jersey and pants. All the black piping and white sleeve paneling on the jersey needs to go, and the pants piping is a joke. And if someone in the Arizona legislature would kindly pass a law prohibiting the blood-clot look, the entire sports world no doubt do an end zone dance of joy. |
| 115 | Minnesota Timberwolves | | NBA | The Wolves' numbering and lettering have evolved over the years from illegible to semi-legible to childish, which only counts as progress if you think getting a D on your term paper is better than flunking out. Meanwhile, the uniform design has featured one useless gimmick after another (the "tree line" on the shorts, the odd collars, etc.). Instead of tweaking the same concept over and over, they need to go back to the drawing board and start from scratch, pronto. |
| 116 | Carolina Panthers | | NFL | Ah, the 1990s -- Nirvana, Monica Lewinsky, and the Panthers' uniforms. The tapered stripes on the pants and helmet looked silly back then and are hopelessly dated now, and the shoulder loops on the jersey look too crimped when rendered with today's skin-tight tailoring cuts. They've given their logo a subtle upgrade this season, but that's like bailing water with a Dixie cup while the ship is sinking. Let's turn Nike's design team loose on this franchise -- the results can't help but be an improvement. |
| 117 | Dallas Stars | | NHL | You know how people like to say, "Less is more?" It's often true -- but not always. Sometimes less is less. Granted, there's something perversely amusing about a flashy city such as Dallas being saddled with such a snoozer of a design, but come on. Did the team's graphics department go on strike or what? |
| 118 | Colorado Avalanche | | NHL | Once upon a time, this was a passable-looking team. Not great, but passable. Now, though, it's a jumble of ill-fitting elements -- the apron-string jersey stripes, the pointless side panels, the laughable number font, the alternate jersey that's just a Rangers rip-off. If a team could get a game misconduct for its uniform, the Avs would certainly deserve one. |
| 119 | Minnesota Vikings | | NFL | It didn't seem possible that this design could get any worse -- until they came out with that two-tone collar for this season. |
| 120 | Brooklyn Nets | | NBA | The Nets will unveil their new Brooklyn uniforms in September, and not a moment too soon. This ranking is based on last season's set, which has to rank among the most uninspired designs ever to (dis)grace a basketball court. The new design is bound to be better. |
| 121 | Cincinnati Bengals | | NFL | How bad are the Bengals' uniforms? So bad that the term "Bengalian" has become part of the vernacular here at Uni Watch HQ (as in "That design is a disaster of Bengalian proportions"). Even if you like the helmet design -- and not everybody does -- the stripe motif on the rest of the uniform is way out of hand, and can someone -- anyone -- explain why the black jersey has those white side panels? Or why they sometimes insist on going black-over-black? Blow it all up and start over. |
| 122 | Sacramento Kings | | NBA | Every class has a slow kid pulling up the rear, and in this case it's the Kings. Where shall we start -- the brutal color scheme? The illegible chest lettering on the home jersey? The oddly off-center front uni numbers? The clownish number font? The completely incongruous old-school script on the black alternate? A disaster from start to finish. On the bright side, there's nowhere to go but up! |
(Special thanks to Michael Barreras, Jared Hartung, Mark Meeks and Zack Tanner for their photo research assistance.)
Paul Lukas will never look at the number 122 the same way again. If you liked the Uni Watch Power Rankings, you'll probably like his daily Uni Watch web site, plus you can follow him on Twitter and Facebook. Want to learn about his Uni Watch Membership Program, be added to his mailing list so you'll always know when a new column has been posted, or just ask him a question? Contact him here.
Sports journalism's foremost uniform reporter
ESPN.com columnist since 2004
Also blogs at uni-watch.com
SPONSORED HEADLINES
ESPN TOP HEADLINES
MOST SENT STORIES ON ESPN.COM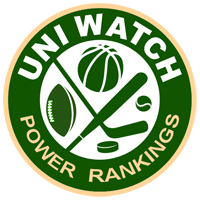 THE RANKINGS
CREATE YOUR OWN RANKINGS
WHAT MAKES A GREAT UNIFORM?