Commentary
Uni Watch Power Rankings (76-100)
Originally Published:
August 21, 2012
By
Paul Lukas
| ESPN Playbook
Welcome to Day 2 of the Uni Watch Power Rankings, as we continue our worst-to-first evaluations of all 122 uniform sets in the NFL, MLB, NBA and NHL. (If you missed Day 1, you can see some of the ground rules and parameters we're using here.)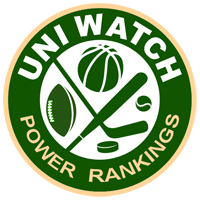 One thing that became apparent while compiling this project is that the current state of uniform design isn't all that terrible. With 122 teams in the mix, you'd expect the tipping point from bad to good to be at No. 65 or so. But the actual good-to-bad dividing line turned out to be in the mid-80s -- which happens to be part of today's installment. So even though we're still in lower portion of the chart, quite a few of the designs being assessed today aren't that bad.
Remember, you can click on each team's name to see its current uniform set, and we invite you to post your feedback in the comments or on Twitter, using the hashtag #UniRank. See you back here Wednesday.
---
Uni Watch Power Rankings 2012:
Nos. 101-122 | Nos. 76-100 | Nos. 51-75 | Nos. 26-50 | Nos. 1-25
Rankings by sport: MLB | NBA | NHL | NFL
Create your own rankings: MLB | NBA | NHL | NFL | Best in all of pro sports
What makes a great uniform? MLB | NBA | NHL | NFL | Lukas chat wrap
UNI WATCH POWER RANKINGS -- Click team names to view uniform sets
| Rank | Team | Logo | League | Comment |
| --- | --- | --- | --- | --- |
| 76 | Phoenix Coyotes | | NHL | Admit it: You miss their Cubist phase. Sure, it was silly, but playing hockey in the desert is a silly enterprise to begin with, so why not run with that? There's nothing wrong with their current look when viewed in a vacuum, but it feels a tad unadventurous, no? |
| 77 | Phoenix Suns | | NBA | The basic template is refreshingly straightforward, and the uni number going through the hoop is a simple concept that totally works. So why don't they rank higher? Simple: purple and gray is a brutal color combo, and orange and gray isn't far behind. Why have any gray at all? You're called the Suns, not the Clouds. Jeez. |
| 78 | Memphis Grizzlies | | NBA | See if this sounds familiar: You're looking for a place to live, and you look at lots of apartments and houses. You keep thinking, "Yeah, this is place is OK ... and so is this place ... and this place," but nothing really grabs you until you walk into that special place and think, "Wow -- this is it. This is totally where I'm going to live. Where do I sign?" The Grizzlies' uniform set is more like all those other places you looked at first. It's OK, and you could live there if you had to, but it doesn't exactly make you feel like throwing a big housewarming party. |
| 79 | Calgary Flames | | NHL | Black has never felt like a good color for this team. You're the Flames, not the charred ashes! Change the black crest to white on the home jersey, and clean up the underarm area and side panels on the home and road designs, and you have a perfectly solid wardrobe. Bonus points for using the franchise's old Atlanta Flames logo for the alternate captaincy designations. |
| 80 | St. Louis Rams | | NFL | The helmet design is still the class of the league, but the Rams' aesthetic stock has fallen in recent years. They wear blue-over-blue too often, and this season they've mothballed their gold pants -- a major mistake, since their white-over-gold look was one of the sharpest in the NFL. |
| 81 | Tampa Bay Lightning | | NHL | Once you get all the Shazam and Grateful Dead jokes out of the way, it's not such a bad uniform. The wordmark on the road jersey is a mistake, though, and there's no need for those shoulder patches when you already have lightning bolts on the chest and pants. The bigger problem, though, is that awful alternate design. Eliminate that and you'll have the very definition of addition by subtraction. |
| 82 | Miami Marlins | | MLB | Not the unmitigated disaster some folks would have you think -- the home white and road grays are perfectly fine, in fact -- but they've been leaning too heavily on that black jersey. And since they're still exploring all the mix-and-match options, this uni package still feels like a work in progress. We should have a better sense of its durability in another year or so. |
| 83 | New Orleans Saints | | NFL | Once upon a time, the Saints would have ranked much higher on this chart, but they've been docked for wearing solid black way too often (stick with the gold pants, guys), and that new Nike disco collar is bad news. Will they get a new design next season in the wake of the bounty scandal? Good question. |
| 84 | Denver Nuggets | | NBA | Not a terrible design, but there's something about those super-rounded numbers that feels a bit juvenile, like they're saying, "Don't take us seriously." Aside from that, this is your basic so-so NBA design -- nothing special, nothing awful. |
| 85 | Milwaukee Brewers | | MLB | Hands down the most blandly middlebrow uni package in all of sports. It has nothing to get excited about and nothing to hate. It's just pleasantly, infuriatingly adequate, like some medium-priced restaurant chain that you patronize when you're too tired to cook dinner. Ladies and gentlemen, I give you T.G.I.Uniform. |
| 86 | Houston Rockets | | NBA | With today's billowy NBA uniforms, those stripes just look too swoopy -- the effect is almost clownish. Also, the chest lettering feels scratchy and primitive, which doesn't match the team's space-age name. Also-also, the big "R" in the center of the team's logo is supposed to look like rocket blasting off, but it really just looks like dripping paint. |
| 87 | Washington Nationals | | MLB | Much like the team itself, this uniform program has made some progress. But the home and red jerseys would look better if the number moved up to align with the W, the star-spangled jersey would look better if they locked it in a closet and pretended it never existed, and the whole package still feels a teeny bit generic. They're getting there, though. |
| 88 | Colorado Rockies | | MLB | While other young franchises have undergone constant makeovers, the Rockies are about to hit their 20th anniversary with more or less the same design program. And good for them -- they've matured into their look, purple and all. If only they'd get rid of that idiotic black vest, they'd actually be a sharp-looking team. |
| 89 | Atlanta Hawks | | NBA | The Hawks have featured a lot of audacious looks over the years, so it's a shame to see them wearing something so uninspired. It's safe, it's inoffensive, it's nothing to complain about -- and it's completely unmemorable. |
| 90 | Arizona Diamondbacks | | MLB | How to look like a minor league team: 1. Wear your nickname, instead of your full team name, on your chest. 2. Render the nickname in digital lettering that's difficult to decipher. 3. While you're at it, render your road insignia in a mix of upper- and lowercase lettering. 4. Add lots of black elements, just because. |
| 91 | Carolina Hurricanes | | NHL | What's the deal with all these NHL teams that now have fake shoulder yokes? If you want a yoke, use a real one, like the Rangers or Devils -- don't just draw an outline to show where it would go. Aside from that, not such a terrible set. |
| 92 | Toronto Raptors | | NBA | Another team with an identity crisis. First they're all about the purple. Then they're all about the black. Now they're all about the red. Would anyone be surprised if they switched to blue in two seasons? More importantly, would anyone care? That's what happens when your visual program doesn't stand for anything -- people lose interest. |
| 93 | Baltimore Ravens | | NFL | Problem No. 1: That number font. Problem No. 2: Please stop wearing black socks with black pants! Problem No. 3: All that purple. Cool helmet logo, though. |
| 94 | Nashville Predators | | NHL | The collarbone horns are somewhat defensible, since they sort of mimic the teeth on the crest logo. But the apron strings going down the length of the jersey -- front and back! -- are too much. Clean that up and then we'll talk. |
| 95 | Denver Broncos | | NFL | There had never been anything like the Broncos' design when it debuted in 1997, and there's still nothing like it in the NFL today. It no longer feels radical or heretical -- we've all gotten used to it by now. But is it actually a good design? No, it isn't. The side panels that extend into collarbone horns still feel gratuitous, and the pants stripes have now been extended so they wrap around to the front of the leg, which looks comical at best. On the plus side, the Broncos are going back to using orange for their home jersey this season (the navy design is now the alternate), but it'll take more than that to get this team's aesthetic house in order. |
| 96 | Milwaukee Bucks | | NBA | Attention uniform designers: Despite what so many of you apparently think, enlarging the first and last letters of a chest insignia does not provide symmetry; it just makes it look like you don't know anything about capitalization. While we're at it, excessive beveling does not make uniform lettering look like it's been carved from granite; it makes it look like you just discovered Photoshop last week. Oh, and using green and red together is too Christmas-y, but that's the team's fault, not yours. |
| 97 | Anaheim Ducks | | NHL | There's lots of potential here: The orange and bronze tones work really well together, the giant webbed foot is an icon in the making, and the wordmark (usually a no-no for hockey jerseys) isn't bad. But the diagonal striping on the home and road jerseys feels too gimmicky, and the alternate design is weighed down by the side panels and the phony yoke outline. One day this will probably be a very good-looking team. But not today. |
| 98 | Cleveland Indians | | MLB | The Indians can never seem to decide if their main color is red with blue trim or the other way around. That's not their only identity crisis these days, as they now have two jerseys with fancy scripts and two with super-plain lettering -- a major disconnect. But if they really want to address their identity issues, they should retire Chief Wahoo, a lightning rod of an ethnic caricature whose time has clearly passed. |
| 99 | Ottawa Senators | | NHL | Anyone else out there think the Sens usually look like an AHL team that took a wrong turn on their way to the minor league arena? The main problem is their centurion logo character, who's always felt a bit lacking in gravitas. The black lines are too thick, especially on his face -- give him some details, some feeling, some dignity. The barber pole throwback is a hoot, though. |
| 100 | St. Louis Blues | | NHL | The Blues have been ill-served by Reebok's Edge template. The apron strings, swoopy stripes on the pants, the collarbone horns -- it's all too much. And the third jersey feels like a pro forma stab at traditionalism. If they want to look traditional, it's easy: Just strip all the nonsense elements from the home and road designs. A shame, because their primary logo is still among the strongest in the league. |
(Special thanks to Michael Barreras, Jared Hartung, Mark Meeks and Zack Tanner for their photo research assistance.)
Paul Lukas will never look at the number 122 the same way again. If you liked the Uni Watch Power Rankings, you'll probably like his daily Uni Watch web site, plus you can follow him on Twitter and Facebook. Want to learn about his Uni Watch Membership Program, be added to his mailing list so you'll always know when a new column has been posted, or just ask him a question? Contact him here.
Sports journalism's foremost uniform reporter
ESPN.com columnist since 2004
Also blogs at uni-watch.com
SPONSORED HEADLINES
ESPN TOP HEADLINES
MOST SENT STORIES ON ESPN.COM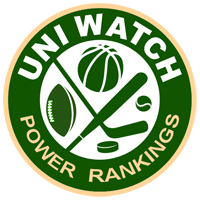 THE RANKINGS
CREATE YOUR OWN RANKINGS
WHAT MAKES A GREAT UNIFORM?