Commentary
Uni Watch Power Rankings (51-75)
Originally Published:
August 22, 2012
By
Paul Lukas
| ESPN Playbook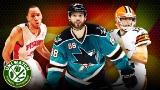 Uni Watch Power Rankings Day 3
Uni Watch Power Rankings Day 3
Another day, another installment of the Uni Watch Power Rankings, and we continue our weeklong countdown of every uniform set in the NFL, MLB, NBA and NHL. (If you're joining us for the first time today, you can see all the ground rules and parameters spelled out here.)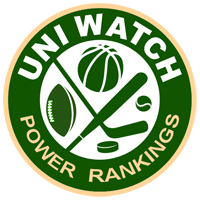 This is Day 3 -- call it the middle of the pack, call it humpday, call it what you will. By any name, it presents a challenge: How do you assess and describe a bunch of designs that are neither wonderful nor awful? "Nothing to complain about here, but nothing to get excited about either." "Not bad for what it is, but what it is ain't great." Then what? Seriously, people, writing about mediocrity is tougher than it looks.
Of course, not everyone has the same concept of what qualifies as mediocre. So take a look at this section of the chart (remember, you can click on a team's name to see its current uni set) and keep giving us your feedback in the comments and on Twitter, using the hashtag #UniRank.
---
Uni Watch Power Rankings 2012:
Nos. 101-122 | Nos. 76-100 | Nos. 51-75 | Nos. 26-50 | Nos. 1-25
Rankings by sport: MLB | NBA | NHL | NFL
Create your own rankings: MLB | NBA | NHL | NFL | Best in all of pro sports
What makes a great uniform? MLB | NBA | NHL | NFL | Lukas chat wrap
UNI WATCH POWER RANKINGS -- Click team names to view uniform sets
| Rank | Team | Logo | League | Comment |
| --- | --- | --- | --- | --- |
| 51 | San Diego Chargers | | NFL | Memo to the Chargers: Want to jump a few spots in these rankings? Put the uni numbers back on the sides of the helmets. Come on, there's all that white space under the lightning bolts -- go ahead and use it! Oh, and while you're at it, the bolts on the shoulders are running at a really awkward angle these days, and you need some white-topped socks to go with the blue pants, so please do something about that, too. Gracias. |
| 52 | New York Jets | | NFL | Crazy but true: The Jets have become such a circus in the Rex Ryan era that their uniforms are just about the only island of stability the team can cling to. It's a good design, although the shoulder/sleeve arrangement gets trickier to execute as NFL sleeves continue their disappearing act. They'd rank higher if they'd stay away from the green-over-green format. |
| 53 | Indianapolis Colts | | NFL | The Colts' jersey stripes have dwindled over the years, to the point where they're barely vestigial. If they can't be restored to their proper length, then it's time to retire them for good, because at this point they've become a distraction. |
| 54 | Buffalo Sabres | | NHL | The old-school crest is a quantum-leap improvement over the Buffaslug, but the torso stripes and front uni number are unnecessary. Docked a few notches for retiring their excellent alternate, which will be sorely missed. |
| 55 | New York Islanders | | NHL | That logo is starting to feel dated, but they can probably squeeze a few more years out of it. For now, this is a very serviceable home and road set. They'd rank higher if not for the alternate, which might be the single worst uniform in North American sports. |
| 56 | Houston Astros | | MLB | Pretty classy set. The thing is, the Stros weren't put on this earth to do classy. They're here to wear orange, to wear wacky stripes, to push the envelope. Maybe they'll go back to that next season, when they're due to have a new uni design. |
| 57 | Detroit Pistons | | NBA | So many NBA teams these days are using these round-ish lettering fonts, and they all lack punch. The chest mark feels soft, inconsequential. Not an unattractive uniform, but not a memorable one either. |
| 58 | New England Patriots | | NFL | No matter how much you like the old Pat Patriot logo -- and a certain uniform columnist likes it a lot -- there's no denying that the Pats are Flying Elvis' team now. And it's not just because they've been so successful on the field in the Elvis era -- it's a decent design that has held up well. There's one major problem, though: those miserable side panels on the jersey. Woof! |
| 59 | Cleveland Browns | | NFL | Somewhere in the Nike offices, there's probably a high-ranking executive whose entire job is to persuade the Browns to adopt a helmet logo and an alternate jersey. "Vice President for Browns Modernization" or some such (good luck with that). The team's plain-Jane look tends to be polarizing -- some folks love it, some hate it -- but the truth lies somewhere in between. Docked a few notches for not wearing their brown jerseys even once last season. |
| 60 | San Jose Sharks | | NHL | Originally part of the teal invasion of the 1990s, the Sharks have grown into their look quite nicely. The logo is starting to feel like a modern classic, and the orange trim on the home and road uniforms really enhances those designs. Now if they'd just scrap those front uni numbers. |
| 61 | Indiana Pacers | | NBA | Like so many middle-of-the-pack NBA design packages, Indiana's uni set is blandly adequate -- no more, no less. The gold accenting on the home whites packs a nice little punch, though. |
| 62 | Washington Redskins | | NFL | The Skins look great when they wear those flashy gold pants (which have their own Twitter feed!), they look OK when they wear the burgundy pants, and they should really give the white pants the heave-ho. The jerseys and helmet are OK, but the whole package is starting to feel a bit dated. |
| 63 | New York Giants | | NFL | Big Blue is a decent-looking team with two major flaws. First, wearing gray pants for every game -- even at home -- makes the whole package feel drab and blah. And for the umpteenth time, it makes no sense for a team whose main color is blue to have such a red-centric road uniform. (A more detailed argument on this point can be found here.) |
| 64 | Florida Panthers | | NHL | Look, you can have a long panel of color running down the sleeve or you can have stripes wrapping around the sleeves, but you can't have both. Aside from that, this is a pretty good-looking team right now, especially since they've decided to retire the alternate uni, which always felt like a bad fit. |
| 65 | Tennessee Titans | | NFL | This team has always been an interesting mix. The white helmet and contrasting yoke are retro-ish, while the tapered helmet stripes and the uni number font are modern. Most of it works surprisingly well (except for those helmet stripes, which now look hilariously dated). Might be time to update that primary logo, though. |
| 66 | Texas Rangers | | MLB | The Rangers need a new typeface, or at least a new type treatment. There are too many layers (blue outlined in white, outlined in red, with a black shadow), and the letters and numbers have too many spikes and bumps. It looks fine on the front of the jersey, where the letterforms are spread out, but the back is a jumbled mess. Clean that up and you'll have a pretty good-looking team. |
| 67 | Chicago Bulls | | NBA | The Bulls' uniform set is more or less equivalent to the Celtics'. Both teams have rich championship heritages, and both teams have pretty much stayed true to their aesthetic roots. So why does Boston rank higher than Chicago? For starters, green is a more unique color -- the Celtics own it, while a few jillion other teams wear red. Second, the Celtics' black-lettered alternate is bad, but the Bulls' solid-black alternate is worse. And third, the Celtics have arguably the best logo in the sport, while the Bulls' logo -- which appears on their shorts -- looks like a cartoon steer for a middlebrow steakhouse. |
| 68 | Tampa Bay Rays | | MLB | When the history of uni-verse is written, the Rays' 2005-07 set will go down as one of the great underrated designs (especially if I'm the one writing the history). Their current set is a snoozer by comparison, but it's straightforwardly free of gimmicks, and they get bonus points for occasionally breaking out the striped socks. |
| 69 | Cincinnati Reds | | MLB | All the other MLB teams that added black accents to their uniforms over the past 15 years (Mets, Royals, A's, etc.) have gone back to their true colors -- except the Reds. Time to ditch the black drop shadows and the black alternate cap, guys. A less eccentric number font wouldn't hurt, either. |
| 70 | Philadelphia 76ers | | NBA | Well, you certainly can't accuse them of overdesigning it. In a perfect world, the Sixers would wear a classy stars-and-stripes treatment, but another team already beat them to that concept a few decades ago, and the Sixers' own attempts at stars and stripes haven't worked out so well, so their current minimalist approach is probably for the best. Not much juice, though. |
| 71 | Minnesota Twins | | MLB | The Twins' home script hasn't aged well. It always felt too clunky, and now it also feels too 1980s. The current road script is handsome but feels too clean, too sterile, like it was designed by someone at Hallmark instead of someone connected to the sports world. The net result is a look that feels just a tad rinky-dink -- the uniform equivalent of a four-A player. Also: Too many alternates. |
| 72 | Winnipeg Jets | | NHL | The Jets are ahead of the curve: While every other NHL team rolls out a blue alternate uniform with a circular crest, the Jets have used that concept for their primary uniform. It's fine, but it's nothing special. Also, there's only one NHL team that should be wearing a maple leaf on its chest, and Winnipeg isn't it. |
| 73 | Vancouver Canucks | | NHL | Free Willy! The problem here isn't the Orca logo, which has actually developed a little bit of gravitas after 15 years (can you believe it's been that long?). The problem is the city name, which doesn't belong on the jersey and needs to go. |
| 74 | New Orleans Hornets | | NBA | New Orleans is a party town, so a bit of gaudiness is OK. But the Hornets are treading a fine line between gaudy and garish. Meanwhile, here's something weird: Team owner Tom Benson wants to change the team's name, but the current team name doesn't appear on any of the team's four (!) uniforms, so they could actually get a new moniker and keep their current uni set if they wanted (although that seems highly unlikely). |
| 75 | Houston Texans | | NFL | Does anyone else think the Texans' logo looks really great on the right side of the helmet (i.e., when it's facing rightward) and really awkward on the other side of the helmet? Can't figure out why -- it's just the mirror image, so it should look just as good, but it doesn't, at least to this set of eyes. As for the rest of the uniform, it feels more like a generiform, no? |
(Special thanks to Michael Barreras, Jared Hartung, Mark Meeks and Zack Tanner for their photo research assistance.)
Paul Lukas will never look at the number 122 the same way again. If you liked the Uni Watch Power Rankings, you'll probably like his daily Uni Watch web site, plus you can follow him on Twitter and Facebook. Want to learn about his Uni Watch Membership Program, be added to his mailing list so you'll always know when a new column has been posted, or just ask him a question? Contact him here.
Sports journalism's foremost uniform reporter
ESPN.com columnist since 2004
Also blogs at uni-watch.com
SPONSORED HEADLINES
ESPN TOP HEADLINES
MOST SENT STORIES ON ESPN.COM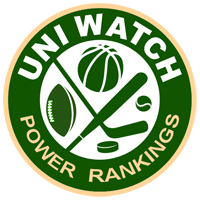 THE RANKINGS
CREATE YOUR OWN RANKINGS
WHAT MAKES A GREAT UNIFORM?