Commentary
Uni Watch Power Rankings (26-50)
Originally Published:
August 23, 2012
By
Paul Lukas
| ESPN Playbook
Welcome to the home stretch of the Uni Watch Power Rankings, as we continue to rank the uniforms from all 122 NFL, MLB, NBA and NHL teams. (If you're joining us for the first time this week, you'll want to get the full scoop on this project here.)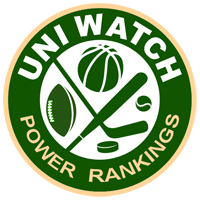 One thing about these rankings is that they're based on a team's full uniform set -- not just its best design. The Red Sox, for example, have one of the best home uniforms in baseball, and it's perfectly suited for the old-school environment of Fenway Park. But why do they have two solid-colored alternate jerseys? The red one, in particular, is a disaster -- that hurt Boston's spot in the rankings. Similarly, when you think of the Dallas Cowboys, you instinctively think of them wearing white jerseys, which is one of the most iconic and strongest looks in all of sports. But it's not their only look -- their blue jersey had to be factored into the equation too. That brought them down in the rankings.
As always, you can click on a team's name to see its current uniform set, and we encourage you to post your feedback in the comments or on Twitter, using the hashtag #UniRank.
On Friday, we'll finally crown our winner. See you then.
---
Uni Watch Power Rankings 2012:
Nos. 101-122 | Nos. 76-100 | Nos. 51-75 | Nos. 26-50 | Nos. 1-25
Rankings by sport: MLB | NBA | NHL | NFL
Create your own rankings: MLB | NBA | NHL | NFL | Best in all of pro sports
What makes a great uniform? MLB | NBA | NHL | NFL | Lukas chat wrap
UNI WATCH POWER RANKINGS -- Click team names to view uniform sets
| Rank | Team | Logo | League | Comment |
| --- | --- | --- | --- | --- |
| 26 | Pittsburgh Penguins | | NHL | How can you resist a skating penguin? That's a trick question -- everyone knows there's no way to resist a skating penguin, because a skating penguin is literally irresistible! Once you have that kind of karma going for you, the rest of the uniform falls into place pretty easily. |
| 27 | Baltimore Orioles | | MLB | Black and orange is a seriously undervalued color combination in sports design, and nobody uses it better than the Orioles. The home script is a thing of beauty, the road script has been nicely tweaked this season, and the return of the cartoon bird and the white-paneled cap has made the Orioles a really fun-looking team. So why aren't they ranked a bit higher? Because let's face it: No baseball team needs two different solid-colored alternate jerseys. |
| 28 | Philadelphia Eagles | | NFL | Good-looking team, right? Always has been. Some fans still pine for the old kelly green while others prefer the current darker version, but they both work. And the wings on the helmet look as sharp and timeless as ever. The Eagles didn't wear the black alternate last season, and let's hope for a repeat of that this year. |
| 29 | Pittsburgh Pirates | | MLB | That uniform suddenly looks a lot better when they're winning a few ballgames for a change, right? Fact is, the Buccos have been one of the better-looking MLB teams for a while now, but most fans just haven't noticed. They could move into the upper echelon of these rankings if they'd just scrap that solid black jersey. |
| 30 | Dallas Cowboys | | NFL | Dallas would rank higher if we were just talking about the home whites, which rank among the most iconic uniforms in all of pro sports. But the blue jersey never feels right, and the Cowboys also lose points for having too many inconsistent shades of blue and silver scattered throughout their uni package. |
| 31 | Washington Wizards | | NBA | The Bullets live again! OK, not quite, but this is a close enough facsimile. Kudos to owner Ted Leonsis for bringing back an updated version of the old striped design, and to the league and adidas for executing it so nicely. One of the better uni-related success stories of recent years. |
| 32 | Minnesota Wild | | NHL | Almost every design move by this franchise has been a winner, from the primary logo (love the North Star as the bear's eye) to the handsome script on the alternate uni. The circular logo on the home uniform feels a bit forced -- it's a little presumptuous for a team to go old-school when it's existed for only a dozen years -- but it's still a good-looking design. Whoever's running the graphics program here, keep it up. |
| 33 | Buffalo Bills | | NFL | Is every old-school design good and every newfangled design bad? Of course not. But there's no denying that a few years ago the Bills were the worst-dressed team in pro sports, and now they've become one of the better-looking NFL teams by going back to a retro look. Frankly, it would have been more interesting if they'd come up with an attractive modern uniform, but that seems to be a tough challenge for football designers these days. Meanwhile, the new two-tone collar will make the whole team look like it's wearing an old-fashioned neck roll, so that's a step backward for this season, but the new blue road pants are a big plus. |
| 34 | San Francisco 49ers | | NFL | Wouldn't it be great to have been in the room when they decided how to design the 49ers' sleeve stripes? "We don't really have room for three full stripes," someone must have said, "so let's just use partial stripes!" And then they presumably went back to whatever they were smoking. Aside from that, though, the Niners look very, very good these days. |
| 35 | Miami Dolphins | | NFL | Several international treaties stipulate that nobody can discuss the Dolphins' uniforms without mentioning that the helmet logo really ought to have an infinite regression (i.e., a dolphin wearing a helmet with a dolphin wearing a helmet with a dolphin ...). Now that that's out of the way, there are two points worth mentioning here: First, the Dolphins' white jersey will have a two-tone collar this season -- not good. Also, word through the grapevine is that a logo revision may be in store for next season. So if you're a fan of the current logo, enjoy it while you can. |
| 36 | L.A. Angels of Anaheim | | MLB | The Halos tend to get overshadowed by the Dodgers. But if you ignore that five-year span when they wore the angel wings, they've almost always looked good on the field, and their current design ranks among their best. Very solid. |
| 37 | Oklahoma City Thunder | | NBA | Very underrated. The home design is particularly strong -- one of the best in the league -- in large part because of the orange and gold trim, which really pops. The road design would probably be stronger if they put "City" below the uni number instead of stacking the two words, but it still works. Sort of amazing that they haven't come out with an "OKC" alternate yet, but that's presumably right around the corner. |
| 38 | Atlanta Braves | | MLB | The basic design is a good one, but no team needs three alternates, or two different solid-colored alternates -- it waters everything down too much. Keep the navy jersey if you must, but get rid of the others. |
| 39 | Chicago White Sox | | MLB | Such an odd franchise. Back in the 1970s and '80s, they were changing their look every five minutes, but they've now stuck with their current set for more than two decades. It's a solid look, and this year's Sunday throwbacks are a nice reminder of the wacky old days. |
| 40 | Miami Heat | | NBA | Amidst all the ho-hum typography found on today's NBA jerseys, the Heat's flaming "T" is a brilliantly simple detail that totally works. Why can't other teams come up with something like this? No extraneous nonsense under the armholes or on the shorts, either. A uniform worthy of the league champs. |
| 41 | Columbus Blue Jackets | | NHL | America's coolest state flag (the only one that isn't a rectangle, don'tcha know) is the basis for the NHL's most interesting jersey crest. The home and road designs are excellent, but that alternate uni feels like retro-by-numbers. Circular logo? Check. Contrasting shoulder yoke? Check. Lace-up collar? Check. Off-white "wheat" tone? Check and mate. Come on, people -- if you're dead set on coming up with a third jersey to sell, try to design one with a little more thought behind it. |
| 42 | Boston Red Sox | | MLB | The home design is a timeless classic -- a perfect match for the old-school setting of Fenway Park. But the current edition of the road uni feels a tad blah, the blue alternate is unnecessary, and the garish red alternate never should have gotten off the drawing board. Can't believe they've stuck with it for so many years now. |
| 43 | New Jersey Devils | | NHL | You don't think of the Devils as a bastion of old-fashioned traditionalism, but consider this: They've never had an alternate uniform. It's like they're the Yankees or something! And really, why bother with an alternate design when your basic look is as solid as this one? |
| 44 | New York Knicks | | NBA | Not many NBA clubs can get away with not wearing their team name anywhere on their jerseys, but it works for the Knickerbockers. Although it hasn't been formally announced yet, all indications are that they'll be dropping the black trim from their uni program this season (they've already excised the black from their logo), which means they'll probably be moving up in the rankings next time around. |
| 45 | Tampa Bay Buccaneers | | NFL | Fifteen years after introducing football fans to the concept of pewter, the Bucs have successfully staked out their own aesthetic turf. They may never make us forget about Bucco Bruce (especially if they keep bringing him back once a year as part of their creamsicle throwback design), but they're no longer defined by his ghost. Good example of a team creating a unique look, sticking with it, and reaping the aesthetic dividends. Wish they'd ditch the white pants, though -- you invented the pewter look, so stick with it! |
| 46 | San Francisco Giants | | MLB | The Giants have developed a weird split personality. On one hand, they're traditionalists, with no player names on their home whites. In fact, the whites aren't even white -- they're cream. On the other hand, they have a gratuitous orange alternate and -- get this -- two different sets of road grays. Their core look is solid, but they need to decide on a more coherent direction. |
| 47 | Kansas City Chiefs | | NFL | The Chiefs have had essentially the same look throughout the franchise's entire existence, which may explain why an increasing number of Uni Watch readers have recently been clamoring for them to get a makeover. But you know what they say about something that ain't broke, and that definitely applies here. Just one request: Please don't go white-over-white ever again -- not when you have those gorgeous red pants available. |
| 48 | Portland Trail Blazers | | NBA | A handful of NBA teams have worn diagonal stripes over the years, but the Blazers are the only team currently employing that concept. It works -- here's hoping they never move away from it. Fun fact: The Blazers' pinwheel logo is a graphic representation of a five-on-five basketball game. It's also one of the few logos in the league that doesn't include a depiction of a basketball. |
| 49 | Chicago Blackhawks | | NHL | There are more colors in Chief Blackhawk's headdress than most teams have in their entire uniform program (all rendered in beautiful jewel-toned chain-stitching, to boot). Against the white background of the road uniform, those colors pop. But the red home uni is so loud that the chest design can't compete with it, like a pop tune that gets drowned out by a heavy metal anthem. Yet another argument for the NHL going back to wearing white at home. |
| 50 | Seattle Mariners | | MLB | Sometimes there's a uniform (or a band, or a movie, or a book, or a building, or whatever) that's pretty good, but it's pretty good in a completely unremarkable way that resists superlatives. So you just end up saying, "Yup, it's pretty good." This is that uniform. |
(Special thanks to Michael Barreras, Jared Hartung, Mark Meeks and Zack Tanner for their photo research assistance.)
Paul Lukas will never look at the number 122 the same way again. If you liked the Uni Watch Power Rankings, you'll probably like his daily Uni Watch web site, plus you can follow him on Twitter and Facebook. Want to learn about his Uni Watch Membership Program, be added to his mailing list so you'll always know when a new column has been posted, or just ask him a question? Contact him here.
Sports journalism's foremost uniform reporter
ESPN.com columnist since 2004
Also blogs at uni-watch.com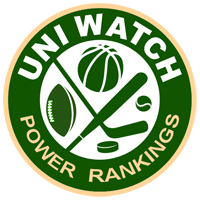 THE RANKINGS
CREATE YOUR OWN RANKINGS
WHAT MAKES A GREAT UNIFORM?
MOST SENT STORIES ON ESPN.COM