Commentary
What makes a great MLB uniform?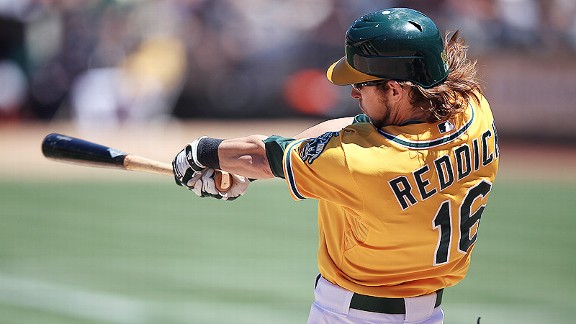 Brad Mangin/MLB/Getty ImagesJosh Reddick and the Swingin' A's look terrific and evoke a proud history with their yellow jerseys.
There was a time when I was very traditional in my view of uniforms: home whites and road grays ... and anything resembling those garish Houston Astros rainbow jerseys of the '70s and '80s should be banished to the consignment shops or Terry Puhl's basement.
But you know what? I've come around a little bit. A little color can be a good thing. For example, I love the Oakland A's bright yellow tops, sort of a more modern take on the jerseys you remember Reggie Jackson & Co. wearing back in the day. The Royals' alternate jersey is also a sweet shade of powder blue, another update of an older style. The best thing, of course, is only the Royals wear the blue top. In the 1980s when it seemed half the teams in baseball wore powder blue road uniforms, it looked like players were wearing pajamas.
That was an example of taking things too far. Or the time the Indians wore all-red uniforms. Poor Boog Powell looked like a big tomato. But the thing I like about those A's and Royals jerseys: You know you're watching the A's or Royals. Isn't that ultimately what makes the Yankees pinstripes so classic? You know you're watching the Yankees.
With that in mind, here are a few of my rules on what makes a great MLB uniform in 2012:
[+] Enlarge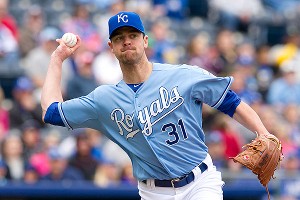 John Williamson/MLB Photos via Getty ImagesLouis Coleman and the Royals look good in blue tops. Other teams absolutely, undoubtedly, simply do not.
1. Must include buttons.
It makes me sad when I watch old World Series videos from the '80s and see the stretchy pullovers. It's why the '86 Mets can't be completely respected as an all-time great team: The jerseys are embarrassing.
2. If you use a patch on the sleeve, make it count.
Oakland's elephant-balancing-on-a-baseball patch is awesome, unique and an homage to the franchise's history going all the way back to Philadelphia. The Twins' logo patch is great. All those anniversary patches? Lame. Thirty-five years isn't an anniversary. Celebrating the anniversary of a ballpark? Really lame. The only anniversaries that matter are 10 years, 25 years, 50 years and 100 years. Anything else is overdoing it. It's so out of control, we'll probably see the Marlins wear a one-year Marlins Park anniversary patch next year.
3. Simplicity.
When in doubt, keep it simple. We mean you, Marlins.
4. Only the Pirates and White Sox can wear black tops.
If it's not in your basic color scheme, stay away. We mean you, New York Mets. No, seriously, the black alternate jersey DOES NOT WORK. Stop it.
5. No more red.
[+] Enlarge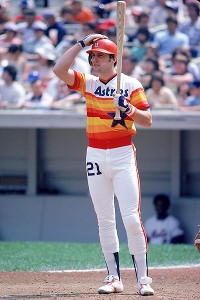 Rich Pilling/MLB/Getty ImagesTerry Puhl and the 1970s Astros wore awesome softball jerseys.
Can you tell the Diamondbacks from the Nationals from the Reds from the Cardinals from the Angels? At least the Reds are called the Reds. The Diamondbacks won a World Series in purple. Why change?
6. Only the Yankees are allowed to go nameless on their jerseys.
Sorry, not all of us care to memorize the numbers of players. The Giants, for example, don't have names on their home jerseys. Now, I don't have a problem recognizing Pablo Sandoval, but do you know Brandon Crawford from Brandon Belt? Quick, tell me their uniform numbers. Names, please. Thank you.
7. Homages to the past are encouraged.
For example, the Orioles brought back the white-paneled cap. Nice touch. So this means if you're the Padres, embrace the brown. It's not that bad. Not that I'd recommend a brown-and-gold color scheme for any other franchise.
8. If you have the best logo in history, don't ditch it for a piece of barley.
If it was good enough for Robin Yount, it's good enough for Cody Ransom.
9. If you're the Dodgers, you're never allowed to change your home jersey.
Although a purple-and-gold alternate version would be kind of cool.
10. Finally: Cream is OK.
My favorite current jersey: The Phillies' cream alternate. An ode to the past, the splash of blue on the cap, the classic script lettering and the unique color.
David Schoenfield writes for the SweetSpot blog on ESPN.com.
SweetSpot blogger
Senior writer of SweetSpot baseball blog
Former deputy editor of Page 2
Been with ESPN.com since 1995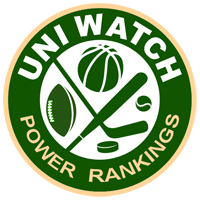 THE RANKINGS
CREATE YOUR OWN RANKINGS
WHAT MAKES A GREAT UNIFORM?
MOST SENT STORIES ON ESPN.COM