Commentary
Uni Watch Power Rankings (NFL)
Originally Published:
August 24, 2012
By
Paul Lukas
| ESPN Playbook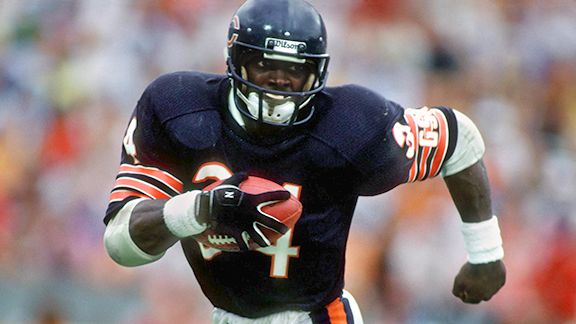 Manny Rubio/US PresswireThe classic look of the Chicago Bears is perfectly embodied by Hall of Famer Walter Payton.
Nike is taking over the NFL's uniform contract this season, but the NFL still looks like the NFL. Most of Nike's changes have been minor, if somewhat annoying, like the new "neck roll" collars that many teams are wearing, and the "sweatbox" tailoring patterns. So far, only one team has gotten a full-scale Nike makeover: the Seahawks.
Frankly, there are a few teams out there that could use a makeover. Here's our assessment of how NFL uniforms stack up (just click on each team's name to see its current uniform set):
---
Uni Watch Power Rankings 2012:
Nos. 101-122 | Nos. 76-100 | Nos. 51-75 | Nos. 26-50 | Nos. 1-25
Rankings by sport: MLB | NBA | NHL | NFL
Create your own rankings: MLB | NBA | NHL | NFL | Best in all of pro sports
What makes a great uniform? MLB | NBA | NHL | NFL | Lukas chat wrap
UNI WATCH POWER RANKINGS -- Click team names to view uniform sets
| Rank | Team | Logo | Comment |
| --- | --- | --- | --- |
| 1 | Chicago Bears | | True, the helmet design is starting to look a tad dated. But the striped sleeves, striped socks (now a rarity in the NFL, alas), unique number font, and even the perma-memorial to Papa Bear all score major points, and the Bears may be the only team in the league who look as sharp on the road as they do at home. The cream of the NFL crop. |
| 2 | Green Bay Packers | | Green and gold is the perfect autumnal color palette for a fall sport, the road design just about holds its own with the home uni, and the Pack's helmet logo still feels vibrant and relevant (unlike, say, the Bears' logo, which is starting to feel dated). Green Bay also has leapfrogged ahead of most NFL teams by not switching to the new Nike collar. Only two quibbles: The TV numbers have gotten intrusively large, and my kingdom for some striped socks. |
| 3 | Pittsburgh Steelers | | Some fans still haven't gotten over the Steelers' move away from block uni numbers 15 years ago, but the team's basic look is still as strong as ever. They're also the only NFL team with a logo on just one side of the helmet, a quirk that scores a few points in the intangibles column. Ditto for the cross sewn onto Troy Polamalu's jersey (which probably would prompt a fine if not for the fact that it's usually covered by his hair). |
| 4 | Oakland Raiders | | Just suit up, baby. Silver and black look just as good today as they did when Al Davis came up with them. There's probably some marketer out there who wants the team to dress up like the fans in the Black Hole (and hey, that actually could be fun as a one-off thing), but you don't mess with something this elemental. Also: The Raiders are among the few NFL teams that wisely have declined to adopt the new Nike collar format. |
| 5 | Philadelphia Eagles | | Good-looking team, right? Always has been. Some fans still pine for the old kelly green while others prefer the current darker version, but they both work. And the wings on the helmet look as sharp and timeless as ever. The Eagles didn't wear the black alternate last season, and let's hope for a repeat of that this year. |
| 6 | Dallas Cowboys | | Dallas would rank higher if we were just talking about the home whites, which rank among the most iconic uniforms in all of pro sports. But the blue jersey never feels right, and the Cowboys also lose points for having too many inconsistent shades of blue and silver scattered throughout their uni package. |
| 7 | Buffalo Bills | | Is every old-school design good and every newfangled design bad? Of course not. But there's no denying that a few years ago the Bills were the worst-dressed team in pro sports, and now they've become one of the better-looking NFL teams by going back to a retro look. Frankly, it would have been more interesting if they'd come up with an attractive modern uniform, but that seems to be a tough challenge for football designers these days. Meanwhile, the new two-tone collar will make the whole team look like it's wearing an old-fashioned neck roll, so that's a step backward for this season, but the new blue road pants are a big plus. |
| 8 | San Francisco 49ers | | Wouldn't it be great to have been in the room when they decided how to design the 49ers' sleeve stripes? "We don't really have room for three full stripes," someone must have said, "so let's just use partial stripes!" And then they presumably went back to whatever they were smoking. Aside from that, though, the Niners look very, very good these days. |
| 9 | Miami Dolphins | | Several international treaties stipulate that nobody can discuss the Dolphins' uniforms without mentioning that the helmet logo really ought to have an infinite regression (i.e., a dolphin wearing a helmet with a dolphin wearing a helmet with a dolphin ...). Now that that's out of the way, there are two points worth mentioning here: First, the Dolphins' white jersey will have a two-tone collar this season -- not good. Also, word through the grapevine is that a logo revision may be in store for next season. So if you're a fan of the current logo, enjoy it while you can. |
| 10 | Tampa Bay Buccaneers | | Fifteen years after introducing football fans to the concept of pewter, the Bucs have successfully staked out their own aesthetic turf. They may never make us forget about Bucco Bruce (especially if they keep bringing him back once a year as part of their creamsicle throwback design), but they're no longer defined by his ghost. Good example of a team creating a unique look, sticking with it, and reaping the aesthetic dividends. Wish they'd ditch the white pants, though -- you invented the pewter look, so stick with it! |
| 11 | Kansas City Chiefs | | The Chiefs have had essentially the same look throughout the franchise's entire existence, which may explain why an increasing number of Uni Watch readers have recently been clamoring for them to get a makeover. But you know what they say about something that ain't broke, and that definitely applies here. Just one request: Please don't go white-over-white ever again -- not when you have those gorgeous red pants available. |
| 12 | San Diego Chargers | | Memo to the Chargers: Want to jump a few spots in these rankings? Put the uni numbers back on the sides of the helmets. Come on, there's all that white space under the lightning bolts -- go ahead and use it! Oh, and while you're at it, the bolts on the shoulders are running at a really awkward angle these days, and you need some white-topped socks to go with the blue pants, so please do something about that, too. Gracias. |
| 13 | New York Jets | | Crazy but true: The Jets have become such a circus in the Rex Ryan era that their uniforms are just about the only island of stability the team can cling to. It's a good design, although the shoulder/sleeve arrangement gets trickier to execute as NFL sleeves continue their disappearing act. They'd rank higher if they'd stay away from the green-over-green format. |
| 14 | Indianapolis Colts | | The Colts' jersey stripes have dwindled over the years, to the point where they're barely vestigial. If they can't be restored to their proper length, then it's time to retire them for good, because at this point they've become a distraction. |
| 15 | New England Patriots | | No matter how much you like the old Pat Patriot logo -- and a certain uniform columnist likes it a lot -- there's no denying that the Pats are Flying Elvis' team now. And it's not just because they've been so successful on the field in the Elvis era -- it's a decent design that has held up well. There's one major problem, though: those miserable side panels on the jersey. Woof! |
| 16 | Cleveland Browns | | Somewhere in the Nike offices, there's probably a high-ranking executive whose entire job is to persuade the Browns to adopt a helmet logo and an alternate jersey. "Vice President for Browns Modernization" or some such (good luck with that). The team's plain-Jane look tends to be polarizing -- some folks love it, some hate it -- but the truth lies somewhere in between. Docked a few notches for not wearing their brown jerseys even once last season. |
| 17 | Washington Redskins | | The Skins look great when they wear those flashy gold pants (which have their own Twitter feed!), they look OK when they wear the burgundy pants, and they should really give the white pants the heave-ho. The jerseys and helmet are OK, but the whole package is starting to feel a bit dated. |
| 18 | New York Giants | | Big Blue is a decent-looking team with two major flaws. First, wearing gray pants for every game -- even at home -- makes the whole package feel drab and blah. And for the umpteenth time, it makes no sense for a team whose main color is blue to have such a red-centric road uniform. (A more detailed argument on this point can be found here.) |
| 19 | Tennessee Titans | | This team has always been an interesting mix. The white helmet and contrasting yoke are retro-ish, while the tapered helmet stripes and the uni number font are modern. Most of it works surprisingly well (except for those helmet stripes, which now look hilariously dated). Might be time to update that primary logo, though. |
| 20 | Houston Texans | | Does anyone else think the Texans' logo looks really great on the right side of the helmet (i.e., when it's facing rightward) and really awkward on the other side of the helmet? Can't figure out why -- it's just the mirror image, so it should look just as good, but it doesn't, at least to this set of eyes. As for the rest of the uniform, it feels more like a generiform, no? |
| 21 | St. Louis Rams | | The helmet design is still the class of the league, but the Rams' aesthetic stock has fallen in recent years. They wear blue-over-blue too often, and this season they've mothballed their gold pants -- a major mistake, since their white-over-gold look was one of the sharpest in the NFL. |
| 22 | New Orleans Saints | | Once upon a time, the Saints would have ranked much higher on this chart, but they've been docked for wearing solid black way too often (stick with the gold pants, guys), and that new Nike disco collar is bad news. Will they get a new design next season in the wake of the bounty scandal? Good question. |
| 23 | Baltimore Ravens | | Problem No. 1: That number font. Problem No. 2: Please stop wearing black socks with black pants! Problem No. 3: All that purple. Cool helmet logo, though. |
| 24 | Denver Broncos | | There had never been anything like the Broncos' design when it debuted in 1997, and there's still nothing like it in the NFL today. It no longer feels radical or heretical -- we've all gotten used to it by now. But is it actually a good design? No, it isn't. The side panels that extend into collarbone horns still feel gratuitous, and the pants stripes have now been extended so they wrap around to the front of the leg, which looks comical at best. On the plus side, the Broncos are going back to using orange for their home jersey this season (the navy design is now the alternate), but it'll take more than that to get this team's aesthetic house in order. |
| 25 | Atlanta Falcons | | Never expected to be saying this, but it's true: The reverse-tapered pants striping has established itself as a legitimate design element. But man, those jerseys -- what's with the sleeve stripes and the side panels? Looks way too CFL. |
| 26 | Detroit Lions | | Matt Millen may be gone from Detroit, but his ghost lives on in the form of all the black trim on the Lions' uniforms. Every stripe, every numeral, every letter, the color break in the socks, the helmet logo, the facemask -- all accented in black. Look, gang, here's how it works: You've got that Honolulu blue thing going. You should own that color. Don't tart it up with black. |
| 27 | Seattle Seahawks | | Nike's signature design for the 2012 NFL season is great if you think sports is about superheroes wearing costumes, but not so great if you're into athletes wearing uniforms. Truth to tell, the white jersey and pants aren't so awful, but the blue set has way too much of that Day-Glo green tone (here at Uni Watch HQ, we call it neon snot). Meanwhile, the only real difference between the gray alternate and the white-on-white uni is that the gray one looks like it needs laundering. |
| 28 | Jacksonville Jaguars | | The Jags' original design was one of the best expansion uniforms ever. As a certain uniform columnist repeatedly opined, "It has the makings of a modern classic -- if they're smart enough to leave it alone." Well, we all know how that turned out. Bye-bye, gold trim; hello, idiotic wraparound stripes. The pants stripes look worse this season, because they now wrap toward the front of the leg, which makes them look really bad from the side. The helmet is still a keeper, but the rest of this uni is verging on arena league territory. And now a black alternate too, oh boy! Embarrassing. |
| 29 | Arizona Cardinals | | What a mess. The old-school helmet doesn't match the newfangled jersey and pants. All the black piping and white sleeve paneling on the jersey needs to go, and the pants piping is a joke. And if someone in the Arizona legislature would kindly pass a law prohibiting the blood-clot look, the entire sports world no doubt do an end zone dance of joy. |
| 30 | Carolina Panthers | | Ah, the 1990s -- Nirvana, Monica Lewinsky, and the Panthers' uniforms. The tapered stripes on the pants and helmet looked silly back then and are hopelessly dated now, and the shoulder loops on the jersey look too crimped when rendered with today's skin-tight tailoring cuts. They've given their logo a subtle upgrade this season, but that's like bailing water with a Dixie cup while the ship is sinking. Let's turn Nike's design team loose on this franchise -- the results can't help but be an improvement. |
| 31 | Minnesota Vikings | | It didn't seem possible that this design could get any worse -- until they came out with that two-tone collar for this season. |
| 32 | Cincinnati Bengals | | How bad are the Bengals' uniforms? So bad that the term "Bengalian" has become part of the vernacular here at Uni Watch HQ (as in "That design is a disaster of Bengalian proportions"). Even if you like the helmet design -- and not everybody does -- the stripe motif on the rest of the uniform is way out of hand, and can someone -- anyone -- explain why the black jersey has those white side panels? Or why they sometimes insist on going black-over-black? Blow it all up and start over. |
(Special thanks to Michael Barreras, Jared Hartung, Mark Meeks and Zack Tanner for their photo research assistance.)
Paul Lukas will never look at the number 122 the same way again. If you liked the Uni Watch Power Rankings, you'll probably like his daily Uni Watch web site, plus you can follow him on Twitter and Facebook. Want to learn about his Uni Watch Membership Program, be added to his mailing list so you'll always know when a new column has been posted, or just ask him a question? Contact him here.
Sports journalism's foremost uniform reporter
ESPN.com columnist since 2004
Also blogs at uni-watch.com
SPONSORED HEADLINES
ESPN TOP HEADLINES
MOST SENT STORIES ON ESPN.COM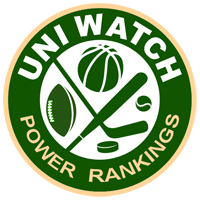 THE RANKINGS
CREATE YOUR OWN RANKINGS
WHAT MAKES A GREAT UNIFORM?