Commentary
Uni Watch Power Rankings (MLB)
Originally Published:
August 24, 2012
By
Paul Lukas
| ESPN Playbook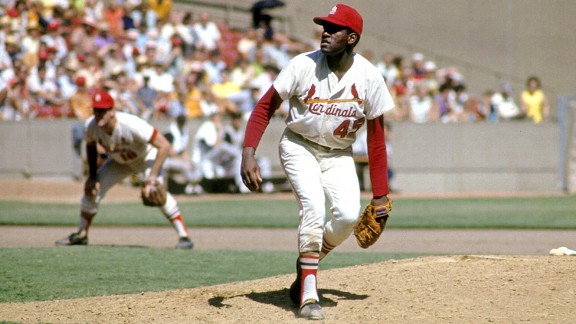 Focus on Sport/Getty ImagesTwo birds on a bat and Bob Gibson on the mound. That, dear readers, is baseball at its finest.
Baseball uniform design is in a good place these days, thanks in large part to some redesigns that took place last winter. The Blue Jays, who'd been the worst-looking MLB team (and one of the worst in all of North American sports), suddenly became one of the best, and several other teams made major aesthetic improvements as well. As a result, baseball is now the best-looking game among the four major pro sports.
But that's not to say some teams don't have room for improvement. Here's our uni-based breakdown of the 30 MLB teams (just click on each team's name to see its current uniform set):
---
Uni Watch Power Rankings 2012:
Nos. 101-122 | Nos. 76-100 | Nos. 51-75 | Nos. 26-50 | Nos. 1-25
Rankings by sport: MLB | NBA | NHL | NFL
Create your own rankings: MLB | NBA | NHL | NFL | Best in all of pro sports
What makes a great uniform? MLB | NBA | NHL | NFL | Lukas chat wrap
UNI WATCH POWER RANKINGS -- Click team names to view uniform sets
| Rank | Team | Logo | Comment |
| --- | --- | --- | --- |
| 1 | St. Louis Cardinals | | People like to gush over the Yankees' pinstripes, but the Cards' birds on the bat are every bit as iconic and have been around for almost as long. The only reason St. Looey isn't at the top spot of this chart is that the road uni basically just duplicates the home uni (the different cap color notwithstanding), which seems a smidge unimaginative. |
| 2 | Chicago Cubs | | The Cubbies' uni set isn't as simple as it appears at first glance, but it sure is easy on the eyes. A classic home design. A seriously underrated road ensemble. Even people who dislike alternate jerseys would be hard-pressed to complain about the walking bear on the Cubs' blue jersey. Memo to Theo Epstein: Whatever else you change about this team, don't change what they wear. |
| 3 | Oakland Athletics | | When A's owner Charles Finley dressed the team in green and gold back in 1963, it was viewed as outlandish, even scandalous. Half a century later, Oakland's look has matured into a modern classic. Think of the A's as that outrageous-looking guy from high school who ends up looking surprisingly mature and sophisticated at the reunion (even if he does happen to be wearing white shoes). |
| 4 | New York Yankees | | They deserve major credit for staying the course and avoiding trends (no throwbacks, no alternates, no names on the jerseys, no Cool-Flo batting helmets, etc.), but those pinstripes don't look so great in the pajama pants era (or when CC Sabathia pitches), the "NY" on the home jersey doesn't match the one on the cap, and the road jersey treads a fine line between minimalist and plain. An excellent wardrobe, but not quite the flawless masterpiece it's often assumed to be. |
| 5 | Philadelphia Phillies | | Pinstriped at home, gray on the road, and a beautiful retro alternate for afternoon home games -- that's how it's done, kids. Bonus points for the sleeve numbers (unique among current MLB teams), the chain-stitched chest insignia, the little stars dotting the i's, and of course the Liberty Bell logo on the socks and stirrups (for those smart enough to go high-cuffed, that is). |
| 6 | Los Angeles Dodgers | | When a team doesn't have any side piping on its pants, its home uniform tends to look whiter than white. Trot it out in some SoCal sunshine and you have a uniform that always looks crisp, fresh and contemporary, even though it essentially has not changed in 60 years. Of course, the near-perfect cap and chest logos don't hurt. Now if they'd just take the "LA" logo off the sleeve and replace it with a round patch of some sort. |
| 7 | New York Mets | | Last year, when they still had all of the black trim, the Mets would have charted in the lower third of these rankings. Next year, when they finally scrap the black alternate jersey (worn only twice this season, but it still counts), they'll rank even higher. For now, they've reclaimed their place as one of MLB's better-looking franchises. True Mets = Blue Mets! |
| 8 | Toronto Blue Jays | | Biggest before-and-after success story since Jared lost all of that weight eating at Subway. Last year, the Jays were in the running for the worst-dressed team in North America; this year they're among the best, thanks to an ingenious makeover that provides a snappy updating of the team's early 1990s look. A textbook case of how a team can acknowledge its past while embracing its future. |
| 9 | Detroit Tigers | | Did you know that the Tigers use two different "D" logos for their jerseys and caps? It's true! It's an amusing quirk, but it also has practical implications, because the cap version of the "D" is much more crimped, less expansive, and as a result the team's cap logos look too small, too constricted, especially on the road cap. No, it's not a huge flaw, but it's still irksome, like a mosquito buzzing around your ear. Just punch up that logo a smidge, or put a white outline around the road logo. Or better yet, just use the jersey version of the logo. But don't change anything else, because the rest of this uni set is darn near perfect. |
| 10 | Kansas City Royals | | Even in an age of 24/7 media coverage, the Royals largely have flown under the radar. They've been so bad for so long, they're never on national TV, and most fans outside of Missouri probably can't name more than three players on the roster. But for all of the franchise's flaws, its uniforms are badly underrated. Granted, it's not a groundbreaking design -- basically Dodgers Lite -- but if you're going to lose all of those games, you might as well look good while doing so. |
| 11 | Baltimore Orioles | | Black and orange is a seriously undervalued color combination in sports design, and nobody uses it better than the Orioles. The home script is a thing of beauty, the road script has been nicely tweaked this season, and the return of the cartoon bird and the white-paneled cap has made the Orioles a really fun-looking team. So why aren't they ranked a bit higher? Because let's face it: No baseball team needs two different solid-colored alternate jerseys. |
| 12 | Pittsburgh Pirates | | That uniform suddenly looks a lot better when they're winning a few ballgames for a change, right? Fact is, the Buccos have been one of the better-looking MLB teams for a while now, but most fans just haven't noticed. They could move into the upper echelon of these rankings if they'd just scrap that solid black jersey. |
| 13 | L.A. Angels of Anaheim | | The Halos tend to get overshadowed by the Dodgers. But if you ignore that five-year span when they wore the angel wings, they've almost always looked good on the field, and their current design ranks among their best. Very solid. |
| 14 | Atlanta Braves | | The basic design is a good one, but no team needs three alternates, or two different solid-colored alternates -- it waters everything down too much. Keep the navy jersey if you must, but get rid of the others. |
| 15 | Chicago White Sox | | Such an odd franchise. Back in the 1970s and '80s, they were changing their look every five minutes, but they've now stuck with their current set for more than two decades. It's a solid look, and this year's Sunday throwbacks are a nice reminder of the wacky old days. |
| 16 | Boston Red Sox | | The home design is a timeless classic -- a perfect match for the old-school setting of Fenway Park. But the current edition of the road uni feels a tad blah, the blue alternate is unnecessary, and the garish red alternate never should have gotten off the drawing board. Can't believe they've stuck with it for so many years now. |
| 17 | San Francisco Giants | | The Giants have developed a weird split personality. On one hand, they're traditionalists, with no player names on their home whites. In fact, the whites aren't even white -- they're cream. On the other hand, they have a gratuitous orange alternate and -- get this -- two different sets of road grays. Their core look is solid, but they need to decide on a more coherent direction. |
| 18 | Seattle Mariners | | Sometimes there's a uniform (or a band, or a movie, or a book, or a building, or whatever) that's pretty good, but it's pretty good in a completely unremarkable way that resists superlatives. So you just end up saying, "Yup, it's pretty good." This is that uniform. |
| 19 | Houston Astros | | Pretty classy set. The thing is, the Stros weren't put on this earth to do classy. They're here to wear orange, to wear wacky stripes, to push the envelope. Maybe they'll go back to that next season, when they're due to have a new uni design. |
| 20 | Texas Rangers | | The Rangers need a new typeface, or at least a new type treatment. There are too many layers (blue outlined in white, outlined in red, with a black shadow), and the letters and numbers have too many spikes and bumps. It looks fine on the front of the jersey, where the letterforms are spread out, but the back is a jumbled mess. Clean that up and you'll have a pretty good-looking team. |
| 21 | Tampa Bay Rays | | When the history of uni-verse is written, the Rays' 2005-07 set will go down as one of the great underrated designs (especially if I'm the one writing the history). Their current set is a snoozer by comparison, but it's straightforwardly free of gimmicks, and they get bonus points for occasionally breaking out the striped socks. |
| 22 | Cincinnati Reds | | All the other MLB teams that added black accents to their uniforms over the past 15 years (Mets, Royals, A's, etc.) have gone back to their true colors -- except the Reds. Time to ditch the black drop shadows and the black alternate cap, guys. A less eccentric number font wouldn't hurt, either. |
| 23 | Minnesota Twins | | The Twins' home script hasn't aged well. It always felt too clunky, and now it also feels too 1980s. The current road script is handsome but feels too clean, too sterile, like it was designed by someone at Hallmark instead of someone connected to the sports world. The net result is a look that feels just a tad rinky-dink -- the uniform equivalent of a four-A player. Also: Too many alternates. |
| 24 | Miami Marlins | | Not the unmitigated disaster some folks would have you think -- the home white and road grays are perfectly fine, in fact -- but they've been leaning too heavily on that black jersey. And since they're still exploring all the mix-and-match options, this uni package still feels like a work in progress. We should have a better sense of its durability in another year or so. |
| 25 | Milwaukee Brewers | | Hands down the most blandly middlebrow uni package in all of sports. It has nothing to get excited about and nothing to hate. It's just pleasantly, infuriatingly adequate, like some medium-priced restaurant chain that you patronize when you're too tired to cook dinner. Ladies and gentlemen, I give you T.G.I.Uniform. |
| 26 | Washington Nationals | | Much like the team itself, this uniform program has made some progress. But the home and red jerseys would look better if the number moved up to align with the W, the star-spangled jersey would look better if they locked it in a closet and pretended it never existed, and the whole package still feels a teeny bit generic. They're getting there, though. |
| 27 | Colorado Rockies | | While other young franchises have undergone constant makeovers, the Rockies are about to hit their 20th anniversary with more or less the same design program. And good for them -- they've matured into their look, purple and all. If only they'd get rid of that idiotic black vest, they'd actually be a sharp-looking team. |
| 28 | Arizona Diamondbacks | | How to look like a minor league team: 1. Wear your nickname, instead of your full team name, on your chest. 2. Render the nickname in digital lettering that's difficult to decipher. 3. While you're at it, render your road insignia in a mix of upper- and lowercase lettering. 4. Add lots of black elements, just because. |
| 29 | Cleveland Indians | | The Indians can never seem to decide if their main color is red with blue trim or the other way around. That's not their only identity crisis these days, as they now have two jerseys with fancy scripts and two with super-plain lettering -- a major disconnect. But if they really want to address their identity issues, they should retire Chief Wahoo, a lightning rod of an ethnic caricature whose time has clearly passed. |
| 30 | San Diego Padres | | Over the past several years, the Padres have constantly tinkered with a look that was never too strong to begin with, and as a result they've completely lost their way. They're never going to be perceived as a bastion of old-school classicism, so they should embrace their wacky roots. Bring on the brown and the weird design gewgaws, take a few risks, dare to experiment -- that's your team's heritage! And please, enough already with the camouflage. |
(Special thanks to Michael Barreras, Jared Hartung, Mark Meeks, and Zack Tanner for their photo research assistance.)
Paul Lukas will never look at the number 122 the same way again. If you liked the Uni Watch Power Rankings, you'll probably like his daily Uni Watch web site, plus you can follow him on Twitter and Facebook. Want to learn about his Uni Watch Membership Program, be added to his mailing list so you'll always know when a new column has been posted, or just ask him a question? Contact him here.
Sports journalism's foremost uniform reporter
ESPN.com columnist since 2004
Also blogs at uni-watch.com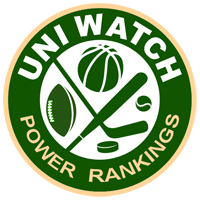 THE RANKINGS
CREATE YOUR OWN RANKINGS
WHAT MAKES A GREAT UNIFORM?