With Tuesday Morning Quarterback's bye week approaching, time to take stock of the NFL's top teams -- the ones with the best chance to hoist the Lombardi Trophy in New Orleans. In alphabetical order: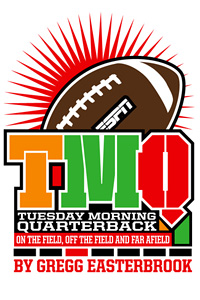 Atlanta Falcons: The Falcons are tied for the league's top record, and have performed with consistency. But the Mike Smith-Matt Ryan show is 51-22 in the regular season and 0-3 in the postseason. The Falcons get the yips in the playoffs. Why should this season be any different?
Baltimore Ravens: Something about Charm City puts a spell on opponents. Sunday, Torrey Smith blew past Oakland's Michael Huff, who was the seventh choice of the 2006 draft: Huff just stood and watched, not even trying to play defense, as Smith went 47 yards for a touchdown. Charming their opponents has helped the John Harbaugh-Joe Flacco Ravens to a 33-5 record in Baltimore. But they are just 23-21 on the road. Unless the Ravens win the first seed, write them off.
Chicago Bears: They are Monsters of the Midway, though bear in mind, this appellation really belongs to the University of Chicago football team. The Bears have been winning on turnovers, and turnover luck has a way of changing. Perhaps Chicago should punt on first down, in order to get the defense back on the field sooner.
Denver Broncos: The Broncos are fourth in offense, sixth in defense, and have outscored opponents 115-30 in the fourth quarter. They play four of their remaining seven regular-season contests in the thin air of Colorado, and have just one remaining date against an elite team, at Baltimore on Dec. 16. The table is set for Peyton Manning to return to the Super Bowl.
Green Bay Packers: The Packers could lose their division and win the Super Bowl. Sound familiar? That's what happened two years ago. Since the start of last season, Aaron Rodgers has 59 more touchdown passes than interceptions, the NFL's most impressive stat at the moment.
Houston Texans: In a day of pass-wacky high-tech football, the Texans perform the old fashioned way, and they control the clock better than any current NFL team. But Houston is built to play with the lead. If the Texans get behind early in the postseason, they may be Texas toast.
New York Giants: Jersey/A just laid an egg in Cincinnati, but get cred as defending champions. Last season at this point, the G-Men were mired in a four-game losing streak. The rest you know. It's all about who plays best at the end. Lately, Jersey/A has specialized in that.
New England Patriots: The Flying Elvii have become the plug-in hybrids of pro football -- no matter how little seems left in the tank, they keep going. Sunday, New England gave up 481 yards of offense at home to second-echelon Buffalo, yet won. How can the Patriots have allowed a league-worst 47 passing plays of at least 20 yards, and still be seen as a serious team? They were league-worst in long gains allowed in 2011, and came within a minute of winning the Super Bowl.
Pittsburgh Steelers: The Steelers are league-best on long plays allowed. Check their pass defense stats: At the bottom for interceptions, near the bottom for sacks, yet No. 1 overall against the pass. The NFL is a passing league, and Pittsburgh has the answer -- not fancy blitzes or line stunts, rather, disciplined coverage in the secondary. The Ben Roethlisberger injury may be bad, but if Pittsburgh's aging defensive backs stay healthy, the Steelers should remain a force.
San Francisco 49ers: "Darling, we'll always have the St. Louis game. It seemed like time stood still." That contest ran a grueling 3 hours, 50 minutes, and came to no conclusion. How postmodern! The Niners have a stacked roster and a manageable schedule down the stretch. Should the Super Bowl pit San Francisco versus Houston, tactics will be old-fashioned on both sides of the ball.
Any of City of Tampa, Minnesota and Seattle could round out the postseason bracket. My chips for surprise playoff entrant are on Indianapolis.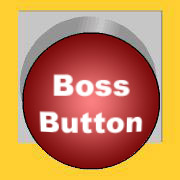 In other news, one reason I am taking my bye week is that my latest book, "The Leading Indicators," is published today. It's my third novel, which seems to mean I may now call myself a novelist. My novels are what publishers call literary fiction -- not fitting any genre such as thrillers, rather, depictions of life mixed with social commentary. Also no sex, violence or football.
"The Leading Indicators" is about the impact of the Great Recession on an American family. Initial notices give hope. A "topical tale of love and sacrifice that will have readers nodding their heads in recognition:" Booklist. "Brilliantly personifies the challenges of this moment in our national life:" Jonathan Alter, MSNBC. "This is the first great novel of the Great Recession:" Arianna Huffington.
As recently as a decade ago, the book business lived and died on New York Times reviews and a few TV talk shows. These still matter, but word of mouth has passed them in significance. That's a good development, democratizing publishing. Whether readers connect with a book has become more important than the chatter at Manhattan cocktail parties.
So if you like "The Leading Indicators," don't be shy. Say so on Facebook, Twitter, Tumblr and in other new media. Post reviews on Amazon and in similar places. Your columnist has written a number of well-regarded books, but never had a commercial hit. Having one would keep me going, in more than one respect. Your views matter. I ask your help: buy the book, then say what you think on the Web.
See below for the latest on 100-point football games.
Stats of the Week No. 1: The Bears and Texans are a combined 0-2 versus the Packers and 15-1 versus all other teams.
Stats of the Week No. 2: San Francisco has not lost a division game at home since October 2008.
Stats of the Week No. 3: Carolina Panthers quarterback Cam Newton was 25-1 as a college starter and is 8-17 as starter in the pros.
Stats of the Week No. 4: Stretching back to last season, the New Orleans Saints' defense has allowed at least 400 yards of offense in 11 straight games.
Stats of the Week No. 5: As New England coach, Bill Belichick is 23-3 versus the Bills. As New England quarterback, Tom Brady has never lost a home game to Buffalo.
Stats of the Week No. 6: The Bengals lost to Peyton Manning at home a week ago, then beat Eli Manning at home this week.
Stats of the Week No. 7: Jacksonville has been outscored 44-153 on its own field.
Stats of the Week No. 8: Miami allowed a 100-yard rusher for the first time since September 2011.
Stats of the Week No. 9: Hosting Missouri, the University of Tennessee gained 585 yards on offense, made 32 first downs, turned the ball over just once, and lost.
Stats of the Week No. 10: The Chiefs have not won in Pittsburgh in 26 years.
Sweet Play of the Week: Carolina leading Denver 7-0, the Broncos had possession on the Cats' 10. Denver came out trips right with a tailback behind Peyton Manning, who looked at the defense and began his chicken dance, madly motioning players to different positions.
What had Manning seen? Carolina was in Cover 1 -- a single safety at the center of the field. Carolina had three defensive backs across from the trips set, but no safety on the offensive left. Manning moved the tailback to his right for extra blocking on that side; he rolled right; had Brandon Stokley run a pivot pattern toward to left; touchdown pass to an uncovered receiver. Sweet.
Sweet quarterback dance bonus: New Orleans leading undefeated Atlanta 21-17, Drew Brees came to the line and looked over the defense. He elaborately pointed and gestured toward defenders on the offensive right, drawing all attention there. Then he threw a "bang" pattern left -- where he'd planned to go all along -- for six.
Sour Play of the Week: The Cowboys had just run a punt back for a touchdown, taking a 24-17 lead at Philadelphia. The Eagles now had possession midway through the fourth quarter, with plenty of time. Backup quarterback Nick Foles threw a slant to DeSean Jackson that was intercepted and returned for a touchdown. The Nesharim allowed two long touchdown runbacks in less than two minutes, very sour. The slant pass is a staple of every NFL offense, and hard to defend, but it's also hard to complete because the throw must be on target, slightly ahead of the receiver. Foles' pass was behind Jackson -- and Philadelphia's season is all but over.
Andy Reid has looked so befuddled during the disintegration of the Philadelphia Eagles' season that the sportsyak world is asking how he hangs on to his job. The answer is that under Reid, the Eagles have made the playoffs nine of the past 12 seasons. Of active NFL coaches, only Bill Belichick has led his team to more postseason contests as a head coach than Reid.
A month ago, Reid fired defensive coordinator Juan Castillo, scapegoating him for the team's struggles. Officially, Castillo was fired because Reid did not like the team's defensive stats. Under Castillo, Philadelphia allowed 20 points per game; since his firing the Eagles have allowed 32 points per game.
Sweet 'N' Sour Play: City of Tampa leading 24-21, San Diego had third-and-4 on the Buccaneers 23 at the start of the fourth quarter. A touchdown here is good for the Bolts, but a field goal is fine too. Philip Rivers sprinted backward, then heaved a crazy pass directly at Tampa's Leonard Johnson, who returned the ball 82 yards for a touchdown. Sweet for the home team, sour for the visitors. Just to prove it was no fluke, with the Bucs leading 31-24 with three minutes remaining, Rivers heave-hoed a wild pass into double coverage for another interception.
Once again the Chargers are putting up numbers -- at Tampa, a 426-279 offensive edge -- and losing on careless turnovers and special teams blunders, including a punt blocked for a Bucs touchdown.
Sweet 'N' Sour Player of the Week: Early in the Atlanta at New Orleans contest, the Sinners ran a double safety blitz, but cornerback Jabari Greer let Roddy White sprint past him for a 49-yard catch that set up a touchdown. On a double-safety blitz, a cornerback must keep the receiver in front of him! Sour for Greer. Now New Orleans leads 31-27, Atlanta faces fourth-and-goal on the New Orleans 2 with 1:46. Greer breaks up what could have been the winning touchdown pass. Sour has turned to sweet.
Clipboard watch: Last season, New Orleans starting head coach Sean Payton often stuffed his clipboard down the front of his pants. This season, with Payton suspended, backup head coach Joe Vitt is running the show, and Sunday, was stuffing his clipboard down the front of his pants. Don't New Orleans coaches worry about reproductive health?
"I Promise to Make Even More Promises": Between now and New Year's Day, there will be a competition among politicians, nearly all of whom have both endorsed reducing the national debt and demanded more subsidies to campaign donors, to avoid actually cutting any programs. If we can't manage minor spending reductions, how will we ever tackle the big-ticket items such as entitlements and defense spending? Consider a proposed minor reduction:
In January, Barack Obama promised to cut government overhead by consolidating the Commerce Department, Small Business Administration, Office of the Trade Representative and Export-Import Bank. Sounds great! But since then nothing has happened. All these agencies continue merrily wasting money.
The year before, at his 2011 State of the Union Address, Obama said, "In the coming months, my administration will develop a proposal to merge, consolidate and reorganize the federal government in a way that best serves the goal of a more competitive America. I will submit that proposal to Congress for a vote -- and we will push to get it passed." Sounds great! But nothing was done. Obama talked about saving money, then what he actually did was spend.
Overlap and featherbedding are rampant in federal agencies: Details are in this GAO report. There is tremendous potential to use streamlining and consolidating to cut the cost of government, while maintaining services. Twice Obama has promised this, then never followed up. Talk is cheap.
Is Paul Ryan the New Sarah Palin? Last week, Mitt Romney-Paul Ryan became the first presidential ticket since 1972 to fail to carry the home states of either candidate. In 1972, George McGovern and Sargent Shriver carried neither South Dakota nor Maryland; last week, Romney and Ryan carried neither Massachusetts nor Wisconsin. Romney's chance in the very-blue Bay State was always slim. That made a running mate who could bring a swing state to the ticket especially important. But Ryan not only failed to carry his state, he failed to carry his own home county. This suggests Romney's choice of Ryan was the fatal mistake of his candidacy.
Many expected Romney to choose Sen. Rob Portman, who since the retirement of John Glenn has been Ohio's most respected politician. For Republicans, the relationship between carrying Ohio and winning the White House is not some closely guarded secret. Portman wanted to be on the Romney ticket; this presence would have given Republicans a terrific chance to win Ohio.
Equally important, as a moderate, Portman would have given the ticket appeal to independents and moderates. The Republican need to appeal to independents and moderates is not a carefully guarded secret, either. Obama drew more than 90 percent of the Democratic vote, Romney drew more than 90 percent of the Republican vote. The candidates basically split the independent-and-moderate vote. Because Democrats somewhat outnumber Republicans, Romney needed clear victory among independents and moderates. When he merely split those blocs, Obama retained the White House.
Ryan may be the economic genius he claims to be, or may be a self-promoting crackpot. But how could anyone think his finger-jabbing fact-inventing persona would appeal to the middle? Ryan didn't even appeal to his hometown! A Romney-Portman ticket could have presented itself as calm voices of reason and skill. The Romney-Ryan ticket presented itself an accomplished man plus a loose cannon.
Ryan may been a champion to the far-right base, but most members of the far-right base live in states the Republican ticket would have carried regardless. To top it off, Ryan simultaneously ran for vice president and for re-election to the House. This all but announced Ryan expected Romney to lose, and was in the campaign solely for self-promotion. When, in 1988, Michael Dukakis's running mate Lloyd Bentsen simultaneously ran for vice-president and for re-election to the Senate, then failed to carry his own state, the Democratic Party was widely ridiculed. This year, Republicans stepped on the same land mine.
If Romney had picked Portman, there's a good chance he would have carried Ohio, and his odds in Florida would have been better. Romney might today be preparing for his inauguration. That he did not pick Portman suggests Romney has poor political instincts -- which means he shouldn't be president.
Season's First Monster Showdown: A team does not often hold an opponent to 215 yards of offense and lose, but the Bears accomplished against the visiting Texans. In the first half, Chicago had four turnovers and four first downs. The night's symbolic play came when Tim Jennings intercepted a Moo Cows pass and appeared to run it back for a touchdown. Officials ruled him down at the Houston 30, because of an inadvertent whistle. Lovie Smith challenged, and after review -- which officials invariably call "further review," though it's actually the first review -- zebras moved the ball back to the 38, which was the correct spot all along. So Smith lost eight yards on a successful challenge. Because the challenge was successful, Smith got to keep his timeout.
In a year of runaway offense dominating college football, pro football's first monster showdown, pairing 7-1 teams, ended 13-6. Maybe there is hope for defense.
Sunday, Jay Cutler, Michael Vick and Alex Smith left games with concussions. In Cutler's case, he stayed on the field for two drives after a helmet-to-helmet hit, then was removed from the contest after being examined at halftime. Viewers notice these concussions because they happened to quarterbacks. They are signs of how little progress the NFL has made against helmet-to-helmet hits. Real progress won't happen until players who lead with the helmet are suspended.
'Tis Better to Have Rushed and Lost Than Never to Have Rushed at All: Trailing upstart Texas A&M 29-24 at home with two minutes remaining, defending champion Alabama faced third-and-goal on the Aggies' 5. Touts including your columnist are writing this season that while most of college football goes pass-wacky with the Xbox Offense, the SEC remains a preserve of traditionalism. So surely the Crimson Tide will power rush, using the crowd energy to while drilling the clock.
Instead on third-and-goal A.J. McCarron lined up shotgun and retreated all the way to the 15 before scrambling for three yards. It's third-and-goal, don't sprint backward! Then on fourth-and-goal from the Texas A&M 2, surely this will be a power run for all the marbles! Instead Alabama used a standby of the West Coast offense: Quarterback rolls right and throws to a motion man running a "pin" right. Interception, handing Alabama's repeat chances a huge blow. The Crimson Tide needed 2 yards to win at home -- and used a West Coast offense play! TMQ hopes you watched the game; football doesn't get any more exciting.
Maybe M Sends James Bond His Assignments Using 007@Gmail.com: That CIA director David Petraeus thought Gmail was a super-secure form of communication would be funny if it weren't scary. Maybe after you pass the guards and biometric scanners to enter the SCIF room at Langley, what you find is an iPad on a table with Gmail open.
Not funny either is that Petraeus had a high-level security clearance. In order to get that clearance he, like many military, intelligence and diplomatic officers, signed an agreement granting the FBI permission to look into aspects of his life that otherwise would be private. The FBI tracks the finances of people with high security clearances -- lots of debt, or a sudden large bank deposit, are red flags. The FBI tracks whether people with high clearances have habits (drug use, extramarital affairs) that might impugn them. Petraeus knew he granted the FBI permission to monitor his personal life. Either Petraeus had a subconscious desire to be caught or had Big Man Syndrome, thinking he was so important, nobody could touch him. If the latter, then it's a good thing he no longer holds authority.
Here, from an initial news report, is the phrase that chills me about the Petraeus affair: "Administration and congressional officials identified the woman as Paula Broadwell."
Petraeus needed to resign. But why did someone in government release the name of his paramour, along with copious details of her life? Broadwell is not accused of any crime. Petraeus was the one whose poor judgment threatened the public, not she. Petraeus could have quietly submitted a resignation letter. Instead every salacious detail is out -- and not from the National Enquirer, from Congress or the White House.
Was Broadwell's identity leaked by the FBI? The FBI's only legal role here is to determine whether a high official has been compromised, and the FBI determined this had not occurred. The Framers created the grand jury system so that, if initial investigation shows a person is not culpable, his or her name is not dragged through the mud. Was her name leaked by the Justice Department? The Framers worried that prosecutors would use anonymous leaks to ruin reputations for political purposes. Leaked by the White House? For their parts, congressional leaders are angry that the FBI did not tell them sooner, so they could trade leaks for more TV time. However the leak happened, it appears an abuse of government power.
The media dine on leaks, and so never note that the Framers would be furious about government officials hiding behind anonymity as they feed reporters information intended to harm someone accused of no crime. The media have already painted a scarlet letter on Broadwell -- set aside that most mainstream news organizations editorialize in favor of sexual freedom. Within 24 hours, there were "reporters camped out at Broadwell's home." There is nothing the mainstream media enjoy more than casually destroying someone's life.
But the White House looks worst in this affair. During the campaign, Democratic operatives kept saying theirs is the party that respects women, including women's private choices, while asserting Republicans were engaged in a super-sinister "war on women." Just two days into his new term, Obama presides over the release of information calculated to humiliate Paula Broadwell. Her offense was what, being sexually active? Liking the military?
Making details public also humiliates Holly Petraeus, a dignified woman who has done a fine job running the Office of Servicemember Affairs at the federal Consumer Financial Protection Bureau. It would have been bad enough for her if the whole country knew she'd been two-timed; now every detail of her rival is on every TV screen. What was Holly Petraeus' offense in the eyes of the White House, wanting a conventional marriage?
Now phase two of the scandal starts. General John Allen, the Afghanistan commander, and a woman named Jill Kelley, both married, are accused of "inappropriate communication." In most arenas, infidelity is bad judgment but legal. For a general, it can be a violation of military justice codes. (The reasoning is that an officer who cheats on a spouse discredits the chain of command.) But a strange allegation of "inappropriate communication" is very different from infidelity, and even if the latter occurred, Kelley is not a member of the military and not bound by its strictures. Why are these names in the media, which is only possible if they were leaked by someone in government?
The Framers feared the anonymous accusation, and you should, too. The Framers' view was that if there is enough evidence to charge a person with a crime, then charge that person in a public court; if not, say nothing. And the Framers thought government should enforce laws but not dictate morals. The four people named in this scandal may have broken vows, but government should care only whether they have broken laws. Otherwise, government gets into the business of declaring what constitutes proper or improper private behavior. That road leads to witch hunts.
At the same time Petraeus dominated Page 1, pushed into the business pages was news that the incoming CEO of Lockheed Martin had resigned owing to romantic relationship with a subordinate. This is a matter of employment policy, not of law. Like many firms, the company now has policies banning top management from affairs with subordinates.
The new CEO of Lockheed Martin, the world's largest defense contractor, will be a woman, Marillyn Hewson; the new CEO of General Dynamics, another large defense contractor, will be a woman, Phebe Novakovic. These positive achievements by women in the military sphere are buried in the back of the newspaper, while the sex scandal is on Page 1.
St. Louis Special Teams Go Jekyll and Hyde: San Francisco led 21-17 as Les Mouflons faced fourth-and-8 on its 33 with five minutes remaining in regulation. St. Louis lined up to punt. Since St. Louis had run a successful fake punt earlier in the game, there's no way the Rams will fake again.
It's a fake! And a gorgeous one, too. The left gunner lined up off the line of scrimmage, making him a back. Just before the snap, he went in motion, running at full speed across the formation. That caused the defense to realize the punt was a fake -- but also to assume the play would go toward the offensive right, direction the motion man was sprinting in. At the snap, punter John Hekker rolled left and hit tight end Lance Kendricks, dragging right to left, for the first down. Great play design.
The Rams forced overtime, got the kickoff and, on the first play, hit an 80-yard out-and-up to undrafted, twice-waived Danny Amendola. But St. Louis had only six men on the line of scrimmage. Rams split end Brandon Gibson, on the left, failed to line up on the line, resulting in a formation with five backs. Eighty yard gain in overtime nullified, and the contest ended tied. You do not want to be Gibson when film is shown.
If you are Jeff Fisher, be glad the players can't chew you out. In position in overtime for a 53-yard field goal to win, holding a timeout, Fisher did nothing as the play clock ticked the zero just before St. Louis snapped. The kick flew and was true; for an instant it seemed Les Mouflons had won. Back the ball came on the delay-of-game; the Rams then missed from 58. The penalty was assessed against Hekker, the holder, and the hero of the fake punt. But Fisher was to blame.
Earlier this season, Fisher was content to set up a 66-yard field goal on the Rams final play against Miami. Sunday, he shrugged about marching a 53-yard attempt back to 58. Rookie Greg Zuerlein has the league's strongest leg. But Fisher's attitude that therefore very long field goal attempts are fine is quite puzzling.
Maybe Craig Can Go Into Business with George Lazenby: Word is that "Skyfall" is the best Bond movie in many moons. TMQ is amused by star Daniel Craig, who doth protest too much. Craig says he wants out of his Bond contract, which is stifling his creativity. What -- he wants to do artistic acting, like "Cowboys and Aliens II"?
Notes on "Cowboys and Aliens": In 1873, aliens who possess faster-than-light travel have come to Earth to seek gold, an element common in space. Maybe they used time travel to see what gold would sell for in 2012! The Craig character steals from them a super-advanced ray gun that makes him invincible. Yet the aliens' own soldiers have no ray guns or any kind of guns they try to kill humans by stabbing them. In the climax, the master control of the alien mother ship must be reached by crawling through a long air shaft.
Even Hermie the Elf Thinks This Goes Too Far: TMQ swore off Christmas Creep, but must add this from reader Nick Lamoreaux of Racine, Wis.: "The city of Racine has already had its annual Christmas parade." And must add this, from reader Rebecca Selkirk of Providence, R.I.: Over the weekend, Home Depot ran Santa-themed TV ads offering a premium for the purchase of an artificial Christmas tree. In the crawl at the bottom: "Offer expires November 14."
'Tis Better to Have Rushed and Lost Than Never to Have Rushed at All No. 2: The Bills have one of the league's top rushing offenses, and on the day at New England, gained 162 yards rushing with an average 5.8 yards per rush. Trailing 37-31, the Bills reached first down on the Flying Elvii 15, with 33 seconds remaining. The Patriots put seven defensive backs on the field, offering an ideal situation for a draw play. Instead the Bills went incompletion, interception, game over.
Offenses Gone Wild: Last week, TMQ noted the profusion in college football of Xbox Offense games in which teams combine for more than 100 points. Saturday, Georgia Tech and North Carolina combined for 118 points; the Tar Heels hung 50 at home, and were clobbered. Louisiana Tech and Texas State combined for 117 points; the Bobcats of Texas State have had scoring days of 55, 41, 38 and 30 points, yet are 3-6. See the weekend's highest-scoring tilt below.
I asked readers if they knew of recent high school games in which 100 points happened. Please don't send more examples, I already have too many! Here's a sampling, excluding eight-man and six-man because these variations are inherently track meets:
Dan Holmes of Arlington Heights, Ill., notes that in the Michigan playoffs, Gross Ile defeated Dearborn Heights 70-51. The starting running backs of Gross Ile combined to rush for 450 yards. Rian Zimmerman of McAllen, Texas, reports McAllen James "Nikki" Rowe High School 63, Pharr-San Juan-Alamo High School 60. Andy Millis of Bismarck, Ill., reports LeRoy 78-46 over Flanagan-Cornell. Joshua Lebovic of West Bloomfield, Mich., reports Birmingham Groves 80, Royal Oak 59. Tom Thornton of Friendswood, Texas, reports Friendswood 79, Galena Park 63 -- a game, he notes, that featured a touchdown every two minutes.
Eric Nelson of Missouri City, Texas, reports Morton Ranch defeated Katy Taylor 56-48 as Deion Williams ran for 547 yards. Edward Savo of Puyallup, Wash., reports Kentlake High beat Puyallup 76-55 with Brandon Illies, the losing quarterback, posting 572 yards of offense. Jordan Michael of Rotterdam, N.Y., reports Guilderland over Niskayuna Silver 54-49. Toby Hill of Fort Thomas, Ky., reports Henry Clay defeated Dixie Heights 57-50 on a flea-flicker with 40 seconds remaining.
In contrast, Paul Freeman of Davenport, Fla., notes that a recent Florida high school game ended Ridge Community 7, Lakeland 0, with the only score off a pick-six -- neither offense recorded a point. Lakeland is a Florida prep powerhouse; its sports nickname is the Dreadnaughts. The school's helmet logo is an L -- why not an outline of an obsolete battleship belching smoke? The short version of Dreadnaughts is the 'Naughts. No wonder Lakeland did not score!
High School Confidential: Last week I noted schools with losing records reaching the playoffs in the crazed Texas system. Mike Becker of El Centro, California, reports that in the San Diego area, Rancho Bernardo High made the playoffs at 1-9, while Otay Ranch snuck in at 2-8.
Buck-Buck-Brawckkkkkkk: Winless at home, playing on national television, trailing 24-3 in the third quarter, Jacksonville punted on fourth-and-2.
Big Money Demands a Recount: Whatever your view of last week's election, one thing we can all agree on is that it was great that money was defeated by votes. Right now the gloating focuses on how much wealthy Republican donors wasted without results. My guess is wealthy Democratic donors wasted their money too, in the sense that the outcome would have been the same even without the hundreds of millions spent on attack ads that everyone ignored.
Last week, the assumption that money buys votes simply was wrong. This assumption has been wrong for some time. In the 1980 primaries, Texas governor John Connally had a huge cash lead over his Republican opponents, spending $30 million (in today's money) in South Carolina alone. Connally was blown off the map by an underfunded issues-oriented campaign run by Ronald Reagan. Campaign consultants and political advertising firms push the notion that money is essential to victory -- but they receive a commission on each dollar spent. A good candidate with good ideas is more potent than blank checks.
1972 Dolphins Pop Corks Again: Now that the final undefeated team has fallen, I will reproduce from my AutoText, changing only a few specifics, the item TMQ runs annually when the final undefeated falls -- and will continue to run annually, since I believe no NFL team ever will finish 19-0. My heirs will be using this item!
At 4:06 p.m. ET on Sunday, as the Falcons left the field in New Orleans mumbling "#@%*!' under their breaths, corks popped. In one of the sweetest traditions in sports lore, on opening day of every NFL season, each surviving member of the 1972 Miami Dolphins, the sole perfect team in modern pro football history, sets aside a bottle of champagne to cool. And it's genuine champagne from the French province of Champagne, not the boysenberry-infused sparkling-gewurztraminer wine-like substance that passes for bubbly these days. At the moment the stadium clock hits all-naughts for the vanquishing of the season's last undefeated team, the 1972 Dolphins pull the corks, secure in the knowledge that they will reign as the sole perfect team for at least one more year. Gentlemen of 1972, enjoy your annual draught. TMQ feels confident you will continue to sip champagne each season until you are called to meet the football gods, and greeted by song and feasting.
Comic-Relief Play: On a third-and-3 versus San Diego, the Bucs tried the direct-snap trick in which the quarterback leaps into the air as if to catch a bad snap, while the ball goes directly to the tailback, who runs up the middle as the defense watches the leaping quarterback. Except -- the snap actually was bad, fumble.
The Barbie Just Didn't Get the Job Done: Many readers, including Laura Wasserstein of Great Neck, Long Island, drew TMQ's attention to this story reporting Giants offensive linemen have a stuffed bear for good luck.
Crowd Watch: The Dolphins' home crowd booed loudly and often in the first half when the game was close, and it turned out the crowd was on to something: Miami played terribly, losing 37-3 to Tennessee. On a perfect sunny day in Miami, more than 15,000 seats went empty. The Minnesota home crowd booed their team in the second half. The Vikings were ahead 13-3 at the time.
All Hands, Brace for Impact with Plot Holes: TMQ soon will weigh in on the goofy sci-fi hit "Revolution." The goofy semi-sci-fi "Last Resort" is middling in ratings but great on DVR viewing, so let's turn first to that.
Premise: A U.S. strategic missile submarine, the Colorado, receives an order to stage a nuclear first strike on Pakistan. The captain suspects the order is illegal; officers may (in fact, must) refuse unlawful orders. When he refuses, another U.S. submarine launches the strike, then tries to sink the Colorado, which goes rogue. Now the whole United States military is out to destroy the Colorado, which has found a South Pacific island and proclaimed sovereignty. The big "reveals" so far are these: The nuclear first strike, killing four million Pakistanis, was conducted to erase evidence of some American misdeed in that country. The attack on the Colorado was conducted to erase evidence of the Colorado's knowledge of the illegal first strike.
Viewers do not yet have the slightest answer to why nefarious persons in the United States government would think that a nuclear first strike on Pakistan would divert attention from that nation. Nor do viewers have the Big Reveal -- what are the bad guys trying to cover up? You get the sense Last Resort's writers don't know, either. The answer will depend on how many more episodes the network orders.
After being attacked in the Indian Ocean, the Colorado guns its engines and minutes later is in French Polynesia, thousands of miles away. There the crew commandeers a NATO listening post on an uncharted island. Why would the North Atlantic Treaty Organization have a listening post in the South Pacific? You ask too many questions!
The Colorado is described an as Ohio-class submarine. There is an actual submarine named the Colorado, but it is Virginia-class. The boat types are very different. Ohio-class submarines are the backbone of United States strategic nuclear deterrent; Virginia-class submarines are designed to sink ships. The show's Colorado is depicted has carrying both intercontinental missiles and short-range cruise missiles; actual Ohio-class subs carry one or the other. The show's Colorado is presented as fully equipped for commando strike missions; actual Ohio-class submarines are not. The show's Colorado is depicted as able to allow commandos to board while the ship is submerged. But Ohio-class submarines that carry strategic missiles cannot do this. The Jimmy Carter, a Seawolf-class submarine, can board and discharge commandos while submerged, a feature that cost taxpayers nearly a billion dollars. (Let's hope the Carter's ability to do this is someday needed, or has already been needed.) And the show's Colorado carries an "experimental cloaking device," which makes the series semi-science fiction.
The "experimental cloaking device" is said to make a GPS log of the ship's position, a feature that is depicted in "Last Resort" as super-advanced technology. My car makes a GPS log of its position.
In "Last Resort," conspirators have effortlessly seized control of nuclear missile firing codes; Pakistan has been hit by the United States with a nuclear first strike; the Colorado has fired a nuclear warhead that exploded 200 miles from Washington, D.C. (harming no one, but alerting the world that the Colorado was not sunk, as the cover-up claimed); the National Security Advisor has been shot dead; a Pentagon official who saw the illegal order to stage the nuclear first strike has been murdered; a USN submarine with enough nuclear warheads to destroy every major city in the world has gone rogue; and the president is busy with other issues.
This, not the cloaking device, is the worst unrealism of the show. On "Last Resort," it is TOTALLY OBVIOUS there is a traitor high in the United States government. Yet no one from the White House, Congress, Pentagon or law enforcement is taking patriotic counter-actions. As on the Kiefer Sutherland show "24," not one single person at the top American government is competent or loyal to the Constitution. Missile codes stolen? Sorry, I'm late for lunch.
In the classic of Washington paranoia, the novel and movie "Seven Days in May," conspirators take control of the Joint Chiefs of Staff, but ultimately are stopped by patriotic officers. Why in "Last Resort" are there no patriots in Washington? Maybe the explanation is poetic license. According to the show's executive producer, "Last Resort" is "poetry."
Buck-Buck-Brawckkkkkkk No. 2: Playing at Seattle, Jersey/B went for it on fourth-and-inches early, and was stuffed. Now the Bluish Men Group lead 14-7 in the third quarter, and the Jets face fourth-and-2 in Seattle territory. Don't punt! Who cares if the last fourth-down try failed, that was then, this is now! As the punt boomed, TMQ wrote the words "game over" in his notebook. Though, was glad I watched the end-around touchdown pass by Golden Tate that iced the contest.
He Won't Want to See the Film: Adam Jones of Cincinnati had a nice 68-yard punt return against Jersey/A. Not only was Jones tackled by punter Steve Weatherford; Jones was caught from behind by the punter.
Friends Don't Let Friends Punt: This season, TMQ is following the fourth-down exploits at Pulaski Academy in Little Rock, Ark., where head coach Kevin Kelley has eschewed the punt for years. Last season, Pulaski punted once and won the state title. So far this season, Pulaski is 9-2 and has not punted.
Last Friday night, Pulaski faced only two fourth downs in the entire game. The results are below. In their past three outings, the Bruins are 10-for-14 on fourth down.
Fourth-and-11 on opponent's 20: Pass, did not convert.
Fourth-and-17 on opponent's 30: Pass, did not convert.
Arkansas-Style Football Update: Against Arkansas, South Carolina went for it on fourth-and-5 from the Arkansas 42 -- a classic Maroon Zone situation -- in the second quarter, scoring a touchdown. For their part, trailing 31-10 in the third quarter, the Razorbacks kicked on fourth-and-goal from the South Carolina 4. Skies must have darkened above Williams-Price Stadium as the football gods showed their displeasure with that fraidy-cat decision. The Gamecocks quickly went on to ice the contest at 38-13.
Saturday marked the second time this season that the University of Arkansas, the state's prestige campus, has stood by and been defeated by Arkansas-style football. Louisiana-Monroe upset the Razorbacks by going for it seven times on fourth down, converting six, while in that game, Arkansas punted from the Louisiana-Monroe 39. The University of Arkansas should take notice of Arkansas-style football!
In the NFL, Oakland went for the first on fourth-and-1 at midfield early at Baltimore, Carson Palmer took the snap and fell down. Cincinnati went on fourth-and-2 and failed to convert, but this challenged the Cincinnati players to win the game, as they did. Trailing 31-17 at New England, Buffalo faced fourth-and-2 on the 27 and went for it, converting and recording a touchdown on the possession. Trailing 17-7 in the fourth quarter, San Francisco went for it on fourth-and-1 and scored a touchdown on the possession, ultimately forcing a tie. Chicago went for it on fourth-and-1 in the first half, converted but then lost a fumble.
Wait 'Til You See the Fine for Roughing the Holder: Last week the league fined Michael Vick $7,875 for his low block during an interception return in the Eagles-Saints contest. (During a change of possession down, both teams are forbidden to block below the waist.) Besides the absurd specificity of a $7,875 fine -- perhaps the fine should have been $7,875.95 with a mail-in rebate -- Vick did nothing vicious, simply made a routine football mistake. He was penalized. That should have been the end of the story.
What's next, a $1,036 fine for jumping offside? A $4,581 fine for disconcerting?
Untouched Touchdown Runs of the Week: Patriots offensive linemen Ryan Wendell, Dan Connolly and Sebastian Vollmer made perfect blocks as Danny Woodhead ran 15 yards to the house untouched against a run overstack on short yardage. It's pretty fun to run for a touchdown at home if everyone in front of you has already been knocked to the ground.
Baltimore's Ray Rice scored an untouched touchdown run, likewise against a run overstack, behind a fabulous block by Jah Reid. Adrian Peterson ran 61 yards untouched for a touchdown, aided by a pancake block at the point of attack by tackle Phil Loadholt. Jacoby Jones of Baltimore ran a kickoff back 105 yards untouched -- close to the longest untouched touchdown that is possible.
Unified Field Theory of Creep: Reader Kyle Chepla of Cleveland reports, "Motor Trend just named the Mercedes Benz GL the SUV of 2013. Not only has 2013 not started yet, the article is from the December 2012 issue. December also hasn't happened yet. So a magazine from a month in the future already knows everything that will happen a year in the future."
Many readers, including Kathy Martin of San Francisco, reported the inevitable -- one day after the election, speculation about who will run in 2016. Megan Relly of Ellicott City, Md., noted this story on the same subject. TMQ believes the 2016 race will pit Jenna Bush versus Chelsea Clinton, or perhaps Barbara Bush versus Chelsea Handler. The one thing you can be sure of it that no one mentioned in the initial commentary will end up being important four years from now.
Those Bygone College Days Seem Really Bygone: Cam Newton, first choice of the 2011 draft, is mired in sophomore slump. Cats hosting Denver, Newton attempted a crazy toss under tackle. Pick-six for a Broncos touchdown. Carolina wide receiver Brandon LaFell did the team no favors by just standing there watching, rather than try to break up a poorly thrown pass. Later, Newton held the ball way too long in his own end zone, and was tackled for a safety.
And hey Carolina Panthers coaches, remember back when you used to call running plays?
Obscure College Score of the Week: Wagner 31, Holy Cross 30. Located on Staten Island, Wagner College suffered extensive damage from Hurricane Sandy, yet hosted a football game Saturday and won on a touchdown with 18 seconds remaining. Go Seahawks!
Bonus College Score: Union of Kentucky 60, Pikeville College 59. In the game featuring 16 touchdowns, three field goals and a safety, Union gained 629 yards, yet needed a 20-yard touchdown pass as time expired to prevail. Located in Pikeville, Ky., the University of Pikeville offers FAQs on library use, seeming to assume that today's typical student has never actually entered a library.
Next Week: TMQ's bye week. I will use the bye week to get healthy, to seek corporate sponsors for my celebrity Yahtzee tournament and to draw up complex new sentence structures to surprise scouts from other sports columns. From Nov. 27 on, TMQ is in business through the Super Bowl.
In addition to writing Tuesday Morning Quarterback for Playbook, Gregg Easterbrook is the author of "The Leading Indicators" and seven other books. He is a contributing editor for The New Republic, The Atlantic Monthly and The Washington Monthly. His website can be found here, and you can get a notification on Twitter when TMQ is posted.