Davis' TD run earns him top spot
Originally Published:
December 3, 2013
ESPN SportsNation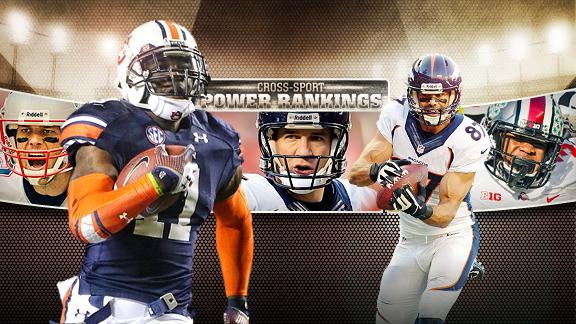 Cross-Sport Power Rankings: Broncos and Tigers
Cross-Sport Power Rankings: Broncos and Tigers
NEXT VIDEO
Chris Davis has had a pretty solid career playing cornerback at Auburn. But with one 100-plus-yard return of a missed Alabama field goal for a game-winning touchdown, Davis chiseled his name not only into Iron Bowl lore, but on the list of college football's all-time fantastic finishes. For that, he's earned the No. 1 spot in this week's Cross-Sport Power Rankings.
Davis finished ahead of a pair of Broncos, Eric Decker and Peyton Manning, who teamed up for four TD throws in Denver's win over the Chiefs. At No. 4 is last week's No. 1, Tom Brady, who led the Patriots to another comeback victory against the Texans. Carlos Hyde of Ohio State placed fifth after his 226 yards rushing and fourth-quarter TD helped the Buckeyes stave off Michigan's upset bid.
Do you agree with our top 10? Check it out and let your voice be heard in the comments.
2013 Cross-Sport Power Rankings panel: Sara Walsh, John Buccigross, Robert Flores, Michael Smith, Bram Weinstein, DJ Gallo, Jim Basquil, Kevin Connors, Jeff MacGregor and Steve Weissman
Last week: Tom Brady No. 1 | Cross-Sport Power Rankings archive »
Cross-Sport Power Rankings: Nov. 26-Dec. 2
Player
Comment
1. Chris Davis, Auburn

Admit it: Unless you're from Alabama, you probably didn't know much about Davis before his 100-plus-yard sprint to legend status and a lifetime of warm welcomes and free meals in Auburn and anyplace else in the Heart of Dixie where orange and blue are proudly displayed. But Davis did more than run a long, long way with a football. The senior cornerback also made 10 tackles in Auburn's BCS-shaking win over the Crimson Tide.
(Last week's rank: NR)
2. Eric Decker, Broncos

Memo to the nice folks in Kansas City: If you get a third game against the Broncos in the playoffs, you might consider covering No. 87. Decker has seven touchdown catches this season, and four of them came on Sunday as the Broncos rallied to beat the Chiefs at Arrowhead and sweep the season series. His 174 receiving yards were a season high and four more yards than he'd gained in the four previous games combined.
(Last week's rank: NR)
3. P. Manning, Broncos

Those four TD passes to Eric Decker in Denver's win didn't throw themselves. Peyton Manning's renaissance season continued in Kansas City, where he threw for five scores and completed 22 of 35 passes for 403 yards, offsetting two interceptions. Not a bad bounce-back game for Manning, who was limited to 19 completions and 150 yards against the Patriots in Week 12.
(Last week's rank: NR)
4. Tom Brady, Patriots

Texans defensive end Antonio Smith's suggestion that the Patriots' offense seemed to know what was coming would hold more water if ex-New England QB Scott Zolak came down from the broadcast booth to take Brady's place. In that case, the 29 of 41 completed passes for 371 yards, two TDs and second-half comeback win would raise eyebrows. But we're talking about Tom Brady here. We've seen him do this before. A lot.
(Last week's rank: 1)
5. Carlos Hyde, Ohio St.

With Ohio State's BCS dreams on the ropes against upset-minded Michigan, the Buckeyes gave the ball to Hyde. And then they did it again. And again. The senior carried 27 times for 226 yards -- his second 200-plus game in three weeks. What's more, he overcame a critical, fourth-quarter fumble by scoring what proved to be the winning touchdown as Ohio State held off the Wolverines and stayed on track to play in the BCS title game.
(Last week's rank: NR)
6. Adrian Peterson, Vikings

The Vikings might be out of the playoff picture, but they're definitely having an impact on the NFC North race, and Peterson is doing his part. Despite a nagging groin injury, Peterson gained 211 yards on 35 carries as Minnesota knocked off the Bears in overtime. That effort came a week after running for 146 yards and a TD in a Week 12 tie with the Packers.
(Last week's rank: NR)
7. Stephen Curry, Warriors

The NBA's most-feared marksman made 51.5 percent of his 3-point attempts in four games this past week, averaging 28.3 points per game in that stretch as the Warriors went 2-2. Curry made 6 of 10 3-pointers in a loss to the Mavericks and poured in 36 points in a win over the Kings. How much does Curry mean to the Warriors? Entering Tuesday's games, Golden State is 10-8 overall -- but 0-3 in games in which Curry hasn't played.
(Last week's rank: NR)
8. John Wall, Wizards

Wall's second straight double-double -- 16 points and 13 assists in Monday's win over the Magic -- capped a five-game stretch in which he averaged 20 points and nearly 10 assists per game. That stretch included a 26-point, 12-assist effort against the Hawks and a 31-point, nine-assist outburst against the Lakers. He's keyed an early-season resurgence for Washington, which started the season 2-6 but has improved to 9-9.
(Last week's rank: NR)
9. S. Holcomb, Bobsled

The Sochi Games are right around the corner, along with the thrill of watching folks rush down a serpentine, icy track at I-wouldn't-do-that speeds. Steven Holcomb of Team USA, who overcame a degenerative eye disease to win gold at Vancouver in 2010, showed why his two- and four-man teams will be favored in Russia, as both took gold in the season's first World Cup meet in Calgary. Holcomb and Steve Langton also set the two-man track record.
(Last week's rank: NR)
10. Alshon Jeffrey, Bears

Adrian Peterson wasn't the only player in the Bears-Vikings overtime thriller to put up big numbers. Jeffrey had 12 catches for 249 yards and two touchdowns, helping the Bears take a 10-point lead midway through the fourth quarter. The lead didn't hold, but Jeffrey is averaging 15.8 yards per catch and has gained 1,109 receiving yards this season, both team highs.
(Last week's rank: NR)
Honorable mention: Jameis Winston (Florida State), Josh Gordon (Browns), Devin Gardner (Michigan), David Fales (San Jose State), James Franklin (Missouri).
The Cross-Sport Power Rankings week runs from Tuesday to Monday, covering all sporting events in that seven-day span.
SPONSORED HEADLINES
ESPN TOP HEADLINES
MOST SENT STORIES ON ESPN.COM
EDITORS' PICKS
Who wins in a potential FSU-Auburn BCS title game?
Vote »

Which team will win the World Cup?
Vote! »

Will Yankees be contenders with Jacoby Ellsbury?
Vote! »