Peterson rushes to the top
Originally Published:
December 18, 2012
ESPN Playbook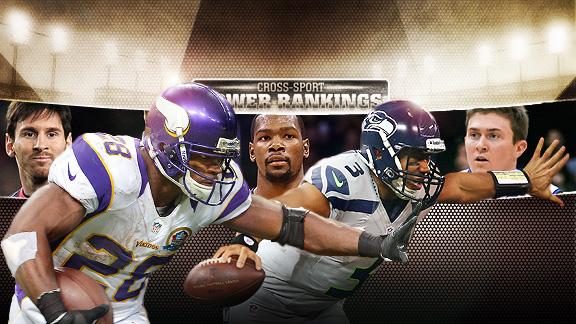 Cross-Sport Power Rankings: Adrian Peterson Tops
Cross-Sport Power Rankings: Adrian Peterson Tops
Don't call it a comeback. Adrian Peterson has been doing this for years. But after suffering a torn ACL and MCL in Week 15 of the 2011 season, no one could've expected this from A.D. in 2012. His season-high 212 yards on Sunday gave him a career-best 1,812 for the year, put him on track to break the single-season rushing record and kept the Vikings in the thick of the NFC playoff picture. That was easily enough to garner him the top spot in this week's rankings in the eyes of our panel.
Peterson beat out Seahawks rookie QB Russell Wilson, who did some damage of his own on the ground. The Seattle starter rushed for 92 yards and had three first-half touchdowns in a rout of the Bills. The two rushing football stars were followed by Kevin Durant, who has the Thunder rolling on an 11-game win streak.
That's how our panel ranked them, but do you agree? Let your voice be heard in the comments, and if you impress the panel, you could be chosen as a guest ranker for next week.
2012 Cross-Sport Power Rankings panel: Sara Walsh, John Buccigross, Robert Flores, Michael Smith, Bram Weinstein, Mike Hill, Jorge Andres, Charissa Thompson, DJ Gallo, Jim Basquil, Kevin Connors, Jeff MacGregor and Steve Weissman
Last week: Lionel Messi No. 1 | Cross-Sport Power Rankings archive »
Cross-Sport Power Rankings: Dec. 11-17
Rank
(Last week)
Player
Comment
1
(7)
Adrian Peterson
Vikings


Adrian Peterson continues to destroy the perception of how long it takes a player to recover from reconstructive knee surgery. Still not one year removed from his injury against the Redskins last season, Peterson rumbled for another 212 yards this week, putting him within striking distance of the single-season rushing record.
2
(NR)
Russell Wilson
Seahawks


The week-to-week conversation seems to focus on Andrew Luck and Robert Griffin III, but Russell Wilson continues to put up big numbers. He rushed for three touchdowns in the first half against the Bills and finished with a near-perfect 99.3 total QBR, the best performance by any quarterback in a game this season.
3
(9)
Kevin Durant
Thunder


The struggling Lakers may be getting all the headlines, but Kevin Durant and the Thunder just keep quietly rolling along. KD posted back-to-back 30-point games against the Hornets and Kings, extending OKC's win streak to 10 games. He was held to 19 against the Spurs, but the Thunder won to cement their status as the best in the West.
4
(1)
Lionel Messi
Barcelona


Lionel Messi didn't break any records this week, probably because he has them all already. The Barcelona forward scored a pair of goals in each of his team's two games, the first a 2-0 win over Cordoba in the Copa Del Rey, and the second a 4-1 victory over Atletico Madrid. He has scored two goals in each of the past eight games he's started for Barcelona.
5
(NR)
Rotnei Clarke
Butler


We'll spare you the "Butler did it" puns and just focus on the fact the Bulldogs pulled off the first upset of a No. 1 ranked team in school history, thanks in part to 19 big points from Rotnei Clarke. The Arkansas transfer scored 13 of his 19 after halftime, and hit a key 3-pointer in a late overtime rally.
6
(NR)
Kirk Cousins
Redskins


Without the injured Robert Griffin III, the Redskins put up one of their best offensive performances of the season. Fellow rookie Kirk Cousins had no problem filling in for RG III, overcoming a slow start to finish with 329 yards and a pair of touchdowns. The Redskins have now won five straight and control their own destiny in the NFC East.
7
(NR)
Ryan Lochte
Swimming


It was a big week for Ryan Lochte at the short-course world championships. The 11-time Olympic medalist won six gold medals at the event in Istanbul, setting world records in the 100- and 200-meter individual medleys in the process. He racked up seven total medals, matching his total from the 2010 championships in Dubai. That deserves a JEAH!
8
(NR)
Colin Kaepernick
49ers


Colin Kaepernick and the 49ers are playoff bound. After withstanding a furious comeback by the Patriots, San Francisco clinched its second consecutive playoff berth, this time with Kaepernick at the helm. The first-year starter became the first QB to throw four touchdowns in a win at New England since Jim Kelly in 1994.
9
(NR)
Carmelo Anthony
Knicks


Before an ankle injury forced Carmelo Anthony to the bench, he was as hot as he'd been in his NBA career. The Knicks forward put up 45 points on just 24 shots in a win in Brooklyn -- his birthplace -- then scored 30 in 23 minutes against the Lakers. It's performances like that, and the Knicks' scorching start, that have Melo in the MVP discussion.
10
(NR)
Ka'Deem Carey
Arizona


The New Mexico Bowl was the first game of bowl season, and it'll be hard to top. Arizona beat Nevada 49-48, getting a huge boost from running back Ka'Deem Carey, who rushed for 172 yards and three touchdowns. Carey was overshadowed at times in the Pac-12, but finished the year with 1,929 yards and 23 scores.
Honorable mention: Nonito Donaire (Boxing), Tony Romo (Cowboys), David Lee (Warriors), Kobe Bryant (Lakers), Bailey Webster (Texas)
The Cross-Sport Power Rankings week runs from Tuesday to Monday, covering all sporting events in that seven-day span.
SPONSORED HEADLINES
ESPN TOP HEADLINES
MOST SENT STORIES ON ESPN.COM
CROSS-SPORT POWER RANKINGS 2012

Cross-Sport Power Rankings compares the best athletes across all major sports. Check out the rest of our individual sport power rankings.