Kobe Bryant still displays greatness
Originally Published:
March 12, 2013
ESPN Playbook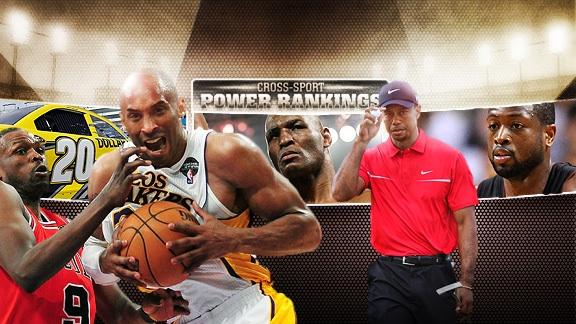 Cross-Sport Power Rankings: Kobe Powers to Top
Kobe wins our No. 1 ranking after scoring 41 and 40 points with 12 assists in consecutive games, Tiger Woods is our runner-up after winning his 17th World Golf Championship. Bernard Hopkins wins our Bronze after winning a unanimous decision Saturday.
Tags:
Cross-Sport Power Rankings
,
Kobe Bryant
,
Tiger Woods
,
Bernard Hopkins
Cross-Sport Power Rankings: Kobe Powers to Top
Kobe Bryant is calling himself "Vino," because he ages like fine wine. But we don't think a nickname is necessary, because when you hear the name Kobe … well, it speaks for itself. The 17-year veteran knows that dunking on players night in and night out isn't something that is realistic at this stage of the game, so he'll give you buckets from outside the paint. Bryant has pretty much perfected the jumper -- whether it be the turnaround, step-back, or a legit pull-up -- he can give it to you whichever way. And the most impressive part of his game is the ability to take over when needed. He's been one of the NBA's top players for almost two decades and defenders still can't find a way to stop him. So yes, Kobe may not be the Kobe of old, but he still gets the job done!
Tiger Woods found himself in the No. 2 position after earning his 76th PGA Tour victory, and he did it with a well-rounded game. "That's how I know I can play," said Woods, and if he knows he can play this well, then watch out world … Tiger just might be back on top of his game. Rounding out the top three is a bit of a surprise with Bernard Hopkins. The "Executioner" is still lacing up the gloves and winning decisions against competition nearly half his age.
Check out how our panel ranked the complete top 10 and let your voice be heard in the comments. If you impress the panel, you could be chosen as a guest ranker for next week.
2013 Cross-Sport Power Rankings panel: Sara Walsh, John Buccigross, Robert Flores, Michael Smith, Bram Weinstein, Mike Hill, Jorge Andres, Charissa Thompson, DJ Gallo, Jim Basquil, Kevin Connors, Jeff MacGregor and Steve Weissman
Last week: Stephen Curry No. 1 | Cross-Sport Power Rankings archive »
Cross-Sport Power Rankings: March 5-11
Rank
(Last week)
Player
Comment
1
(3)
Kobe Bryant
Lakers


Kobe Bryant dropped 42 points and 12 assists against the Hornets, and 41 and 12 against the Raptors, becoming the fourth player to put up at least 40 points and 12 assists in back-to-back games in the last 25 years. And the 34-year-old Bryant, aka "Vino," also became the oldest Laker with that stat line in consecutive games since Jerry West.
2
(NR)
Tiger Woods
Golf


It's been five years since Tiger Woods has won two tournaments before the Masters, so winning his 17th World Golf Championship event was kind of a big deal. Woods won by two shots over the man who helped him tweak his putting style, Steve Stricker. After putting Stricker's tips to use, Tiger made 27 total birdies, one short of his personal best on the PGA Tour.
3
(NR)
Bernard Hopkins
Boxing


Bernard Hopkins broke his own record as the oldest boxer to win a world title (48 years, 54 days old) with a unanimous decision win over Tavoris Cloud for his IBF light heavyweight belt. Despite the 17-year difference in age, B-Hop out-landed Cloud by 30 punches, while throwing 233 fewer punches in what was his first win against an undefeated opponent in a title fight since 2001.
4
(NR)
Matt Kenseth
NASCAR


Sunday was a special day for Matt Kenseth. Not only did he win at Las Vegas, his 25th career victory, but he did it on his 41st birthday. The normally calm, cool and collected Kenseth was screaming with excitement on the final laps as he held off Kasey Kahne in an intense fight to the checkered flag in Las Vegas and was all smiles in Victory Lane.
5
(NR)
Dwyane Wade
Heat


WOW!! Or "Way Of Wade," if you please. Well, Dwyane Wade had his way this week, averaging 23 points against the Magic, 76ers and Pacers, helping extend the Heat's franchise-record win streak to 18 games. But Wade isn't just contributing on the offensive end. Against conference rival Indiana, he had six steals, increasing his consecutive games steak with a steal to 22.
6
(NR)
Sidney Crosby
Penguins


The Penguins center tied a career high with five assists in Sunday's victory over the Islanders, pushing his NHL-leading points total to 45. Nearly a year after his last comeback from concussion-like symptoms, Crosby has regained his MVP form. He also extended his point streak to nine games, which is the longest stretch in the NHL so far this season.
7
(NR)
Robinson Cano
Dominican Republic


It's safe to say that the Yankees' second baseman was the primary reason the Dominican Republic won all three of its WBC group play games last weekend. Cano earned MVP honors by going 9-for-15 with three doubles, a home run and five RBIs. Next, Cano will lead his team to the second round in Miami, where they will play Group D runner-up Italy.
8
(NR)
Cody Zeller
Indiana


The sophomore forward came up huge for Indiana against Michigan last weekend, grabbing 10 boards and scoring 25 points, including the game winner in the final seconds. Zeller made a go-ahead layup with 13 seconds left lifting the Hoosiers to their 26th win this season. With the victory, they clinched their first outright Big Ten title in two decades, making a strong case for a 1-seed in the NCAA tournament.
9
(NR)
Deron Williams
Nets


The Nets snapped a three-game home losing streak Friday night, thanks in large part to a huge night from Deron Williams who scored a season-high 42. The veteran point guard set an NBA record by hitting nine 3-pointers in the first half and set a Nets franchise record with 11 3s made in the game, one shy of an NBA record. Williams' 33 points in the first half were the most by any player in any half this season.
10
(NR)
Lionel Messi
Barcelona


Barcelona's Lionel Messi scored his 40th goal and extended his streak for scoring in consecutive La Liga games to 17. It's the fourth time a player has scored 40 goals in a La Liga season. To put it in perspective, he has scored more league goals by himself than 16 of the 20 teams in the division. Messi is so good that a Japanese jeweler has created a solid gold replica of his left foot. You want it? It'll only cost you $5.2 million.
Honorable mentions: Kevin Durant (Thunder), DeAndre Jordan (Clippers), Doug McDermott (Creighton), Brittney Griner (Baylor), David Wright (USA)
The Cross-Sport Power Rankings week runs from Tuesday to Monday, covering all sporting events in that seven-day span.
SPONSORED HEADLINES
ESPN TOP HEADLINES
MOST SENT STORIES ON ESPN.COM
CROSS-SPORT POWER RANKINGS 2013

Cross-Sport Power Rankings compares the best athletes across all major sports. Check out the rest of our individual sport power rankings.