By Alex Gyr
In an effort for full disclosure, let me start with this: I am a Stanford football fan. I always have been a Stanford football fan. In the past five years my team has 16 wins. This year the Cardinal finished 1-11 with one of the worst offenses in the nation and little reason to think anything will improve anytime soon. Yet, I am still a Stanford football fan.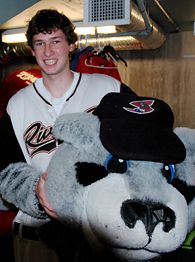 Courtesy of Alex Gyr
Underneath the Sacramento Rivercats mascot for a day lurks Stanford fan Alex Gyr.
With that off my chest I can now say this: California college football is the best in the nation.
Even as I have watched Stanford go from a Rose Bowl team to the Pac-10 whipping boy, it has been obvious that statewide, the quality of football is as high as it has ever been.
Thanks to USC, two of the last three national championships have returned to California. If the Trojans could have made one lousy tackle last season, it would have been three straight. In the past two years, three different California schools (USC, UCLA and Cal) have spent time in The Associated Press Top 10. Florida is the only other state that can make that same claim. Even Fresno State has been among the nation's best in recent years.
California gets a bad rap mostly out of ignorance. A majority of East Coasters are heading to bed when many of the best California rivalry games are just kicking off. But what they are missing is some of the highest quality football out there.
And great football in California is nothing new. Players from California schools have won nine Heisman Trophies. Since 1920, Stanford, Cal, UCLA and USC have combined for a share of 17 national titles.
Even at a school like Stanford, there is a rich football tradition. Pop Warner coached here. Bill Walsh perfected his West Coast offense while leading the Cardinal to a pair of bowls in the late-1970s. Denny Green, George Seifert and Dick Vermeil all spent time patrolling the sidelines at Stanford Stadium. Stanford players have won as many Heisman Trophies (one) as traditional football powers Penn State and LSU. And no discussion of Stanford football is complete without at least mentioning Hall of Famer John Elway and his four years under center in Palo Alto.
A major argument against California football, and Pac-10 football in general, is the fans. We have been accused of everything from being fair-weather fans to bandwagon jumpers. While I think that every Cal fan is a bum and USC fans have made a pact with the devil, I have to admit that they are a loyal, passionate group. Hang out in the Rose Bowl parking lot on game day or even around Spartan Stadium in San Jose. You will find thousands and thousands of dedicated supporters. I dare anyone who doubts the competitiveness of California fans to wear a red shirt to Memorial Stadium on the day of the Big Game. You will be in for quite a treat.
So Cali-haters, back off. Don't be bitter that we get to play in 80-degree weather in the middle of November or have hands-down the hottest cheerleaders. Instead, get ready. While you are sleeping, California football just keeps getting better.
Alex Gyr is The Stanford Daily sports editor.