By Lisa Amaya
Orange and silver and blue, oh my! It's hard to identify just one NFL team that the majority of New Mexicans cheer for.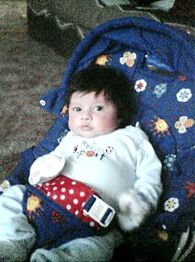 Courtesy of Lisa Amaya
If C.J. isn't a sports fan already, he will be.
However, judging from my stay in the southern part of the state, a good chunk of fans follow the Cowboys. On the streets of Las Cruces, for example, there's a blue and silver Dodge Ram pickup adorned with glittery blue stars. Talk about dedication!
Plenty of people sport T.O. and Bledsoe jerseys on game day, and a few wear Cowboys jerseys personalized with "Sleepy" or "Grumpy" across the shoulders. Given his newfound starting role, it's only a matter of time before bandwagon fans are wearing quarterback Tony Romo's name, too.
In my house, my 11-month-old son, C.J., is unfortunately torn between the 49ers, his dad's team and America's Team, my favorite. We've outfitted him with clothes from both (I wouldn't hear the end of it if he didn't have San Francisco gear).
New Mexicans also follow the Broncos and the Cardinals. Orange and blue is most evident in the northern part of the state, while red jerseys are sprinkled in small doses across the Land of Enchantment. Interspersed are the transplants: the random die-hard Steelers or Redskins fan.
People talk of getting a pro franchise, but it's hard to imagine that a state that's waiting for its second area code will field its own NFL team anytime soon. While we wait, I'm looking forward to watching the Cowboys in the playoffs.
Writer Lisa Amaya is from Texas and earned her stars in part by studying at New Mexico State.