By Justin Fabiano
Staggering differences such as a ranking of 49th in public education and 12th in high school football are numbers you can only expect to find in a state like South Carolina. If you looked at USA Today's Super 25 this past season, you might have been shocked to notice that South Carolina had three ranked schools at one time, tied for most in the country with Ohio.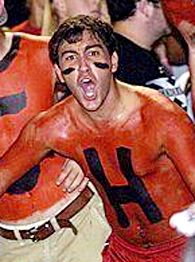 Courtesy of Justin Fabiano
Would Justin do this if he lived in Alaska?
Summerville High School, Byrnes High and Gaffney, which just won its second Division I 4-A state title in a row, were all ranked this season.
At Summerville, they're used to being at the top. They're coached by John McKissick, and if that name sounds familiar, it's because he is the only coach at any level of football to ever record 500 wins.
According to www.SCHSL.org, from 1999 to 2005, no South Carolina football team repeated a state championship. In that seven-year span, nine different teams, including Gaffney, competed for the largest division title. There are a lot of schools good enough year in and year out to compete for a state title.
By comparision, North Carolina's Independence High has won six straight titles. The "Two-A-Days" school in Hoover, Alabama, has won five of six championships, including finishing as Alabama's state runner-up in 2001.
Now I'm not knocking those schools. They are indeed great teams with an incredible football tradition, but it does bring to question the abilities of other schools in their states to legitimately compete for a championship.
Compare the PAC-10 to the SEC. Of course Southern California is going to dominate the PAC-10, but if you placed them in the SEC, many people would not have them winning that conference. Having nine different schools in South Carolina that are able to compete for a state title makes domination improbable.
South Carolina also has its fair share in national recruits. The obvious name is Byrnes quarterback Willy Korn. According to SCVarsity.Rivals.com, Korn is the No. 3 overall national recruit and No. 2 at his position. Korn passed for over 5,000 yards his junior season, and is committed to Clemson University.
Gary Gray, fourth-ranked defensive back in the country out of Richland, is verbally committed to Notre Dame. He is considered one of the best shut-down corners in the country, and he's an incredible athlete, bringing a 4.5 40 to the table.
According to the Rivals.com rankings, South Carolina has four recruits in the top five. Furthermore, the top 10 recruits from South Carolina are each ranked inside the top 20 in their position nationally. Keep in mind that is just for the class of 2007. There are plenty of juniors making names for themselves, including Summerville High's receiver A.J. Green, who is set on the University of Georgia.
South Carolina is overlooked and underrated when it comes to football. How is it that a state of 3 million can have more teams in the Top 25 than states like Texas, California, and Florida? It's a blend of great players, great coaches, and great fans.
Fans in South Carolina are staunch supporters of their schools, making it very difficult to win on the road . You've got great coaches who've been around forever like McKissick, Ray Stackley, and Bobby Bentley. McKissick has over 500 wins, Stackley has won 53 straight region games and Bentley has won four straight state titles in Division II 4-A competition. These coaches have built their programs from the ground up, including the school's fan base, and now there's no looking back.
When he's not painted with school spirit, Justin Fabiano is the sports director for Real Sports, a Stratford High School television show.