By Mekram Mohammad
This Missouri Tigers football season is like a stack of pancakes.
I usually like my pancakes simple, just a short stack with maple syrup. For special occasions I might add some powdered sugar and fresh fruit. But I always make sure not to bite off more than I can chew.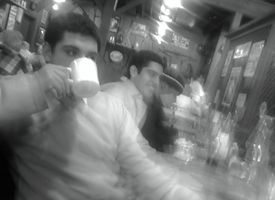 Courtesy of Mekram Mohammad
Mekram didn't get the sugary ending he wanted, but he's still eating .
The season started well, covered in syrup and hype. The Tigers surprised everyone with a 6-0 start. Before we could get too full of them, the bye week allowed the team and fans to sit back and relax.
But the Tigers ordered more than a short stack, and they were not ready for the rest of the season. They lost four of their last six games, stuffing all chances of winning the Big 12 North.
When they lost to the Iowa State Cyclones, many people started blaming the referees after a controversial call. But when I go out to eat pancakes and receive the wrong order, complaining does nothing. All the waitress can tell me is that next time the kitchen will get it right.
I would have never eaten pancakes again if it were not for a win against the Kansas Jayhawks. I was very close to being sick of them and I was willing to give up pancakes for something else that made me happy. But after the win against the Jayhawks (and some Rolaids) I was able to swallow everything that happened and smile.
So what's left? One pancake.
The Alamo Bowl would have provided a fruity, powdered end to the season. I would have liked to see the Tigers play against the Iowa Hawkeyes, especially since we backed out of our contract to play against the Hawkeyes during the regular season.
Instead Missouri will cut into the Sun Bowl, but we're glad this meal is not over.
If the Tigers can swallow this last pancake, the fans will have their fill and an offseason break to get hungry all over again.
MU student Mekram Mohammad often dons black and gold and starts his morning off with a hearty breakfast.