Monday, April 16, 2007
Updated: November 24, 1:38 AM ET
Caple: Best NFL Road Trips of 2007

---
By Jim Caple
ESPN.com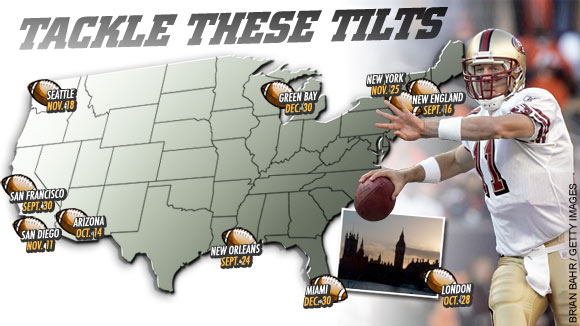 Mouse over the dates and locations, then click on each, to get a head start on your NFL itinerary for the 2007 season.

After careful review of the NFL schedule, here are some road trips worth buttering up your spouse with gifts and compliments NOW so you can be to the stadium on time. (click on the links for the full disclosure on each tilt, as well as deals on flights, hotels and game tickets): 1. Sept. 16: San Diego at New England
2. Sept. 24: Tennessee at New Orleans
3. Sept. 30: Seattle at San Francisco
4. Oct. 14: Carolina at Arizona
5. Oct. 28: New York Giants vs. Miami Dolphins at London
6. Nov. 11: Indianapolis at San Diego
7. Nov. 18: Chicago at Seattle
8. Nov. 25: Minnesota at New York Giants
9. Dec. 30: Detroit at Green Bay
10. Dec. 30: Cincinnati at Miami
Jim Caple is a senior writer for ESPN.com. His Web site is back up at a slightly different address, jimcaple.net, with more installments of 24 College Avenue. In addition to his book "The Devil Wears Pinstripes," his new book with Steve Buckley titled "The Best Boston Sports Arguments: The 100 Most Controversial, Debatable Questions for Die-Hard Boston Fans" is now on sale.


---