Monday, June 18, 2007
Updated: June 19, 12:55 PM ET
West Coast teams stretch time in Omaha

---
ESPN.com



ANTE UP

OMAHA, Neb. -- It took UC Irvine and Cal State Fullerton 96 baseballs and 5 hours and 40 minutes to play their elimination game at the College World Series here Monday afternoon.

And shortly after the Anteaters beat their fellow Big West Conference member for the third time in four meetings this season -- on Bryan Petersen's two-out single to shallow center that let Cody Cipriano end the epic struggle with a too-easy trot in from third base -- Fullerton's veteran coach George Horton may have needed some extra tissues, as well.

You see, it's not easy -- win or lose -- to have to match wits with someone you once coached and then later spent eight seasons showing the ropes to before he went off to build his own college baseball power.

Horton's "reward" for those teachings was to have Dave Serrano's third Irvine club rally from a 3-1 deficit to win the longest game in CWS history.

"In defeat, this will be a day I remember for a long time," said Horton, who gave Serrano a hearty postgame hug and also wasn't too proud to shed some tears, not all of which contained sadness. "I told him I loved him -- and I do. And I told him to win the tournament."

Serrano's club has quite a bit of work yet ahead of it -- needing three straight victories, exactly -- to advance to the best-of-three championship series.

But if Monday's outcome was any indication, don't count out these Anteaters.

They sent Fullerton (38-25) to its first 0-2 showing at the CWS in nine appearances despite making six errors and stranding 16 runners.

NUMBERS GAME

Monday's Stats of the Day from ESPN Research

14

Number of pitches UCI's Cody Cipriano saw before hitting a home run in the seventh inning to tie the game.

1 North Carolina is the only team remaining in the College World Series that has not hit a home run yet.

10 It has been 10 years since we had a repeat champion (LSU).

INSIDE THE NUMBERS

Without Bud Selig to shut the game down, Cal State Fullerton and UC Irvine both had to dig deep to throw 13 innings -- with their College World Series fate on the line. Both starters went six innings, which certainly helped, and both teams got big contributions from their bullpens.

But even though the game stretched to a College World Series record 5 hours and 40 minutes, the teams used fewer pitchers combined than North Carolina did in Sunday's game against Rice. (And that's not a typo -- Cal State Fullerton's pitchers issued just two walks in 13 innings.)
UC Irvine's pitchers
Pitcher
IP
H
R
ER
BB
SO
AB
BF
NP
ERA
Wes Etheridge
6.0
9
4
4
2
1
27
30
102
2.65
Tom Calahan
2.1
1
0
0
3
2
7
12
42
1.31
Dylan Axelrod
4.2
1
0
0
1
7
16
17
57
3.82
Cal State Fullerton's pitchers
Pitcher
IP
H
R
ER
BB
SO
AB
BF
NP
ERA
Jeff Kaplan
6.0
10
4
4
1
3
26
30
114
3.30
Adam Jorgenson
1.2
1
0
0
0
0
6
6
20
4.29
Bryan Harris
5.0
3
1
1
1
4
16
22
79
2.65
Dustin Birosak
0.0
1
0
0
0
0
1
1
3
2.89
PHOTO OF THE GAME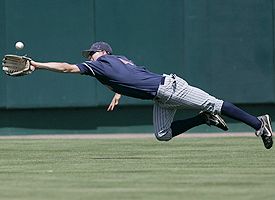 AP Photo/Eric Francis
Clark Hardman's fifth-inning diving catch was one of the College World Series' best defensive plays.
IN MOTION
College World Series Recap
PHOTO OF THE GAME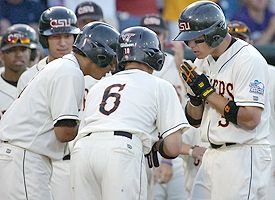 AP Photo/Ted Kirk
Bow down to the champs: Oregon State's Mike Lissman is greeted at the dugout by teammates Joey Wong and Darwin Barney after hitting a three-run homer.
STOCK UP/stock down
PLAYER
TEAM
POS
STOCK
Dylan Axelrod
UC Irvine
P
Axelrod pitched 4 2/3 innings of one-hit ball, striking out seven of the 16 batters he faced. His performance was huge for the Anteaters.
Josh Fellhauer
Cal State Fullerton
OF
The freshman left-fielder's throw to home in the 13th to extend Fullerton's playoff life (albeit for a few pitches) would have made Manny Ramirez drool. His 1-for-7 performance at the plate, however, was decidedly un-Mannylike.
Eric Sogard
Arizona State
2B
Sogard drove in a third of Arizona State's runs, going 2-for-5 at the plate.
Mike Lissman
Oregon State
LF
Lissman's power bat continues to pace Oregon State's offense. His three-run homer against ASU was just part of his 3-for-4, four-RBI performance.
---