Wednesday, June 20, 2007
Updated: June 21, 2:14 PM ET
Oregon State back in finals; Rice-UNC to tussle again

---
ESPN.com



FROM THE BOOTH

Oregon State is back in the College World Series finals after eliminating upstart UC Irvine 7-1 on Wednesday. OSU is the only team that hasn't lost in Omaha, as Rice dropped its first game of the CWS to North Carolina earlier in the day.

It's 2006 all over again. Last year's College World Series saw a Beavers team come out of the losers' bracket to win two straight against Rice, setting up a best-of-three series with North Carolina.

2007 has North Carolina emerging from the losers' bracket, needing only a win Thursday against Rice (ESPN, 7 p.m. ET) to meet Oregon State in the finals.

It's an unlikely scenario for these teams to be in, but for none more so than the defending champs, perhaps. Both Oregon State and North Carolina suffered huge losses to graduation and the draft. Few could have imagined the type of success these teams are having.

Oregon State lost key role players in last year's run, but the holdovers from the title team are showing the benefits of experience. Mitch Canham, Daniel Turpen and Darwin Barney were exceptional against the Anteaters, never allowing Irvine to gain momentum. Much of Oregon State's success can be attributed to coach Pat Casey. He commands instant respect and, as a former player, understands the mentality of those who play for him. Guys respect those who have played the game.

The Beavers boast three very, very talented starters: Mike Stutes, Jorge Reyes and Turpen. They're set up perfectly for the championship series, as they've been able to treat the entire tournament like three-game series. Their pitchers will have normal rest.

Oregon State very nearly missed the NCAA Tournament entirely. But the Beavers have treated the postseason like an entirely different season, focusing on their experience here last year instead of their troubles mere weeks before. They play with so much confidence. They're comfortable playing in Rosenblatt Stadium, in front of huge crowds, with their playoff life hanging in the balance. And that has paid huge dividends for them so far.

Of course, North Carolina and Rice are no strangers to playing deep into June. Much as with Oregon State, it's clear UNC is benefiting from last year's winning ways. The Tar Heels finally started swinging the bats today, and ace Robert Woodard bounced back unbelievably will from a rough start. Although UNC had to fight its way through the losers' bracket, it matches up very well with Rice.

Rice enters the game as the higher seed and having played fewer CWS games, but it might not be the favorite Thursday. Rice often gets overlooked because it's so steady; the Owls are good at pitching, hitting and defense, but not great.

If the Tar Heels come out attacking as they did Wednesday, there's a very good chance we'll see a rematch of the 2006 CWS finals. And that's something no one outside these two teams could have expected.

Kyle Peterson was a three-time All-American at Stanford and is a college baseball analyst for ESPN.

POSTSEASON PROWESS

OMAHA, Neb. -- His Oregon State Beavers are living such a charmed life at the College World Series that Pat Casey no longer considers bunting with one out a roll of the dice.

Twice during Wednesday night's 7-1 victory over UC Irvine -- a result that put the defending national champions back in the best-of-three title series to face either the team it defeated last year, North Carolina, or Rice -- Oregon State sacrificed to move a runner up for the second out of an inning.

The first such instance came in the third inning of a scoreless game, and guess what? Irvine third baseman Tyler Vaughn made a throwing error after fielding a grounder hit by the next batter, Mike Lissman, and before the Anteaters could get back to their dugout, they trailed 4-0.

"It's not always the long ball for us," noted junior Oregon State shortstop Darwin Barney, a fourth-round draft pick of the Chicago Cubs and one of two returning position starters from the 2006 club. "Little things get us going, and we're the kind of club that if we get going, we're tough to beat."

NUMBERS GAME

Wednesday's Stats of the Day from ESPN Research

1

Dustin Ackley leads the Tar Heels with a .400 batting average, but he was in a major slump entering this game. Ackley was hitting .442 entering the ACC tournament championship game May 27 but had gone 5-for-38 (.132) since. Ackley effectively ended that slump Wednesday, going 2-for-5 at the plate -- including a three-run homer in the seventh inning.

11

The Anteaters have been the leaders of the 2007 CWS hit-by-pitch parade. In three games, there have been 11 UCI players plunked, which ties the CWS record for one team (Cal State Fullerton, 2003). Leadoff batter Taylor Holiday has been hit four times. This is not a fluke, though. Irvine ranks among the most-hit teams in NCAA history.

3

Rice has scored a grand total of one run in its past three games in which it had a chance to clinch a spot in the CWS championship series. Last year, the Owls were beaten 5-0 and 2-0 by Oregon State.

52

Oregon State has not trailed in its past 52 innings, going back to the regional championship game against Virginia on June 5. The Beavers also have a streak of 41 consecutive innings without trailing at the CWS, which dates back to last year. OSU has allowed three or fewer runs in eight of its 10 NCAA Tournament games this year.

INSIDE THE NUMBERS

In North Carolina's first two games, the team that looked so dominant in the regular season suddenly looked very flawed. The Tar Heels couldn't eke more than an inning or two out of their starters, and their normally powerful bats fell silent.

It became very clear in the super regional round, however, that North Carolina had no intention of being sent home early. After finishing their 2006 season as the College World Series runner-up, the Heels are doing everything they can to keep playing. It has worked in two straight elimination games, as UNC's pitching has come up with lights-out performances and the team is finally swinging the bats. The Heels need to win one more against Rice on Thursday to clinch a spot in the championship series.
North Carolina's starting pitching in the CWS
Robert Woodard
Game 1
Alex White
Game 2
Luke Putkonen
Game 3
Robert Woodard
Game 4
IP
1.1
1.2
7.0
6.2
Runs
4
6
1
1
K
1
1
7
4
PHOTO OF THE GAME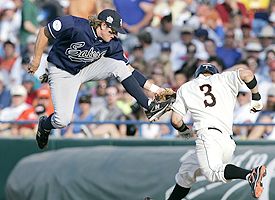 AP Photo/Eric Francis
UC Irvine first baseman Taylor Holiday catches air as he attempts to tag Oregon State's Mike Lissman.
IN MOTION
Tar Heels stay alive
HIT MEN
OMAHA, Neb. -- Rice coach Wayne Graham said Wednesday that the record number of players getting hit by pitches at this year's College World Series is more than a coincidence.
"It basically started on the West Coast," he said. "In my case, it's not a coach teaching it. I've never taught anybody to get hit with a baseball, but I don't know whether some programs do or not."
Five more batters were hit in Wednesday's game between North Carolina and Rice, bringing the CWS-record total to 42 hit batsmen in 11 games before UC Irvine and Oregon State played Wednesday night.
There were five hit batsmen with the bases loaded in the CWS before the Irvine-OSU game and 10 players who scored after being hit. Cal State Fullerton tied a CWS record Monday when it hit five batters in a game against UC Irvine.
PHOTO OF THE GAME
AP Photo/Dave Weaver
Rice's Jared Gayhart watches helplessly as Dustin Ackley's three-run homer sails into a fan's hands.
IN MOTION
Oregon State KOs Irvine
STOCK UP/stock down
PLAYER
TEAM
POS
STOCK
Dustin Ackley
North Carolina
1B
Solid defensively, the freshman slugger finally broke out of his postseason slump with a three-run homer in the seventh that extended the Tar Heels' lead.
Ryan Berry
Rice
P
The Owls' freshman ace struggled a bit against a veteran Tar Heels lineup, but his numbers weren't too bad: In 3 2/3 innings, he gave up three hits and one earned run, striking out 3 of the 13 batters he faced.
Mitch Canham
Oregon State
C
The veteran catcher is leading the charge to the NCAA championship. He ended his slump with a 3-for-5 performance Wednesday and drove in three runs.
Daniel Turpen
Oregon State
P
Turpen wasn't the man last season, but he clearly gained a lot from the experience. He was lights-out Wednesday, scattering five hits over eight innings.
UC Irvine
The Anteaters' season didn't end the way they wanted it to, but they can hold their heads high. The feel-good story of the tournament, Eater Nation gained a nation full of fans because of Irvine's gutsy play.
Robert Woodard
North Carolina
P
The senior pitcher redeemed himself after one of the worst outings of his career. He scattered five hits over 6 2/3 innings, striking out four and allowing one earned run.
---