Thursday, June 21, 2007
North Carolina knocks out Rice to advance

---
ESPN.com



FROM THE BOOTH

North Carolina knocked out Rice 7-4 on Thursday, setting up a rematch of the 2006 College World Series finals with Oregon State. The teams might be the same, but the ballgames promise to look quite a bit different.

Last season, the Tar Heels entered the best-of-three championship series with a rested pitching staff and a clear advantage. After battling through the losers' bracket, the 2007 Tar Heels have no such luxury. Instead, Oregon State will benefit from a barely-taxed lineup that has gained a ton of confidence from running through this year's College World Series undefeated.

However, if Oregon State proved one thing last year, it's that you don't need well-rested arms to win it all.

So, what can we expect from Heels-Beavers Part II?

To start, we'll see two teams who are very evenly matched. Both squads lost a lot of the guys who got them to Omaha last year, but new stars have taken their places. Freshman Alex White will take the mound for North Carolina on Saturday. The rookie ace was batted around a bit in his first start in Omaha, but his nerves should be a bit calmer this weekend. He has really wonderful stuff, but tends to pitch around the bat when he's rattled. If he stays aggressive, he could stump Beaver batters.

The key for North Carolina will be getting through Game 1 with its pitching staff intact. While the Tar Heels obviously want to win, the most important thing will be to not tax the bullpen too much. If Rob Wooten and Andrew Carignan are forced to throw a few innings on Saturday (ESPN, 7 p.m. ET), it could spell trouble for UNC in Games 2 and 3.

While North Carolina wasn't in its regular-season form during the first two games in Omaha, its four home-run effort on Thursday wasn't exactly par for the course, either. Their true hitting style is somewhere between those two extremes. But if they continue to focus on their power game, they have the talent to keep launching long balls.

Two players to watch are freshman first baseman Dustin Ackley and third baseman Chad Flack. After making a small mechanical adjustment in his swing prior to Wednesday's game, Ackley has returned to his slugging self. I think he'll stay hot now that he has found his swing. Flack hasn't done much in Omaha, but he has an uncanny knack for coming up big when the Heels need him most. He was huge during the CWS in '06 and was clutch in this year's super regional round. It's just a matter of time before he gets UNC out of another jam.

For the Beavers, the key to winning is simple: Keep doing what they're doing. They're having a great time right now because everything they're doing is right. It sounds simplistic, but it's clearly been working for Oregon State.

The best part of seeing a rematch of 2006? Both teams have been here before, so they'll come out loose. And that means the winner of this series will be the team that plays the best baseball. That's great for everyone.

Kyle Peterson was a three-time All-American at Stanford and is a college baseball analyst for ESPN.

NUMBERS GAME

Thursday's Stats of the Day from ESPN Research

2

The rematch of North Carolina and Oregon State in the College World Series finals is just the second time this has happened in the history of the CWS. In 1972 and 1973, Arizona State and USC battled in consecutive years for the championship. The Trojans took home the trophy both times. Oregon State beat UNC last year in three games.

4

North Carolina improved to 43-2 this season when allowing four runs or fewer. Rice is now 52-4 this season when scoring four runs or more.

INSIDE THE NUMBERS

Rice's consecutive losses to North Carolina marked just the second time in College World Series history that a team has started 2-0 and lost its next two games in consecutive years. The only other team to finish this way was Arizona State in 1975 and '76.

Rice -- Last two years at CWS in bracket-clinching games
2007
vs North Carolina Lost 7-4
vs North Carolina Lost 6-1


2006
vs Oregon State Lost 2-0
vs Oregon State Lost 5-0


Rice -- Last two years at CWS
Bracket-establishing games: 4-0 record; 9.5 runs per game
Bracket-clinching games: 0-3 record; 0.3 runs per game




PHOTO OF THE GAME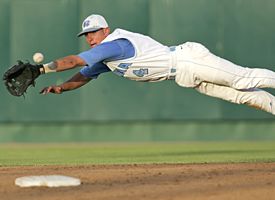 AP Photo/Eric Francis
North Carolina second baseman Garrett Gore did his best Superman impression, reaching for a Jess Buenger line drive in the seventh inning.
CWS REDUX
OMAHA, Neb. -- Odds played no part in Andrew Carignan's formula for North Carolina's baseball team being in position to play for a second straight national championship.
"You've definitely got to have a lot of breaks come your way, but with the talent and drive we have -- personally, I expected to be back here," Carignan said Thursday night after saving his school-record 18th game of the season to help put the Tar Heels in a rematch of last year's College World Series best-of-three final against defending champion Oregon State. "There's so many teams out there, so many quality opponents that you just never know. I mean, any of those games we've had in the tournament could've gone a different way, but we battled and bounces came our way."
IN MOTION
UNC advances to CWS finals
STOCK UP/stock down
PLAYER
TEAM
POS
STOCK
Dustin Ackley
North Carolina
1B
Ackley got North Carolina's home run party started, hitting his second of the Series in the second inning. The Tar Heels hit home runs in four consecutive innings after having hit only two homers in their previous 14 games.
Andrew Carignan
North Carolina
P
Carignan closed the game with 2 1/3 innings of lights-out pitching, striking out two and not allowing a hit. It was his 18th save of the season, which ties for the national lead.
Brian Friday
Rice
SS
Friday had a tough outing on Thursday, bobbling a ball in the third inning and finishing the day going 0-for-5 at the plate.
Danny Lehmann
Rice
C
Although Lehmann didn't get a hit on Thursday, "Dog the Bounty Hunter's" nephew performed much better in '07 than '06. He went 1-for-13 at last year's CWS (1 RBI, 0 runs), and 7-for-18 with four RBIs and five runs this year.
Cole St. Clair
Rice
P
St. Clair has been clutch in the postseason for the Owls. On Thursday, he threw 3 2/3 innings, giving up just three hits and no earned runs.
---