Tuesday, September 11, 2007
Updated: September 12, 10:03 PM ET
Diamond Daily

---
BASEBALL TONIGHT EXTRA
Where the wild things are
Who's going to step up and challenge the Padres for the NL's wild-card spot? That's the optimal question these days, since no one seems capable of getting on the sort of streak needed to mount a serious threat. The Phillies, Dodgers, Rockies and Braves all appear to be in win-one, lose-one mode over the last couple of weeks. Even after picking up a big victory, those teams have been incapable of getting the necessary carryover to win four or five games in a row. San Diego has left the door open with four losses in its last six games, but it seems like no one wants to seize the moment. That's what this time of the year is all about.
NATIONAL LEAGUE
SAN DIEGO PADRES
Who's hot: Kevin Kouzmanoff has been very good in the early part of September. He homered on Tuesday and is hitting .385 with six RBIs in eight games this month.
Who's not: Mike Cameron is 3-for-28 in his last eight games, but those kind of funks have occurred throughout his career. When Cameron's on, he's a very dangerous hitter. Right now, he's off his game.
Outlook: The Padres play two more games against the Dodgers before the schedule gets a little easier with series against the Giants and Pirates. San Francisco and Pittsburgh have been fodder for Padres pitchers. San Diego has allowed only 37 runs in 15 games against those two opponents this season.
PHILADELPHIA PHILLIES
Who's hot: Pat Burrell is hitting .400 with four home runs and 10 RBIs in his last six games, continuing his torrid pace since the All-Star break. Another pleasant development has been the growth of Kyle Kendrick, who is 3-0 since Cole Hamels went down with an injury.
Who's not: Observant Phillies fans in the research department have noted that Chase Utley's numbers are a little deceiving. Yes, he's hitting .357 since coming back from injury, but Utley has only one extra-base hit in his last 12 starts -- after getting two in the game in which he made his initial return. Utley is expected to produce with power, so there are suspicions his wrist still isn't right.
Outlook: The Phillies have two more games against the Rockies and then a huge three-game showdown with the Mets that could determine the NL East. The Phillies are 4-2 at Shea Stadium this season. Ryan Howard, Utley and Burrell have all feasted on Mets pitching at times, so there may be a chance to gain significant ground.
LOS ANGELES DODGERS
Who's hot: James Loney is proving he's legitimately worth including in the Dodgers' future plans, regardless of the outcome this season. He has four home runs and 15 RBIs in the last 12 games, hitting .391 in that stretch.
Who's not: Nomar Garciaparra is 1-for-11 in three games since his return from the DL and seems a bit rusty.
Outlook: Their next five games against the Padres and Diamondbacks are huge, and the Dodgers didn't help themselves by losing Tuesday. The Blue Crew is in jeopardy of being toast by the weekend if they can't put together a good stretch. But they have given Arizona trouble, winning seven of 12 meetings this season.
COLORADO ROCKIES
Who's hot: Todd Helton is producing, especially when he faces the Phillies. He has a .401 career batting average against the Phillies, the best batting average against Philadelphia in the divisional play era (since 1969). He and Matt Holliday, who took over the NL lead in RBIs after a two-homer night Tuesday, have to stay hot. Holliday has done his part by homering in three straight games.
Who's not: It's rare that a Rockies hitter goes cold for an extended stretch, but keep an eye on Brad Hawpe, who is just 2-for-15 in his last four games. He's only a .218 career hitter in September, so he could be wearing down a bit at season's end.
Outlook: The Rockies would really boost their chances with wins against the Phillies on Wednesday and Thursday, but asking a team that is 31-41 on the road to win three straight in Philadelphia is a tall order. The Rockies will match their road win total from 2006 (32) with one more win.
ATLANTA BRAVES
Who's hot: Mark Teixeira has been a fantastic acquisition, doing everything the Braves could possibly ask of him. He's hitting .322 with 12 home runs and 39 RBIs, but the Braves are just 18-20 in that stretch due to some shoddy pitching.
Who's not: Andruw Jones may have played his way out of the big free-agent contract he was expected to net. He's 1-for-16 over his last five games and has looked feeble at the plate at times, chasing pitches way out of the strike zone. Atlanta's hopes for an improbable comeback would increase significantly if Jones could muster up the play of his previous seasons.
Outlook: If John Smoltz can beat the Mets on Wednesday, the Braves might be coaxed into being believers again. The next six games are with the Nationals and Marlins. However, the Braves are just a combined 16-14 against those two teams this season, including a 7-8 mark against Florida.
NEWS AND NOTES

•
Roger Clemens
is on track to start against the Red Sox on Sunday night. Clemens, who missed his last scheduled start because of an aching elbow, had a cortisone shot and has thrown three light side sessions. The Rocket will throw a heavier bullpen session Thursday, and if there are no problems, he'll take the ball against the Sox. • The White Sox gave manager Ozzie Guillen a contract extension through the 2012 season. Guillen's previous deal ran through next year, with a club option for 2009.

• Blue Jays CF
Vernon Wells
will have surgery after the season to remove a cyst caused by a torn labrum in his left shoulder. Wells sustained the injury sometime last season. He is expected to be ready in time for spring training. • Mets LHP
Tom Glavine
wants to return for a 22nd major league season in 2008, the New York Post reported. "I'm having as much fun as I've had in a long time, and that's a big factor for me,'' Glavine, 41, told the newspaper. "It's a fun team to come to the ballpark with every day.'' • Angels CF
Gary Matthews Jr.
will be sidelined for at least five games after spraining his ankle against the Orioles. •
Craig Biggio
hit his 666th double in the first inning of the Astros' 5-4 win over the Cubs, passing George Brett and moving into fifth place all time. Biggio has more doubles than any right-handed hitter in history.
FIRST CLASS
Brewers beat Pirates to stay atop NL Central.
IN THE ZONE

Paul Byrd got his 15th victory as the surging Indians won for the 15th time in 18 games by beating the White Sox 8-3. Byrd, who is two wins shy of matching his career high, allowed three runs and six hits in 6 1/3 innings, and Cleveland increased its lead in the AL Central over Detroit to 6½ games after the Tigers split a doubleheader with the Rangers.
NEVER FORGET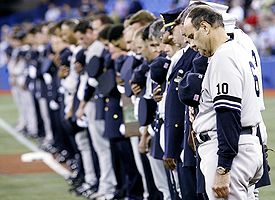 AP Photo/J.P. Moczulski
Members of the NYFD join the Yankees in a moment of silence on the sixth anniversary of the World Trade Center attacks.
NOTEWORTHY PERFORMANCES
GOOD

Vladimir Guerrero returned from a four-game absence and hit two home runs, leading the Angels past the Orioles 10-5 for their fourth straight road win. It was Guerrero's 33rd career multihomer game and fourth this season. He needs one more home run to reach 25 for a 10th consecutive year.
BAD

Tampa Bay's pitching got roughed up in a 16-10 loss to the Red Sox. Starter Andy Sonnanstine -- who had won three straight, allowing only four earned runs in 19 innings -- gave up five runs in 3 1/3 innings. Relievers Scott Dohmann, Jon Switzer, Grant Balfour and Juan Salas combined to give up 11 runs and 12 hits in 3 2/3 innings.
UGLY

Esteban Loaiza lasted only 3 1/3 innings in the Dodgers' 9-4 loss to the Padres. Pitching on seven days' rest, Loaiza gave up six runs on six hits (three home runs) and four walks as his ERA with the Blue Crew rose to 7.86. He was booed by the hometown crowd when pitching coach Rick Honeycutt left him in after visiting the mound during the third inning.
BEST IN SHOW?
Steve Phillips breaks down the NL MVP race.
QUOTE OF THE NIGHT
"We mugged the two balls."
-- Cardinals manager Tony La Russa on Rick Ankiel's outfield misadventures in a 7-2 loss to the Reds
FORWARD THINKING: WEDNESDAY

• Indians at White Sox, 2:05 p.m. ET: Cleveland goes for the sweep with Jake Westbrook (5-8, 4.30) on the mound. He is 1-2 with a 5.63 ERA in four starts against Chicago this season. Javier Vazquez (11-8, 3.98) has struggled recently, going 0-2 with a 7.00 ERA in his last three outings.

• Braves at Mets, 7:10 p.m. ET (ESPN): Save a miracle finish, Atlanta will miss the playoffs for a second straight season. But don't blame John Smoltz (13-7, 3.02) for the team's misfortunes. Smoltz has not allowed more than three earned runs in any of his last seven starts. New York needs John Maine (14-9, 3.80) to get right before October. He is 4-5 with a 5.86 ERA since the break.

• A's at Mariners, 10:05 p.m. ET: Seattle isn't conceding anything, but the clock is ticking on its wild-card chances. Miguel Batista (13-11, 4.73) hasn't won since Aug. 17. He is 0-3 with an 8.75 ERA in his last four starts. Dan Haren (14-7, 3.03) hopes the fourth time is the charm for his career-best 15th win. He is 0-3 with a 7.02 ERA in his last three outings. • Wednesday's complete list of probable starters
---