Wednesday, September 19, 2007
Updated: September 20, 10:46 AM ET
Diamond Daily

---
BASEBALL TONIGHT EXTRA
A step toward pennant fever
With the four playoff teams in the American League all but decided, those likely to be playing into October can spend the next week getting ready for the postseason. The Red Sox and Yankees appear to be headed in opposite directions, and this is the time of year when Boston fans get really nervous. There is good reason for the tension; the Red Sox lost two of three to the pinstripes over the weekend and then lost three straight to the Blue Jays. Meanwhile, the Yanks are totally rolling, having won 12 of their past 14 games to move within 1½ games of Boston (and one game in the loss column). Remember, on May 29, the Yankees were tied for last place in the AL East and trailed the first-place Red Sox by 14½ games. Meanwhile, Cleveland has been the surprise team for much of the season. The Indians showed that their position in the standings was justified by wiping out the Tigers the past three days. Cleveland will be fully rested and ready to go in a week. The same can be said of the Angels. Finishing with the league's best record may be most significant for L.A., given the Halos' total dominance at their home park.
AMERICAN LEAGUE
CLEVELAND INDIANS
Who's hot: Casey Blake has two walk-off home runs and seven RBIs in his last seven games. He's spaced out the hits, too, driving in a run in six of the seven games. His play and the performance of the Indians' bullpen (no runs allowed in a sweep of the Tigers) have been a driving force in putting the AL Central away.
Who's not: Grady Sizemore is 2-for-18 in his last five games. Though he's got 23 home runs and 33 stolen bases this season, Sizemore has not been as electrifying as expected after all those preseason prognosticators claimed he was MVP-worthy.
Outlook: With the AL Central secure, the Indians' biggest decision is trying to figure out whether Jake Westbrook or Paul Byrd will be their third starter come playoff time. Getting homefield advantage thoughout the AL playoffs would be nice, but it is not imperative since the Indians are a legit 41-34 on the road this season.
LOS ANGELES ANGELS
Who's hot: If the AL MVP was just based on post-All-Star performance, Garret Anderson would be a leading contender. He has 62 RBIs in his last 62 games and is coming off a seven-game stretch in which he had four games with three hits.
Who's not: Scot Shields has allowed only two runs in his last 6 1/3 innings, but that doesn't hide a miserable last two months. Even with his recent positive outings, Shields has an 8.14 ERA since the break. The Angels could use assurances that he's straightened out before October.
Outlook: Two wins against the Mariners will wrap up the AL West, and then the Angels can rest for a week. They have a little more to play for in terms of homefield edge. The Halos have the majors' best home record at 52-25.
BOSTON RED SOX
Who's hot: You're only as good as your next starting pitcher, and for Boston, that's Josh Beckett, who will try on Friday to become the second native Texan to win 20 games for the Red Sox. The other wasn't Roger Clemens (he was born in Ohio), but Tex Hughson, who won 20 twice, most recently in 1946. Beckett has won his last three starts and has a 2.45 ERA over that stretch.
Who's not: David Ortiz is 1-for-14 with seven strikeouts in his last four games, including a popout to end Sunday night's loss to the Yankees.
Outlook: There are some questions left to be answered -- including what to do with Clay Buchholz and the postseason roster, and how to fix relievers Eric Gagne (9.00 ERA in September) and Hideki Okajima (11.57 ERA in September). The Red Sox don't seem particularly concerned with winning the AL East, so long as they make the playoffs, and they can clinch a spot this weekend in Tampa Bay.
NEW YORK YANKEES
Who's hot: Name a hitter. Everyone is hot, most notably Hideki Matsui, who has five RBIs in the last three games. The Yankees' bats are going just fine, even though they only scored twice on Wednesday. In 17 September games, they've tallied 103 runs, or better than six per contest.
Who's not: Actually, the one exception to the hot bats is an unlikely one: Alex Rodriguez. A-Rod is just 1-for-18 in his last five games. It's impressive the Yankees have won without his production in those contests.
Outlook: The big question for the Yankees: Which Mike Mussina are they going to get in October? The one who's been inconsistent all season, or the one who hasn't allowed a run in two starts since returning to the rotation. Mussina will get another outing in the next week, and then the Yankees will have to make a decision regarding his usefulness.
DELIVERING UNDER PRESSURE
To talk about pennant races and playoff baseball, it's essential to talk about starting pitchers and the bullpen. Teams don't expect to be carried to victory by offense or good managerial decisions. A majority of postseason games are won because of good pitching. As a starting pitcher, when you know you're going into a big outing -- what feels like a must-win -- the first thing to do is make sure you have your rhythm. Excitement, adrenaline and nerves are all things that can attack a pitcher's rhythm and fool him into thinking he is ready to go. As a starter, it's not about making one big pitch. It's about going out, getting off to a good start and maintaining it throughout the game. I worked really hard on building my rhythm on the day I started. Nervous energy was always a good energy. It wasn't something I was trying to get away from, but I didn't want too much of it for too long. I liked the fact I got nervous before a big game. It drove me to be really focused and not get distracted -- because the moment was so big. Another thing to watch with big games: Don't put your game face on too early. You don't want to get to the ballpark and be tired and fatigued. Once the game starts, there are different ways to win big games. You can win it with your strength and ability, or you can win it with finesse and having a feel for the situation. Against Cincinnati on Tuesday, the Cubs'
Carlos Zambrano
was the exact opposite of that in the first few innings. He let the adrenaline and pitching on three days' rest get to him instead of just being himself. I really believe people don't rise to the occasion -- but they shrink because of it. The pitcher who does his regular routine looks like he rose to the occasion. Everyone is on the same level, and most people drop off because of the pressure. When I felt I was performing at my highest level (playoffs, World Series, scoreless innings streak), I didn't feel any different other than the surroundings had changed. What I did was the same thing I always did, and I was able to maintain it. I performed at my normal level in a larger arena. I knew if I did that, the results would take care of themselves.
NEWS AND NOTES
• Brewers RHP
Ben Sheets
, who lasted only one inning against the Astros on Tuesday because of tightness in his left hamstring, returned to Milwaukee to have an MRI. Whether he makes his next scheduled start, Sunday against the Braves, is questionable. • The Dodgers, Padres and Mariners are being considered by MLB for possible exhibition games in China during spring training. The games would be played during the second week of March.
BACK TO LIFE
Mets beat Nationals to snap five-game skid.
IN THE ZONE

C.C. Sabathia strengthed his Cy Young case by collecting win No. 18, a new career high and 99th in seven seasons, and the Indians swept the Tigers to reduce their magic number to three for clinching their first division title since 2001. Sabathia leads the majors in innings and is ranked at the top -- or near it -- in virtually every category among AL pitchers.
BLAST BALL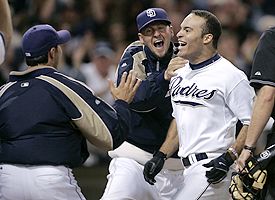 AP Photo/Lenny Ignelzi
Scott Hairston hit a three-run walk-off to beat the Pirates, and the Padres increased their NL wild-card lead over the Phillies to 2½ games.
NOTEWORTHY PERFORMANCES
GOOD

Alfonso Soriano contributed on offense and defense in the Cubs' 3-2 win over the Reds. Soriano hit a leadoff homer in the first inning and threw out the speedy Norris Hopper at the plate in the eighth to keep the score tied at two. It was the 16th assist of the season for the former second baseman.
BAD

Dan Meyer will have to wait for his first win in The Show. The A's rookie allowed five runs on six hits in 4 2/3 innings as Oakland got swept by Seattle. He fell to 0-2 this season, and his ERA rose to 8.62 over 15 2/3 innings.
UGLY

Who says lightning struck can't strike twice? Dodgers reliever Jonathan Broxton gave up a two-run home run for the second straight day, and L.A. lost its third straight to Colorado. Broxton has allowed five home runs in September and is 0-2 with a 9.00 ERA and three blown saves this month.
GOOD TIMES
Astros knock Brewers out of first place.
NOW HEAR THIS
The Yankees are getting good pitching, and their hitting has come alive. Joe Morgan believes they could be the favorites in a short series. Listen

QUOTE OF THE NIGHT
"Do I think it should happen? Yes, I do. He's worthy. He's done some remarkable things."
-- Rockie manager Clint Hurdle, stumping for Matt Holliday to win the NL MVP award. Holliday has 35 home runs and leads the NL in batting average (.341), RBIs (128), extra-base hits (88), total bases (367), hits (204) and doubles (48).
FORWARD THINKING: THURSDAY

• White Sox at Royals, 2:10 ET: Nobody wants to finish last. That is the motivation for Jon Garland (9-12, 4.47) and Zack Greinke (6-6, 3.88) in this matchup of AL Central bottom-feeders. Garland has a 1.23 ERA in his last three starts but just one win to show for it. Greinke is 1-1 with a 2.57 ERA in September.

• Dodgers at Rockies, 3:05 p.m. ET: L.A. is running out of time. Derek Lowe (12-12, 3.71) aims to prevent the Dodgers from getting swept. He is 0-1 with a 7.71 ERA against Colorado this season. Ubaldo Jimenez (3-4, 4.13) is 0-2 with a 4.37 ERA in his last four starts and winless since Aug. 25.

• Mets at Marlins, 7:05 p.m. ET: New York is counting on Tom Glavine (13-6, 3.88) to deliver. The veteran left-hander has been money since the break, going 6-0 with a 3.15 ERA in 12 starts. Dontrelle Willis (9-15, 5.34) looks to finish his disappointing year on a positive note. The lefty will try to reach double-digit wins for the fifth straight season.

• Brewers at Braves, 7:35 p.m. ET: The dream is still alive for Milwaukee. Jeff Suppan(10-11, 4.73) has been doing his part to help the Brewers win their first division title in 25 years. Suppan is 2-0 with 3.86 ERA in his last four starts. Lance Cormier (2-6, 7.09) has lost two straight starts, allowing nine runs (eight earned) in eight innings. • Thursday's complete list of probable starters
---