Tuesday, September 25, 2007
Updated: September 27, 5:15 AM ET
Diamond Daily

---
BASEBALL TONIGHT EXTRA
Expect the unexpected in NL
In one of the most bizarre nights of the season, every last-place team except the Giants won Tuesday. They were an out away from making it a bottom-feeders clean sweep, but
Brian Giles
shook some life into the Padres with a home run of extraordinary significance. What have you done for me lately seems to be an appropriate theme as we head into the final few days. Giles had done nothing and was in the midst of a miserable slump before his heroics. Meanwhile, there certainly must be some folks in New York and Philadelphia getting concerned, considering the way the Mets and Phillies are playing. Right on cue, as some teams fall down, others pick up the slack in a big way. In this case, those two teams are the Rockies and Braves. Either club would be a great comeback story in a season of great comeback stories. The way things are going, there's been some chatter about potential six-way tie scenarios for the NL's wild-card spot. We'll address those issues as they become a little more likely. But when it comes to this wild-card race, the fluctuations are great, and the picture is ever-changing. That's why Tim Kurkjian likes to say baseball is the best sport. You just never know what will happen next.
NATIONAL LEAGUE
SAN DIEGO PADRES
Who's hot: Brian Giles is 1-for-his-last-1, and that one is the most important thing. His ninth-inning home run gave the Padres a huge victory over the Giants. Giles was 7-for-his-last-67 prior to the homer, a swing that changed the entire perspective of the evening.
Who's not: Adrian Gonzalez. The Padres need Gonzalez to produce -- especially without Milton Bradley and Mike Cameron in the lineup -- but he has three oh-fers and no RBIs in his last four games. Pitching-wise, Chris Young has one more start left. He's 0-5 with a 6.08 ERA in his last 10 starts.
Outlook: It looks a heck of a lot brighter than it did entering the day. But the Padres don't have anything easy the rest of the way. They have to win in Barry Bonds' last home game for the Giants and then face the Brewers, who remain very much alive in the NL Central, in the final four games.
PHILADELPHIA PHILLIES
Who's hot: Ryan Howard has five home runs in his last eight games and is still swinging for the fences, even though his next strikeout will break the major league strikeout record.
Who's not: Pat Burrell has gone 11 games without a multi-hit game and is just 6-for-37 with five RBIs during that span.
Outlook: Philly fans are starting to go into panic mode after two straight losses. The Phillies get Tim Hudson and John Smoltz the next two nights. They're 4-4 all-time against Hudson and 12-13 against Smoltz, and then play the upset-hungry Nationals in the final three games. The problem for the Phils now? The Rockies have caught them, and the Braves are right on their tail.
COLORADO ROCKIES
Who's hot: Todd Helton has a nine-game hitting streak. It's no coincidence the Rockies have won nine straight and are the hottest team in the majors. During that span, Helton is hitting .410 with two home runs and 11 RBIs.
Who's not: Kaz Matsui is 2-for-18 in his last four games, but that's acceptable given the way Colorado has played recently. Others have picked him up.
Outlook: How much longer can the Rockies stay hot? This is a team that rarely wins on the road, but it has won four straight away games against the Padres and Dodgers. The numbers (37-42) say this can't last. But the good thing for the Rockies is they close with a home series against the Diamondbacks, and first place in the NL West might be in play.
ATLANTA BRAVES
Who's hot: Go figure that Andruw Jones has woken up in the final week of the season. He's 5-for-10 in his last two games. Meanwhile, Mark Teixeira's home run against the Phillies added three RBIs to the ledger. He has 20 RBIs in his last 16 games, and his first-inning hit also made him 26-for-51 with runners in scoring position as a member of the Braves.
Who's not: Well, this comes after a day in which everyone in the Braves' lineup had a hit, so the strugglers are hard to find. Brian McCann might be a bit fatigued. He's 2-for-12 in his last four games.
Outlook: Pretty good. Tim Hudson (16-9) and John Smoltz (14-7) start the next two days, and the Braves have three games with the Astros to close the season. Houston has little to play for, other than trying to send Craig Biggio into retirement on a positive note.
NEWS AND NOTES

•
Prince Fielder
became the youngest major league player ever to hit 50 home runs in a season, connecting twice in the Brewers' 9-1 win over the Cardinals. Fielder, 23, joined his father Cecil as the only father-son tandem to hit 50 home runs in a season. The elder Fielder hit 51 with the Tigers in 1990. • Yankees RHP
Roger Clemens
was scratched from his start at Tampa Bay because of a lingering left hamstring injury. Clemens will not pitch in the three-game series with the Devil Rays, but he could throw in a simulated game. Clemens is "confident" he will be ready for the opening round of the postseason if the Yanks qualify. • Phillies GM Pat Gillick doesn't plan to remain with the team after his three-year contract expires following next season. "This is it for me," Gillick told the Philadelphia Daily News. "I'll fulfill my contract. It's time to think about doing some other things in life." The longtime baseball man will be 71 by the time his contract is up. •
Orlando Hernandez
threw a pain-free bullpen session Tuesday that left him very encouraged about his injured right foot. One day after the boot protecting his sore foot was removed, El Duque worked off a mound at Shea Stadium and estimated he threw 50-60 pitches. The Mets' right-hander said he used all his pitches and felt no pain at all. • Neil Huntington was hired as the 12th general manager in the Pirates' history and their sixth since they last won the World Series in 1979. Huntington, a former Indians assistant general manager, was moved into a mostly scouting role two years ago. • Orioles reliever
Danys Baez
will undergo elbow ligament replacement surgery and will probably miss the 2008 season. Baez last pitched on Sept. 12. The injury was initially diagnosed as a strained right elbow, but an examination Sept. 21 by Dr. James Andrews in Birmingham, Ala., revealed further damage. • China will enter a team in Arizona Fall League, and it will be coached by former major leaguers Jim Lefebvre and Bruce Hurst.
Barry Larkin
, Tom Lawless and Duffy Dyer will assist in the instruction of the Chinese team, the first to participate in the Fall League. The United States also has a team in the Fall League, which starts Oct. 9 and includes players from big league teams who are not on 40-man rosters.
GIANT LEGEND
Barry had some great times in San Francisco.
IN THE ZONE

Magglio Ordonez hit his 28th home run and 52nd double in the Tigers' 8-0 win over the Twins. Ordonez's double marked the Tigers' 2,550th total base, surpassing the previous franchise record set by the 1987 team that went to the ALCS. He also leads the majors with a .359 batting average, giving him a shot at being the first Tigers player to win a batting title since Norm Cash in 1961.
WAIT 'TIL NEXT YEAR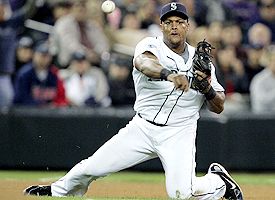 AP Photo/Rusty Kennedy
There is no joy in Seattle. After losing to the Tribe, the M's are on the verge of elimination.
NOTEWORTHY PERFORMANCES
GOOD

After being sidelined for 24 games with a strained left oblique, Manny Ramirez returned to the Red Sox's lineup in a 7-3 win over the A's. Ramirez singled and scored Boston's first run in the first and walked to start a two-run fifth. He finished 1-for-2 as the Sox lowered their magic number to three to win the AL East for the first time in 12 years.
BAD

Brian Burres had a rough start against the Blue Jays. After pitching seven shutout innings in his last outing against Toronto on Sept. 14, the left-hander allowed seven runs on eight hits in 3 1/3 innings.
UGLY

Mets starter Tom Glavine got hit hard by the Nationals in a 10-9 loss. The veteran lefty allowed six runs on nine hits (three home runs) over five innings as New York dropped its fifth straight home game.
SPEED KILLS
Who are some underrated table setters?
NOW HEAR THIS
Steve Phillips thinks injuries could sink the Padres' season. They'll have to score runs, and the offense is now depleted. Listen


QUOTE OF THE NIGHT
"There will be a market for him. He'd be a pretty nice DH to have in the middle of your lineup, and it would allow him to play a few more years. I think someone will give him that opportunity."
-- Padres GM Kevin Towers on the possibility of Barry Bonds playing in the AL next season
FORWARD THINKING: WEDNESDAY

• Braves at Phillies, 7:05 p.m. ET: Atlanta has fought its way back into playoff contention. Tim Hudson (16-9, 3.34) will try to keep the Braves' hopes alive. Hudson has pitched well on the road, going 8-3 with a 3.09 ERA in 16 starts. Kyle Lohse (8-12, 4.71) is 1-0 with a 6.10 ERA in September.

• Diamondbacks at Pirates, 7:05 p.m. ET: Pittsburgh looks to play spoiler while winding down its 15th straight losing season. Matt Morris (9-11, 5.02) has posted a 2.86 ERA (7 ER, 22 IP) against Arizona this year, but he's 0-2 in three starts. Livan Hernandez (11-10, 4.85) is 6-5 with a 5.27 ERA in the second half.

• Indians at Mariners, 10:35 p.m. ET: With the AL Central title locked up, Cleveland is focused on securing baseball's best record. Fausto Carmona (18-8, 3.03) goes for his fifth straight win. He has allowed only four earned runs over his last 28 1/3 innnigs. Jarrod Washburn (10-15, 4.36) is 1-2 with a 4.76 ERA in his last three starts. • Wednesday's complete list of probable starters
---