Wednesday, October 3, 2007
Updated: October 9, 11:02 AM ET
This season's talk of the town is not in New York

---
By John Buccigross
ESPN.com

Editor's Note: Bucci continues his Eastern Conference countdown. Check out his East Nos. 15-11 picks here and Nos. 10-6 here. For his West outlook, click here.
What Max Weinberg is to Bruce Springsteen, Martin Brodeur is to the Devils.

5. New Jersey Devils Voice says "Don't worry, I'm here
Just whisper the word tomorrow in my ear"
House on a quiet street, a home for the brave
A glorious kingdom with the sun on your face
-- "Devil's Arcade" by Bruce Springsteen Bruce Springsteen and the E Street Band's latest CD came out Tuesday. I've had a bootleg of it for a few weeks thanks to a fellow ESPN employee who shall remain nameless. In the words of Dr. Evil, the new Boss CD is "pretty standard stuff, really." Bruce sings about bars, porches, girls in their summer clothes, a girl named Teresa, a diner, a Johnny, a Mary; there's lots of harmonica, Clarence Clemons' sax, Max Weinberg's drums and all the other E Street fixins'. "Born to Run" 101 stuff mixed with "The Rising" 101 stuff. And I'm OK with that. Sunrises and sunsets have pretty much the same assortment of shades and hues, yet they still take your breath away. I think some musicians get a raw deal when someone says they stick to a formula. Well, what's wrong with a formula of success? Do what you're good at. Time will change everything anyway; even if it's subtle, it is still a change. Technology changes, voices change, souls change. Weinberg is a New Jersey Devils season-ticket holder. I interviewed him in this space a few years ago. I presented the interview using a Springsteen song and lyric, and then a Weinberg comment from one of my questions. Here's a snippet: "Family Song"
Bucci/Lyric: Well you know when you're young there's such a distance between you and your family, you just can't see things from the same point of view. Max: It's the only thing our family does altogether. We all have our individual interests, but it's the one thing we do as a family. We go to all the Devil games and we go to other cities to see the Devils play. As you can see I'm a New Jersey Devil fan. We just love the sport. "Winter Song"
Bucci/Lyric: While summer lies meek and follows orders, winter cries "Me!" and pulls you through the door. Max: "It's the coolest game on earth. It's got excitement, speed, discipline and technique. Getting to know the players, I can see the dedication they make to the game. It's so fast and so quick, and you have to be so sharp. Hockey combines nearly every athletic skill." "Hungry Heart"
Bucci/Lyric: Don't make no difference what nobody says, ain't nobody likes to be alone. Max: "We started going to as many games as we could in early 2000, given that I was on tour that year. I can remember flying into Newark Airport after a concert and rushing right to the Meadowlands to see playoff games." "All Night Long"
Bucci/Lyric: I want to scream in somebody's face, make it seem get out of this muddy race, all night long. Max: "We were at that triple-overtime game against Dallas. The game that Mike Modano won the game for the Stars. We stayed for the entire game. The whole family. We went to every game as family." The New Jersey Devils, coincidently, also have a formula to their success, like Springsteen and Co. It is tried and true, resulting in three Stanley Cups. There have been slight changes along the way, but the song remains the same. The Devils made sure the common thread would stay consistent by hiring Brent Sutter to be their latest coach. As Sutter said of Lou Lamoriello, "In some ways, we both come from the same school. I am not saying there won't be times where people disagree, but I have learned through it all, you don't want to agree all the time. You need discussion, whether good or bad. The important thing is to make decisions that are right for the front of that jersey, that's what matters." Once again, the Devils will be a responsible, hardworking team. That's a given. Sutter's plan is to play Martin Brodeur about 60 games after the goalie posted an implausible 78 starts last season. Brodeur, 35, hasn't played fewer than 70 games in nine seasons.

Keeping Brodeur, who is six wins from No. 500, fresh for the playoffs is a major key if the Devils want any chance at another championship. Even with a fresh Brodeur, this does not look like a championship roster. The defense lacks any kind of real dynamic presence, especially now that Brian Rafalski has taken his 57 points to Detroit. The Devils scored only 216 goals in 2006-07 and still had 107 points. One reason is they played Brodeur 78 times. The mental strain of low-scoring games must be brutal on Brodeur, and on the team, over the long haul. This team won't score many more goals, so the defense will have to have its A-game. The better the power play, the better a low-scoring team like New Jersey will be. With a new arena and the same old work ethic, expect the Devils to qualify for the Stanley Cup tournament. How they get there may tell us how long they stay.
Chris Drury will reportedly start the season on the top line with Jaromir Jagr.

4. New York Rangers Well I can stand beside ideals I think are right
and I can stand beside
the idea to stand and fight
I do believe there's a dream for everyone
-- "Our Country" by John Mellencamp
As things stand right now, the New York Rangers have the best chance to win the Stanley Cup in June. The smart signings of Chris Drury and Scott Gomez bring two players in their prime to the roster. These are not your father's Rangers free-agent signings. The Rangers have goaltending, speed, smarts, playmakers, finishers, experience, toughness and youth. They also have some young chips to trade come deadline time. They are clearly the team most likely to win the Stanley Cup. Still, the best team doesn't always win the Stanley Cup, and that's why we will now proceed with the regular season.

This column has been trumpeting Drury's cause since its inception. Yes, we were Drury before Drury was cool. Now, Drury is everywhere. Sports Illustrated, ESPN The Magazine, CBC, NBC, CCR, CCM, IBM and so on. Now that the Hockey God is in New York, it will only get worse. I feel as if we have lost him as our own. So, since this column likes to go against the grain, you'll probably read less about Drury since so many other outlets will take care of that. We don't want to overexpose the man. But we do want to give the player the homage we feel is worthy. So this should last for the season. These are the four hockey values we've talked about in the past and how they apply to Drury. Listen up, younger players out there!

1. Heart
Hockey is a blood sport and the heart is the essential blood organ. A life can be a life only if you have something to be enthusiastic about, something to give. That is living from the heart. The act of skating -- with a stick, puck and net -- is pure enthusiasm. All heart. It's the great mystery of the game and its greatest value, a divine feeling of freedom, movement and action. When you think back on those moments on the frozen outdoor ice, alone, can you ever imagine feeling more alive? Watching Drury skate is heart in action. 2. Courage
This value is needed to turn heart into a commodity. Everyone who loves skating has heart, but everyone who skates is not a hockey player. Courage carries the heart and the dreams around the rink. There are nine other skaters, two gigantic goalies, boards and glass to contend with. Courage enables the player to play as if he or she is skating on a smooth, frozen ocean with no limitations or obstacles. Courage is a necessity to play with freedom in narrow, cluttered spaces, ignoring those obstacles and charging on. A life can be a life only if you have the courage to go for your dreams. Watching Drury battle in the corners or block a 95 mph slap shot is courage in action. 3. Mental toughness
No sport combines aerobic and anaerobic strength like ice hockey. Hockey's high-level players, from all their summer workouts and training, are walking models for Bowflex commercials. Ripped and muscular. They also have the mental toughness to grind out shift after shift, day after day, with 100 percent effort. To relent is to die. Every stride, every shift, every day has purpose. Hockey is not meaningless, for it is part of a life, and every bit of life should be purposeful. A life is a life only if you have the mental toughness to make every breath purposeful. Watching Drury take a shift down 5-1 in the third period is mental toughness in action. 4. Artistic expression
To be a great artist, you must be a great thinker. You must expand and train the mind to see things, to understand how things work, to not be fearful of what others might think. Thinking life is observational learning, experimentation and recall -- watching how things work, trying new things and applying them in action. Thinking the game. We all can't be great, but we all can be dependable. We can think the game, we can learn the flow, sense the opportunities and learn when to strike. A life is a life only if you serve others by thinking the game. Watching Drury take a faceoff, shoot a one-timer or make a no-look centering pass is a player thinking the game. Think the game, think life and get better -- at everything.

3. Florida Panthers All those crazy nights when I cried myself to sleep
Now melodrama never makes me weep anymore
'Cause I haven't got time for the pain
I haven't got room for the pain
I haven't the need for the pain
Not since I've known you
-- "Haven't Got Time for the Pain" by Carly Simon OK, those Carly Simon lyrics from one of the best songs of the 20th century may be a bit too strong to describe Tomas Vokoun, especially considering Roberto Luongo could never get the Panthers into the postseason. But this Panthers team has a good young group in Jay Bouwmeester, Nathan Horton and Stephen Weiss. They also have an in-his-prime star in Olli Jokinen, who had 39 goals and 51 assists last season. The Panthers finished just six points out of a playoff spot despite, basically, no goaltending. If they can just improve their offense a little (247 goals in 2006-07), get in that 250-plus area and reduce their goals against from 257 to 230-235, they will be in the playoff mix. The Panthers signed three veteran forwards this past summer -- Radek Dvorak, Brett McLean and Richard Zednik. The Panthers also signed 29-year-old Cory Murphy, a la the Devils signing Brian Rafalski back in the day, to a two-year deal. Following a collegiate career at Colgate, Murphy played in Finland except for one year in Switzerland. Murphy is a power-play specialist who was named the MVP of the Finnish League last season (50 points in 45 games). Rafalski was signed by the Devils in 1999 after playing three years in Finland. Rafalski was 26 in his first NHL season in 1999-00.

So, with talented forwards, a sturdy defense, a pretty good power player, proven goaltending (when healthy) and a good coaching staff, the Panthers have a great shot at making the postseason for the first time since 2000. They will need their young corps to stay healthy and keep improving. The Southeast is wide open. Again, I could see any of the five teams winning the division. They all have flaws. Carolina might have the best chance, but I have a good vibe with the Panthers and I am going with them as a division winner. That's why they're No. 3.

I also want to take this time to announce that I had a peanut butter, jelly and bacon sandwich Tuesday. I had not even fathomed the construction of such a sandwich, much less eating one. Well, I ate the sandwich and would have eaten 37 more had they been available at the golf course food cart at Fishers Island Golf Club. So, if you are having a difficult time fathoming the Florida Panthers making the playoffs, fathom a peanut butter, jelly and bacon sandwich. And then respect Olli Jokinen, yo. Or is it, jo?
Dany Heatley can become an unrestricted free agent next summer.

2. Ottawa Senators Daniel is traveling tonight on a plane
I can see the red tail lights heading for Spain
Oh and I can see Daniel waving goodbye
God it looks like Daniel, must be the clouds in my eyes
-- "Daniel" by Elton John Let's look at Dany Heatley: 1. He turns 27 in January.
2. He has scored at least 50 goals each of the past two seasons.
3. He hasn't missed a game the past two seasons. He has 10 goals and 34 points in 30 career playoff games. Ottawa was able to avoid a potential season-long distraction Wednesday as it agreed to a new deal with Dany Heatley. TSN of Canada reported that both sides agreed to a six-year contract extension that will average $7.5 million annually. That's a long time. If a player is going to sign a deal for that long, he probably wants to be in a place where he really wants to be. I understand there are times when you just take the money and years, and deal with it later; but Heatley has already ready made millions and will make countless more. He is likely at that time in his life when location is an important issue in the contract. And let's face it -- the Senators are a good team and it's fun to be on a good team with a great playmaker like Jason Spezza. Playing with Spezza for the next seven years will probably get Heatley to 500 career goals and a great shot at the Hockey Hall of Fame. That matters. What also matters is the future of the Senators. With Heatley signing a new contract, you avoid a trade-deadline dilemma down the road. (Should you trade him? You've made a healthy offer. Do you risk letting him walk for nothing? But what if you are in first place and it appears the chances of a Stanley Cup are, at least, very good. Do you risk that?) Many teams would have traded a lot for Heatley, even if he was just a rental. Now, with the extension, it all becomes a moot point.
Bucci believes Sidney Crosby will lead the Penguins to Eastern Conference glory.

1. Pittsburgh Penguins Go out and tell the society
The talk of the town is on its way
This is not bad only serious
Do understand, don't turn your back on me
-- "Sometimes in the Fall" by Phoenix Phoenix is a French band that sings in English. Some of you are aware of this. Don't be ashamed if you are not. I wasn't until this past Thursday. A friend here at ESPN made a compilation of various bands, three or four songs to a band, and the leader in the clubhouse so far, just ahead of Sufjan Stevens and Pinback, is the French quartet Phoenix. I recommend their 2006 CD "It's Never Been Like That," based on the three songs I heard. I will purchase the entire CD soon.

The Rangers, Sabres and Flyers were the "talk of the town" in the Eastern Conference over the summer because of what the Rangers and Flyers gained and the Sabres lost. Meanwhile, the Penguins, a team with players who likely have Phoenix on their iPods, stayed on course and refused to overpay for an over-30 player. The Pens added experience and Stanley Cup rings in Petr Sykora and Darryl Sydor ($2.5 million annually for both players). They gave Mark Recchi and Gary Roberts, probably playing their final NHL seasons, one-year deals totaling $4.5 million. The one-year deals give Pittsburgh financial room ($4.5 million) for next summer if they want to give Sidney Crosby a raise or Marc-Andre Fleury a long-term deal. Fleury is in the final year of a two-year deal. Also, the likelihood of Sydor and Sykora being on the team after next season is remote, providing a potential $5 million more to help keep Evgeni Malkin. This is good, smart managing by GM Ray Shero, the kind of managing that will soon lead to a Stanley Cup. This season's burning question is not whether they will make the playoffs (of course they will). The question is whether Pittsburgh will have the best record in the Eastern Conference and/or the NHL. The big challenge in clinching the Presidents' Trophy is inexperience in net and lack of depth on the blue line. How well rookie defenseman Kris Letang plays will go a long way toward determining their depth. Letang was captain of Canada's 2007 gold-medal winning World Junior team. He has jam, can produce and will be another dynamic piece of these Penguins. It may also be advantageous if the black and gold had a little more snarl on the back end. The Penguins are loaded up front. They have the best player in the NHL (45-91-136 this season for No. 87). They have plenty of speed, size, jam, experience and depth. They will make the jump to be among the NHL's top five teams. Whether the Penguins lead that pack or are at the tail end will be determined by the maturation of Fleury's game and the health and progress of the blue line. Everything else is set up for another 100-point season and at least one playoff series win. A deadline deal for more blue-line help could be the epoxy that keeps everything connected in Western Pennsylvania. The talk of the town is on its way. Mo' Mailbag
Bucci, Baseball writers tend to wax poetic (at length, often to excess) about the signs of spring -- the signs that yet another season is about to start. But the first signs of fall? An indication that another hockey season is upon us? Here's one: Two brothers and an empty sheet of NHL ice.

Drop the puck,
Mark Provenzano
Gilroy, Calif.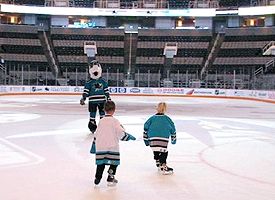 John Buccigross is an anchorman for "SportsCenter" and ESPNEWS. For questions, comments or cross-checks, e-mail him at john.buccigross@espn.com. To check out his new book, "Jonesy: Put Your Head Down And Skate", click here.
---