Monday, January 14, 2008
Updated: January 15, 12:33 PM ET
I want my, I want my, I want my hockey on TV

---
By John Buccigross
ESPN.com

This column has always been fancentric. When I go to NHL games, I sit in the stands and not the press box. When I'm working in the ESPN newsroom, my TV is usually one of the few with hockey on it. When I am home, I switch the dial and check out all the games on the NHL Center Ice package. Every week, I pour through almost 1,000 e-mails from you to see what's on your mind. Digesting the NHL through the media is often on your mind. So, I figured I would call John Shannon and express some of those concerns, and some of mine, as well.
John Shannon says the NHL is looking for more ways to broadcast the sport in high definition.
Shannon is the NHL's television repair man. His official title is senior vice president of broadcasting. His job, among other things, is to deal with all of the NHL's broadcast partners and maximize how the product is presented by local and national outlets. Many of you will probably ask why I didn't ask Shannon any questions about Versus or ESPN. (Versus does a good job covering hockey. Exposure is still a bit of an issue. We know this.) Or the question of whether ESPN and the NHL will be partners again. This is something that we'll find out, either way, in the future. We all know how the world works. Question from Bucci: Some people here in the United States, like myself on DirecTV, recently began receiving the NHL Network. Tell me about it. Answer from John Shannon: The NHL is the primary investor in the network. The network launched in Canada in October of 2001 and is operated by TSN in Toronto. It launched in the U.S. last October and is in about 13 million homes. It's in about a million homes on the digital tier in Canada. From a ratings point of view, we are not where we really want to be right now, but it's an evolving business and we'll just have to go with the numbers we got so far. [Bucci note: For us NHL Network viewers, if we see one of those "Is this the year?" promos one more time, we will stick our hands into a running garbage disposal.] Q: Besides getting DirecTV, how can people get the NHL Network in the States? A: We are with the big seven cable and two satellite companies in the United States; and if you don't have it in your area, the only way people are going to know that is if you call your cable company or satellite provider and say I want the NHL Network. The interesting thing with satellite is that we are on both major satellite systems. The distributors are the front line with the consumers. We are only as good as the partnerships we create with distributors, and if distributors want to help us, then great. Q: The launch of the NHL Network reminds me of when ESPN and The Golf Channel were first launched. I didn't get either at first and both networks had a mythical status about them. I wanted them so badly. Hockey fans feel the same way, especially as much I have written about it here. As a programmer that must make you feel good. A: You know darn well that the hard-core hockey fan is aware of what goes on north of the border, whether it be "Hockey Night in Canada," TSN or NHL Network. Our first job in all of this is to take care of the 25 million people that we believe are hard-core fans and try to get the network to them and let them know there is a network for them. And we have another number of 28 million avid fans that are the second tier. All of a sudden, we are filling a void that we believe has been there with most programmers. Q: What's the plan, if any, to make the NHL Network stand alone or have more of a U.S. presence or "feel"? A: We needed to make the network fiscally responsible and didn't feel we had to make an extra set of programming issues. I think our goal in the long term is to have "Made in the USA" content. As much as this is a public service, it is not a charity. Our obligation is to the league and the owners to try to generate revenue, as well. Q: What is some of your vision for the NHL Network? A: Getting "On the Fly" [the NHL Network's version of "NHL 2Night"] in high definition, which I think would be a huge asset to us. I think we have to create a better partnership for the hockey fan in the U.S. with USA Hockey and try to find ways [for] the game of hockey to help grow our subscriber base and interest in the game.

Q: How happy are you in the way NHL games are being broadcasted by the 30 local networks? A: I think we are better than we were two years ago. I think camera position and awareness of camera positions is an important thing. I think we are making inroads there and helping them with their commentators to make them more complete broadcasters. Q: Nothing infuriates more than having someone being interviewed somewhere in the arena while action is going on. Whether it's a hard hit, a great save, or a goal, I want to hear the play-by-play announcer punctuate the moment. You would never hear someone interview an NFL GM on third-and-8 while Tom Brady is going back to pass. It's the old adage -- when you try to watch two games, you end up watching neither. A: An old friend of mine in Toronto says that's why we have vanilla and chocolate. Not everyone does that. Some are more respectful of it than others. Done properly and on an occasional basis, it works. If you tend to overdo it, then you have a problem. With no disrespect to you, I think you would watch with one camera. So would I. We don't need to give you the lure and attraction of how great this game is. We need to expose more people to how great the game is. [Bucci note: I think hearing an announcer yell "SCORE!" would be a better attraction for the casual fan than a conversation in the Zamboni tunnel.] Q: What about the future of the NHL on television? A: Of the big four sports, we have the most restrictive system of covering. We are the only ones with a barrier between us and the game with boards and glass. Ideally, what you would like to find in the next 10-20 years is a way to make the ideal camera positions in every arena, make sure every game is done in high definition, or I would hope we are talking 3-D high definition. The other thing is, I believe one of the great selling attributes of the game is the sound. We need to do a better job of improving the audio capability and how that is done. Fortunately, we have been put in a better position to teach. We've taught guys how to do game cameras; we created a manual and a DVD that the game cameramen should be working off of. I think our next step is to do the same thing with audio. [Bucci note: Amen on the audio! There is too much slapping of sticks and pucks banging off the glass and not enough roars and moans from the crowd. The Bruins have really improved their presentation. Their audio and video on home games looks outstanding. The Penguins' audio, meanwhile, sounds like the arena is half empty. We know that's not the case. I want to hear that young, crazy fan base going crazy.]
This Bruins jersey will never go out of style.
Mini-Me Mailbag Hey Bucci, I'm thinking about getting a Bruins jersey, but I need some help deciding whose jersey to get. I want someone good and also someone who will be around for a while. I was thinking about Phil Kessel, but I've heard his name in trade rumors lately. What about Tuukka Rask? Who do you think I should get? Justin
Westboro, Mass. I have a feeling Kessel is going to play on a few teams before he is done. Just a hunch. I would hold off, Justin. For now, get a No. 4 or a No. 8 and wait for the next young franchise guy who signs a 12-year contract.
---
John, I would have to totally disagree with you on the baseball stadiums holding outdoor hockey games. The first baseball stadium that I heard brought up was Fenway Park for a college hockey game. Whether BC was hosting a game by itself or BU-BC were to play, I think it would be a terrible idea to play at Fenway. Baseball stadiums, in general, have weird dimensions and I feel it would be hard to get the crowd into a game. They would be so far away in many baseball stadiums. Fenway, specifically, has terrible sight lines and seating configurations besides the Green Monster. Bigger stadiums might work, but the ice surface would be so far from the stands. Wouldn't you want the fans to be close to the action? Football stadiums, I think, are better because they are more shaped like a hockey arena, but bigger. Massive-sized crowds also make it more interesting. That's my take.

Josh Zeisel
New York And that is a good take.
---
Hello John, Do you think Sergei Zubov has a realistic chance to win the Norris Trophy this season?

Thanks,
Donovan
Dallas I LOVE Sergei Zubov. But … not only should Nicklas Lidstrom win the Norris, I think it's time he wins the MVP. He controls a game like Flavor Flav controls Public Enemy. Yes, that's the first Lidstrom/Flavor Flav comparison. Unless Mickey Redmond already beat me to it.
---
John, I'm 46 and a lifelong NHL fan. I hate the home-road uniform switch. Road teams brought a new color every night and it confuses the nightly and historical highlights. It's blue vs. white every night at MSG. I hate it! BRING BACK HOME WHITES! What do you think John?

Steve Bolen I am a home whites guy all the way, Steve.
---
Yo Bucci, We got to the Wachovia Center early to watch our beloved Flyers warm up. We sat in the first row, right next to the blue line up against the glass. My son's eyes lit up like the star on top of our Christmas tree when he saw Mike Richards, Joffrey Lupul, Jeff Carter, R.J. Umberger, Jason Smith and Daniel Briere. He couldn't believe that he could be that close to his heroes. He was on a cloud and I had a smile from ear to ear because I was so excited for him.

But it got better. Briere stood right in front of us at one point. My son's eyes almost popped out of his head because Briere turned around and looked my son right in the eye. Briere motioned for us to get ready because on the end of his stick blade was a hockey puck that he was going to toss over the glass for my son.

With one quick motion, the puck cleared the glass and I caught it for him. Me and my son said "thank you." Briere smiled and nodded and continued with the warm-up. I was 6 years old and stood on Broad Street for the Flyers' second Stanley Cup parade; I have attended hundreds of Flyers game in my life; I have met numerous Flyers over the years; and even played a high school game on the ice at the Spectrum, but none of those moments equaled the excitement and thrill I had when my son turned to me and said, "Danny Briere just gave me a puck."

Such a small, simple gesture made a little boy's day. I'll bet my son will never forget that as long as he lives. I know I won't. Thanks Danny for being such a class act. I'm sure your parents are proud.

Sincerely,
Bob
Philadelphia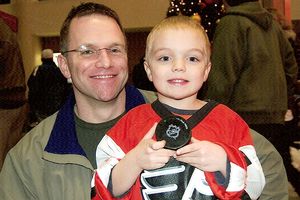 There's more mailbag where that came from! Check out Bucci's Mother of All Mailbags every Thursday at ESPN.com. John Buccigross is an anchorman for "SportsCenter" and ESPNEWS. For questions, comments or crosschecks, e-mail him at john.buccigross@espn.com. To check out his new book, "Jonesy: Put Your Head Down & Skate," click here.


---