AP Photo/John Miller
Players of the Week: Kevin Love, UCLA & Robert Vaden, UAB
By Andy Katz
ESPN.com

Last week: Love: 18 points, 12 rebounds in a 70-49 win at Arizona State; 24 points and 15 rebounds in a 68-66 win at Arizona
Vaden: 41 points, 6 rebounds, in an 88-81 win at UTEP; 30 points, 4 rebounds in a 69-44 win at Tulane

Kevin Love, UCLA: The Bruins swept Arizona State and Arizona on the road last week. And, of course, the freshman center had a large part in pulling off the two wins that keep UCLA on pace for a Pac-10 title and a possible No. 1 seed. Love scored 18 points and grabbed 12 boards for his 17th double-double in the 70-49 win over the Sun Devils. He followed that up with his 18th double-double, a 24-point, 15-board game in the 68-66 win over Arizona in Tucson on Sunday. Watching Love play has been quite a treat throughout the season. He plays with passion, is a phenomenal passer and is one of those players who always makes his teammates better. Robert Vaden, UAB: Vaden is keeping the Blazers alive for an at-large berth with his stellar play. He averaged 35.5 points and five rebounds last week. Against UTEP, Vaden scored 41 points and made nine 3-pointers. Vaden put up a 30 spot in the win over Tulane to close the week. His numbers are quite impressive, entering the final week of the regular-season with 127 3s, making 87.5 percent of his free throws. But the most important number is this: UAB is 21-8 overall, 11-3 in Conference USA and has won 13 of its last 16 games as it tries to stay in the hunt for a possible at-large berth.
Team of the Week: Cornell Big Red
By Andy Katz
ESPN.com
Last week: Beat Dartmouth 75-59; Beat Harvard 86-53
The Big Red became the first school to earn an NCAA Tournament berth by sweeping Dartmouth and Harvard to clinch their first Ivy League crown since 1988.
Cornell is 12-0 heading into the final two games of the regular season, at Penn and at Princeton. The Big Red are 20-5 overall and have a shot at a decent seed for the Ivy (can we say 14?) on Selection Sunday.
Cornell played well against Duke in a loss, knocked off a decent Siena team and sport a player with plenty of good genes in Ryan Wittman, son of Randy Wittman. Wittman leads the Big Red in scoring at 15.3 points a game.
Penn and Princeton have dominated the Ivy league for 20 years. Cornell finally cracked through and looks like it will have the staying power. This was a week in which there were plenty of big wins by notable teams, but a squad like Cornell deserved to be mentioned for quite an accomplishment.
3-Point Shot
By Doug Gottlieb
ESPN

1. Bad Move In The Valley? Having spoken to three different coaches in the Valley, they all think that Missouri State would be making a poor statement by getting rid of Barry Hinson at MSU. No, Hinson has not been fired yet, but he probably will be if his team does not win the MVC tourney. No, Hinson has not made the dance at MSU in his eight-plus years in Springfield, but he has won 19 games a year, had two of the highest RPIs ever to be left out of the dance and he is a class act who does things the right way. Ask yourself this John Q. Hammonds (Hotel magnate and MSU donor), would you rather be Wichita State, which has made one NCAA in the same amount of time, but has not been nearly as consistent a winner, or MSU? By the way, MSU has won three in a row and should beat Evansville to win six of their last eight and be one of hottest teams heading into Arch Madness. Wouldn't it be ironic if Hinson's worst team (record-wise) got him into the NCAA field and saved his job? 2. Rose In Bloom The best coaching candidate who is getting no love nationally is Dave Rose at BYU. Rose had a great reputation as a juco coach at Dixie State before joining BYU as an assistant a decade ago. Rose took over a nine-win program three years ago and has promptly won 20, 25 and will win at least 25 games this year in Provo. Rose is highly qualified and very underpaid; he is extremely loyal to BYU since it gave him his first Division I gig. 3. Equal Share If big-name schools are allowed to lose multiple games to the bottom of the league and still be on the right side of the bubble, the top teams in the mid-majors should be able to drop one or two here or there. Kent State, for example, lost to Bowling Green on Saturday. Big deal. Texas lost at Texas Tech; Duke lost to Wake Forest earlier in the season and UCLA lost at Washington. I am not saying the Golden Flashes deserve a one seed, but they deserve the right to throw up a stinker ala Kansas State, Stephen F. Austin and Oral Roberts on Saturday night.
Upset Watch
By Reggie Rankin
Scouts Inc.

• Tuesday: Ohio State over Purdue, ESPN, 7 p.m. ET
E'Twaun Moore, Robbie Hummel and Keaton Grant lead the offensive charge for the Boilers. Moore has a scoring mentality; he can knife through the defense or hit the open 3. Grant has good speed and 3-point range, and Hummel is an all-around tough guy with 3-point range and is the team's best rebounder on both ends. Scott Martin and Chris Kramer provide help with some timely scoring and rebounding to give Purdue a host of players who can positively impact the game. Kosta Koufos has the skills to make plays all over the floor, and Othello Hunter is a super athletic finisher. Evan Turner has established himself as a player who can score when needed and is a long, athletic defender and rebounder. David Lighty and Jon Diebler can both score and are talented enough to have a big game. But the main man for Ohio State is guard Jamar Butler, who has deep 3-point range to go along with great court vision; he is the one player who can't have a bad game. Purdue will bring the heat with its pressure man defense. If the Buckeyes can shoot better than the 35.5 percent they did in the first game and keep their turnovers to less than 15, they might avenge the 75-68 loss.

• Saint Joseph's over Xavier, ESPN, 9 p.m. ET
The Hawks have a tremendous skill player in Pat Calathes who can lead the fast break, rebound in a crowd and score inside and out. Ahmad Nivins is a physical athlete who can rebound on both ends, score in the lane and finish above the rim on the break. Rob Ferguson is a 6-foot-8 shooter with deep range off the catch, and Tasheed Carr and Darrin Govens are tough guards who are both double-figure scorers, can rebound and find the open man. Xavier will invade Hawk Hill with a national ranking and the A-10 regular-season title in its pocket. Drew Lavender is the ring leader who keeps everything organized for one of the deepest and most balanced teams in the country. Leading scorer Josh Duncan is a big time 3-point shooter who can also post smaller defenders. Derrick Brown is terrific rebounder and super athletic finisher. B.J. Raymond is a lights out 3-point shooter and C.J. Anderson slashes to the rim and leads the team in free throw attempts. Add defensive stopper Stanley Burrell, whose intensity and effort make him the key to the Musketeer defense. Saint Joe's has enough talent and toughness to beat Xavier, and even the score after the 76-72 loss in Cincinnati, for a momentum-building win heading into the A-10 tournament.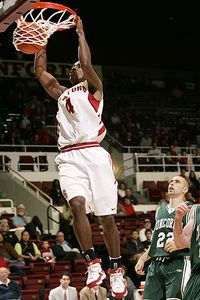 Photo/Marcio Jose Sanchez

Anthony Goods will need a solid game to take pressure off the Lopez twins.

• Thursday: Stanford over UCLA, 11 p.m. ET
In the first game the visiting Bruins were red-hot from behind the arc, shooting 9 for 16. Josh Shipp dialed in from long distance going 5 for 8 from 3, scoring 21 points. Kevin Love scored 15 points on seven shots but helped foul out the Lopez twins and went 7 for 8 from the free-throw line. Athletic combo guard Russell Westbrook attacked the rim and chipped in 15 points. Anthony Goods tried to keep the Cardinal within striking distance with 17 points. UCLA will have intense pressure on Goods and running mate Mitch Johnson to make it as difficult as possible to get the ball inside to the twin towers. But if Brook and Robin Lopez can get touches on a regular basis and stay out of foul trouble while defending Love, Stanford could knock off the two-time defending Pac-10 champs, putting the Cardinal in position for the regular-season title. • Saturday: Texas A&M over Kansas, 4 p.m. ET
KU heads to College Station for the regular-season finale with Mario Chalmers, Darrell Arthur, Darnell Jackson and Brandon Rush leading a host of Jayhawks who can break the game open with powerful finishes in the lane and easy transition baskets. A&M has raised doubt on where its focus lies at times. With bad home losses to Oklahoma State, Nebraska, and after getting embarrassed 64-37 at Oklahoma, the Aggies must finish strong. A&M has the size in Joe Jones and DeAndre Jordan to get it done down low. Josh Carter is the long-range threat, Donald Sloan is great in transition and Dominique Kirk can deliver the ball and hit the 3 . The Jayhawks have had trouble on the road in Big 12 play with losses at Kansas State, Texas and Oklahoma State, and they have displayed problems scoring at times. But after beating K-State on Saturday, KU is feeling pretty good about itself and must avoid a setback against Texas Tech on Wednesday to keep the pressure on Texas for the regular-season title. When motivated the Aggies are tough to handle and with seniors Kirk and Jones playing their final home game in Aggieland the motivation and focus might be high enough to get the win. • Sunday: Oklahoma State over Texas, ESPN, 4 p.m. ET
Connor Atchley has given the Horns an inside presence who can step out on the perimeter and make opponents pay for chasing point guard D.J. Augustin off the on ball screens with his 3-point range. Augustin can put the game out of reach with his scoring ability on drives and deep jumpers. A.J. Abrams and Damion James can stuff the stat sheet as well. Abrams has a quick trigger from behind the arc. James gets it done inside and out and can always be found on the glass. For the Cowboys, Byron Eaton has stepped up his scoring and is also making sure James Anderson and Terrel Harris have stayed involved as he has continued to be the assist leader. If the physical defense of the Cowboys can corral Augustin and shoot better than 38.2 percent this time around, the 63-61 loss in Stillwater will not taste as bad as it did on Jan. 21.
This Week
By Andy Katz
ESPN.com

Here's what I'm looking forward to this week:

• Pitt at West Virginia, Monday (ESPN, 7 p.m. ET): The Mountaineers are in a desperate state for a win to enhance their bid possibilities.

• Arkansas at Ole Miss, Tuesday (ESPN, 9 p.m. ET): The Rebels aren't dead yet while the Hogs are in a position to earn a bid.

• Florida State at North Carolina, Tuesday (ESPN Full Court, 8 p.m. ET): FSU guard Toney Douglas told me the Seminoles would shock the world. Let's see.

• UNLV at New Mexico, Tuesday: The Lobos slim hopes ride on a win while the Runnin' Rebels' could be dashed with a loss.

• Tennessee at Florida, Wednesday (ESPN Full Court, 9 p.m. ET): The Gators must win this game to feel good about their at-large chances.

• Mississippi State at Vanderbilt, Wednesday: The Bulldogs looked impressive in winning at Florida but no opponent does in Nashville lately.

• Texas A&M at Baylor, Wednesday (ESPN2, 9 p.m. ET): The bubble could burst for the Aggies.

• Xavier at Saint Joseph's, Thursday (ESPN 9 p.m. ET): A must-win for the Hawks to impress the committee for a possible at-large bid.

• Stanford at UCLA, Thursday: If the Cardinal wins they can earn a share of the Pac-10 title. If UCLA wins then the championship will rest at Pauley.

• Marquette at Syracuse, Saturday (ESPN, 4 p.m. ET): The Orange may need this game to earn an at-large berth.

• Louisville at Georgetown, Saturday: The Big East title is on the line.

• North Carolina at Duke, Saturday (ESPN, 9 p.m. ET): The ACC title, a possible No. 1 seed, and oh yeah, the most bitter rivalry in college sports, are all on tap.

• Arizona at Oregon, Saturday: Assuming the Wildcats beat Oregon State on Thursday, Arizona will desperately need this game to have a chance to finish 9-9 in the Pac-10.

• Florida at Kentucky, Sunday: The Wildcats were impressive in losing to Tennessee on Sunday and a win over the Gators could keep their slim at-large hopes alive.

• WCC tournament semifinals, Sunday: If San Diego is in the semifinals, look out for a possible win, and the reality is that the WCC could get three bids if the Toreros win the title on Monday.
Kansas Gets Revenge Against Kansas State
10 Teams That Get Little Love
1. Arizona State
2. USC
3. Gonzaga
4. BYU
5. UAB
6. Davidson
7. VCU
8. South Alabama
9. Cornell
10. Southern Illinois For the Top 25 polls, click
here
.
Bracketology: Breaking Down The Bubble
Arkansas Topples Vanderbilt
Kudos To ...
• Second-year Hartford Hawks' coach Dan Leibovitz for delivering a second-place finish in the America East at 10-6 after beating regular-season champ UMBC 58-57 on Sunday. The Hawks (16-15) finished with a winning record for the first time since 2002-03. It's the highest finish in America East history for the Hawks and one more win gives the team a school-tying record for wins in Division I. The Retrievers (21-8, 13-3) are the top seed and if they get through to the final will host the championship game on March 15.
• LSU interim coach Butch Pierre, who has won three in a row, has the Tigers at 5-9 in the SEC West (12-16 overall) after beating Georgia on Sunday.
• Michigan State's offense; the Spartans sputtered to just 61 points against Indiana last month in Bloomington but broke out for 103 Sunday. Who knows if the Spartans will keep this up against Minnesota or Penn State to close out the season but at least Sunday gives them hope.
• Louisville's Earl Clark, who asked coach Rick Pitino to give up his starting spot to senior Juan Palacios in Sunday's win over Villanova. Palacios scored a game-high 13 points.
-- Andy Katz, ESPN.com
Rice's 46 Not Enough For BC Against UNC
Who Helped Itself Last Week
•
Clemson
:
Terrence Oglesby
's 3-pointer to beat Maryland on Sunday put the Tigers at 9-5 in the ACC, 21-7 overall and likely punched a ticket to the Dance. •
Gonzaga
: Anyone who doubted whether the Bulldogs could win the WCC was kept quiet with a win over Saint Mary's. Gonzaga should be fine now at 23-6 overall, 12-1 in the league for a bid. •
Arkansas
: The Hogs shouldn't sweat too much anymore after beating Vanderbilt pushed them to 8-6 in the SEC, 19-9 overall. •
Miami
: The Hurricanes squeaked out a win over Virginia after losing at Clemson to move to 7-7 in the ACC, and 20-8 overall, to hang onto their at-large hopes. •
Pitt
: The Panthers needed one more quality road win to feel good about their chances. They literally stole it from Syracuse in the final seconds to move to 9-7 in the Big East (21-8 overall). •
Arizona State
: UCLA blew out ASU on Thursday but the Sun Devils recovered enough to beat USC at home to move to 8-8 in the Pac-10, 18-10 overall, which likely puts them in the Dance. •
Wisconsin
: The Badgers smacked Michigan State to move to 14-2 in the Big Ten, and they are in position to get a share of the title and a possible No. 2 seed in the NCAAs. •
Kansas, North Carolina, Duke, Memphis and UCLA
: All won their games last week to compete for possible No. 1 seeds. •
BYU
: Beat New Mexico on the road, then took out Air Force to put itself in position for the Mountain West title and an at-large berth if it doesn't win the conference tournament. •
Morgan State
: Todd Bozeman's crew beat Hampton in overtime and then won an ugly game at Delaware State (39-36) to clinch the regular-season MEAC title at 12-2. And at 19-9 overall, the Bears are good enough to win the league tournament and stay out of the opening-round game (this squad could be a possible upset pick in the tourney if the seed is a 14 or 15).
-- Andy Katz, ESPN.com
Pitt Edges Past Syracuse
Who Hurt Itself Last Week
• Saint Joseph's: Losses to Saint Louis at home and Temple at the Palestra on Penn's campus might have knocked the Hawks to the NIT barring an A-10 tourney win. The losses dropped the Hawks to 17-10 overall, 8-6 in the league. • Arizona: Getting swept at home by USC and UCLA put the Wildcats at 7-9 in the Pac-10, 17-12 overall and in dire need of a win at Oregon next week. • Cal: Home losses to Washington State and Washington killed off any at-large chances as the Bears slumped to 6-10 in the league, 15-12 overall. • Ohio State: The Buckeyes lost at Indiana and at Minnesota to drop to 8-8 in the Big Ten, 17-12 overall and face a must-win sweep of Purdue and Michigan State at home this week to have even a pulse of a chance for a bid. • Florida: The Gators are running out of opportunities for their at-large chances. Losing to Mississippi State at home means the Gators (21-8, 8-6) might have to beat Tennessee and win at Kentucky. • Syracuse: Losing to Pitt in the final seconds sent the Orange down yet another treacherous path toward missing the NCAAs at 7-9 in the Big East, 17-12 overall. • Kent State: The Golden Flashes should be allowed to lose a road game in the MAC. We'll see if the committee feels the same way after Kent State fell to 11-3 in the league, 23-6 overall with a loss at Bowling Green. • Texas A&M: Scoring 37 points in a blowout loss to Oklahoma was embarrassing. But more hurtful was a drop to 7-7 in the Big 12, 21-8 overall. • Tennessee and Texas: Both lost a game last week, which ultimately could hurt their chances for a No. 1 seed. -- Andy Katz, ESPN.com
Gott Hoops: Potential Cinderellas
Game Of The Week
The game of the week was the double-overtime Missouri Valley game between Bradley and Creighton on Saturday. Creighton won 111-110, getting 42 from
Cavel Witter
, who not only doubled his career high, but scored in double figures from just the seventh time in his first season playing for the Jays. Here is the best part: The MVC's matchup for Arch Madness is Bradley versus Creighton in the quarterfinals. And you wondered why they called it Arch Madness.
-- Doug Gottlieb, ESPN.com
UConn Handles West Virginia
---