Shot of the Week
You know how it works. We present an NHL photo, and Bucci provides a caption. E-mail him your suggestions (include your name and town/state), and we will use the best ones and provide a new photo the following week.
LAST WEEK: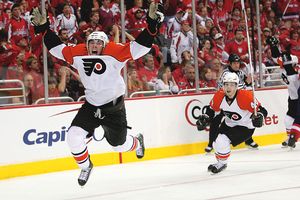 PF Flyers working overtime. (Getty Images)
Your captions:
This is what the Hockey Heisman would look like.
-- Gerry Kubek
"BEEEEEEEEES!"
-- Jim (Pittsburgh)
"Run for your lives! The killer turkeys are coming!"
-- Ruth Katz (Woodmere, N.Y.)
"'Hungry Like The Wolf?' I LOVE this song!"
-- Bryan Way (Newtown Square, Pa.)
"Nooooooo! I don't wanna come in yet! Lalalalalala & I can't hear you!"
-- Robert Hill (Martinsville, Va.)
Warning: The Surgeon General has determined that jumping too hard and too fast may cause your shoulders and torso to supplant your neck. Please celebrate at your own risk.
-- Dave Foley (Fairfield, Conn.)
THIS WEEK: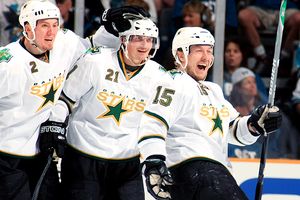 Dancing with the Stars. (Getty Image)