Dream Offensive Line -- The Hogmollies




Alex Boone is the rock of Ohio State's O-line.




(Photo by Joe Robbins/Getty Images)

1. Andre Smith, T, Alabama
2. Alex Boone, T, Ohio State
3. Jonathan Luigs, C, Arkansas
4. Duke Robinson, G, Oklahoma
5. Herman Johnson, G, LSU
Outside Linebackers -- All Over The Field

1. Brian Cushing, Southern California



Brian Cushing is an impact Herbie player.




(Photo by John Pyle/Icon SMI)

2. Marcus Freeman, Ohio State
3. Zack Follett, Cal
4. Ryan Reynolds, Oklahoma
5. Eric Norwood, South Carolina
6. Martez Wilson, Illinois
Inside Linebackers -- Definition Of The Position




A healthy Jasper Brinkley means trouble for opponents.




(Photo by Greg McWilliams/Icon SMI)

1. Jasper Brinkley, South Carolina
2. James Laurinaitis, Ohio State
3. Rey Maualuga, USC
4. Brandon Spikes, Florida
5. Dannell Ellerbe, Georgia
Cornerbacks -- Just Throw The Other Way

1. Malcolm Jenkins, Ohio State



Malcolm Jenkins anchors OSU's defensive backfield.




(Photo by Chris Graythen/Getty Images)

2. Vontae Davis, Illinois
3. Jairus Byrd, Oregon
4. Walter Thurmond, Oregon
5. Josh Pinkard, Southern California
6. Victor "Macho" Harris, Virginia Tech
Top True Freshmen -- From High School To The Big Time

A.J. Green, WR, Georgia



It won't take long for A.J. Green to catch on at Georgia.




(AP Photo/John Amis)

Terrelle Pryor, QB, Ohio State
Darrell Scott, RB, Colorado
Michael Floyd, WR, Notre Dame
DaQuan Bowers, DE, Clemson
Marcus Forston, DT, Miami
Richard Samuel, RB, Georgia
What's My Name -- Household Names By September's End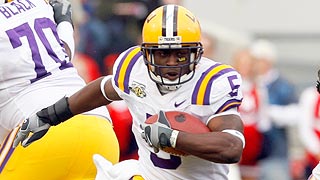 You'll hear all about Keiland Williams soon.
(Photo by Joe Murphy/Getty Images)
Keiland Williams, RB, LSU
Markus White, DE, Florida State
Chris Rainey, RB, Florida
Derrick Washington, RB, Missouri
Damian Williams, WR, Southern California
Everson Griffen, DE, Southern California
Joe Ganz, QB, Nebraska
Jamere Holland, WR, Oregon
Players Who Don't Get Enough Respect
(Don't Worry Fellas, I've Got Your Back)
Entire Wake Forest football team, including head coach Jim Grobe
Nick Reed, DE, Oregon
Stafon Johnson, RB, Southern California
Brian Hartline, WR, Ohio State
Chris Brown, RB, Oklahoma
Sean Weatherspoon, LB, Missouri
Brian Johnson, QB, Utah
Top Playcallers -- Based On Projected Player Personnel

1. Dan Mullen, Florida



Dan Mullen has plenty of talent to work with in '08.




(Photo by Jason Parkhurst/US Presswire)

2. Chip Kelly, Oregon
3. Dave Christensen, Missouri
4. Mike Bobo, Georgia
5. Steve Sarkisian, Southern California
6. Kevin Wilson, Oklahoma
7.Frank Cignetti, Cal
| | |
| --- | --- |
| Coaches Whose Teams Will Shine | Coaches Who Will Exceed Expectations |
| 1. Urban Meyer, Florida | 1. Bo Pelini, Nebraska |
| 2. Pete Carroll, USC | 2. Charlie Weis, Notre Dame |
| 3. Jim Tressel, Ohio State | 3. Butch Davis, North Carolina |
| 4. Mark Richt, Georgia | 4. Mike Stoops, Arizona |
| 5. Bob Stoops, Oklahoma | 5. Randy Shannon, MIami |
| 6. Gary Pinkel, Missouri | 6. Mike Riley, Oregon State |
Best Student Sections

1. Penn State -- If you haven't been to Happy Valley in the fall, you're missing out on one of the great happenings in all of sports. Quite simply the loudest, most supportive student section in college football.
2. Florida -- Still the loudest place to watch a college football game for four quarters. With Tim Tebow chasing a second Heisman and the Gators chasing a national title, I wouldn't want to be a visiting team at the Swamp in 2008.
3. LSU -- Typically, in most stadiums, the student section challenges the rest of the stadium to cheer at a certain level. At Tiger Stadium, that has never been the case. The everyday fans are just as crazy as the students, and because of that, the LSU student body has never been mentioned in the Herbies. But after two trips last year and seeing them a third time in the title game, this student section doesn't have to take a backseat to anybody.
4. Ohio State -- Over the past five years, the Buckeyes' home field has proved to be one of the toughest places to play in the country. New student seating configuration with 15,000 students at each end zone will create an even more hostile environment at the Shoe.
5. Oregon -- It looks like "GameDay" answered my call last year as we visited Eugene twice. And my memories were substantiated and then some. The place is louder and nastier than I remember it. Good luck winning there.
All-Uni Team -- What A College Football Team Should Look Like

Offensive Team
Defensive Team
QB - Tim Tebow, Florida
DE - Tyson Jackson, LSU
RB - James Davis, Clemson (offensive captain)
DE - Carlos Dunlap, Florida
RB - Chris Wells, Ohio State
DT - Ricky Jean-Francois, LSU
RB - DeMarco Murray, Oklahoma
DT - DeMarcus Granger, Oklahoma
WR - Michael Crabtree, Texas Tech
LB - Rey Maualuga, Southern California
WR - Jeremy Maclin, Missouri
LB - Martez Wilson, Illinois
WR - Arrelious Benn, Illinois
LB - James Laurinaitis, Ohio State
TE - Jermaine Gresham, Oklahoma
LB - Zack Follett, Cal
T - Andre Smith, Alabama
S - William Moore, Missouri
T - Alex Boone, Ohio State
S - Taylor Mays, Southern California (defensive captain)
G - Herman Johnson, LSU
CB - Vontae Davis, Illinois
G - Anthony Parker, Tennessee
CB - Malcolm Jenkins, Ohio State
C - Alex Mack, Cal
Favorite Restaurants
1. Lil' Dooey (Starkville, Miss.): Still the undisputed champion. I've been saying it for years: It has the best barbecue and the friendliest service in America.
2. Mark's U.S. Prime (Gainesville, Fla.): After years of eating at Arby's every time "GameDay" visited, I was introduced to Mark's U.S. Prime two years ago. I was reminded again in the spring what a great meal can be had there.
3. El Arroyo (Austin, Texas): Much like Lil' Dooey, it's a local authentic restaurant, in this case, Tex-Mex. I go there every time I'm in Austin, and it never gets old.
4. Ruffino's (Baton Rouge, La.): Are you kidding me with the crabmeat cheesecake appetizer? A great mix of Italian with a Cajun twist.
5. Chuck's (Tuscaloosa, Ala.): Sushi and scenery.
6. Hyde Park Steakhouse (Columbus, Ohio): Hometown favorite. Best steak you'll ever have and an outstanding atmosphere.
In a special class of its own: Emeril's (New Orleans): This was probably the best meal I have ever had. I don't know where to begin. Starting with the barbecue shrimp to the salmon on cornbread (and whatever other appetizers we ordered) to the ridiculous entrées and unreal dessert spread -- highlighted by the banana crème pie and the sweet potato cheesecake -- it was a night to remember. Emeril himself came from the kitchen to greet our table, help serve and talk football. Can't beat that!