Friday, October 24, 2008
Updated: October 28, 7:47 AM ET
Cold climate breeds tough players

---
By Chris Preston
Special to ESPNRISE.com



The image of Hall of Fame quarterback Bart Starr's headfirst dive into the end zone to help his Green Bay Packers defeat the Dallas Cowboys 21-17 on Dec. 31, 1967 might not be so iconic had it not taken place on the famously "frozen tundra" of Lambeau Field. If you refer to the game simply as the 1967 NFL Championship, casual NFL fans may have a hard time recalling it. But they would surely identify it by its nickname: The Ice Bowl.
High school football players in Vermont have to game plan for the weather, as well as their opponents.
Starr's game-winning leap with 16 seconds to play was no ordinary plunge. It was a leap that took place on a sheet of ice and in a temperature of 18 degrees below zero. People remember Starr's dive, but no more than they recall the slab of concrete upon which he landed, nor the unbearably frigid air through which his outstretched body traveled.
Cold weather is as much a part of football lore as the I-formation and John Madden. No outdoor sport is more linked to -- or affected by -- the whims of Mother Nature. Rain, sleet, snow, fog -- football games go on no matter the weather.
In the NFL, however, players in the 21st century benefit from the technology of sideline heating devices. The same goes for players on major college football teams. Furthermore, NFL players get paid millions of dollars to play in treacherous conditions. Meanwhile, Division I and II college players can take solace in receiving a free education as a reward for any goosebumps or frostbite they might incur on a Saturday in late November.
High schoolers, on the other hand, play football solely for the love of the game. If that means playing through a snowstorm or in see-your-breath weather, so be it. And beyond hand warmers and layers of clothing, there is little else to keep these players warm. Sideline heaters are a rarity in the puritan world of high school football.

Once the sun went down, it got really cold. What people remember is how bad the field was, and how fun the game was.
-- Champlain Valley Union coach Jim Provost
Few states feature more high school games played in cold, harsh weather conditions than Vermont. Though the Vermont high school football season typically wraps up by the second Saturday in November, by then the Green Mountain State is already fully immersed in its annual winter freeze. Like high school squads in fellow harsh-weather states like Minnesota, Wisconsin and New Hampshire, Vermont teams must begin dealing with the cold once October arrives -- sometimes earlier.
But that doesn't dampen the players' zest for the sport, nor does it keep fans from attending the games in droves. While Vermont high school football would never be mistaken for Texas or Florida football in terms of popularity or quality, campuses from Rutland to Lyndon routinely feature packed bleachers and festive atmospheres on Friday nights and Saturday afternoons. When the leaves fall and the temperatures drop, it merely adds a different wrinkle to the proceedings.
So how do the 16- to 18-year-olds who play the sport feel about the icy late-fall conditions? Opinions are split.
"We're Vermonters -- we live for this!" says Joe Gallo, a senior lineman on the Mount Mansfield Union (Jericho) varsity. "It's harder to get started when the weather's cold, but once you get going you warm up."
Gallo's teammate, middle linebacker Ethan Blum, has a slightly different take. "The cold kind of sucks," he says. "It just hurts a lot more when you get hit."
Frozen Fun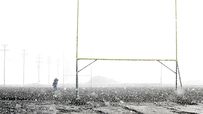 The weather outside may be turning frightful -- but to some, this is the best time of year. ESPN RISE celebrates those hardcore athletes who heat up the winter months. MORE
Canner-O'Mealy: Into the wild
Enter the world of high school sports in Alaska, where massive snowstorms, 24 hours of sunshine, day-long road trips and few scholarship opportunities are the norm. MORE
Preston: Are you ready for some frostball?
Cold weather is as much a part of football lore as the I-formation and John Madden. And in northern states like Vermont, cold-weather games are a way of life. MORE
SportsNation:
Vote for your favorite cold weather photos
Upload your photos here
No player on the Cougars roster gets hit more frequently than senior Brian Wilcox, MMU's Mack truck of a running back. "Getting the ball quite a few times in that weather -- it sucks," he says, echoing Blum's sentiments. "It gets to the point where you don't want to get the ball. It just kills your hands."
What makes matters worse for burly north-south runners like Wilcox is that the harsher the weather, the more likely they are to get the ball. Some coaches shy away from airing it out in sloppy conditions. Keeping a wet pigskin on the ground and in the surest hands possible is the safer play.
Champlain Valley Union (Shelburne) coach Jim Provost subscribes to that theory. "If it's just really cold you wouldn't change anything, but if it's really muddy and raining you would," says Provost, who adds that he's "constantly" checking weather reports before game time.
The wetter or muddier the field, the more Provost is apt to call the number of his bruising 6-foot-3 running back, Tommy Powers. "It's a lot more common to run the ball [in sloppy weather]," Powers says. "But football's football. It's fun regardless of how cold it is."
Now that's a guy you can trust to hang onto a football with numb hands.
Skill-position players aren't the only ones affected by cold weather. "[All positions] have their own difficulties," Gallo says. "If you're a lineman, you slide around a lot in snow."
Cougars coach Marty Richards concedes that a sloppy field can affect the timing of his offense. But unlike Provost, Richards refuses to allow the weather to dictate how his team approaches the game.
"For us it really doesn't affect the way we play the game, because we run 90 percent of the time anyway," Richards says. "But we lost to Spaulding [Barre] in the [Division II] state finals last year. It was cold and they threw it all over the place on us, so obviously it didn't change their strategy. You've got to stick by your philosophies."
Essex High School coach Charlie Burnett agrees. "I wouldn't say that our approach changes very much with the change in the weather," he says. "You have to focus on what you do well. We run the spread offense and thus, we have too much invested in the passing game to abandon it just because the weather doesn't want to cooperate.
"To a certain extent, play selection is affected by the game conditions. We make sure we have a good sideline ball-management strategy in place to minimize the impact that inclement weather has on our offense."
The degree to which climate affects strategy depends on the coach. But all high school players feel the effects of the cold.
"Once metal connects with skin in cold weather … that's tough," says CVU safety Robert Charland. "Last year it was really cold for our playoff game against Windsor. When it gets that cold it doesn't matter how pumped up you are."
Adds teammate Matt Gault, an offensive and defensive tackle for the Redhawks: "It's hard to stay in your stance [when the ground is cold], especially if there's snow on the ground."
The game might be tougher to play in the cold, but winning is still as sweet.
Still, most Vermont players would take playing in cold weather over the alternative. "I'd rather play in cold weather than hot weather," says MMU free safety/tight end Louis Tulis. "In cold weather you don't have problems with your muscles tensing up as much. You've definitely got to give people credit for playing in hot weather, too."
What about Wilcox, the Cougar running back who dreads the beating his hands take on his frequent 30-carry days in frosty temperatures? "I can play forever in cold weather," he says. "I can only play, like, a quarter in hot weather. I'd die always playing in hot weather."
So he'd rather play in nine-degree weather than 90? "I'd play in nine," Wilcox quickly responds, before reconsidering. "I'd play in 20 … I don't know about nine. That's kind of ridiculous."
Nevertheless, the weather can get pretty ridiculous in Vermont -- even during a football season that ends before many people's Halloween decorations come down. Provost recalls one particularly snowy game in 1989 when he was head coach at Rice Memorial (South Burlington) High School and his team played a late-fall game at Bellows Free Academy in Saint Albans, Vt. -- roughly 15 miles south of the Canadian border.
"Cars were slipping all over the place just getting up there. Once the sun went down, it got really cold. What people remember is how bad the field was," Provost recounts, before adding, "and how fun the game was."
Chris Preston is an editor for the Northeast Sports Network and a frequent contributor to Varsity Magazine. He can be reached at cpreston@northeastsportsnetwork.com.


---