Tuesday, November 4, 2008
We're getting some vibes ... on all 30 NHL teams

---
By John Buccigross
ESPN.com


Shot of the Week
It's back. You know how it works: We present an NHL photo, and Bucci provides a caption. E-mail him your suggestions (include your name and hometown/state), and we will use the best ones and provide a new photo the following week.
LAST WEEK: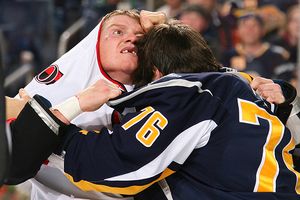 Chris Neil may have overdeveloped his trapezius muscle. (Courtesy: Getty Images)
Your captions:
"Maasssterrr! I've found you a brain!"
-- Bert (Clifton Heights, Pa.)
"I am the Great Cornholio! Give me TP ... now!"
-- Scott Zimmerman (Montrose, Pa.)
"Hold on a sec -- they got us on the Jumbotron."
-- Rick (Vancouver, British Columbia)
"All I want for Christmas is a V-neck sweater."
-- Andrea MacKinney (El Segundo, Calif.)
Dr. Frankenstein: "You know, I'm a rather brilliant surgeon. Perhaps I can help you with that hump."
Igor: "What hump?"
-- Paul B. Flicker (Montréal, Québec
"This isn't soccer, we're NOT exchanging jerseys!"
-- Kim Kolb (Reston, Va.)
THIS WEEK: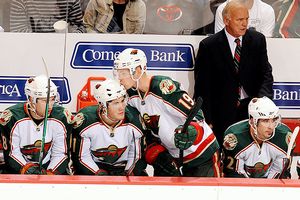 Boys Gone Wild (Courtesy: Getty Images)

We are about one-seventh through the NHL's regular season. Teams are beginning to get settled, and we are starting to see what they're all about. By watching games and reading daily clippings, we are starting to get a feel. Things can change with injuries and trades, but let's go through the 30 teams and throw around some snow from our skate blades to see where we are. What's the story? What's the vibe?

Anaheim Ducks
After starting out 1-5-0, the Ducks are hitting their stride. The big three of Corey Perry, Ryan Getzlaf and Teemu Selanne are producing as they must, and the Ducks' D continues to be one of the league's best. Selanne is 38 years old and still looks great. He continues to climb the NHL career lists every time he finds the net. He has 560 career goals and recently passed Hall of Famer John Bucyk (who has 556) to move into a tie with Hall of Famer Guy Lafleur for 20th on the all-time goal-scoring list. He's been worthy of becoming a first-ballot Hall of Famer for some time and continues to add to an already-impressive Hall plaque. Getzlaf is the key to this team. The more he grows as a leader, the better the Ducks will be. When he is physical with the opponent's defense and plays with speed and desperation, he is a very special player. His burning desire is to be the best on the ice every game. He has been given much. He should aim to give even more. Then, he could be one of the best forwards in the game and a playoff monster.

Atlanta Thrashers
Here's what coach John Anderson told reporters after Atlanta's 6-1 loss to the Devils on Saturday: "We're a fragile team right now. When that [own goal] happens and you're a fragile team, the roof caves in for a few minutes, and that was the end of the game right there."

The Thrashers appear to be in the mix with the Islanders and Kings for the first draft pick at season's end. Atlanta defenseman Zach Bogosian, the No. 3 pick in the June draft, will be out indefinitely after suffering a broken left leg last week. The economy plus the Thrashers' record equals some low attendance figures. They will have major revenue issues this season.

Will Ilya Kovalchuk be traded? He's due $6.3 million next year, then will become Unrestricted Free-Agent Man. That's a good number for a team to add now, and the Thrashers could get a nice return. Maybe the Kings would give the Thrashers their No. 1 pick and Jack Johnson. I think the Thrashers should trade Kovalchuk now if he wants out because they could do very well. The longer they wait, the less they probably will get.

Boston Bruins
One reason we picked the Bruins to make the playoffs this season was because it was obvious they play for one another. This chemistry was in vivid display this past weekend when they played Dallas.

Sean Avery went after Andrew Ference in one bout, and as Ference skated to the penalty box, he gave the Boston fans a wave. "It was good applause, I guess. What do you do?" Ference was quoted as saying in The Boston Globe. "You can't clap back. That's too European. So I waved." "There used to be a code," Shawn Thornton said about some of the things that went on involving the Stars' Steve Ott and Avery. "If you did stuff like that, you had to answer the bell. But now, we're not allowed to police the game ourselves. So they get away with a little bit more."

The Bruins say Chuck Kobasew could appear in Thursday's game against Toronto. Kobasew has missed every game since the season opener in Colorado because of a fractured ankle.

Buffalo Sabres
Thomas Vanek became the first player to reach double digits in goal scoring this season and is the early favorite for the Maurice Richard Trophy for most goals. Tim Connolly played his first game of the season this past weekend, centering left winger Clarke Macarthur and right winger Jason Pominville. If Connolly can stay healthy and contribute, the Sabres suddenly have a lot of depth up front. The key is Ryan Miller. The goalie is off to a great start, and if he keeps this up, the Sabres' playoff chances look good. Buffalo is on pace to give up fewer than 200 goals. That is an extraordinary improvement over last season. The question for the Sabres is still leadership. They can have some wild swings when they look real good and others when they look real bad. The leadership void was an issue last season. Perhaps now the Sabres are finding a comfort level, and maybe someone will be prepared to step up when they invariably have bumps along the way.

Calgary Flames
During the Flames' recent six-game winning streak, Miikka Kiprusoff surrendered only nine goals. With that kind of goaltending and what looks like an emerging balanced attack, the Flames look to be a solid playoff team. I had some concerns coming into the season, but if Todd Bertuzzi keeps producing, he'll give Calgary plenty of scoring punch. If he goes down, the same old issues could crop up. But right now, the Flames have a sturdy and balanced group led by Jarome Iginla, one of the game's best leaders.

Carolina Hurricanes
The Hurricanes are off to a good start. They are well coached, strong up the middle and have plenty of leadership. The goaltending is proven, and the defense appears as if it will be adequate enough for the team to compete for a playoff spot.

The lack of a big-time defenseman hurts the Canes, including on the power play. Carolina also has a nice amount of salary-cap space if it chooses to add a piece down the line. The Canes gave Sergei Samsonov $2.5 million for the next three years. I put his three-year over/under goals total during the life of that contract at 31.

Chicago Blackhawks
The Blackhawks are good at home but not so good on the road. That is the definition of a young team. The Hawks need to mature quickly. At some point, they will need to trade Nikolai Khabibulin and try to acquire some veteran leadership. It is a long season, and a young team can have some wide swings.

I have faith in Jonathan Toews and Patrick Kane to grow quickly and at least provide leadership by skill, but a nice addition somewhere down the line could really tighten the screws here. The Hawks are good, but they seem to need just a little sandpaper around the edges.

Colorado Avalanche
As predicted, this is an exciting team with a lot of skill. The Avalanche have lots of speed and use the neutral zone well. So why didn't we pick the Avs to make the playoffs? Goaltending. They will have a hard time reaching the 90 percent saves percentage mark, and that is a guaranteed-to-miss-the-playoffs statistic. The forwards are a dicey mix of players past their primes and young talents who have to show consistency.

Columbus Blue Jackets
As Aaron Portzline of The Columbus Dispatch touched on last week, the slumping economy has hit the NHL with a sharp dip in attendance, and the Blue Jackets had their smallest crowd in history (10,494) against Anaheim on Oct. 27. According to the report, other markets also are struggling -- Tampa Bay is down 2,909 per game, and Colorado, Dallas and Detroit have played before smaller crowds. The on-ice problem for Columbus is how to prevent the puck from going into the net. The Jackets are among the worst in the league on defense, which is strange for a Ken Hitchcock-coached team. I picked them to miss the playoffs, but they still have enough "stuff" here to get on a roll and vie for a playoff spot. They have cap room, but one wonders whether they will be able to stomach adding to the payroll when there might be revenue concerns.

Dallas Stars
Really amazing quotes from Mike Modano after a loss to the Bruins this past weekend. Modano was not happy. Although he didn't mention any players specifically, you have to wonder whether he was targeting teammates Steve Ott and Sean Avery. Check this out, yo: "Tonight, it was idiotic and stupid. It was one of the most embarrassing things I've seen. If that's what we're going for, then they need to find me an off-ice job. "It was dumb penalties, dumb situations -- that's kind of been the trend all season," Modano told reporters. "There's no mental toughness. We're allowing the refs to get involved in the game and spending more energy on them than the details of winning the game."

Having classy players such as Brad Richards, Sergei Zubov (hip) and Jere Lehtinen (groin) healthy and contributing should fix things. Zubov and Lehtinen could return when the Stars play the Ducks in Anaheim on Friday after a five-day break.

As far as Avery goes, I wrote this after his windshield-wiper routine on Martin Brodeur in the playoffs last spring: That kind of stuff, coupled with the detached demeanor Avery seems to have toward the rest of the team's battles, has the potential to drain the Rangers. Maybe I'm reading too much into it, and maybe his teammates are largely ignoring him, but playoff hockey is difficult enough without having to try to manage some out-of-control, fall-out frat boy. It's even worse when he drags Brodeur into his sideshow. He's the Terrell Owens of the NHL, polluting the Rangers with his individuality. Can you imagine what Scott Stevens would have done had he seen Avery waving his stick like a giant windshield wiper in Brodeur's face? "Self-absorbed" does not work in hockey. I believe signing Avery was a bad move by Dallas. Pure and simple. There was no need to add him to the lineup in any way.

Detroit Red Wings
Dave Dye of The Detroit News had this over the weekend: "They've allowed four or more goals in five of their last eight games. In 82 games last season, they gave up four-or-more only 16 times. The Wings ranked No. 1 in the NHL in goals against (2.24 per game) and shots allowed (23.5) en route to the Stanley Cup. This season, they're 25th out of 30 teams in goals against (3.36) and 15th in shots allowed (29.5)."

We will keep an eye on that, but I'm convinced it's just some early-season boredom. Marian Hossa looks great so far. As the Wings go along, I think they'll have the chance to be not just the best team in hockey but also the best team in all of professional sports. I know that is impossible to quantify, but I just did.

Edmonton Oilers
I picked the Oilers to make the playoffs before the season, and I still think my pick looks good. Strangely, scoring has been an issue. That should change. There is skill and leadership here, and that is a playoff combination. I'm looking forward to watching the Oilers more. For some reason, I haven't seen them play that much.

Florida Panthers
I would not give up on the Florida Panthers yet. I know it doesn't look good right now, but if they can get completely healthy and have time to jell, I think the combination of assets here could start to put some good stretches together. The Jay Bouwmeester contract situation (he will be an unrestricted free agent after this season) is obviously a problem. He seems to have the personality such that it can weigh on his mind. If I were his agent, I'd try to figure out a solution; otherwise, this could be a painful year for the defenseman.
Los Angeles Kings
Drew Doughty looks to be a big-time player for the Kings in the early going. He was born in 1989. Anze Kopitar has not produced yet, but he will be fine. The Kings should just keep going with their younger players, get another draft pick and keep trying to get that exciting L.A. kind of player like Ilya Kovalchuk or Marian Gaborik to plug into the mix. I say the Kings will make the playoffs next season.

Minnesota Wild
Colton Gillies, 19, James Sheppard and Cal Clutterbuck, both 20, and Benoit Pouliot, 22, have provided the Wild with a nice infusion of talent. The Wild once again are a hard-working team that defends really well. Mikko Koivu has really arrived -- he's efficient and fun to watch. And to think they are doing this without Marian Gaborik. Plenty of Wild coverage in the e-mail bag below.

Montreal Canadiens
The Canadiens are off until this weekend, when they play in Columbus on Friday and in Toronto on Saturday. Montreal was our pick to finish the regular season first in the East. The Habs score, defend and move the puck in Red Wings fashion. Alex Tanguay clearly has found a home. I bet the Canadiens will add a significant piece sometime this season; perhaps they could use a big-time goal scorer. It's good for the league when Montreal has a good vibe about it.

Nashville Predators
How about 23-year-old Shea Weber?! This dude has been outstanding. He is second on the team in scoring and has leadership qualities.

Nashville coach Barry Trotz told The Tennessean last week: "Every time a player gets a bigger role or plays well, the confidence comes, and they feel the right to step up and they do. I saw that in Danny [Hamhuis] starting last year, and this year you are seeing it in Webs and Ryan Suter."

New Jersey Devils
For the first time in 57 games dating back to last season, Devils goalie Martin Brodeur did not start. He was sidelined because of an elbow injury Monday against the Sabres. This also was just the 21st time in his career that he did not dress for a game. Injuries have been the theme for the Devils this season. They have survived them pretty well so far, which shows they've had some depth. But Brodeur's three-to-four-month absence is enormous. No one player casts a bigger shadow on an NHL franchise than Brodeur in New Jersey.

New York Islanders
Goaltender Rick DiPietro will miss four to six weeks after having arthroscopic surgery Friday to repair a torn meniscus in his knee. DiPietro also had hip surgery in March and knee surgery in June. This is disastrous for the Islanders. They needed a topflight goaltender to usher them through this period of playing a young roster. We saw what happened in their 5-4 loss to Montreal this past weekend. On Monday, they gave up three third-period goals against Columbus to send the game to overtime.

Mark Streit has been a bright spot, playing 25 minutes a game and scoring. He looks very dynamic on the point of the power play. This season became less of a mystery once Ted Nolan was fired. The young guys will play, and hopefully, the Islanders will get the first pick in June and persuade a free agent to sign there. Then we can begin to see some progress.

New York Rangers
How good are the Rangers? That's what people are wondering. The die-hard fan is happy about the youth and energy of this group, as well as the fact that the "C" is on Chris Drury, who was a Yankees and Rangers fan while growing up in Connecticut. That feels right.

Nikolai Zherdev is playing with an effort that must drive the Columbus Blue Jackets crazy. He was largely a dog for them, and we will have to see whether he keeps up this effort for the rest of the season and whether he will be any factor in the playoffs. We don't know his true colors yet. The Rangers have the goalie (Henrik Lundqvist) I picked to win the Vezina, and they have speed and a great leader. Still, I need to see more out of the Rangers. I think their schedule sets up well for them in October and November. They should keep winning for a while, although not at this pace. December and January could be different. I'll be curious to see where they are on Feb. 1.

Ottawa Senators
Ottawa's first three games of the season were against Pittsburgh, Pittsburgh and Detroit. Thanks a lot. If they can get some quality goaltending, the Senators still can be a playoff team. But of all my preseason picks for the 16 playoff slots, this is the one I am worried about the most.

Philadelphia Flyers
The Flyers had a brutally tough schedule in October. That being said, their lack of stable goaltending and occasionally horrific team defense make you wonder whether they can put a long stretch of winning hockey together. They can score, and that's what keeps them in the mix. I question some of the heart and IQ on the defensive side of the things. They have to fix that, or else they will be no threat in the playoffs.

Phoenix Coyotes
It appears to be another long season in the desert for the Coyotes. They are digging themselves a hole in the tough Western Conference. Right now, this team does not have any high-level, consistent playmakers. It doesn't score enough, and that's even with Shane Doan on pace for 54 goals and 225 penalty minutes. (Those are fantasy-league MVP numbers!) History says that Doan will slow down. Then what? You really have to wonder about the financial health of this franchise. How many years can the Coyotes keep losing gobs of money like this? They need the young crop to mature quickly somehow. I don't see a lot of hope this will happen anytime soon.

Pittsburgh Penguins
Some bullet points: • This team is in desperate need of a scoring winger. The Pens' scorers are adequate, but they don't look to have enough to advance far in the postseason. Marian Hossa would have made all the difference.

• Having Alex Goligoski and Kris Letang playing as much as they have been probably means the Penguins will have a major glut at defense once Ryan Whitney and Sergei Gonchar come back. You could see the Penguins deal Whitney, Letang or Goligoski by the trade deadline. It will be tough to play all four at the same time. A Whitney trade would make the most sense because he has a $4 million cap number. But he has size and experience and played hurt last season. The Penguins could keep them all and manage Letang's and Goligoski's minutes, but they have the assets to make another significant trade before the deadline.

• I've gotta say, in the games I've seen, Evgeni Malkin has really upped his intensity this season. He has made a major leap from boy to man even from last season. He battles hard and consistently.

San Jose Sharks
There really is no need to say anything about this team until the playoffs. Joe Thornton will have six goals and 378 assists, and the Sharks will have 100-plus points. We've heard this song played before. Wake me up when the playoffs start. All I can say is coach Todd McLellan has a world-class salad -- that hair is Augusta quality.

St. Louis Blues
Keep playing the young guys. I don't see how this team can make the playoffs. That being said, you wonder whether there is a market for Paul Kariya ($6 million) and Keith Tkachuk ($4 million). What a package deal they would be for the Penguins. Things are lining up well for the Blues. They should get another good first-round pick in the summer, get Erik Johnson back for a full season, have their young players improve and sign a big-time free agent (or two). At least they have hope.

Tampa Bay Lightning
After a slow start, the Lightning are starting to hit their stride. Goalie Mike Smith has been out of his freakin' mind, and he will have to be for this team to make the playoffs. The sign of good coaching (Barry Melrose) is when a team improves, and this team clearly is. The Bolts work hard and have some entertaining players to watch. If the defense, individually and collectively, gets better, Tampa Bay will be a factor.

Toronto Maple Leafs
I know they are off to a good start, but the Maple Leafs will finish somewhere between 77 and 86 points. Then, hopefully, they can sign a player an American has actually heard of.

Vancouver Canucks
I'm sticking to it: The Sedin twins for Marian Gaborik. The Minnesota Twins. Perfect.

Washington Capitals
Concern about the goaltending is the only issue. This seems like a team that could just explode with 10 wins in a row at any time. The Caps have so much to like up front. I think once they figure it all out and catch a groove, they could become a major force in the league. As a fan, I would just be concerned about whether my goalie is better than some of the other guys in the Eastern Conference. Again, you don't win with good goaltending come playoffs time; you win with great goaltending.

Weekly Tribute to Jack Falla The following is an excerpt from Jack Falla's "Home Ice." Falla passed away Sept. 14. We'll honor his memory each week with a few lines from one of his classic books: "It began as a casual skate with my son Brian on the backyard rink on a Saturday morning when he was 14 and I was 41 … On about the fourth or fifth lap, as we swung out from behind the net, I veered too wide, Brian cut inside and got his right shoulder in front of me, then easily outsprinted me across the ice and was pulling away as he swung into the next turn. I knew then -- and I don't mean in retrospect, I mean at the very instant he went by me -- that I'd never again be able to catch him. I comprehended the metaphor as clearly as I had the race. "Goodbye, Brian," I said to myself as he pulled away. The Mother of All Mailbags Hey John, I was reading the article on Phil Kessel (enjoyed it, thank you) and was VERY surprised to find a memorial to Professor Falla at the bottom of the column. I am in Jack Falla's sports journalism class this semester. I had only a couple of weeks with the man, but I found him to be inspiring. It was a shock to everyone when we learned ... we had only started to get to know him. I especially enjoyed his "Seven Deadly Sins for Sports Writing" along with how there would always be a quote about writing on the board when I got to class. Great man. Jack's sudden death came at an odd time for me. His class is Tuesdays and Thursdays. On Friday (he died on Sunday, I believe), I learned that I got an internship covering the Bruins (among other things) at the New England Hockey Journal. I couldn't wait to get to class the next Tuesday to tell Professor Falla about it. Needless to say, I was very disheartened that I was not able to share that with him and pick his brain on the profession and hockey in general. His passing has thrown a wrench into the system. I am a graduate student in print journalism, sports concentration at Boston University. Not only are we now on our third professor of the semester for JO 514, but his sports communication class (CM 536) is not going to be taught again. Dan Rowinski Mr. Buccigross, The RSVP link for the Jack Falla Memorial Fund Fundraiser is now available. Please join us to celebrate Jack, the screening of the documentary, "Pond Hockey" (which was inspired by Jack's book "Home Ice"), a reception, silent auction and an open skate on Agganis Arena at Boston University. The event will be held on Wednesday, Nov. 12 from 6-9 p.m. Doors open at 5:30. Please go to www.bu.edu/com/jackfallafund to RSVP, donate or for more information and details. The Jack Falla Memorial Fund will benefit future Boston University, College of Communication, sports communicators and sports journalists. Best,
Micha Sabovik
Assistant Dean, Student Services
---
John, From another guy with Pittsburgh in his blood, I enjoyed reading your piece on Kessel on ESPN.com, as I do all of your work. I still believe that had Bruins coach Claude Julien not benched Kessel in Games 2-4 of the first round against the Habs in last year's playoffs, Boston would have won that series. They might even have won had Julien decided he had delivered his message after sitting him out for just one game. When Kessel returned, Montreal had no answer for him. Mario Check out Kessel's latest gem. Saturday night, he had a sweet curl-and-drag, change-the-angle-on-the-goalie snapper that was high-speed-Internet quick.
---
Hi John, Greetings from "almost-outdoor-rink-skateable" Finland! Your thoughts on the "Two Blondes and a Brunette" line that is, of course, Miettinen-Koivu-Bruno? They are lighting up the lamp! Mikko Koivu is becoming the face of the franchise for the Wild. Makes me miss Gabo less and less each game. I really think the Wild should get the most by trading Gabo before the deadline for a decent right winger (in case Miettinen should show inconsistency) and some early picks. Sauli
In the name of Finnish fans everywhere, Andrew Brunette makes Bucci blogumn history.
If you would have told me when I was in high school that one day I would write a hockey column that would be read worldwide, including in Finland, I would have responded, "There is a better chance that I would become the bass player for the Go-Go's. Please pass my four-foot sheet of Candy Buttons."

So, to provide some bonus Minnesota Wild coverage for my boy Sauli and all of my homies in Finland, I called Andrew Brunette. This summer, Brunette signed with the Wild for a three-year deal (possibly his final NHL contract) that pays him $2.5 million, $2.5 million and $2 million, respectively. Bruno is always an excellent interview. He is perceptive, honest and very likable. He is a lock to have a long career as a television hockey analyst once he stops playing.

This is for you, Finland. A Bucci blogumn first. The first NHL player interview within the confines of the beloved e-mail bag. Ladies and gentlemen, Andrew Brunette:

Question from Bucci: Why are the Wild off to a good start? What does the team do well? Answer from Brunette: I think historically, especially the last five years or so, the Wild have gotten off to a good start because the system and the coaches haven't changed. It is much easier to get off to a good start when the whole team is on the same page. Q: Is there any difference in the organization/coaches/fans from your first Wild tour? A: Well, obviously, the coaches haven't changed, and for the most part, the organization has stayed intact. At the same time, things have changed, which have coincided with the fact that the skill level is quite a bit higher than it was the last time I was here; therefore, I think the way we play has opened up a little, in the sense there is a little more freedom. Q: You've played all 82 games four seasons in a row. Why? A: Good luck (knock on wood). Q: How does a contract situation like Marian Gaborik's affect a team? A: As of right now, very little. Marian has done a good job of keeping everything that is going on to himself, which has helped. Also, the fact that we are off to such a good start has helped keep things on the down low. Q: Give me a state-of-the-game report. How has the game evolved the past few years? What are the trends that you see in style of play on the ice, off the ice, fun and camaraderie, and the business side of the NHL? A: Wow, tough question! I think the game, as a whole, is still the best game to see live. However, we need to find a way to market our game a little better. I think HDTV has helped. We have so many exciting young players, we need to promote these guys! As for the camaraderie, things haven't changed, at least in my eyes; hockey players are the best people to be around. Q: You will retire, whenever that is, with more than 200 career goals and 400 career assists. Is that about what you visualized when you were 20 years old? A: I don't know what I visualized when I was 20. I believe I would have been happy just to play a game in NHL, never mind the amount that I have played. At 20, I was probably visualizing other things! Q: Is your skate size the same as when you entered the NHL 12 years ago? A: Skate size hasn't changed, yet … heard they shrink with age. Q: Explain Mikko Koivu's game. And how good is he? A: Mikko is an extremely intelligent player. If he doesn't win a Selke Trophy in the next few years, I will be very surprised. He is so easy to play with because he is so good at every facet of the game. I was telling someone the other day that last year in the playoffs, when I was with Colorado, he was the best player on the ice in every game, and that says something when you have the likes of Joe Sakic, Peter Forsberg, Marian Gaborik, Paul Stastny and so on. … He loves the game and is getting better every game. Q: What do you get on a pizza when you order one? A: Hmm … depends where I am ordering from. But my favorite probably is what they call a "Canadian" in some areas, which is ham, tomato and cheddar and mozzarella cheese. Q: Funniest player on the Wild? A: Me, of course! Q: One more. Have you ever been to the Hockey Hall of Fame? A: I haven't been for quite a while. The last time I was there, it was at the CNE, which was right around corner where the Blue Jays used to play. When I was a kid, my parents used to take us to the Hockey Hall of Fame, then a Jays game. What a treat!
---
Bucci, How much did Wilco rock "The Colbert Report" last night? They are everything that is right with rock 'n' roll and this country. I would say "Via Chicago" is my favorite song, but that would be like picking a favorite child. It just can't be done. In your estimation, what are the chances that Brendan Shanahan plays this year, and more importantly, how likely is it that he will play for St. Louis? He was my favorite Blue when I was a kid, and it would be a thrill to see him wear the sweater one more time. Jesse Huling When I play nine holes of golf by myself, I sometimes play while listening to my MP3 player. Wilco's "Muzzle of Bees" always is played in these scenarios. As far as Brendan Shanahan … reader Jason Burch of the Pennsylvania Burches has my cell phone number and occasionally sends a text that is usually in the form of a true-or-false or fill-in-the-blank question. Last week, he sent a text that read, "Brendan Shanahan will play for [blank] this season." I responded: Rangers, Bruins, Devils or Penguins.
---
Hey Bucci,

Since you seem to be good with coming up with names for children and family pets, maybe you could help me and my friends out. We are a bunch of guys in our late 20s/early 30s, who decided after five years that we are getting our old roller hockey team back together. When we first made the team 10 years ago, we named ourselves after our favorite fictional ice hockey team, the Charleston Chiefs. Now, we all have grown up (at least physically) and want to go with a new name. Can The Great Bucci give us any ideas? And yes, the team names The Hakan Loobs and Pang Chung have been discussed.

Tom
Pittsburgh

Hakan and the Loobs is always a crowd-pleaser. Others? Chris Cuthbert's Larynx
The Ivan Hlinka 7 (or however many players there are on your team)
Team Edzo
Mike Lange bought me a beer
Pool or a pond
Bob Saget!! (Only two exclamation points. Any more is overkill.)
---
John,

I've been a loyal and anticipatory reader of your column for years, but I have to hand it to you -- you are a terrible human being. Your comments about hurting kids not skating to the bench were absurd. I found myself wondering how someone who writes such a great column could really be so callous, and I conclude that you are just a sham who takes pride in writing and sounding cool but is really just afraid that the big guys won't like him. I mean, seriously, how could you write that? Is it out of some misplaced debt to some mythical "hockey code" that extends to all levels of hockey, pee wee or pro? Is it because you were once that kid on the ice and you got yelled at by your coach for not getting up and skating to the bench? I really don't know and am saddened to read what you wrote. Good luck looking your kids in the eye the next time they get hurt and look to their dad for some compassion.

Tim
Denver I'd look my kids in the eye, but I haven't seen them since I dropped them off in the middle of the woods blindfolded after both lost their games Sunday. I'll go look for them after my nap.
---
John, I was just reading this week's column and thought of a second book idea for you. Take a collection of your best mailbags, edit them into chapters (Story time, Dr. Bucci on love, Music and Baby names/pics) and release them. It'd make the perfect bathroom book (not that your columns are crappy). … You do amuse me and many others. It's a gift you have. "There are many things to look for in a spouse. An underrated thing to look for in women is toughness." So very true, and not something you expect to get out of a hockey column or from the hockey crowd, for that matter. The Oprahites have Dr. Phil; we puckheads have you. Write your book, make mad piles of money and make us grinders proud. Roy
Hickory Hills, Ill. Done.
---
Bucci, I was listening to the Wild radio broadcast the other night when the commentators started talking about new rules that are being kicked about for future implementation. The one that stuck out to me was something along the lines of calling a delay of game penalty if a defender leaves his feet to block a puck that is shot on net. The reasoning for this is to increase offense. I can appreciate that the league wants more offense, but this is going just a bit far.

Kyle Gross

I agree. I think the leaving-your-feet-to-block-a-shot debate is a waste of time. First of all, I don't like it. What is more courageous than putting your body in front of a 90 mph slap shot? That kind of bravery makes my eyes wet. Plus, I want officials to have fewer things to call and process, not more. The soul of the game is its edge. Hockey is a blood sport, and blocking shots is part of the passion play. Part of that beautiful desperation that one feels as a team tries to protect a one-goal lead in that last minute of a game. That feeling that makes you feel so alive, you feel as if your head will explode into 86 pieces. As we wrote in "Jonesy," our boy Keith Jones once blocked a shot in that last-minute situation, and the puck slammed into his shin guards and slid all the way down the other end of the ice and into the open Edmonton net.
---
Bucci, There has been a lot of talk about hockey-loving women -- just wanted to give you my story. My wife and I got engaged back in 1999 -- in the car on the way to the Stanley Cup finals between the Sabres and Stars. Almost went for the JumboTron thing, but didn't. As a wedding gift to me, she got the organist for the Sabres to be our organist for our wedding! Can't tell you the fun the groomsmen and I had listening to the organist play the Sabres' theme song (that they skate out of the locker room to) in the church before everyone arrived. I am a lucky man indeed! Kevin
Centreville, Va. Excellent wedding day organ story, Kevin.
---
Hi John, My wife and I took our 6-month-old son, Lennon, to his first Penguins game last Saturday against the Maple Leafs. He saw Crosby score his 200th assist, 300th point, 100th goal, and Malkin's 200th point. To cap it all off, my son got a high five from Frank Pietrangelo, the 1991 Stanley Cup champ most noted for "The Save." This kid is destined to be a Pens fan! Eamon Murray
Lehighton, Pa. No, Lennon is the man. Eyes as big as faceoff dots. "Before you cross the street,
Take my hand,
Life is just what happens to you,
While you're busy making other plans Before you go to sleep,
Say a little prayer,
Every day in every way,
It's getting better and better Beautiful,
Beautiful, beautiful,
Beautiful Boy -- "Beautiful Boy" by John Lennon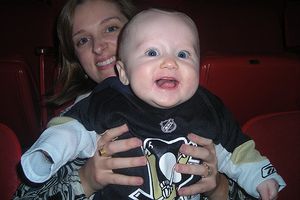 John Buccigross' e-mail address -- for questions, comments or crosschecks -- is john.buccigross@espn.com.
---