Tuesday, November 4, 2008
Updated: November 5, 1:52 PM ET
St. Mary's takes top spot in preseason poll

---
By Glenn Nelson, Mindi Rice and Clay Kallam
ESPN HoopGurlz



Editor's note: ESPN will release the ESPN RISE FAB 50 national girls' basketball rankings each Wednesday of the season.
Afure Jemerigbe leads top-ranked St. Mary's.
With two elite players and an experienced junior class, is this the year ESPN RISE Girls' Basketball FAB 50 preseason No. 1 St. Mary's (Stockton, Calif.) brings home the title? Mindi Rice talks to the team about its increased expectations, while Clay Kallam sits down with Rams point guard Afure Jemerigbe about getting back to the title game. Glenn Nelson breaks down the national landscape in the ESPN RISE FAB 50 preseason girls' basketball rankings:
1. ST. MARY'S (Stockton, Calif.)
Last season's record: 33-1
Outlook: After one disappointing loss to top-ranked Sacred Heart Cathedral last season, St. Mary's is back. The team, loaded with juniors, is still young, but now experienced. ESPN HoopGurlz 100-ranked juniors Chelsea Gray, No. 15, and Afure Jemerigbe, No. 19, lead the way for this tenacious bunch.
2. BOLINGBROOK (Ill.)
Last season's record: 28-4
Outlook: The Raiders lost just one starter and return a powerhouse of personnel, including sophomore do-it-all point guard Ariel Massengale and seniors Satavia Taylor and Candace Nevels. Their top newcomer is 6-foot-2 freshman Morgan Tuck, who joins her 6-foot sister, sophomore Taylor, on varsity.
3. ST. MICHAEL ACADEMY (New York City)
Last season's record: 28-2
Outlook: Senior Shenneika Smith, No. 7 in the class of 2009, leads a deep squad that lost three seniors but returns a pack of underclassmen who gained plenty of experience with a tough schedule and a run at the state title. Two 2010 top-40 players, 6-1 Jelleah Sydney and 6-4 Brittany Webb, also add impact.
4. SACRED HEART CATHEDRAL (San Francisco)
Last season's record: 33-0
Outlook: The defending national champion Irish have won three straight CIF Division III state championships and, with a 56-game winning streak coming into the season, have a shot at a fourth behind Pacific-10 Conference-bound seniors Tierra Rogers and Kiki Moore, but will have to get past St. Mary's of Stockton.
Girls' Basketball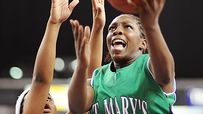 St. Mary's is in the driver's seat, as it starts the season as the No. 1 ranked team in the ESPN RISE Girls' Basketball FAB 50. Check out ESPN HoopGurlz preseason content:
FAB 50 rankings / Regional rankings
Rice: St. Mary's earns No. 1 ranking
Kallam: Jemerigbe ready to take the shot
5. LONG BEACH POLY (Calif.)
Last season's record: 31-2
Outlook: The Jackrabbits rarely have a dropoff in talent from year to year and despite losing five seniors, including two Division I players, this season is no exception. Top-10 senior and USC-bound Monique Oliver leads the pack with a talented trio of juniors -- 6-2 Thaddesia Southall and twins Ashley and Brittany Wilson -- supporting.
6. REGIS JESUIT (Aurora, Colo.)
Last season's record: 25-3
Outlook: This could really be the year for someone outside the city of Highlands Ranch, Colo., to make a move. With UCLA commit Mariah Williams, shooter Mary Bokenkamp and a slew of other college-bound players, they are the most talented team in the state, and potentially in the West.
7. WESTLAKE (Atlanta)
Last season's record: 27-5
Outlook: With explosive Georgia-bound Tamika Willis in at center and fellow senior starters Dalila Robinson and Sharnea Boykin returning, the Lions made it to Georgia's Final Four before losing to the eventual champion. With the addition of 6-4 transfer Simone Johnson, Westlake could have all the pieces this season.
8. CHRIST THE KING (Middle Village, N.Y. )
Last season's record: 17-12
Outlook: Never a program to back down from a challenge, Bob Mackey's squad is ready to go after dropping down to the A class and winning the federation title last season. Sophomore Bria Smith, now with a year of varsity experience, and seniors Geleisa George and Tahira Johnson lead the pack.
9. OAK HILL (Mouth of Wilson, Va.)
Last season's record: 17-5
Outlook: With nearly 19 feet of frontcourt, Oak Hill needs good guard play to be among the best in the nation. Seniors Alyssa Bennett (transfer from Hampton High) and Lakeesa Daniel are joined by junior Ariel Johnson, forming one of the strongest frontcourts in the country.
10. MOUNT NOTRE DAME (Cincinnati)
Last season's record: 26-2
Outlook: The Cougars won their third straight Ohio Division I championship last year with 24 consecutive wins to close the season. USC-bound Kendall Hackney and Vanderbilt commit Gabriella Smith lead the team, which returns four starters.
11. CARDINAL O'HARA (Springfield, Pa.)
Last season's record: 25-2
Outlook: With a trip to the Nike Tournament of Champions on December's schedule, this senior-laden squad with four committed already is within striking distance of a national title. Vanderbilt-bound Stephanie Holzer, Monmouth College-bound Alysha Womack and Lafayette commit Alicia Manning lead the offense.
12. H.D. WOODSON (Washington, D.C.)
Last season's record: 28-5
Outlook: Led by the N.C. State-bound power of 6-5 senior Jeniece Johnson and do-it-all guard Ronika Ransford, Woodson hopes the experience garnered last year pays dividends this year.
13. SOUTH BEND WASHINGTON (South Bend, Ind.)
Last season's record: 23-3
Outlook: South Bend has the country's top point guard in Skylar Diggins, and has reloaded despite losing three seniors from last season's state runner-up squad. Diggins will be joined by 6-3 transfer Jasmine Watson, who has verballed to UMass, and five other seniors hungry for a title.
14. UNIVERSITY (Newark, N.J.)
Last season's record: 27-4
Outlook: University coach Felecia Oliver had loaded the schedule and given her team an opportunity to beat some top programs this season, with standout-in-everything junior Laurin Mincy and St. John's commit Nadirah McKenith, Oliver's dependable point guard, at the front of the squad.
15. LINCOLN (Dallas)
Last season's record: 29-4
Outlook: Dallas Morning News POY Kimetria Hayden returns to lead Lincoln. The squad that took the 4A title a year ago has plenty of depth, with seniors Chynna Brown, Brittany Gowans and Raven Smith all capable of taking over a game.
16. MURRY BERGTRAUM (New York City)
Last season's record: 25-0
Outlook: With senior Shanee Williams, the New York State Federation Class AA tournament MVP, and her tough defense leading the Lady Blazers, a win streak of 53 games could easily extend into this season.
17. BISHOP McGUINNESS (Kernersville, N.C.)
Last season's record: 27-6
Outlook: Led by Virginia-bound Erinn Thompson, the Associated Press Player of the Year in North Carolina as a junior, the Villains return three starters and have won three straight state championships since moving to the public school league in 2005-06.
18. WHITNEY YOUNG (Chicago)
Last season's record: 29-3
Outlook: Chicago's perennial power, Whitney Young's program is always poised for a title, even after losing its best player to graduation. The team's defensive mindset will still be a factor as they search for a floor leader among four seniors and a handful of other retuning players.
19. BEN DAVIS (Indianapolis)
Last season's record: 24-2
Outlook: The Giants lost in the state playoffs to conference rival Carmel last season, but return everyone, including Penn State commit Alex Bentley and DeeDee Williams, a junior who has already verballed to nearby Purdue.
20. DETROIT COMMUNITY (Detroit )
Last season's record: 25-1
Outlook: A new player on the scene, this second-year charter school lost just once last year, in the Class B championship to annual power Detroit Country Day. With everyone back and a schedule that includes out-of-state opponents, the Hurricanes look to get noticed this season.
21. ARCHBISHOP CARROLL (Radnor, Pa.)
Last season's record: 19-7
Outlook: Senior point guard Kerri Shields and senior forward Hollie Mershon lead one of Philadelphia's traditional powers, while the addition of sophomore transfer Emily Fazzini will add another tenacious player to the Patriots' roster.
22. WESLEYAN (Norcross, Ga.)
Last season's record: 30-3
Miss Georgia Basketball and Georgia commit Anne Marie Armstrong leads the Wolves' five returning starters on an ambitious national tournament schedule, and hopes for a Class A title after winning four titles in the past six seasons as a Class AA school.
23. HIGHLANDS RANCH (Colo.)
Last season's record: 25-3
Outlook: The Falcons lost two Division I players in Alyssa Fressle and Jade Davis, but the senior trio of Meagan Fulps, Caitlin Hawkins and Jenessa Burke will take center stage for coach Caryn Jarocki, who has 390 career wins and puts together a top team every season while playing in the toughest league in Colorado.
24. CHAMINADE-JULIENNE (Dayton, Ohio)
Last season's record: 19-5
Outlook: With Connecticut-bound Samarie Walker playing all five positions and playing them well, Chaminade-Julienne has the country's top junior leading the way.
25. MIDWAY (Waco, Texas)
Last season's record: 33-4
Outlook: With one of the best post players in the country in Cokie Reed dominating the paint, and D-I prospects Delisha Gross and Krissica Harper with junior guard MacKenzie Robertson, Midway looks poised to push Lincoln for top honors in Texas Class 4A.
26. BREA OLINDA (Brea, Calif.)
Last season's record: 25-4
Outlook: With all five starters returning from a squad that was upset early in the Southern Section playoffs, the Ladycats -- led by junior Kelsey Harris and seniors Kendall Rodriguez and Jonae Ervin -- hope to add to their state-record eight state titles.
27. LEXINGTON CHRISTIAN (Lexington, Ky.)
Last season's record: 22-7
Outlook: The 2007 champions lost all three matches against rival Lexington Catholic last season, but the Lady Eagles return the core of last season's starters and have the experience to top their city this season.
28. DULLES (Sugar Land, Texas)
Last season's record: 34-5
Outlook: Dulles was so close to making the trip to Austin for the 5A state championship a season ago, and with Kelsey Bone and the rest of the starting five back, nothing short of a championship will do.
29. MILLINGTON (Millington, Tenn.)
Last season's record: 37-2
Outlook: In their first state tournament trip in 14 seasons, the Lady Trojans were runners-up to Wilson Central and return tough junior wing Jasmine Newsome, senior Ashley Robinson and junior Olivia Maddox.
30. RIVERDALE BAPTIST (Upper Marlboro, Md.)
Last season's record: 30-4
Outlook: With five of the top six back this season, including 2010 Virginia commit Ataira Franklin, the Crusaders will once again be a force in Maryland and a favorite for another National Association of Christian Athletes title.
31. ROOSEVELT (Minneapolis, Minn.)
Last season's record: 19-12
Outlook: With slashing combo guard Suriya McGuire leading the charge, the Roosevelt squad will get a boost at midseason when transfer Shakila Boler returns from summer knee surgery. This squad will be battle-tested, playing in a league comprised of big schools, despite being a 2A team.
32. DETROIT COUNTRY DAY (Beverly Hills, Mich.)
Last season's record: 26-1
Outlook: The Yellowjackets beat upstart Detroit Community by six in the state title game last year, and have senior guard Sharena Taylor back, as well as 6-6 junior Madison Williams and a handful of other talented returning players.
33. LOWER RICHLAND (Hopkins, S.C.)
Last season's record: 26-0
Outlook: The Lady Diamonds have three-time 4A state tournament MVP Morgan Stroman back for her senior year and a fourth title. Between two in-state transfers giving Lower Richland a boost, and a drop down to 3A, where J.L. Mann has three straight titles, it could be an interesting year in South Carolina.
34. WICHITA HEIGHTS (Wichita, Kan.)
Last season's record: 22-3
Outlook: Fifth-year coach Kip Pulliam has led the Lady Falcons to at least the Final Four each season since he took over the program, and with three full-time starters returning -- as sophomores -- and just two seniors, look for Wichita Heights to start a push upward.
35. JEFFERSON (Portland, Ore.)
Last season's record: 27-0
Outlook: Oregon's 5A champions, the Democrats lost two standout seniors but picked up two big transfers over the summer in Oregon-bound Aliyah Green and impressive sophomore Krystal Forthan. A run at another state title looks to be in the cards for Jefferson.
36. BOB JONES (Madison, Ala.)
Last season's record: 35-2
Outlook: The Patriots had seven juniors and second-year coach Tim Miller directing the way to the program's first 6A state title last season. This year, with all five starters returning and a national schedule, Bob Jones could make a name for the Southeast.
37. TRENTON CENTRAL (Trenton, N.J.)
Last season's record: 32-2
Outlook: Trenton Central lost the New Jersey TOC championship to Malcolm X Shabazz last season, but it is a local coaches' favorite for a repeat run into the TOC and perhaps a title this year.
38. HERITAGE CHRISTIAN (Indianapolis)
Last season's record: 27-1
Outlook: A three-peat in Indiana's Class 2A was last year's story, and this year's starts with Connecticut-bound Kelly Faris' senior farewell tour and continues with the return of all five starters plus the first four players off the bench. All eyes are focused on a four-peat.
39. UNION (Tulsa, Okla.)
Last season's record: 27-0
Outlook: The large-school champions in Oklahoma last season, the Redskins lost senior star Lindsay Palmer to Baylor, but return speedy 5-4 senior guard Destinee Friarson and 6-1 junior Carrington Fox to keep the hope alive for back-to-back titles.
40. FOOTHILL (Santa Ana, Calif.)
Last season's record: 24-5
Outlook: Behind USC-bound standout Christina Marinacci and fellow senior Blair Shinoda, the Knights have a firepower unmatched by many high school programs, and are a perennial power in Orange County.
41. MINNEAPOLIS SOUTH (Minneapolis, Minn.)
Last season's record: 30-2
Outlook: Senior standout Tayler Hill, ranked No. 12 in the country, leads the Tigers, who lost to St. Paul Central in the 4A title game last season despite beating their Twin Cities rivals twice during the season. With Hill back for a final run, anything could happen.
42. GENTRY (Indianola, Miss.)
Last season's record: 40-0
Outlook: If Gentry, currently on an 80-game winning streak, opens the season with a victory, the state record books will have to be rewritten. Junior Brizannia Washington leads the pack of five returning starters for Mississippi's back-to-back 4A champions.
43. GERMANTOWN ACADEMY (Fort Washington, Pa.)
Last season's record: 22-8
Outlook: Most teams wouldn't be able to lose star Caroline Doty to Connecticut and still be nationally ranked, but the Patriots already learned what life without Doty would be like after she missed last season with an ACL injury. Junior Maggie Lucas had an impressive summer and will lead once again.
44. FRANKLIN-SIMPSON (Franklin, Ky.)
Last season's record: 34-4
Outlook: The Wildcats were runners-up in Kentucky's Sweet Sixteen and lost just three seniors from that squad while returning the team's top two rebounders and two of the top three offensive threats.
45. ELEANOR ROOSEVELT (Greenbelt, Md.)
Last season's record: 24-2
Outlook: The Lady Raiders have won four consecutive 4A titles in Maryland, a hotbed of basketball talent. With four Division I-caliber players returning and a schedule that includes the toughest public school league in the state, Eleanor Roosevelt will be on the national radar this season.
46. ST. PAUL CENTRAL (St. Paul, Minn.)
Last season's record: 28-4
Outlook: Last year's 4A champions in Minnesota, the Minutemen have back-to-back state titles and will be tough to beat again, despite losing three seniors from last season's team.
47. POTTER'S HOUSE (Jacksonville, Fla.)
Last season's record: 29-4
Outlook: The Lions are led by a trio of 2011 players poised to take the spotlight in Brittany Rountree, Loyila Briggs and Shalathia Stringfield. Joined by freshman Antoinette Bannister, Potter's House is a Florida power.
48. WILSON CENTRAL (Lebanon, Tenn.)
Last season's record: 31-6
Outlook: Georgia-bound Jasmine Hassell, widely considered the best player in Tennessee, leads the Wildcats for what she and fellow seniors Kelsey McGee and Lauren Wasson hope will be their third title in four seasons at Wilson Central.
49. MANSFIELD TIMBERVIEW (Arlington, Texas)
Last season's record: 36-3
Outlook: The tough junior duo of guard Keena Mays and point guard Meagan Conwright is back for the Wolves, who also feature sophomore guard Kristen Askew, and will cause trouble in Texas this year.
50. BISHOP GORMAN (Las Vegas)
Last season's record: 29-4
Outlook: Senior Dannielle Diamant, the 6-4 center bound for Northwestern, and junior guard Aaryn Ellenburg lead the way for the Lady Gaels, who lost two Division I players from last year's team but will reload and have another strong showing.
Glenn Nelson is a senior writer at ESPN.com and the founder of HoopGurlz.com. A member of the McDonald's All-American and Parade All-American Selection Committees, he formerly coached girls' club basketball, was the editor-in-chief of an online sports network, and was a longtime national-award-winning newspaper columnist and writer. He can be reached at glenn@hoopgurlz.com.


---